Book Review: "Paul Thomas Anderson: Masterworks" by Adam Nayman
5/5 - every film in striking, passionate detail...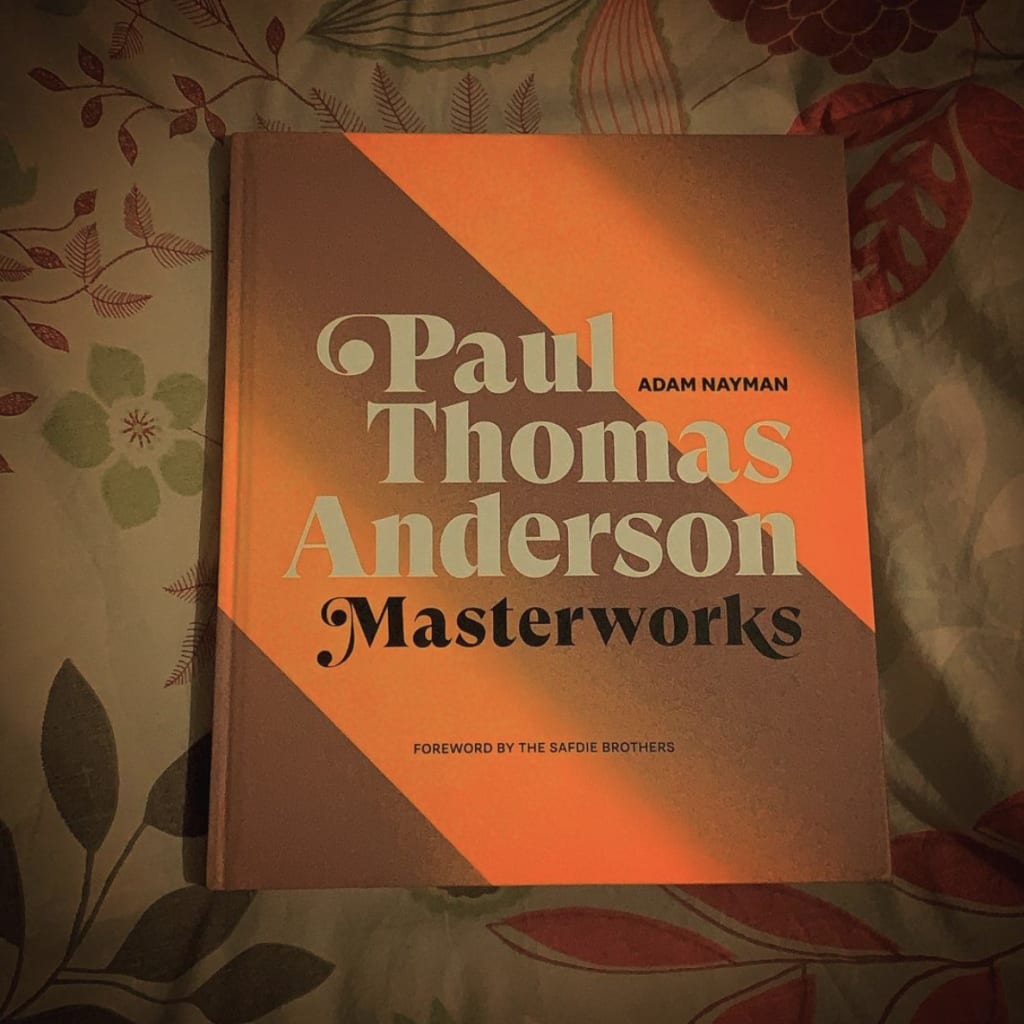 I love reading books about filmmakers and their movies. Books that really include some information that I have not read on Reddit or 4Chan before are probably the best ones. The ones where I can say 'yes, the heart and soul of the author who wrote this book is in here and it is presented through their love for films…' I once read a book about Quentin Tarantino that did just that. Each film was gone through in meticulous detail, each film was analysed and, alongside pictures from the set, taken apart and then put back together again. I read a book about John Huston that was amazing, a famous work entitled "Picture" that went through John Huston's thought processes and the creative mechanisms he used to create masterpieces for Hollywood. I have read the books of Derek Jarman which he wrote as diaries before he died - exploring environmentalism and homosexuality through filmmaking was amongst some of the most interesting aspects of the filmmaking process I had ever read. It blew my mind at the time and his book "Chroma" still blows my mind today. This book I read by Adam Nayman does relatively the same thing but this time, analyses the works of the legendary filmmaker, Paul Thomas Anderson.
"Masterworks" is possibly one of the best books on filmmaking and the creative process I have ever read. I love and adore the films of Paul Thomas Anderson and just to check, yes I have seen them all (yes, even "Boogie Nights" don't bad-mouth that film. It's not that bad, you guys are just mean). It starts off by analysing Paul Thomas Anderson's most famous movie and the film that various critics have called the greatest film of the 21st century: "There Will Be Blood". Obviously, an amazing movie filled with references to masculinity and leadership, money and land. This film is set at the turn of the 20th century and Adam Nayman does an amazing job of going through exactly how each of the movie's main themes are represented not just by the set-up of the film but also by the unbeatable and Oscar-winning performance by Sir Daniel Day-Lewis. I thought it was very clever how Adam Nayman weaved these two things both together in order to give us the bigger picture of what was going on through representation in the movie. When we move on to other films, it becomes clear that Nayman is completing a pass project about the director, regarding his films with utter depth and clarity. When he gets on to "Phantom Thread" we see some of his best writing. The sheer level of depth in "Phantom Thread" is unreal, but the way it is set int eh 1950s and explores some of the most toxic ideals of both genders is fantastic. Again, Sir Daniel Day-Lewis gives a groundbreaking performance and Adam Nayman weaves these things together to create a critical essay like you have never read in your life.
This book really taught me a bunch of new things about Paul Thomas Anderson's movies and I hope to use these in the future, referencing Adam Nayman in my own articles when they come up. Personally, being in love with this director's movies myself I can honestly see where Adam Nayman was getting all of his passion and inspiration from when writing this. I think if I had written a book about Paul Thomas Anderson, I would not have been able to do him justice like this book has. An exploration of some of the finest cinema work of the last twenty-five years in a classic, passionate and in-depth critical style.
literature
About the author
Film and Writing (M.A)
150K+ Reads on Vocal
IG: @AnnieApproximately
Pronouns: (she/her/hers)
Reader insights
Be the first to share your insights about this piece.
Add your insights