Blade Almost Appeared In Person In Eternals Credits Scene
The post-credits scene for Marvel's Eternals nearly featured an in-person appearance from Mahershala Ali's Blade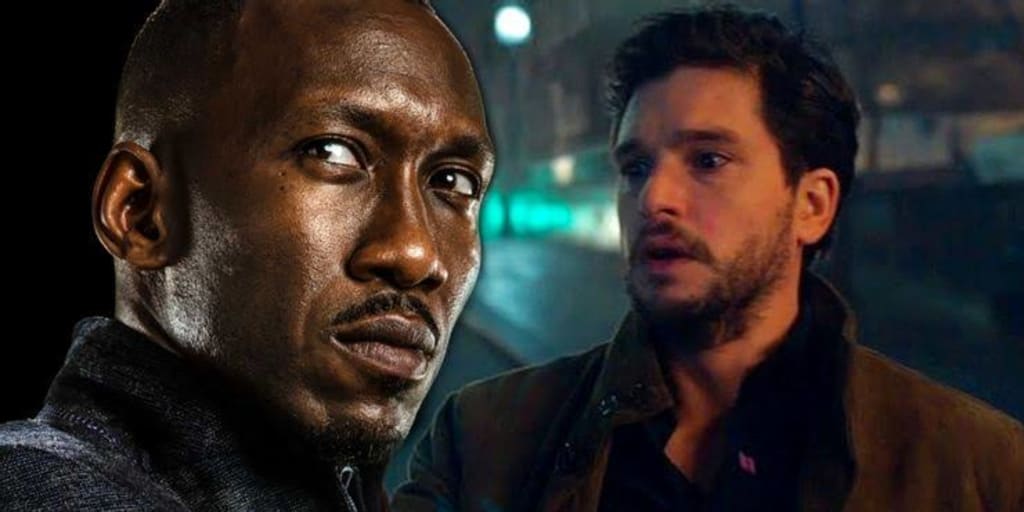 The post-credits scene for Marvel's Eternals nearly featured an in-person appearance from Mahershala Ali's Blade. Though MCU movies are known for their interconnected nature, this fall's Eternals managed to largely stand on its own. The movie, which was directed by Oscar winner Chloé Zhao, introduced the titular cosmic team to the franchise in a millennia-spanning story. The Eternals all possess special abilities that aid them in their mission to fight the Deviants, an evil race of aliens who prey on humans. And yet, though it told a contained story, Eternals still found time to set up future MCU projects.
In addition to introducing Harry Styles' Eros, the Eternals post-credit scenes hinted at an exciting future for Dane Whitman (Kit Harington) while also providing the first MCU appearance for Blade... somewhat. The second of the two post-credit scenes sees Dane coming in contact with the Ebony Blade for the first time, thus alluding to his future role as the Black Knight. Right before he touches it, though, he hears a warning from Blade. Ali was officially cast as the MCU's Blade back in 2019 and will receive his own solo movie, though it has yet to find a place on the release calendar.
Ali was only in Eternals in spirit, offering a vocal role instead of a physical one. However, there was some discussion between the powers that be at Marvel over whether the actor should actually appear in the scene. While guesting on ComicBook.com's Phase Zero podcast, Eternals producer Nate Moore revealed the creative team considered cutting to Blade for the post-credits scene, but ultimately decided a subtler tease was much better. He said:
"It was a choice and I'm not sure, I think if you polled people, we'd probably get 50% who said, 'Man, we would love to see Blade standing in the corner of that room,' and 50% who thought it'd be cool just to hear the voice. And it was something we talked about, but again for us, it's just like, 'Ooh, what will give you more goosebumps?' is our goal."
Some fans might not have understood just who was speaking to Dane, but those who did were thrilled to hear this snippet of Ali's Blade. As a vampire hunter, Blade represents the MCU's fantasy side, which is also where Black Knight probably feels most at home. Blade and Black Knight don't have much of a connection in the comics, but seeing as they are both poised to play a big part in the MCU's future, it makes sense to have them cross paths somehow. Eternals was very much the beginning of Dane's MCU journey, and it also happens to be the start of Blade's too. By only allowing his voice to be heard, Marvel has only increased excitement for his first on-screen appearance.
Exactly when that will come, though, remains to be seen. Blade has made a bit of progress this year, gaining Bassam Tariq as a director and Stacy Amma Osei-Kuffour as the screenwriter. Now that Eternals has hinted at Blade's impending arrival, it would make sense to properly introduce him sooner rather than later. 2023 feels like the earliest possible premiere for Blade, but fans will have to wait and see exactly what Marvel has planned.
Following the Marvel Cinematic Universe's tradition, Eternals has two post-credits scenes, and while both included surprise cameos, the one in the second scene sets up Blade's future – and here's how. With the Infinity Saga now over, the MCU is moving forward with a new phase with a new focus and which will introduce a variety of characters from different sides of the Marvel universe, including its supernatural one. Among these characters is Blade, to be played by Mahershala Ali, and even though he might not arrive in Phase 4, his presence has already been teased.