A Patch of Blue - A Movie Review
'A Patch of Blue' amplified themes about empathy, racial dynamics, and overcoming adversity.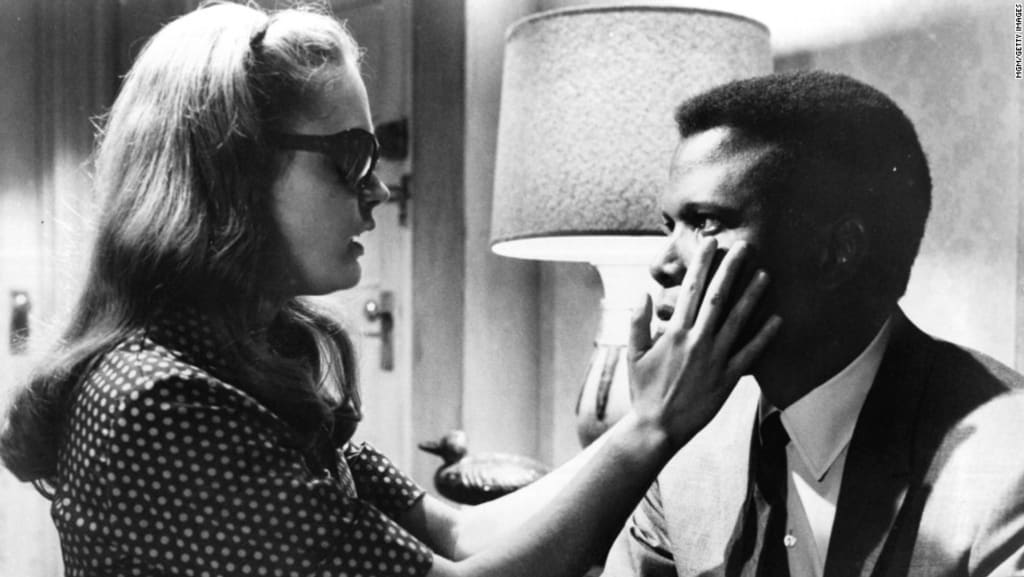 Everybody ought to have a friend.
A Patch of Blue is a 1965 film. A blind white woman makes friends with a black man. The pair form an unlikely friendship as Gordon teaches Selina needed life skills that she fails to receive in her sheltered home life.
I have had A Patch of Blue on my watch list for a long time based on actors and their heartfelt stories about human connection. Friendship is a gift that everyone should be thankful for. This film was ahead of its time amplifying important themes of empathy, racial dynamics, and overcoming adversity.
The profound impact of this film owes much to the remarkable chemistry shared between the late Sidney Poitier and Elizabeth Hartman. Both studied their roles closely. I have seen both actors in only one film, and while they've had distinct careers, they've passed along strong messages about self-image and courage.
This was Elizabeth Hartman's first film role. Like her character, the late Hartman was very shy. I first saw Hartman as the voice of Mrs. Brisby from The Secret of NIMH. Hartman researched about the blind to make her role more authentic. Selina conquers adversity and shows viewers never to let a disability stop you from living dreams.
Gordon is very kind to Selina. He helps her learn how to cross the street, teaches her Braille, and feels good about herself. Gordon steps in at the right time. Due to the time period, Gordon is reserved about this blooming friendship. Poitier was strong in his countenance. Viewers may question his decision in the climax, but he can't be Selina's only help.
Shelley Winters and Wallace Ford play Selina's unpleasant guardians Rose-Ann and Ole Pa. Aside from making Salina do all the chores, Rose-Ann insults and physically abuses her too. As for Old Pa, Selina is lucky if he takes her home after going to the bar.
Unlike her character's brash and abusive nature, Winters hated playing Rose-Ann. She was supportive of racial rights and apologized to Hartman for all the awful things she did to her character. Winters was surprised when she won an award for Best Supporting Actress for her role.
Guy Green made A Patch of Blue for anyone who doesn't feel seen. A Patch of Blue teaches viewers about tolerance. The music is so gentle and lighthearted. This movie was a little long and incorporated too many scenes of Gordon's teachings. The scene where he teaches Selina to smoke is unnecessary.
Cinematography plays a pivotal role in A Patch of Blue, particularly in Selina's perspective. Scenes were directed with the utmost respect for the blind. Green preferred to make the film black-and-white over color. Camera angles observe Selina's hands closely as she examines objects. Edits are quick into the next scenes.
Locations are highly important in any film as they examine the character's world. The apartment is so small and messy that it resembles a prison. Like Selina, I am screaming to escape outside.
Behind the scenes, A Patch of Blue has had challenges. The film faced considerable controversy due to its exploration of interracial relationships. One scene between Selina and Gordon was cut in the American South because many states had laws against 'race-mixing.'
Culture and themes have changed since this movie's release, but we can still learn from it. Older movies deserve recognition so I highly recommend that you watch A Patch of Blue. This is a movie that will make you feel happy. Be thankful for friendship as it is one of the most important gifts. Sometimes unexpected friendships help you in the least expected ways.
About the Creator
Writing has been my passion since I was 11 years old. I love creating stories from fiction, poetry, fanfiction. I enjoy writing movie reviews. I would love to become a creative writing teacher and leave the world inspiring minds.
Reader insights
Be the first to share your insights about this piece.
Add your insights