'A Beautiful Day in the Neighborhood' Review
Where compassion and kindness happens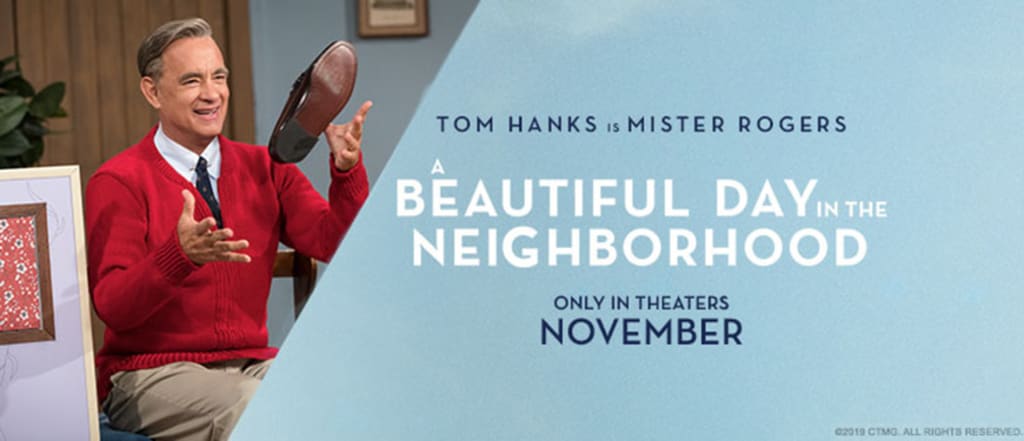 Hello, neighbor. The moment you've been waiting for is finally here: my thoughts about A Beautiful Day in the Neighborhood. I'll be sharing parts of the movie that stood out to me. Before I go any further, I want to remind everyone of a few things. The first is that if you love any articles I've written so far, please feel free to send me a one-off tip, which is at the end of every article. No tip is ever too big or small. It helps me and other Vocal creators write better stories. Also, in case you're keeping count, this is the second movie I'm reviewing. I rarely review movies, but will do so if a trailer or trailers of an upcoming movie capture my attention. Last but not least, if you haven't seen the movie yet, you might not want to read my review because it will have spoilers. So go ahead, see it, come back here, and then read my thoughts about it. As for everyone else who has already seen it, I hope you enjoy my review.
In the beginning of the movie, we are introduced to Lloyd: a writer for Esquire, husband, and father to a baby named Gavin. He was assigned to profile a positive figure for an article: Mister Rogers. Lloyd was reluctant at first to do it, but eventually agrees. He has a difficult time with letting go of his anger and opening up about his father.
The first thing that I've noticed was when Lloyd was in Pittsburgh at the WQED studio to interview Mister Rogers and was asked about his father, he didn't want to talk about it. In another scene, Mister Rogers asked Lloyd about what he and his father fought about. Again, he declined to share anything with him. What I took from both situations was the reason why Lloyd was angry is because of resentment and his father seeing another woman while his mother was dying. However, Lloyd was being selfish towards everyone that cared about him, especially his wife. He thought that his career was more important than being a husband and father to a small child.
I have to admit that I did shed a few tears in certain parts, but the one part that made me break down was when Lloyd finally realized the awful and hurtful things he had said and done, he was in tears, hugging his wife. Then, he's determined to finish writing the article and complete it for the magazine in time. In another scene, Lloyd and his father set aside their differences and bond with one another. So all the things that Mister Rogers was telling him sank in and Lloyd realized that needed to become a better person.
One great moment in that movie was when Lloyd and Mister Rogers were at a restaurant and both were silent for a minute. It was something that Mister Rogers had Lloyd do with him, because if you noticed at the wedding, he was angry at his father and at everyone. Everyone at the restaurant was silent. What you might have not noticed was Joanne Rogers, Fred Rogers' widow, was also in that scene. So that was an interesting Easter egg that surprised everyone.
Finally, Lloyd visits his family and Mister Rogers happens to stop by for a visit, who later whispered something in Lloyd's father's ear. When Lloyd asked him what he said to his father, Mister Rogers said that he was praying for him. Sadly, Lloyd's father dies. Overcoming pain and tragedy is never easy, but we all need someone to guide us in the right direction. It's also important to be kind and compassionate towards everyone.
One thing that stood out to me as a kid watching Mister Rogers' Neighborhood and still does today was when Mister Rogers said this: "I like you just the way you are." In other words, it's okay to be yourself and loving who you are as a person. Everyone makes mistakes and we're not perfect, but we have the ability to be a positive influence for others. Plus, we're human and go through ups and downs. Nowadays, there's a lot of negativity happening around us and in front of our eyes: people hurting others, name-calling, and so on. It tends to spread a lot faster than positivity. However, if we took an effort and establish more positivity, there would be far less hate and animosity towards one another.
Overall, A Beautiful Day in the Neighborhood left me inspired and at times, emotional. Other than that, it was a great movie and I encourage everyone to become the helpers to people, just like Mister Rogers has said. It's a movie perfect for the young and old, especially for those who don't know who Mister Rogers was. As someone who has been a fan of Mister Rogers and Mister Rogers' Neighborhood for so long, I've learned numerous things that I can pass on to everyone. This movie has lots of lessons for us to learn and share them to the much younger generation. Finally, I have to tip my hat to Tom Hanks. He did a fantastic job portraying such a remarkable man. I wouldn't be surprised if this movie received some Oscar nominations and/or wins an Oscar. Fred Rogers would be so proud of Tom Hanks and here's a fun fact: he and Fred Rogers are distant relatives. In fact, they are sixth cousins, according to Ancestry.com. As of this article, A Beautiful Day in the Neighborhood currently has a 96% rating on Rotten Tomatoes. It's an uplifting, feel-good movie that will pull your heartstrings. In case you were wondering, I did cosplay as Mister Rogers. That picture is currently up on both my Facebook and Instagram pages. I've received positive comments on it and everyone loved it. That was my last cosplay of 2019, but more are coming in 2020.
Mister Rogers was a man of compassion and kindness. He never was judgmental or angry. He talked about serious topics and gives us advice on how to overcome obstacles and barriers. Not only that, but he spoke on those issues in the best way possible. This was a man who loved and cared about everyone and all it takes is doing something nice for someone, which doesn't cost a thing.
So what parts in A Beautiful Day in the Neighborhood did you love the most and which ones made you emotional? Also, what lessons did you learn from watching the movie? I'm on social media and all of that info is found in my bio. Finally, if you enjoyed this article or any article I've written, please send me a one-off tip of any amount. Your tips are much appreciated and encourages me to write better stories. Thank you in advance for your continued support on Vocal.