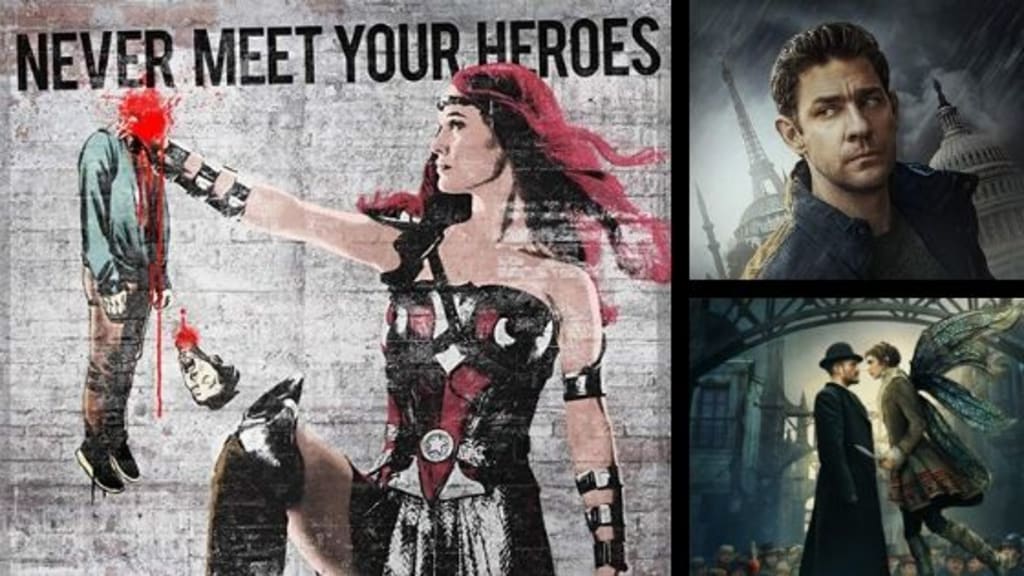 Prime Video isn't perfect, but it does have a growing library of quality original content and a good collection. Also, since I am already a prime member... some of the movies and shows already come free for me. Too bad I keep finding myself interested in some titles... just realize that I need to pay extra for an add on package. It's probably the biggest problem I have with Prime Video. With that said, I also haven't given Prime Video a decent try before... it turns out that it does have it's hidden gems. Don't worry! You don't have to buy any extra add on packages to watch these eight recommendations.
1. The Boys

"A group of vigilantes set out to take down corrupt superheroes who abuse their superpowers." - IMDb
The Boys is at the top of this list for a reason. It is amazing! (Although I do feel the need to warn you... it's also very gory. Very very gory!) The Boys follows some classic stereotypes about superheroes... and then introduces all kinds of dark truths that would probably apply if people really did have superpowers. If I had to describe its brilliance one simple explanation, it would be that The Boys blurs the lines between Heroes and Villains.
Don't want to just take my word for it? Check out the reviews! The Boys has an 8.8/10 on IMDb, an 83% on Rotten Tomatoes and a 7.1/10 on TV.com. Long story short, give this series a try!
2. The Boondock Saints

"Two Irish Catholic brothers become vigilantes and wipe out Boston's criminal underworld in the name of God." - IMDb
The Boondock Saints has some impressive reviews including a 7.8/10 IMDb! However, don't be fooled while looking at its reviews on Rotten Tomatoes as its overall score is misleading. Ignore its critic score and take a look its amazing 91% audience score. In other words, don't always trust the critic scores. The Boondock Saints is a classic film and a must watch!
3. Carnival Row

"A human detective and a fairy rekindle a dangerous affair in a Victorian fantasy world, where the city's uneasy peace collapses when a string of murders reveals an unimaginable monster." - IMDb
Do you love fantasy and amazing special effects? If so, Then you will love Carnival Row! It's a visually stunning show for sure. Carnival Row has a 8/10 on IMDb and an 87% audience rating on Rotten Tomatoes.
4. Mr. Robot

"Elliot, a brilliant but highly unstable young cyber-security engineer and vigilante hacker, becomes a key figure in a complex game of global dominance when he and his shadowy allies try to take down the corrupt corporation he works for." - IMDb
Mr. Robot has an 8.5/10 on IMDb and 94% audience score on Rotten Tomatoes.
5. Good Girls Revolt

"A look at the personal and professional lives of employees at an American news magazine in the late 1960s." - IMDb
Good Girls Revolt has a 8.2/10 on IMDb and a 97% audience score on Rotten Tomatoes.
6. Philip K. Dick's Electric Dreams

"A sci-fi anthology series with stand-alone episodes based on the works of Philip K. Dick." - IMDb
Philip K. Dick's Electric Dreams has a 7.3/10 on IMDb
7. Lore

"Our collective nightmare mythologies are rooted in real-life horror stories." - IMDb
Lore has a decent 6.7/10 on IMDb.
8. Jack Ryan

"An up-and-coming CIA analyst, Jack Ryan, is thrust into a dangerous field assignment as he uncovers a pattern in terrorist communication that launches him into the center of a dangerous gambit." - IMDb
Jack Ryan has an 8.2/10 on IMDb, a 74% audience score on Rotten Tomatoes and an 8.2/10 on T.V.com.
Work Cited
Amazon.com: Prime Video. https://www.amazon.com/Prime-Video/b?node=2676882011.
Kieldsen, Sam. "The 42 Best Things to Watch on Amazon Prime Video." Stuff, 1 Sept. 2019, https://www.stuff.tv/features/42-best-things-watch-amazon-prime-video.
Moore, Ben. "Amazon Prime Video." PCMAG, 20 June 2019, https://www.pcmag.com/review/362416/amazon-prime-video.
"Ratings and Reviews for New Movies and TV Shows.", IMDb.com, www.imdb.com/.
Rotten Tomatoes: Movies | TV Shows | Movie Trailers ... https://www.rottentomatoes.com/.
TV.com - Show Info and TV Talk. http://www.tv.com/