5 Paintings by a Ukrainian Russian Painter to Keep You Captivated
From historical controversies to human emotions by Ukrainian-born Russian artist Ilya Repin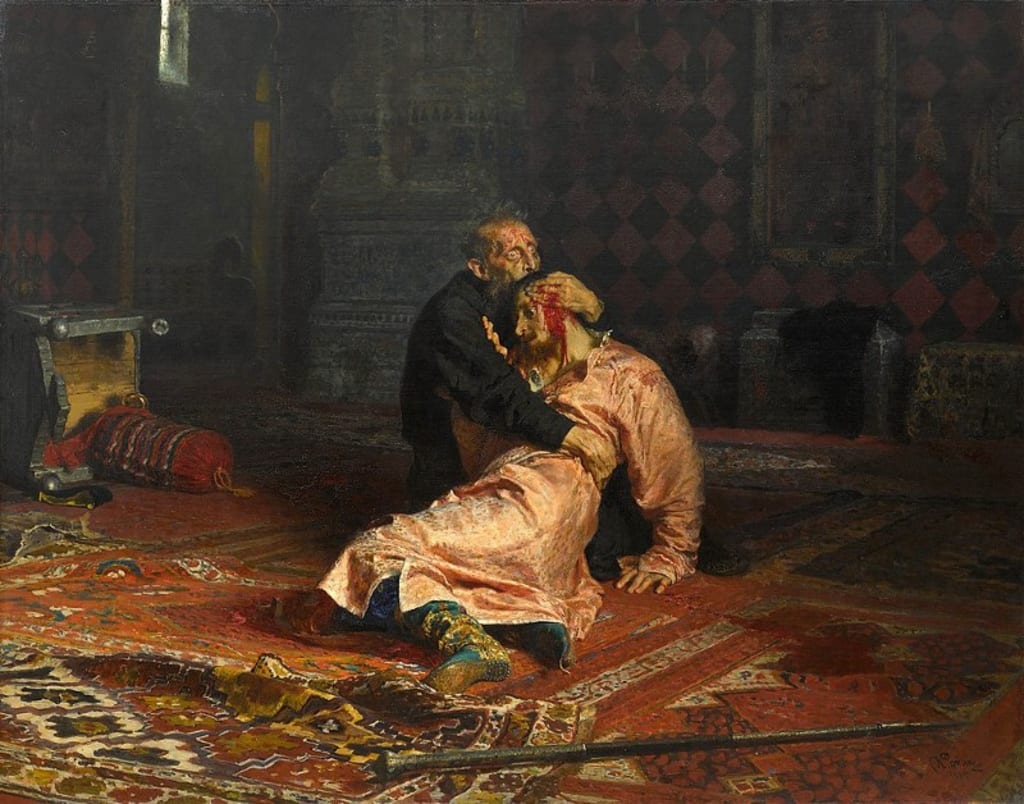 Ivan the Terrible and His Son Ivan. Source - Public Domain
"…you will see for yourself how our Russian reality, which no one has yet depicted, will begin to sparkle before your eyes. How its poetic truth will draw you in, to the very marrow of your bones, how you'll start trying to grasp it and with all the passion of love transfer it onto canvas."
Ilya Repin, the Ukrainian-born Russian artist, pioneered social realism in Russia.
However, his versatility was not limited to historical controversies and political rhetoric. He captured folklore and human emotions with equal intensity as his niche.
Here, I curate 5 paintings by Repin that will you keep you fixated and help you engage with them at a deeper level.
1. The Reply of the Zaporozhian Cossacks to Sultan Mehmed IV (1880–1891)
Repin gave more than 10 years of his artistic life to this canvas. This painting documents one of history's most interesting stories - a crude and offensive response by Zaporozhian Cossacks to Sultan Mehmed.
Zaporozhian Cossacks inhibited around the lower Dnieper River in modern-day Ukraine. They rose into a potent political power in 17th century Russia and challenged the authorities of the Tsardom of Russia.
The Cossacks defeated the Ottoman Empire led by Sultan Mehmed. However, when Mehmed asked them to surrender, they wrote a letter with insults and profanities.
Zaporozhian Cossacks to the Turkish Sultan!

O sultan, Turkish devil and damned devil's kith and kin, secretary to Lucifer himself. What the devil kind of knight are thou, that canst not slay a hedgehog with your naked arse? The devil shits, and your army eats. Thou shalt not, thou son of a whore, make subjects of Christian sons. We have no fear of your army; by land and by sea we will battle with thee. Fuck thy mother.
This painting captures the boisterous laughs of the Cossacks while writing the letter. The man with a velvet blue cap, long mustache, a cigar, and a rambunctious attitude is Ivan Sirko, who led the Cossacks army.
2. Ivan the Terrible and His Son Ivan (1883-1885)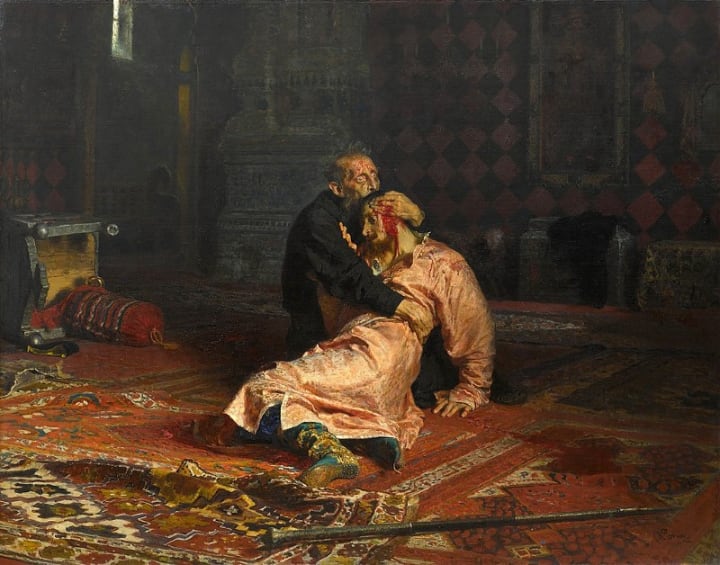 This painting is as visceral and gory as Saturn Devouring His Son. Yes, it is that frightening.
The wild stare of an older man, blood dripping from his son's head, and the disturbing ambiance keep you captivated.
Fact: this painting was vandalized twice, in 1913 and then in 2018, as it covered Russia's most controversial historical subject.
The older man with his eyes popped out is Ivan the Terrible, the Tsar of Russia. He was an intelligent and devout monarch but was prone to episodes of mental instability. The senior Ivan killed his son Ivanovich with his black scepter in rage.
Repin chronicled the event with intricate detailing - the upturned stool, fallen bolster, and disorganized bloodstained rug emanate the tortured psychic energy from the scene.
The senior Ivan, wearing a black robe, is in utter shock and the veins of his right temple and hands reveal the chilling grief on his face. The blood-drenched junior Ivan lies in his father's arms, wearing a pink coat and embellished boots.
3. Leo Tolstoy in the Forest (1891)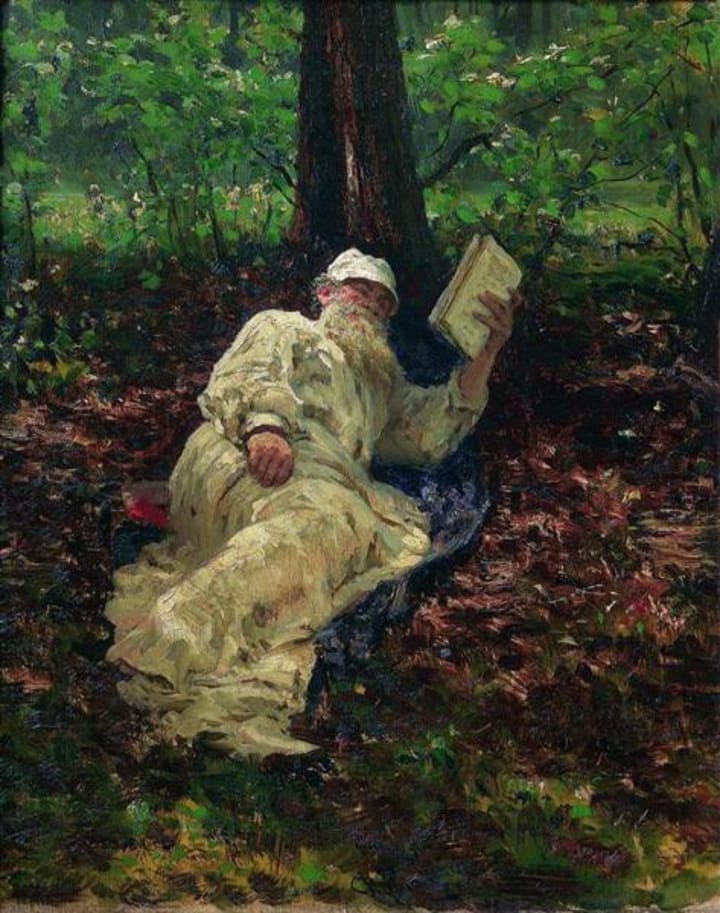 This painting portrays the lesser-known facet of Repin's repertoire - handling human emotions and tapping into his creative instincts.
The casualness and the ease with which Repin created it are distinctly visible.
Here, Tolstoy is forest bathing and reading a book.
Although Repin and Tolstoy shared different political ideologies, they both were nature lovers and shared a healthy personal relationship.
4. Sadko (1876)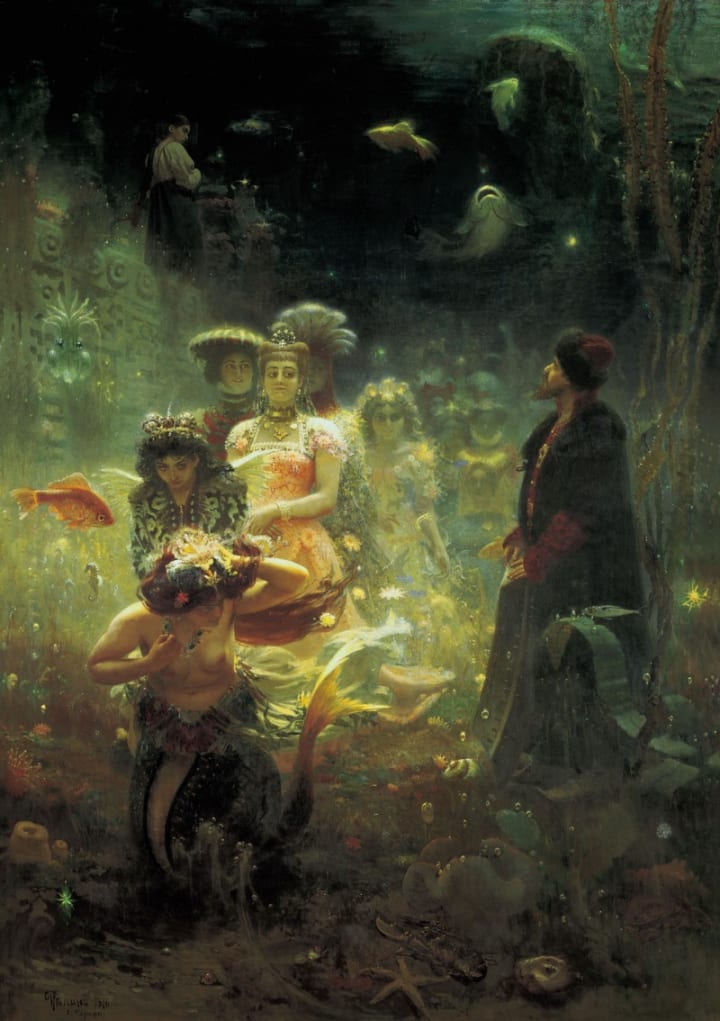 As the artist wrote at the time: "The idea expresses my true state and perhaps the state of our as-of-yet still Russian art."
The future Tsar Alexander III commissioned the composition. Repin created it while he was about to finish his art degree.
It depicts a Novgorod epic poem where the merchant Sadko chooses his bride from different girls in the underwater kingdom.
Although mesmerized by them, Sadko nevertheless chooses the Russian girl Chernava to be his bride.
To achieve maximum authenticity, Repin studied maps of the sea world and toured Crystal Palace in London.
5. Negress (1876)
This is my favorite and motivated me to dig into Repin's body of work.
The woman seems to be slaved by Cossack raiders. She wears a beautiful bright pastel green dress with a big gold necklace and pearl drop earrings. The setting is dark, but shining light on her unexpressive face makes the portrait even more captivating.
Which is your favorite? Let me know in the comments.
References:
If you like my articles, here's my YouTube channel
art
About the author
Art enthusiast. I engage with art at a deep level. I also share insights about entrepreneurship, founders & nascent technologies.
https://linktr.ee/kamnakirti