The Feisty, Sassy, and Gutsy Women of Otto Dix
From nudity and prostitution to feminism in Germany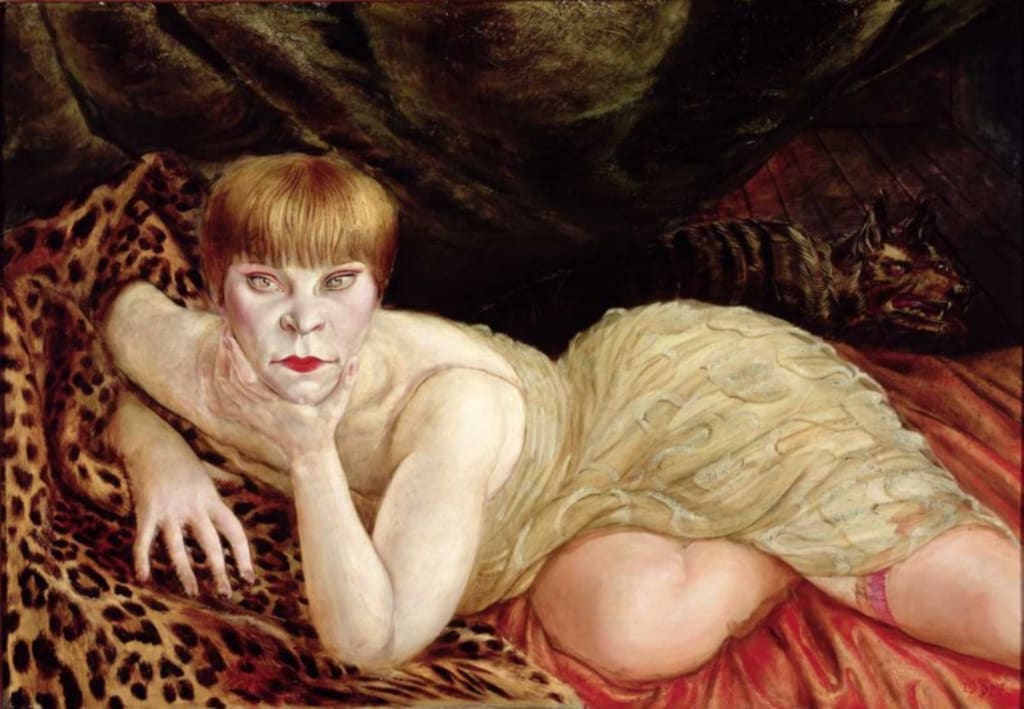 Reclining Woman on a Leopard Skin. Source - Public Domain
For me, Otto Dix would be one of the top 10 painters in the world. One of the most savage satirists.
• From being a soldier in World War I to portraying brutal realities of war and violence on canvas.
• From being an advocate of German feminism to portraying raw naked images of prostitutes and sex.
• From encountering the ineffectual Weimar republic to his art being deemed "degenerate" and confiscated by the Nazis.
Dix saw it all. He experienced his artistic pursuits in a full circle.
Since I came across Memory of the Halls of Mirrors in Brussels by Otto Dix, I wished to explore more of his oeuvre.
So here I present five feisty, sassy, and gutsy women portrayals of Otto Dix's art.
1. Reclining Woman on a Leopard Skin (1927)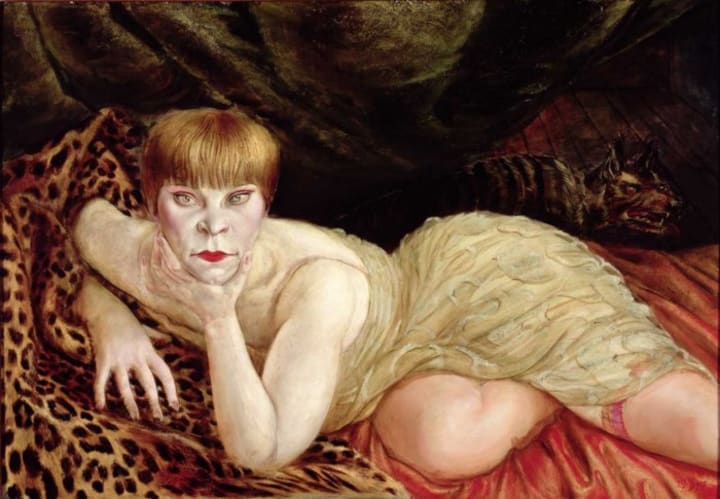 A woman lounging with her upper part lay on leopard skin and the lower part on shiny satin linen. She has a fringe haircut, accentuated cat eyes, and red lipstick.
The woman is gazing right back at you. Art historians echoed her gaze to Manet's Olympia.
Can you notice her right hand with a pouncing gesture? Can you feel her silent scream?
It might give you a nasty jolt as it did to me. The wild, wicked dog "gets" you.
Dix's use of leopard skin shows the fierceness and resilience of women. People feel we have had a primordial connection with leopards.
When this image was charged with obscenity, Dix claimed that he tried to portray how horrible prostitution was during that time.
2. Lady in Red by Otto Dix (1925)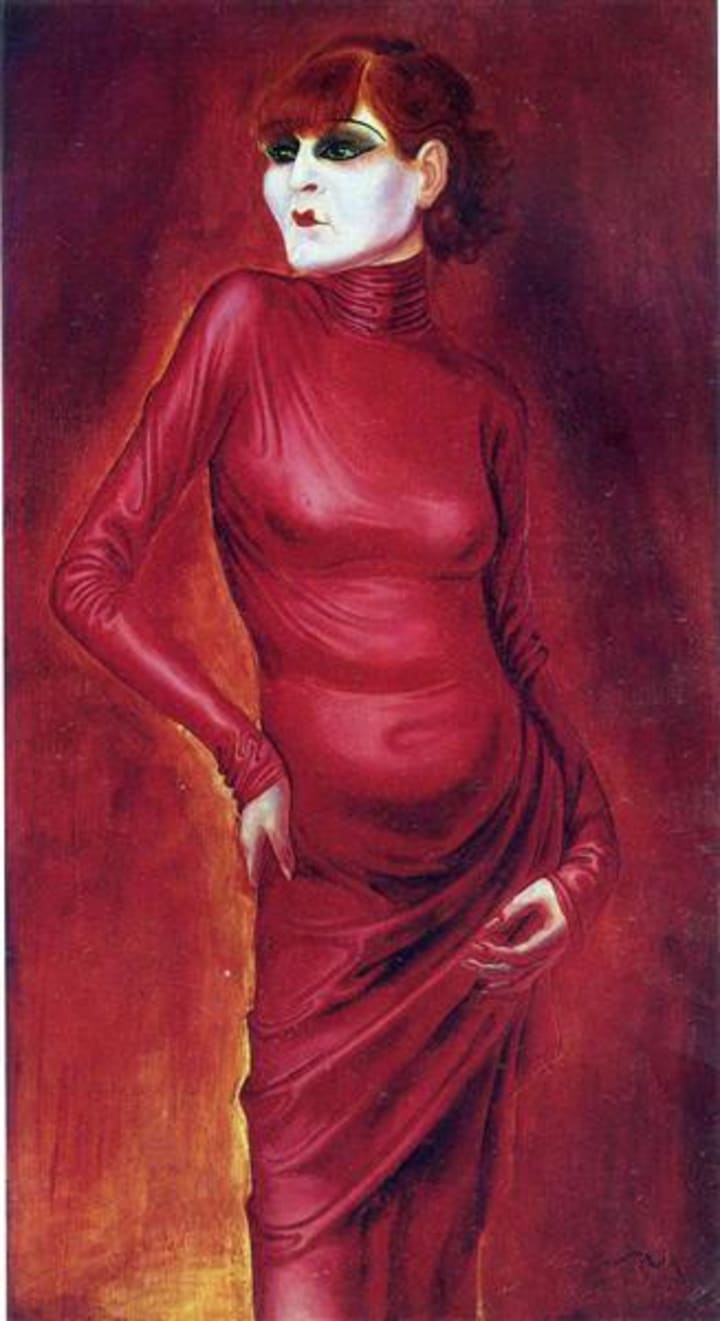 Anita Berber was the muse of this famous painting, Lady in Red. She was a scandalous figure in early 20th century Germany. A dancer, lesbian, and drug addict. Obviously, she did not conform to standard societal rules and died at the early age of 29.
Here Berber is shown in the red body-hugging costume of her "Morphine" dance, one of a few performances named after the drug. The red fringes, glittery eyes, accentuated red lips and long nails - in general, give a vibe of "I don't give a f**k attitude."
Indeed, a classic monochromatic artwork.
3. Portrait of the Journalist Sylvia von Harden (1926)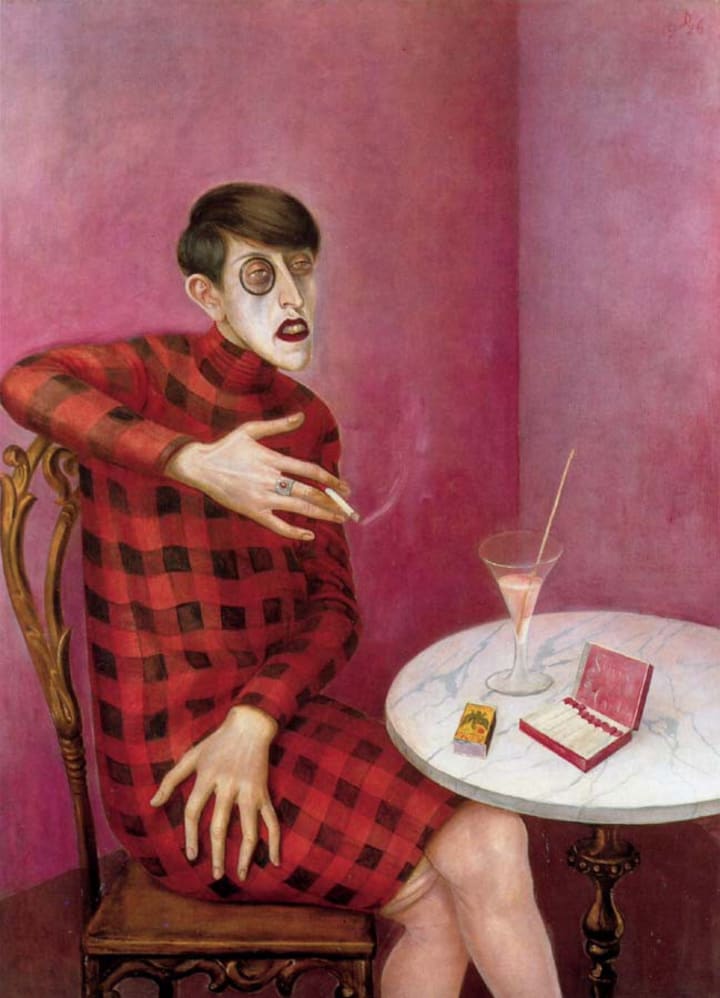 We want to see things completely naked, clear, almost without art. I invented the New Objectivity.

- Otto Dix
Otto Dix was the pioneer of first-wave German feminist art. There came a period when women did not limit themselves to household chores and demanded a tangible position in society.
When Dix met the famous German journalist and poet Sylvia von Harden, this picture came to life. Dix was flattered by her unconventional looks and sassy attitude.
The high neck red and black check pattern dress, boy-cut hair, long-faced, a monocle in her left eye, and the light stockings slipping away from one of her legs. She is shown as having a mellow personality, smoking and chilling out.
This picture redefined Germany post World War I. Domestic chores were no longer a woman's prerogative, and "she" focused on being self-dependent and living her life on her own terms.
4. Prostitute - Girl with Red Bow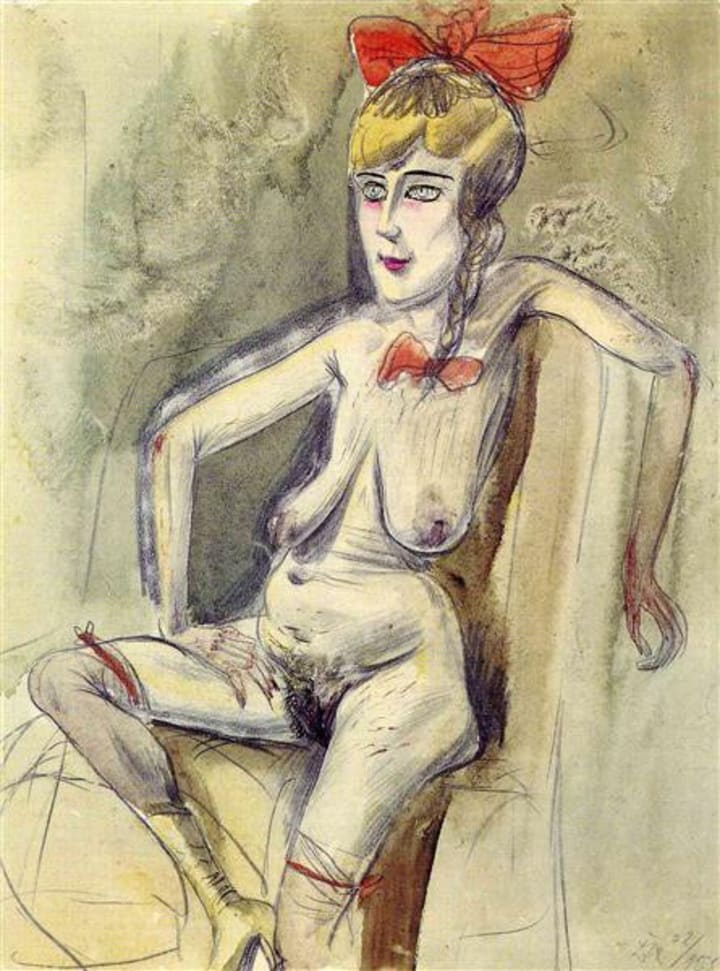 Here's what I mean when I say Dix's art was crude and realistic.
This representation was a slap on society - corruption, frantic pleasure, and demoralization were at their peak when Germany lost the first world war.
The sketch shows a naked prostitute sitting on a chair with her legs wide open. A red bow, kohl-rimmed eyes, saggy breasts, and crude vulva strike our attention.
5. Salon (1927)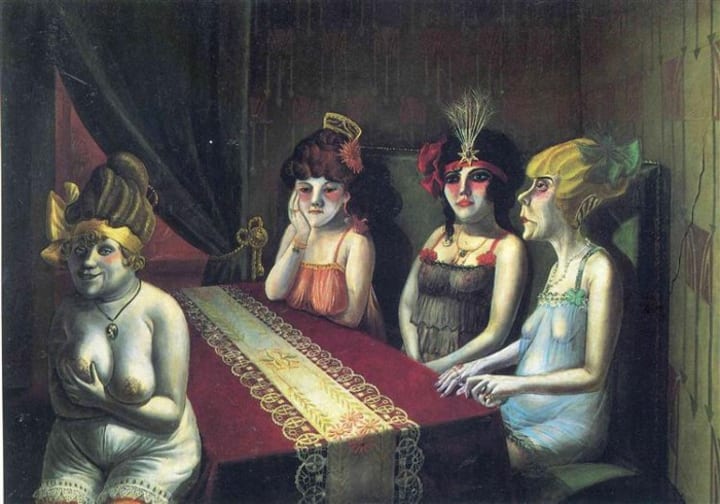 Yet another bold painting. A group of prostitutes sit together and wait for their clients. They are wearing sheer dresses with trendy hair and hand accessories. One of them is holding her left bosom.
The caricatured faces of Dix's prostitutes' were deliberate. Why? Because he wanted to bring these sensitive subjects to a mass audience in Germany.
---
What do you think about Dix's "Undiluted Life"? Let me know your favorite painting in the comments.
---
Also, I released my first e-book. Pick your free copy.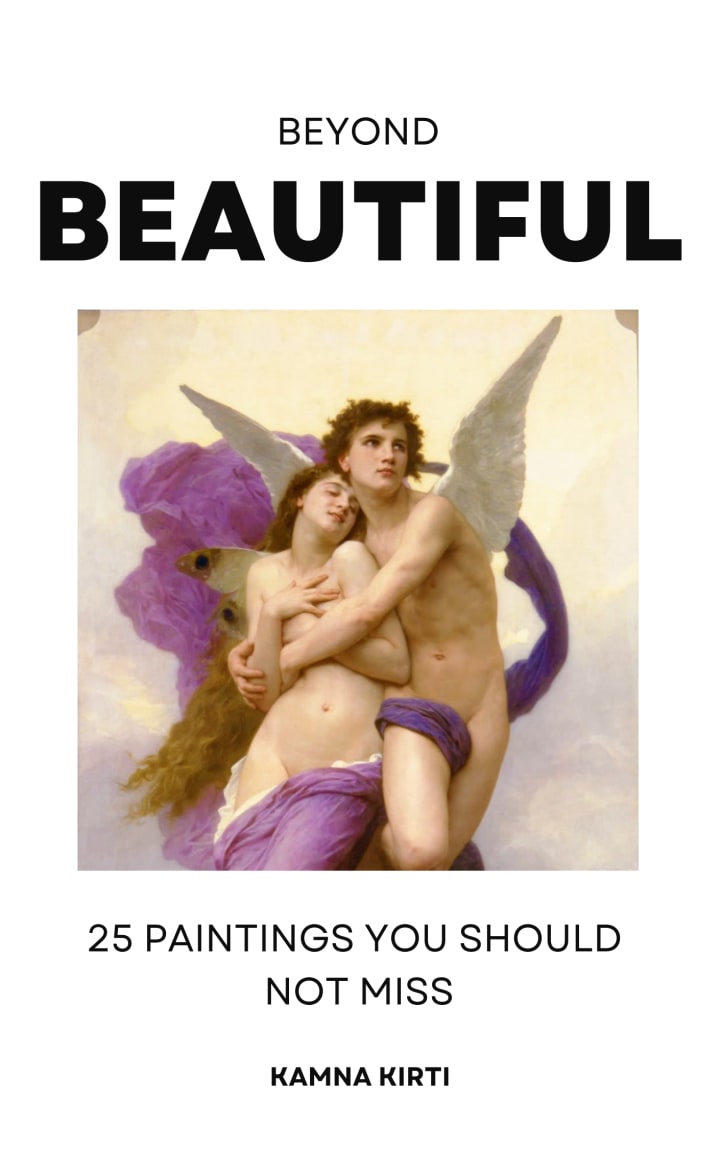 art
About the author
Art enthusiast. I engage with art at a deep level. I also share insights about entrepreneurship, founders & nascent technologies.
https://linktr.ee/kamnakirti