5 Films You Should Watch if You Want to Catch a Cannibal
First, you must learn how to think like one. If you know a homicide detective then share this article with him or her.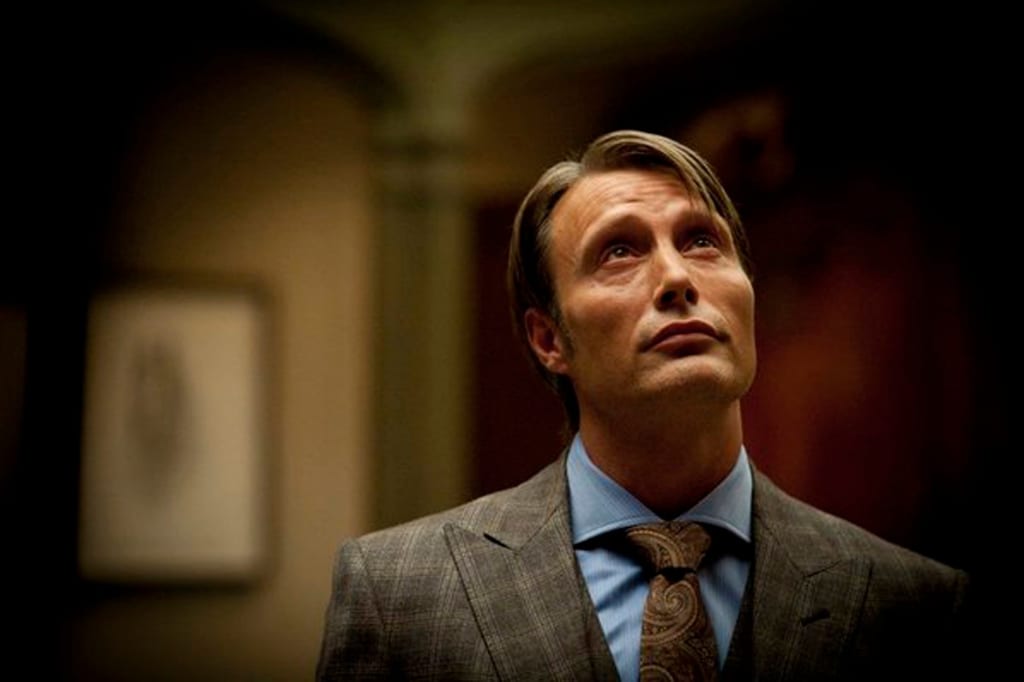 Mads Mikkelsen
This is the fourth article in an ongoing series about films or television shows you should watch if you want to work for the Chief of Police.
Are you in the mood for some human brains? Call your medic immediately at 1-800-UMB-RELA
You should read the previously published articles 9 Films You Should Watch if You Want to Catch a Thief, 7 Films or Television Shows You Should Watch if You Want to Catch a Serial Killer, and the most recent one first if you haven't read them yet before you go any further.
If that guy you like wants to invite you to his house for dinner for the very first time then you need to text the address to your friend and let her know the time you enter the premises.
If you never leave because you were the main dish then your friend will point the authorities in the right direction after they talk to her.
You can text her again after you leave the premises.
This strategy won't save your life but at least you are helping the homicide detective in charge of your murder investigation. With a bit of help from your friend, he or she may apprehend your killer.
This applies to any situation where you may be in danger, like when you are checking out a new apartment or when you are showing up at a suspicious warehouse for a job interview.
I think those special barrels used in Breaking Bad for storing toxic waste should be acquired exclusively by transfer, check, or card.
Most cannibals prey on the homeless and the elderly.
Please buy a $40,000 home in Mexico or Canada before you buy that $400,000 home in the United States of America and lease it to any real estate company for the rest of your life.
If you lose your big house in the future, you can always move after you retire to these countries and live very safely and very comfortably. You don't want to end up like Vincent MacKenna.
Here are some films about cannibalism.
Cannibals were popularized by Thomas Harris back in 1988 with the novel The Silence of the Lambs but eight years earlier this Italian cannibal exploitation horror film was made with a micro budget of only $100,000 and it was a critical success with a fresh rating of 65% on Rotten Tomatoes which is extremely high for a horror film.
This film was a massive commercial success with global ticket sales of more than $2 million.
This film is still illegal to this day in many countries.
Director Ruggero Deodato was actually arrested for obscenity charges.
He was later charged with making a snuff film due to rumors that claimed some actors were killed on camera.
If you don't know what a snuff film is then you must be a very young individual. You can take the online course Snuff Film 101 taught by professor Nicolas Cage from the University of Las Vegas for only $3.99 right here.
WARNING: This online course is not for everybody. You could be traumatized for the rest of your life. Please do not enroll if you are not at least 21 years old and DO NOT GOOGLE THE TERM SNUFF FILM. There are some very nasty things on the deep web and most of the individuals living there are extremely dangerous. Proceed with caution. You don't want to end up like Venus Delmonico.
You can stream this film right now if you are a Shudder subscriber.
NOTE TO COOL AND MODERN MOMS: This is the perfect horror film to watch with your son or daughter on Halloween the year he or she turns 15-21 (Age of majority varies by country). Write this down on your calendar before you forget my whole article.
Eli Roth is the writer, director, and producer of this 2015 splatter cannibal horror film produced with a micro budget of only $5 million.
This film was a commercial success with global ticket sales of more than $12 million.
They actually shot this film in Peru and Chile.
"like a glorious throwback to the drive-in movies of my youth: bloody, gripping, hard to watch, but you can't look away." - Stephen King
It is likely a sequel will be produced at some point in the future after the financial success of this film.
Blumhouse Productions is a company founded in 2000 and they found financial success after they sold the 2007 horror film Paranormal Activity made with only $15,000 to Paramount Pictures, a Viacom (NYSE: VIA) subsidiary and the global ticket sales were more than $193 million.
Jason Blum secured his future with this film and he now has a net worth of more than $25 million.
You don't need to be a billionaire to invest in Hollywood. You can emulate Jason Blum's business plan and specialize in cheap thrills with micro budgets of less than $10 million and make at least one horror film annually.
If you have at least a small fortune of $10 million and you are prepared to risk 10% of your entire wealth in films then you can start your own horror studio exactly like Jason Blum did it many years ago in association with at least ten of your wealthy friends.
Three years ago they branched out into books with the new Blumhouse Books division.
If you like horror, you can buy the paperback version of the book The Blumhouse Book of Nightmares: The Haunted City written by Jason Blum himself for as little as $2.99 plus $3.99 for shipping and handling
If you like horror, you can also buy the paperback version of the bookThe Apartmentwritten by S. L. Grey for as little as $4.88 plus $3.99 for shipping and handling or if you are not a reader then you can simply wait for a few years until three-time Academy Award winner Steven Spielberg finishes the film.
This book has been translated into Japanese, Thai, French, German, Dutch, Russian, Italian, Hungarian, Chinese and Taiwanese.
If you happen to be a millionaire with dreams of becoming a book publisher one day then all you need to do is acquire the rights to print this book in Spanish, Hindi, Arabic, Portuguese, Bengali, Punjabi, Javanese, Wu, Malay, and Tegulu and sell the book digitally as fast as you can before the film is released.
You can stream this film right now if you are a Cinemax (NYSE: T) subscriber.
This film was distributed in several countries by Universal Pictures, a Comcast (NYSE: CMCSA, CMCSK) subsidiary.
Marc Caro and Academy Award nominee Jean-Pierre Jeunet directed this French 1991 post-apocalyptic black comedy film produced with a micro budget of $3.8 million.
This film was mostly universally loved by film critics all over the world with a certified fresh rating of 89% according to Rotten Tomatoes and it was a financial success as well with global ticket sales of more than $12 million.
Jean-Pierre Jeunet and Guillaume Laurant received a nomination for an Academy Award in the Best Writing, Screenplay Written Directly for the Screen category back in 2002 for their hard work as directors in the 2001 romantic comedy film Le Fabuleux Destin d'Amélie Poulain.
Le Fabuleux Destin d'Amélie Poulain is one of the 1001 Movies You Must See Before You Die according to Ian Haydn Smith and Steven Jay Schneider.
If you are married or you have a girlfriend and she is not a Netflix (NASDAQ: NFLX) subscriber and you happen to live in Denmark, Argentina, the United States of America, Mexico, Sweden, Brazil, Finland, Norway, Colombia, Italy or Japan then all you have to do if you want to give her the perfect Saint Valentine gift next month is to acquire an old-fashioned greeting card and a Netflix gift card and write down "Let's watch Le Fabuleux Destin d'Amélie Poulain together."
By the way, if you are a male then don't watch any of the films included in this article with your girlfriend or wife. She is not going to like any of them.
Unless of course, you are dating or married to Juno MacGuff, Harley Quinn, Jenny Johnson, and/or Rebecca Bunch.
I don't know if Tobe Hooper acquired a copy of the 1974 book Alive: The Story of the Andes Survivorsand decided to create his own cannibal in a more urban environment but 19 years later the biographical survival drama film Alivewas released and it was well received by the film critics.
Four-time Academy Award nominee Ethan Hawke plays the role of Nando Parrado.
This 1974 horror film was produced with only $300,000 hiring unknown actors from central Texas where the film was shot and it was extremely difficult to find a distributor for the film because this film was considered extremely violent at the time.
You need to rent a lot of equipment if you want to make a film and they usually charge you by the day and director Tobe Hooper was forced to work for seven days a week to save money.
Also, he was forced to work for many hours each day to save money in production costs.
The film was banned outright in many countries.
In the countries where the film was legal, there were protests and complaints about the violence portrayed in the film and some of the movie theaters were forced to stop playing the film.
Because of this, millions of people rushed to the movie theaters to watch the film before the churches and other powerful organizations forced the theater owners to take down the film.
Keep in mind, back then most theaters were owned by local individuals living in the same towns where the theaters were located and everybody knew where they lived and who they were.
A few of them were millionaires but most of them were middle class hard working people just like you and me.
Keep in mind, the market for films at the time was very small compared to this day and age.
We acquired $11.374 billion in movie tickets in 2016 in the United States of America alone.
Today, most theater chains are publicly traded companies like Cinemark (NYSE: CNK), Regal Entertainment Group (NYSE: RGC), and AMC Theatres (NYSE: AMC) and nobody can stop them from releasing violent, pornographic, and/or controversial films if they wish to do so.
If there is a demand for the film and they can make money with the film then they will distribute it.
Billionaire Wang Jianlin is the chairman of the conglomerate Wanda Group and they control AMC Theatres, the second-largest theater chain in the entire world behind Regal Entertainment Group.
In fact, these two companies control the American film production and distribution company Open Road Films since 2005.
They don't want to rely on the traditional Hollywood studios for 100% of the content that they are selling to consumers and they are slowly taking a bigger slice of the huge pie.
Eventually, 20% of the films you see on their screens will be Open Road films.
Eventually, AMC Theatres will acquire another large theater chain and they will become larger than the Regal Entertainment Group.
Billionaire Wang Jianlin is currently the 59th most powerful person in the entire world according to Forbes magazine and not even Pope Francis, the 5th most powerful person in the entire world according to Forbes magazine could stop him from releasing the 2016 mystery thriller film Inferno.
Pope Francis could not persuade Jeff Bezos, the 14th most powerful person in the entire world according to Forbes magazine to stop selling Inferno on Blu-Ray Disc either.
The regular Blu-Ray Disc and the newer and higher resolution 4K Ultra HD Blu-Ray Disc will be released in a few days and you can acquire them on Amazon (NASDAQ: AMZN) if you wish to do so.
In fact, this film is currently a best-seller in the categories Mystery & Thrillers, Drama, and Action & Adventure on Amazon.
It would be somewhat expensive for the Vatican to block the sale of this film now that Amazon has been profitable in the last four consecutive quarters.
However, quarterly profits went down from $857 million on 6/30/2016 to just $252 million on 9/30/2016 which means they can still bribe them offering them twice the estimated quarterly profits they expect to generate from the sale of these two products if they simply refuse to sell this film.
Sure, the consumers can still order the same product on eBay, unless of course, the Vatican offers the same deal to them as well.
EBay's quarterly profits decreased from $482 million on 03/312016 to $435 million on 06/302016 to $413 million 09/302016
Most consumers will simply give up after visiting these two websites.
I don't know which company is the third largest online seller of Blu-Ray discs but I am sure the Vatican could bribe them as well if their quarterly sales are decreasing.
Maybe Pope Francis is not as powerful as Forbes magazine claims he is.
I understand back in the day the Pope ruled the whole world but we live in a world with more wealth equality now.
I mean, blacks are not slaves anymore, women can actually vote, you can have sex with a strong and handsome black man if you are a white woman or if you are a white man and I can visit Canada whenever I want without any complicated, extremely expensive, or slow bureaucratic processes including but not limited to fingerprint scans, mug shots, and background checks.
I just show them my passport and they let me in.
We are moving very slowly in the right direction.
You can rent The Texas Chain Saw Massacre on Amazon right now for as little as $3.99 and that is great.
If you happen to live in one of the countries where this film was banned a few decades ago then go to your nearest public library and check if this film is currently in stock and if it's not then let me know and I will acquire it for you and you can donate it to your nearest public library after you finish it.
If you have this film on DVD and you don't need it anymore because you have the Blu-Ray Disc version as well then send it to my warehouse in the United States of America and I will pack it and ship it to a public library in a poor country where English is spoken and they use the NTSC video standard and they don't have it in stock yet.
Alternatively, you can simply sell it on Amazon for as little as $0.69 or less and my computer system will automatically acquire it and ship it to the right location.
If you don't have a DVD or a Blu-Ray Disc of this film and you wish to help me out then you can simply buy it on eBay for $4.68 or less including shipping and handling and ship it to my warehouse in the United States of America and I will keep you posted.
Inferno is 2013 mystery-thriller novel written by American author Dan Brown.
If Pope Francis is so powerful then how come he cannot write a check to Sony (NYSE: SNE) for the movie rights to The Lost Symbol?
Chris Evans stars in this 2013 science fiction thriller film based on the French graphic novel Le Transperceneige written by Jacques Lob and illustrated by Jean-Marc Rochette.
Chris Evans and Academy Award nominee Samuel L. Jackson worked together in the 2018 superhero film Avengers: Infinity Wars.
This film is currently one of the greatest films ever made with a nearly perfect certified fresh rating of 95% according to Rotten Tomatoes.
About the Creator
I have written for the largest and most popular websites in Australia, Japan, India and the United States of America including but not limited to TheStreet.com (NASDAQ: TST), Seeking Alpha, Motley Fool, Insider Monkey and Startup Mindset.
Reader insights
Be the first to share your insights about this piece.
Add your insights