Overwatch League: Stage 1 Recap
The First Big Step for E-Sports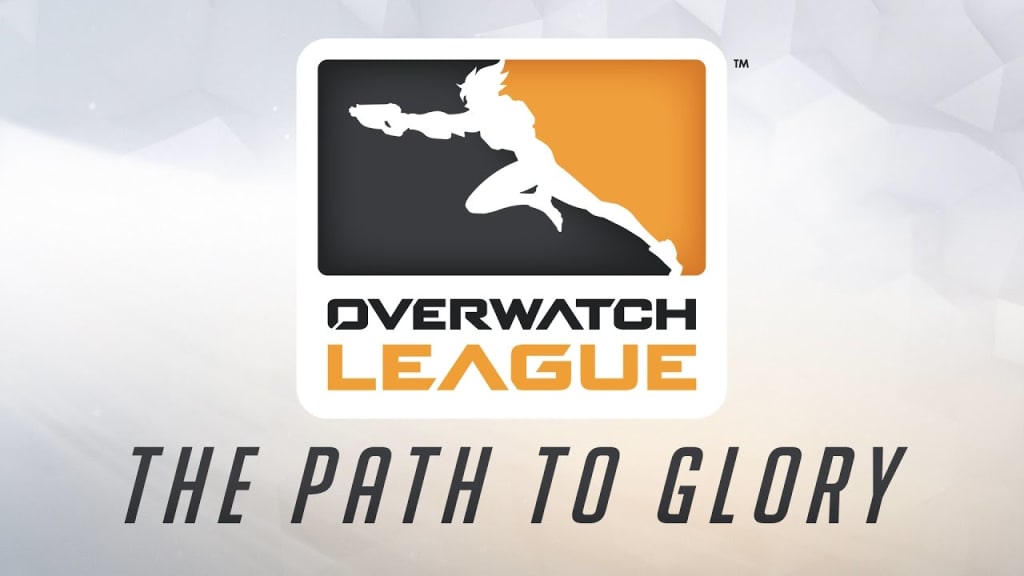 Stage 1 of the Overwatch League has wrapped and there has been a lot that has happened. Here is a basic overview of some standout news from stage 1 and a playoff recap.
Suspensions and Fines
xQu of the Dallas Fuel was suspended for saying, "Shut your fucking mouth. Go back there. Suck a fat cock. I mean, you would like it" in reference to the Huston Outlaws player Muma, who is openly gay, using his phrase "rolled and smoked my doggies." xQc was suspended by the league for four games and fined $2000. The Dallas Fuel suspended xQc until the end of stage one which was February 10. The Dallas Fuels official statement.
Another player that has been mixed up in controversy is Profit of the London Spitfire who was fined $1000 for giving the finger to the player facecam. On Twitter, Profit said "I made the gesture in response to the players and coaches in a joking fashion. I will take the time to deeply reflect upon what I say and do to make sure that nothing like this takes place again. I'm sorry for the fans that I have let down through my actions."
This came one week after xQc's suspension and fine calling into question how these suspensions and fines are handed out. The Overwatch League commissioner Nate Nanzer said that he just "hasn't gotten around to" publishing the code of conduct.
Player Signings
Shanghai Dragons
Geguri - Tank
Florida Mayhem
Zappis - DPS
Dallas Fuel
Akr - DPS
As of Feb 10th
Stage 1 Playoff Recap
Seoul Dynasty Shock
Throughout the Stage 1, Seoul was the team to beat. In the weeks before the Stage 1 playoffs, Seoul had stumbled but they still had an above 50 percent chance of making the final 3. But after a questionable substitution of Fleta and some seemingly uncoordinated attacks, Seoul ended up being eliminated from the Stage 1 playoffs by a struggling San Francisco Shock team. If there was a big betting culture around the OWL like there is for the NBA or NFL this would be akin to the Malcome Butler situation with the Patriots.
Huston and Boston
The final spot in the top three was determined by this game between Huston and Boston. If Huston won they were in, but if Boston won by two they were in, BUT if Boston won by only one match then the Los Angelas Valiant would be the third team. The game went to five maps which in turn eliminated Boston, but that didn't stop them from trying to upset Huston. In the end, Huston won but the story of Boston was really a story of an underdog.
London Spitfire Excells
For those of you that don't know, Overwatch League games are basically best of five. In the finals of the stage 1 playoffs, New York Excelsior went up 2-0 in the first two match. After that, the Spitfire mounted a huge comeback to take the game in the fifth match topping the stage 1 playoffs an winning $125,000. There was an amazing display of teamwork and perfectly executed ultimates and attack, and lockdown defence.
Standings after the playoffs are posted here.
Predictions for Stage 2
Coming into stage 2 we can expect some more teams to make runs. I expect three teams to make a run at being close to that third spot this stage.
San Francisco Shock
This team has underperformed in this first stage. They beat Boston and took some maps away from teams like London, Huston, and took Seoul to a fifth map this past weekend. They are building momentum and the week off they have going into stage 2 will really help them build more chemistry.
Dallas Fuel
The Dallas Fuel is a troubled team. From the xQc suspension to some of the comments from teammates about the suspension coming from the fuel being for out of game antics, I think this team has a lot to figure out. That said, they have talent. Will they make the top 3? I don't think so, but I see them coming close in stage 3 and 4 IF they figure out the team dynamic and chemistry problems they obviously have.
Philadelphia Fusion
The Fusion was just on the outside this stage ending with the same record as Boston, but a sub .500 map differential isn't going to do it. I see them tightening up and taking advantage of playing weaker opponents. An example would be their game against the Florida Mayhem; they gave up two maps and they can't do that if they want to go to the next level.
Current Standings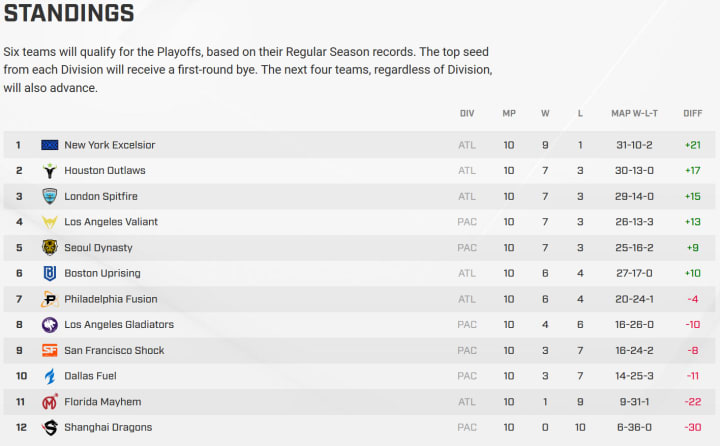 About the Creator
I wanted to be like Indiana Jones until I realized that there were probably mosquitos where he did his adventures.
I like basketball, rap music, esports and books.
Twitter: @amos_calder
Reader insights
Be the first to share your insights about this piece.
Add your insights