'NCAA Football 14': OU, Stillwater, and Georgia Tech to the SEC Dynasty Mode Build Season 1, Part 20--Ending #1--BCS Alternate National Championship at the Sugar Bowl: #1 Oklahoma vs #3 Nebraska
#2 Ohio, will get their day in the Dynasty Mode Finish.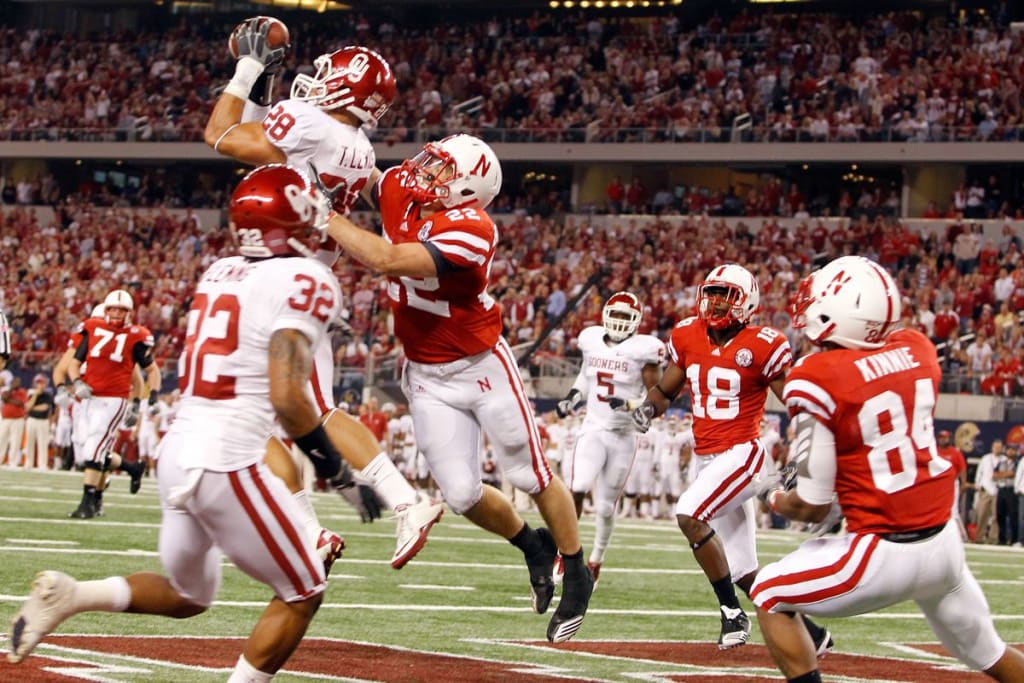 Hello again, so at the moment I'm actually quarantined with possible COVID Symptoms. I think we're just regular sick, but we're doing the right thing and trying to be safe. Which my trouble is your gain as it means hopefully we can finish our 4 Endings here while I've got the free time. So if you are new it's 2019 Rosters with OU, Stillwater, & Georgia Tech in the SEC and Notre Dame in the Big Ten West among other Conference Moves. If you want to start from the beginning our Part 1 with the Schedule or Part 2 with the Full Conferences are good starting points.
So in the Season itself we're Undefeated SEC Champs & Nebraska are the 1 Loss Big Ten West Runners Up as Notre Dame beat them Head-To-Head in Week 13, but then 1 Loss ND turned around and lost to Michigan State in Indianapolis in the Big Ten Title Game. The BCS/CFP Standings in the Game had the Ohio Bobcats as #2 from the Group of 5, so I included them in the 8 Team Playoff Version we'll do, but not this or the 4 Team Playoff Version we'll do. And we'll do a Regular BCS Entry with all the Bowls that NCAA Football 14 picked inside the Dynasty Mode. But today it's a for-all-the-marbles Rivalry Clash with an overachieving Nebraska. The most noteworthy play that won't be obvious in the box score is that we forced Nebraska's Fumble on a 2nd & 1 from the OU 46 and it was barely recovered by Neville Gallimore before it would've rolled out of bounds for Nebraska Possession. It led to our FG to take the lead to 17-0. We Won 34-14, bringing National Title#8 home to an Alternate Digital Universe. Since last season's CFP Title Game was played in New Orleans, I set the game to Sugar Bowl Branding. If you want the breakdown on the 4 Team Playoff and 8 Team Playoff Details go to Part 19—Conference Championship Week.
OU Qtrs: 14, 10, 7, 3: 34
Neb Qtrs: 0, 7, 0, 7: 14
Scoring Plays:
1st Quarter:
3:54 TD OU: J.Hurts, 1 Yd run (G.Brkic kick)
0:22 TD OU: G. Calcaterra, 22 Yd pass from J.Hurts (G.Brkic kick)
2nd Quarter:
4:29 FG OU: G.Brkic, 34 Yd FG
2:53 TD Neb: A. Martinez, 6 Yd run (B.Pickering kick)
0:10 TD OU: J.Hurts, 2 Yd run (G.Brkic kick)
3rd Quarter:
2:52 TD OU: L. Morris, 11 Yd pass from J.Hurts (G.Brkic kick)
4th Quarter:
5:55 FG OU: G. Brkic, 46 Yd FG
4:12 TD Neb: A.Martinez, 1 Yd run (B.Pickering kick)
Team Stats:
1st Downs: Neb 14, OU 22
Total Offense: Neb 250, OU 419
Rushes-Yards-TD: Neb 27-111-2, OU 33-172-2
Comp-Att-TD: Neb 14-17-0, OU 17-25-2
Passing Yards: Neb 139, OU 247
3rd Down Conv: Neb 3-7 (42%), OU 8-10 (80%)
4th Down Conv: Neb 1-1, OU 0-0
Red Zone-TD-FG: Neb 2-2-0, OU 5-3-1, (80%, we were on the Nebraska 2 Yard Line we took Victory Formation!)
Fumbles Lost: Neb 1, OU 0
PR Yards: Neb 0, OU 19
KR Yards: Neb 0, OU 53
Total Yards: Neb 250, OU 491
Punts-Avg: Neb 3-46.0, OU 0
T.O.P.: Neb 9:01, OU 18:59
OU Passing:
J.Hurts: RAT 177.3, 17-25, 247 Yards, 2 TD, 68%, Long of 31, 2 Sacks
OU Rushing:
J.Hurts: 14 Rush for 67 Yards, 2 TDs, Long of 24, 17 YAC, One 20+
K.Brooks: 10 Rush for 67 Yards, Long of 13, 15 YAC
R.Stevenson: 7 Rush for 34 Yards, Long of 14, 9 YAC
J.Hall: 1 Rush for 4 Yards.
J.Haselwood: 1 Rush for 0 Yards. Motion Load Option that failed.
OU Receiving:
G.Calcaterra: 5 Catches for 83 Yards, 1 TD, Long of 31, 28 YAC.
C.Lamb: 4 Catches for 59 Yards, Long of 25, 15 YAC, 1 Drop.
K.Brooks: 4 Catches for 42 Yards, Long of 16, 28 YAC.
T.Wease: 2 Catches for 44 Yards, Long of 22, 9 YAC.
L.Morris: 1 Catch for 11 Yards, 1 TD.
R.Stevenson: 1 Catch for 8 Yards.
J.Haselwood: 1 Drop
OU Defensive Players of the Game:
K.Murray: 6 Tackles, 1 TFL.
T.Norwood: 6 Tackles, 2 TFL.
N.Gallimore: 3 Tackles, 1 TFL, 1 FR. (to be honest this is where I usually play on the sticks, so I finally had a game worth reporting about on Defense. I was an Offensive Lineman in my brief, curtailed Grade School Football Career, so it's the position I loathe, but understand. I had a knee injury playing 3 Technique preparing for Sophomore Year; rehabbed for my Junior Year but kind of Andrew Luck Retired when it wasn't going well. I decided preserving what's left of my knees for Soccer and hopefully kicking the ball around with my future kids was more important than my Football Career.)
T.Brown: 2 Tackles, 1 FF.
Nebraska Passing:
A.Martinez: RAT 151.0, 14-17 for 139 Yards, 82%, Long of 30, 1 Sack.
Nebraska Rushing:
A.Martinez: 15 Rushes for 63 Yards, 2 TDs, Long of 16, 1 Fumble.
M.Washington: 12 Rushes for 48 Yards, Long of 11, 33 YAC.
Nebraska Receiving:
M.Washington: 5 Catches for 51 Yards, Long of 30, 69 YAC.
K.Warner: 3 Catches for 26 Yards, Long of 12, 8 YAC.
W.Robinson: 2 Catches for 19 Yards, Long of 21, 6 YAC.
K.Noa: 2 Catches for 5 Yards, Long of 3, 3 YAC.
J.Stoll: 1 Catch for 13 Yards, 2 YAC.
J.Spielman: 1 Catch for 25 Yards.
Nebraska Defensive Players of the Game:
D.Williams: 8 Tackles.
M. Barry: 8 Tackles, 2 Pass Deflections.
BCS National Title Game at the Sugar Bowl MVP:
Pretty obvious it's Jalen Hurts with 2 TDs each on the Ground and through the Air. Our Eagle landed us National Title #8 in this version. Can he repeat in the other 3? Time will tell.