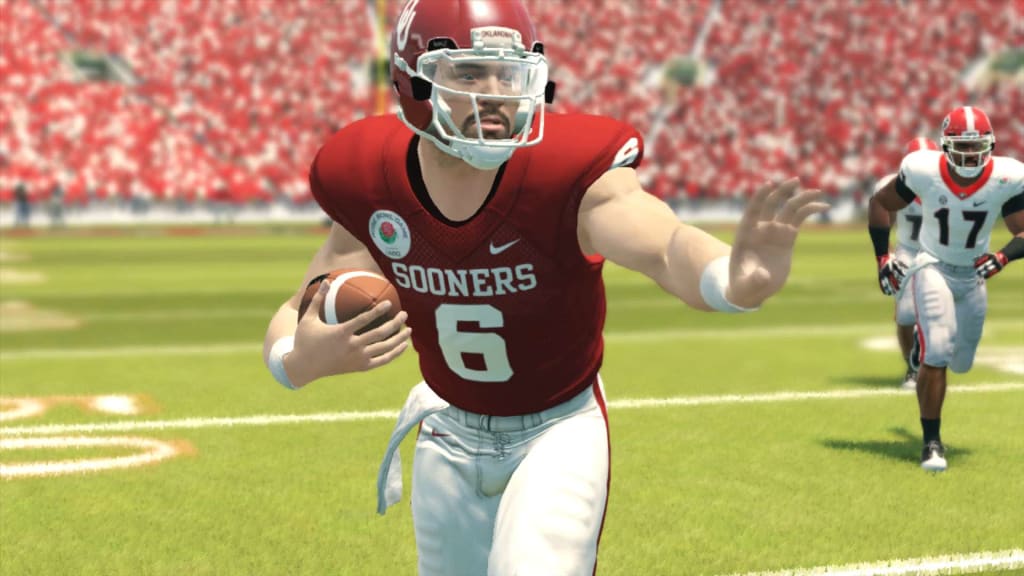 I'm going to kill two birds with one stone and list the teams in their Conference Outlook Order, so you can get the games predictions for how these Conferences are going to shake out at the same time.
ACC North
West Virginia
Virginia Tech
Boston College
Louisville
Pittsburgh
Syracuse (seems unfair considering they were the closest to beating Clemson last year. Hopefully it means the real ACC has more depth.)
Maryland (honestly forgot they were in the Big Ten IRL now.)
Virginia
ACC South
Clemson
Miami
Florida State
UCF
NC State
Duke
Wake Forest
North Carolina (seems the North Carolina Schools are lucky this Conference cares about basketball instead of canning them.)
American, but technically more like a little Southwest Conference as it's the Non Power 5 Texas Schools so let's call it... hmm.
Six Flags
Houston
North Texas
SMU
UT-San Antonio
Texas State
Rice
UTEP
Big 12
(I decided to let the survivors stay put and see how it shakes out this first year.)
TCU
Kansas State
Iowa State
Texas Tech
Baylor
Kansas (I guess Les Miles needs some time, LOL.)
Big Ten West
Wisconsin
Notre Dame (this flirtation with the ACC must stop, a Midwestern Cultural Icon should be in the Midwest's Iconic Conference.)
Northwestern
Iowa
Purdue
Nebraska (yet they're ranked #24 in the real life AP Poll.)
Minnesota
Illinois
Big Ten East
Ohio State
Penn State
Michigan State (anybody sick of States yet?)
Michigan
Kentucky
Indiana
Rutgers
Cincinnati (harsh on an 11-2 team last year that just beat UCLA again IRL. Anyways, the personal reason for wishing Cincy well and giving them Power 5 Status is that my dad is from HOF Catcher Johnny Bench's Caddo County #BigRedMachine #ItsToughBeingARedsFan.)
CUSA West
(With the CUSA as a whole I meant to try to bring some of the best non-Power 5 together without sacrificing Geography.)
Memphis
Arkansas State
Louisiana Tech
Mid Tenn State
Tulane
Tulsa
UAB
Southern Miss
CUSA East:
Florida Atlantic
USF
Marshall
Temple
Florida International
Western Kentucky
East Carolina
Georgia State
Independents
Texas (at least AI Texas scheduled all FBS Schools save now nonexistent Idaho. They have: New Mexico State, @ BYU, Ole Miss, Kansas State, @ Iowa State, Red River Rivalry, @ TCU, @ West Virginia, @ Baylor, NC State, Texas Tech, and Idaho.)
Army
Navy
BYU
New Mexico State
UConn
Idaho
MAC West
Northern Illinois
Western Michigan
Toledo
Miami (OH)
Eastern Michigan
Central Michigan
Ball State
MAC East
Ohio
Buffalo
UMass
Bowling Green
Akron
Old Dominion (might have to rethink this one, but I didn't want to add only UMass.)
Kent State
Mountain West Mountain: (Left the West Coast unchanged from 2013. I usually want to put Boise State & Hawai'i in the Pac-12 making a Pac-14, but their rosters this year according to the community are pretty terrible. Boise State's 2013 Preseason #22 Rank looks pretty bad according to the roster. 70 OVR, 68 OFF, 71 DEF.)
Boise State
Utah State
Wyoming
Air Force
Colorado State
New Mexico
Mountain West (West):
Fresno State
San Diego State
Nevada
UNLV
San Jose State
Hawai'i
Pac-12 North
Washington
Stanford
Oregon
Washington State
California
Oregon State
Pac-12 South
USC
Utah
Arizona
UCLA
Arizona State
Colorado
SEC West
Oklahoma
Mississippi State
LSU
Stillwater
Texas A&M
Missouri
Ole Miss
Arkansas
SEC East
Alabama
Georgia
Auburn
South Carolina
Florida
Georgia Tech
Tennessee
Vanderbilt
Sun Belt
Troy
Louisiana-Monroe
South Alabama
Louisiana-Lafayette (just now realizing I should've grouped Louisiana(s) Tech, Monroe, Lafayette, and Tulane into the same Conference perhaps. Anyways had to have a minimum allowed Conference to make the 16 Team CUSA.)
I guess the most surprising thought is that the game has Mississippi State over LSU as my best SEC West Challenger. I'm not sure I've ever really put much stock in these Conference Outlook Rankings the game makes, but doing it with the real teams in my Custom Conferences is interesting nonetheless. I love tweaking the Conferences in-game and never feel I get them quite right, so I'll consider changes in the off-season when we get there. Next time I'll post the Preseason All-American and All-SEC teams and the Preseason Heisman Outlook according to the game.
I'm debating whether to use the playbooks given to in-game Lincoln Riley: East Carolina and 3-3-5, or to use the Custom Playbooks I've made over the years with this game. I'll start practicing with my Sooners and see if I can make up my mind soon. My posting schedule or lack thereof is a sad matter of availability with me pulling a lot of overtime lately, and even if I wasn't, I'm on an 8-Day Work Cycle so I'm not in a position to say, "Hey I'm posting one Wednesdays" or anything like that sadly. But I'll try to get us to a Week 1 Article before I go back to work Labor Day Night. As always, thank you for your interest.
Reader insights
Be the first to share your insights about this piece.
Add your insights