Gaming Setup Essentials
Unleashing the Ultimate Gaming Experience: Exploring the Essential Gaming Setup Accessories
When it comes to gaming, having the right accessories is key to unlocking an immersive and captivating experience. In the world of gaming, three essential accessories take center stage: the gaming console or PC, the monitor, and the gaming headset. These components form the foundation of a well-rounded gaming setup, providing the necessary tools for players to delve into virtual worlds, engage in thrilling battles, and communicate with fellow gamers.
First and foremost, the gaming console or PC serves as the epicenter of gaming adventures. Whether you prefer the convenience of a console or the versatility of a PC, choosing the right platform is crucial. We will explore the features and considerations that go into selecting a gaming console or PC that aligns with your gaming preferences, performance needs, and budget, ensuring an optimal gaming experience tailored to your unique requirements.
Accompanying the gaming console or PC is the monitor, a window into the vibrant and dynamic worlds of video games. The monitor's resolution, refresh rate, and panel type play crucial roles in delivering stunning visuals and smooth gameplay. We will delve into the factors to consider when choosing a monitor that can immerse you in the breathtaking landscapes, intricate details, and fluid motion of your favorite games, enhancing your overall gaming experience.
Audio is another crucial aspect that can greatly enhance immersion and gameplay. A high-quality gaming headset provides crystal-clear audio, allowing you to hear every footstep, explosion, and whisper with precision. Additionally, a gaming headset with built-in microphones enables seamless communication with teammates, enhancing coordination and strategy. We will explore the features and considerations that make a gaming headset a valuable addition to your gaming setup, enabling you to fully immerse yourself in the auditory intricacies of your favorite games.
By understanding the intricacies of these three essential gaming accessories—the gaming console or PC, the monitor, and the gaming headset—you will be equipped to make informed decisions and create a gaming setup that caters to your specific gaming preferences and aspirations. So, let's embark on this journey to explore the world of gaming technology, unravel the key features, and uncover the insights that will transform your gaming experience into something truly extraordinary.
The next-generation Xbox One S takes gaming to a new level with its all-digital experience, offering incredible speed and performance at an affordable price. This bundle includes the Xbox Series S console, an Xbox Wireless Controller, and a power cable, providing everything you need to get started.
With features like Quick Resume and lightning-fast load times, you can maximize your gaming time and dive into your favorite games with minimal wait. Thanks to the powerful Xbox Velocity Architecture, gameplay can reach up to 120 FPS, delivering smooth and immersive experiences.
One of the standout advantages of the next-generation Xbox One S is its compatibility with digital games from four generations of Xbox. With hundreds of optimized titles, you can enjoy games that not only look better but also play better than ever before.
To expand your gaming library, you can add Xbox Game Pass Ultimate (membership sold separately). This allows you to play new games on the day of release and enjoy a vast collection of high-quality games with friends on console, PC, and through cloud gaming. With the addition of hardware-accelerated ray tracing, your games will have enhanced realism, and the advanced 3D Spatial Sound will create immersive audio environments for both games and movies.
The next-generation Xbox One S offers a compelling gaming experience, combining powerful performance, a wide selection of optimized games, and the convenience of an all-digital setup. It's a great choice for gamers looking to embrace the future of gaming while enjoying the best that Xbox has to offer.
Click Here To Get Your Xbox Series S Now
The PlayStation 5 (PS5) is a revolutionary gaming console that pushes the boundaries of gaming technology and delivers an unparalleled gaming experience. With stunning games and incredible graphics, the PS5 showcases the power of its hardware to create visually breathtaking worlds that immerse players in their favorite games.
What sets the PS5 apart is its focus on delivering a truly immersive gaming experience. With support for haptic feedback and adaptive triggers on the new DualSense controller, players can feel a heightened sense of realism and interactivity as they navigate through game worlds. Additionally, the PS5 incorporates advanced 3D Audio technology, allowing players to hear every subtle detail and experience audio in a whole new dimension.
Speed is a defining feature of the PS5. Powered by a custom CPU, GPU, and SSD, the console offers lightning-fast load times and seamless transitions between different game areas. The integrated I/O system redefines how a PlayStation console operates, providing developers with new tools to create games that load quickly and offer expansive worlds to explore.
With a vast library of games and exclusive titles, the PS5 offers a diverse range of gaming experiences for players to enjoy. From epic adventures to thrilling multiplayer battles, the PS5 provides countless hours of entertainment and excitement.
In summary, the PlayStation 5 represents a new era in gaming. With its stunning games, immersive features, and lightning-fast speed, it redefines what a gaming console can do. Whether you're a casual gamer or a dedicated enthusiast, the PS5 offers a next-level gaming experience that will captivate and thrill you with its cutting-edge technology and unforgettable gameplay.
Click Here To Get Your Playstation 5 Now
A gaming PC offers unparalleled performance and customization options, allowing gamers to fully immerse themselves in the world of gaming. This particular gaming PC is equipped with impressive hardware, including an AMD Ryzen 5 5600X CPU watercooled for optimal cooling efficiency. The AMD B550 Chipset mATX motherboard ensures reliable performance and compatibility.
With 16GB of ToughRam DDR4 RGB, this gaming PC can handle demanding games and multitasking with ease. The 1TB NVMe M.2 provides ample storage for games, applications, and media files, ensuring quick access to your gaming library.
Graphics are a crucial component in gaming, and this PC features the powerful NVIDIA GeForce RTX 3060. It's important to note that the graphics card brand may vary. This graphics card delivers stunning visuals, enabling you to experience games with high-quality graphics and smooth frame rates.
To maintain optimal temperature levels, this gaming PC incorporates closed-loop liquid cooling with a 240mm radiator and three ARGB fans. This ensures efficient cooling while adding a stylish touch to the overall design.
In terms of connectivity, this PC offers multiple ports, including 1x USB 3.0, 2x USB 2.0, 1x headphone, and 1x microphone ports. These ports allow you to connect various peripherals and accessories to enhance your gaming experience.
The swing door tempered glass with magnetic mounting not only adds a sleek and modern aesthetic to the PC but also provides easy access for maintenance and customization.
Overall, this gaming PC is a powerful and visually appealing machine that combines high-performance hardware, efficient cooling, and convenient connectivity. It offers the perfect platform for gamers to enjoy the latest games with stunning graphics and smooth gameplay, making it an excellent choice for gaming enthusiasts seeking a top-notch gaming experience.
Click Here To Get Your Gaming PC Now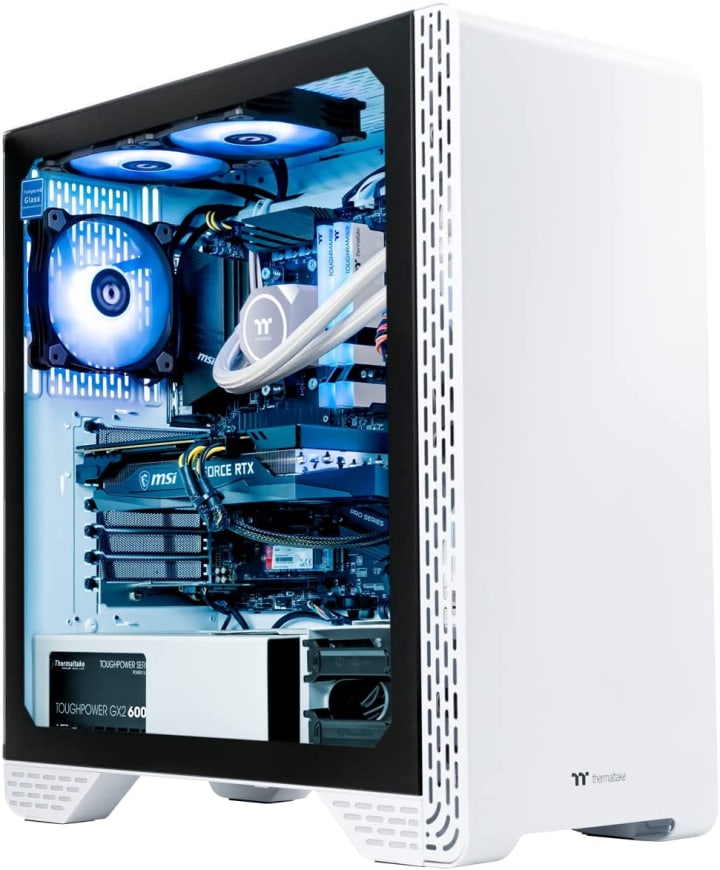 A gaming monitor is a vital component of any immersive gaming setup, and it plays a crucial role in delivering stunning visuals and an engaging gaming experience. This particular gaming monitor offers a range of features designed to enhance gameplay and provide a visually captivating experience.
The monitor boasts an 1800R curved display, which brings a revolutionary visual experience to gamers. With its leading 1800R screen curvature, the images appear to wrap around you, creating an in-depth and immersive sensation. This curved design enhances the sense of depth and immersion, allowing you to fully immerse yourself in the game world.
The monitor provides multiple connectivity options, including HDMI, VGA, and PC audio in ports, ensuring compatibility with various devices and allowing you to connect your gaming console, PC, or other peripherals effortlessly.
With a high refresh rate of 75Hz, the monitor delivers smooth and fluid motion, reducing motion blur and ensuring a responsive gaming experience. The higher refresh rate allows for more detailed and realistic visuals, making fast-paced gaming moments more enjoyable and precise.
The monitor is VESA wall mount ready, offering flexibility in terms of placement and allowing you to optimize your gaming setup according to your preferences. Additionally, it has a long lamp life of 30,000+ hours, ensuring durability and longevity for extended gaming sessions.
Compatible with Windows 10, the most recent operating system available on PCs, this gaming monitor seamlessly integrates with your gaming setup. It provides a brightness level of 220 cd/m2, offering vibrant and clear visuals. The pixel pitch of 0.27156mm (H) x 0.27156mm (V) ensures sharp and detailed images, enhancing the overall visual quality.
With a refresh rate of 75Hz, this gaming monitor delivers smooth and responsive gameplay, further enhancing the immersive experience. The higher refresh rate ensures that each frame is displayed smoothly, reducing stuttering and tearing.
In conclusion, a gaming monitor with an 1800R curve, high refresh rate, multiple connectivity options, and compatibility with the latest operating systems is an excellent addition to any gaming setup. With its immersive display and responsive performance, this monitor enables gamers to fully engage with their favorite games and enjoy a visually stunning and captivating gaming experience.
Click Here To Get Your Gaming Monitor Now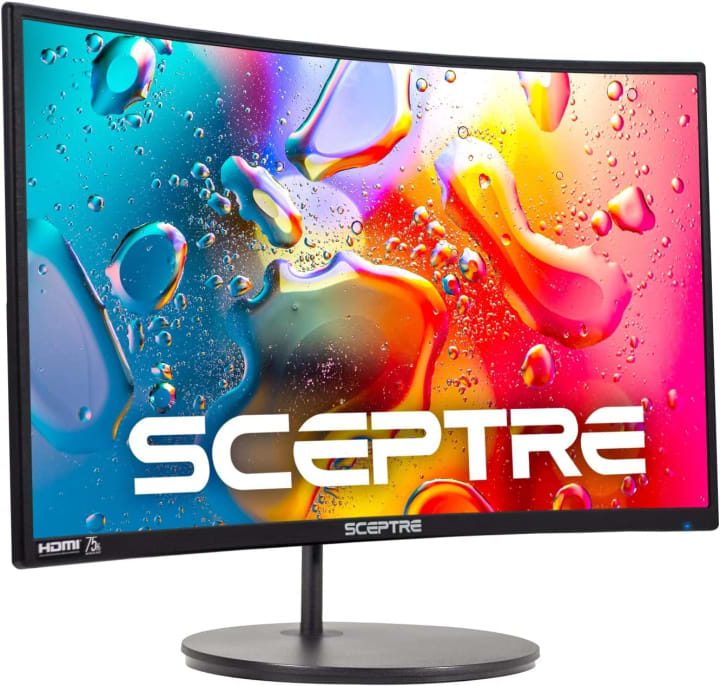 A gaming headset is an essential accessory that can elevate your gaming experience by providing immersive sound, clear communication, and comfortable wear. In line with the introduction, this gaming headset offers a range of features designed to enhance your gaming sessions and ensure all-day comfort.
With a lightweight design weighing only 8.5 oz (240 g), this headset is smaller and lighter than other models, making it ideal for extended gaming sessions. The suspension headband helps distribute the weight evenly, and it is adjustable for a customized fit, ensuring a comfortable experience even during long gaming marathons.
The headset features soft memory foam ear pads and sports mesh material, providing all-day comfort. This allows you to fully immerse yourself in your games without any discomfort or distractions, taking your gaming to the next level in both style and comfort.
Plug-and-play functionality allows for easy setup. Simply connect the headset with the 3.5 mm audio jack, and you can quickly jump into your game. The headset is compatible with various devices, including PCs, laptops, gaming consoles, and select mobile devices, offering versatility and convenience.
Convenient headset controls are located directly on the ear cup. The volume roller enables quick adjustments to your game or music, while the microphone can be easily flipped up to mute and moved out of the way when not in use, providing flexibility and ease of use.
The gaming headset is equipped with 40 mm neodymium drivers, delivering crisp and clear stereo sound that brings your games to life. The impressive sound quality enhances your gaming experience, allowing you to fully immerse yourself in the virtual worlds you explore.
Compatible with popular gaming platforms such as PlayStation 5, PlayStation 4, Xbox One, Xbox Series X | S, and Nintendo Switch with a 3.5 mm audio connection, this headset provides versatility and flexibility in usage.
Available in vibrant colors, the G335 over-ear headset allows you to express your style. Each color variant comes with a reversible, washable elastic headband and corresponding memory foam earpads, providing a customizable and personalized look.
Additionally, this Logitech G wired headset is Discord Certified, ensuring crystal-clear communication performance and excellent sound and voice clarity for all your gaming endeavors. You can communicate with your teammates effortlessly and enjoy seamless voice chat during multiplayer gaming sessions.
In conclusion, this gaming headset combines comfort, impressive sound quality, compatibility with various devices and gaming platforms, and vibrant color options. With its lightweight design, all-day comfort, and convenient controls, this headset is a reliable choice for gamers seeking an enhanced audio experience and clear communication in their gaming adventures.
Click Here To Get Your Gaming Headset Now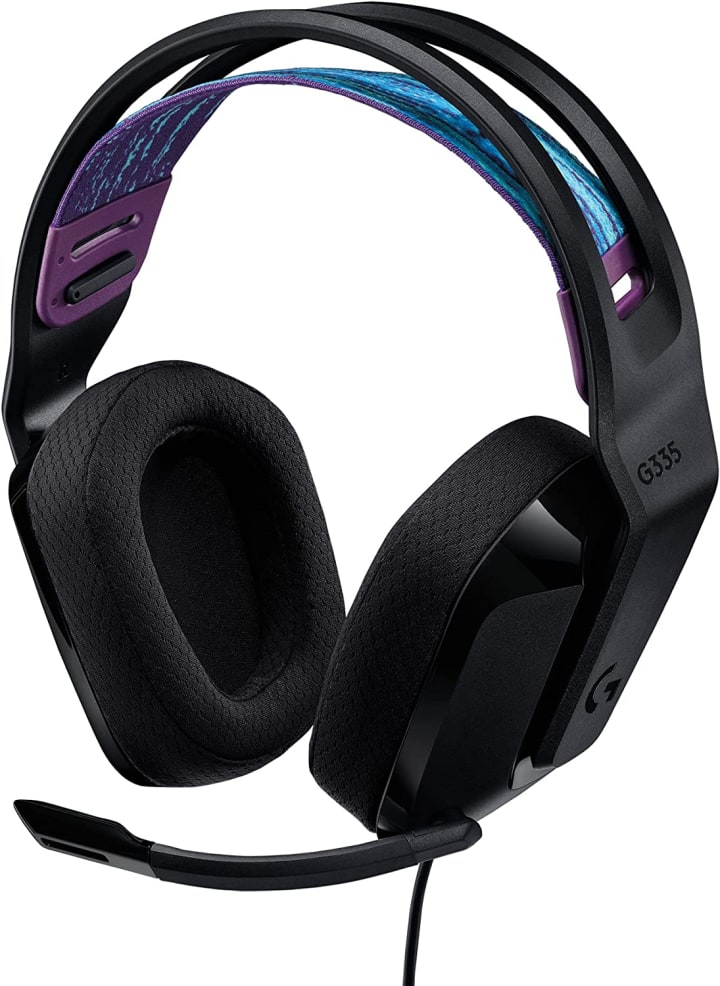 Reader insights
Be the first to share your insights about this piece.
Add your insights