The Ultimate Gaming Setup: Enhance Your Experience with Gaming Chair, Desk, Lighting, and Cable Management
Transform Your Gaming Space: Elevate Performance and Comfort with Essential Accessories
Creating an optimal gaming setup goes beyond just having a powerful gaming rig and the latest games. It involves curating a space that enhances your gaming experience and provides comfort, organization, and aesthetics. In this outline, we will explore several essential gaming setup accessories that can elevate your gaming environment to the next level. Specifically, we will delve into the importance of a gaming chair for ergonomic support, the role of lighting and RGB lighting in creating an immersive atmosphere, the significance of a well-designed gaming desk for organization and functionality, the benefits of efficient cable management, and the inclusion of a clock to help you stay on top of your gaming sessions. By considering these accessories, you can transform your gaming setup into a haven that enhances your performance, comfort, and overall enjoyment of gaming.
A gaming chair is an essential accessory for any gaming setup, offering not only comfort but also important ergonomic benefits. Constructed with high-density shaping foam, the gaming chair provides a comfortable and resilient seating experience, ensuring long-lasting support during extended gaming sessions. The chair's sturdy steel frame, measuring 1.8mm thick, offers stability and durability, capable of supporting up to 300 pounds of weight.
Upgraded configurations enhance the chair's functionality and performance. Equipped with a Class 3 gas lift, the chair boasts durability and reliability, while also accommodating users of different heights. The rubber casters ensure quiet and smooth movement, tested to withstand 1000 miles of rolling.
The gaming chair offers versatile features for enhanced comfort and flexibility. With a 360-degree swivel and multi-directional wheels, it allows for effortless movement and accessibility. The chair's recline function enables adjustments between 90 to 180 degrees, allowing users to find their preferred position for relaxation or focused gameplay. Additionally, a rocking function allows the chair to gently rock back and forth, controlled by a knob located beneath the seat.
In terms of dimensions, the chair offers ample space, with a back size of 22.5 inches and 30.5 inches, and a seat size of 14.5 inches and 20.5 inches. The seat height is adjustable, ranging from 17.3 to 21.5 inches, ensuring optimal positioning for individual comfort and ergonomics.
The versatility of the gaming chair extends beyond gaming itself. Its design and features make it suitable for various activities, such as computer use, watching shows, working, or simply relaxing. Moreover, its modern and elegant appearance adds a touch of sophistication to any space, making it a stylish addition to your gaming setup.
Overall, a gaming chair is not just a comfortable seating option; it's an investment in your well-being and gaming performance. With its ergonomic design, durability, and versatility, a gaming chair enhances your gaming experience while also contributing to the overall aesthetic of your gaming setup.
Click Here To Get Your Gaming Chair Now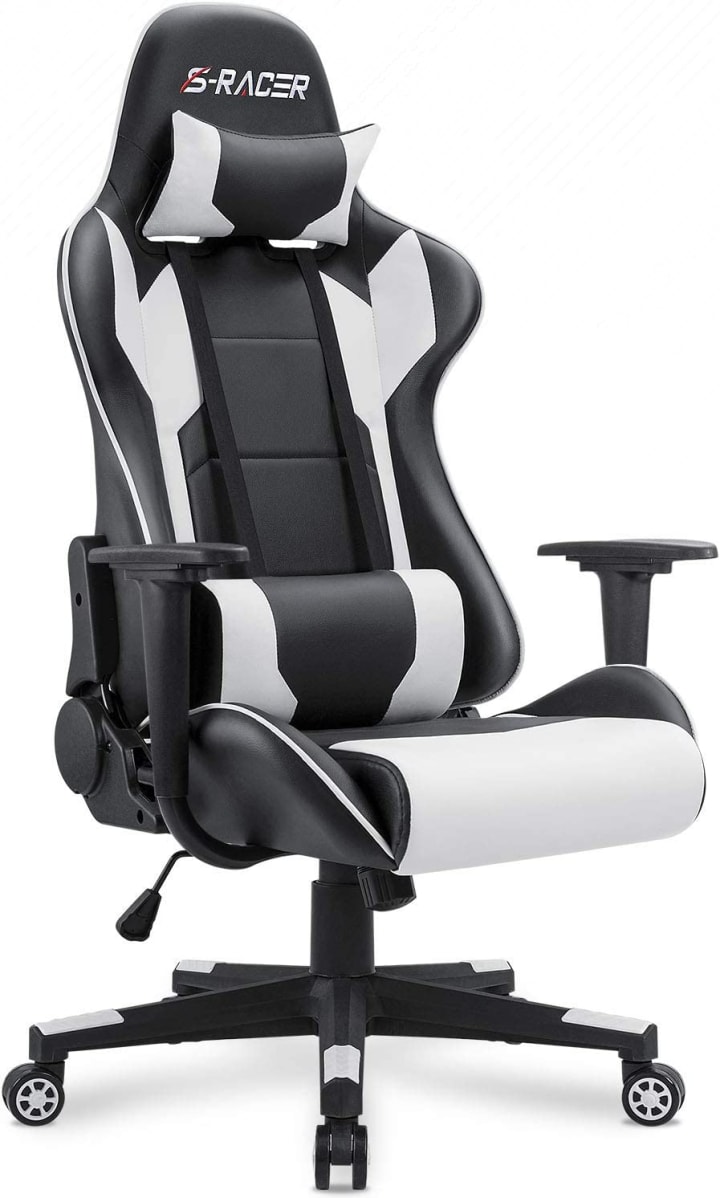 This kit combines LED TV backlights with two smart light bars, providing a fuller and more reactive lighting setup. Using the 1080p Colorsense Camera, LED backlights, and the RGB light bars, the intelligent color-match technology ensures that the smart atmosphere lights react in real time to all your entertainment content. This means the lights move and change brightness in sync with the visuals on your screen, enhancing the onscreen action and creating a captivating visual experience.
Not only does the lighting system sync with the visuals, but it also syncs with the sounds from your favorite movies or video games. This combined video and audio syncing feature truly goes beyond, immersing you in a complete sensory experience. The lights pulsate and change color in response to the audio, amplifying the excitement and intensity of your gaming sessions.
The Govee DreamView lighting system offers energizing multi-color RGBIC effects. With embedded independent control (IC) chips, groups of LEDs can be individually controlled, allowing for the projection of multiple colors simultaneously onto the walls behind your gaming setup. This creates stunning and dynamic lighting displays, adding depth and vibrancy to your gaming environment.
Controlling the lighting system is convenient and versatile. It supports smart voice control with Alexa and Google Assistant, enabling hands-free control of colors, modes, and effects. Additionally, the Govee Home App provides in-depth smart features, including DIY color and effects customization, light scheduling, and music modes. This level of control allows you to personalize your lighting setup and tailor it to your specific gaming preferences.
In summary, proper gaming setup lighting, especially with RGB lighting, adds a new dimension to your gaming experience. The Govee Envisual Experience lighting kit offers intelligent color-match technology, combined video and audio syncing, energizing multi-color RGBIC effects, and smart voice and app control. By incorporating these lighting features into your gaming setup, you can create a visually stunning and immersive environment that enhances your gameplay and elevates your overall gaming experience.
Click Here For RGB Pro Light Bars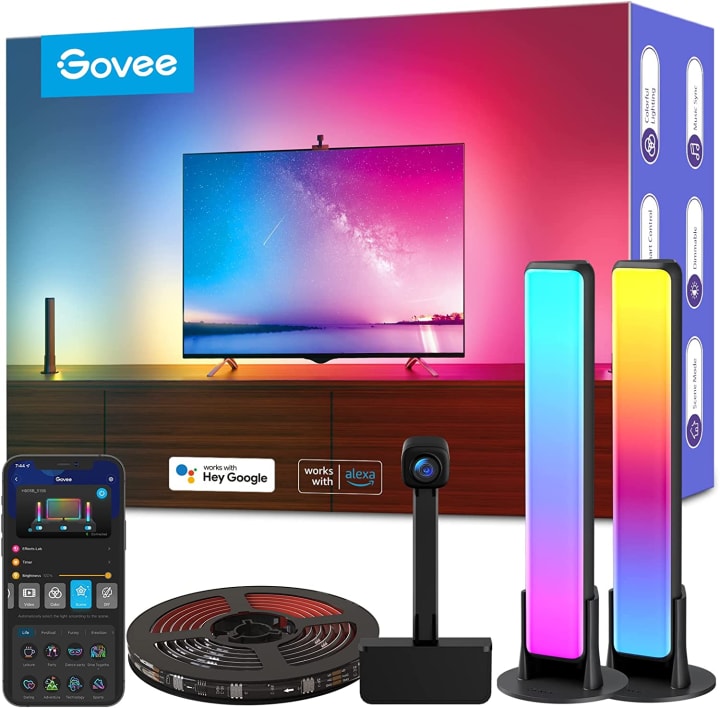 The LED L Desk is designed to create an immersive gaming environment with its RGB lighting feature. The desk's LED light strip reflects seven main colors and offers 20 dynamic modes, all controlled through an easy-to-use controller. This lighting feature adds a visually stunning element to your gaming setup, elevating the atmosphere and enhancing the overall gaming experience. Additionally, the light strip can be mounted on either of the two monitor stands, allowing for versatile placement options.
The Dual Monitor Stand Desk offers ergonomic benefits and improved viewing angles. With two individual monitor stands on the desktop, it promotes an ergonomic sightline, reducing strain on your neck and back. The desk is also equipped with eight extra pads under the stands, providing stability and preventing wobbling, ensuring a secure and sturdy setup.
For gamers who value organization and convenience, the Desk with Keyboard Tray and Bag offers practical solutions. The keyboard tray, with dimensions of 23.6"L x 11.8"W, comfortably accommodates most keyboards, allowing for easy access and efficient use of desk space. The desk also features two steel slides under the desk, enabling smooth and effortless sliding of the tray. Furthermore, a bag is included, offering adjustable angles between 0-45 degrees for added comfort while gaming. The bag can hold up to 5.5 lbs of items, providing a convenient storage solution for your gaming accessories.
The gaming desk offers two different configurations to suit your preferences. You can choose to set it up as a 59.5" L-shaped desk, making optimal use of corner space, or as a 95.2" double long desk, which is ideal for two people working together. This flexibility allows you to customize the desk to your specific needs and available space.
Finally, the gaming desk offers flexible storage shelves. When the desk is set up as an L-shaped desk, the shelves can be installed at Right + Middle or Left + Middle positions, providing convenient storage options for your gaming peripherals. Alternatively, when the desk is configured as a long desk, the shelves can be installed on the right side of the desk, offering additional storage and organization capabilities.
In summary, a gaming desk goes beyond providing a surface for your gaming equipment; it enhances your gaming experience with features like LED lighting, ergonomic design, keyboard trays, and customizable configurations. With the added convenience of storage shelves, a gaming desk becomes a functional and stylish centerpiece for your gaming setup, improving organization and overall comfort during intense gaming sessions.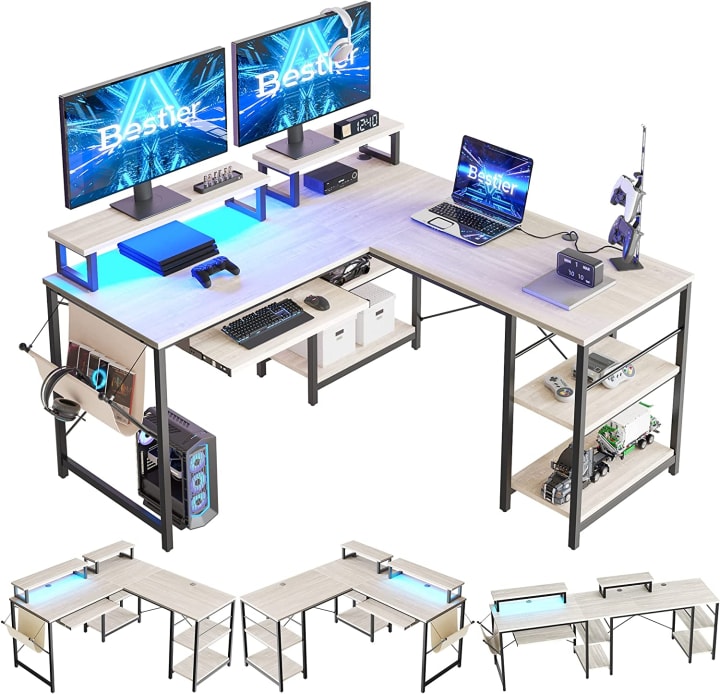 Maintaining a clean and organized gaming setup is essential for a seamless and enjoyable gaming experience. Cable management plays a vital role in achieving a clutter-free and visually appealing environment. With the EVEO J Channel Cable Raceway, you can bid farewell to messy cords and wires, creating a safer and neater gaming space.
Installing the EVEO desk cable management is a breeze. The strong adhesive tape ensures a secure and easy solution for managing cables under your desk. The unique structure design of the cable raceway perfectly fits your needs, providing a seamless integration into your gaming setup. If you ever need to remove the cable management system, a hair dryer can help facilitate the process.
Quality is a top priority with the EVEO J Channel Cable Raceway. This cable management solution offers a sleek and simple way to hide and organize dangling wires. With its ample space, it can securely hold up to 10 power cords or 16 Cat-5 ethernet cables. You can use this cable organizer to conceal HDMI cables, phone wires, power extension cords, fax lines, and more, ensuring a tidy and streamlined appearance for your gaming setup.
The cable management system is designed for easy use. Unlike traditional cable raceway kits, the EVEO J Channel Cable Raceway features a non-locking, one-piece J design, providing convenience and flexibility. You can easily insert or remove wires without hassle, making it effortless to move electronics or appliances when needed. Furthermore, the cable management kit comes with a super-strong adhesive, ensuring a hassle-free installation process.
The versatility of the J Channel Cable Raceway makes it suitable for multiple applications. The 96-inch cable raceway is divided into six 16-inch pieces, offering functionality and flexibility. You can use the cord organizers individually or combine them horizontally or vertically to create the perfect desk cable management system. Whether it's for your entertainment center, home office, kitchen, bedroom, bar, or any other space, this cable management kit has you covered.
At EVEO, every product is designed and manufactured to the highest standards of quality. Each J Channel Cable Concealer Kit undergoes careful inspection before reaching your doorstep. If you have any concerns about your purchase, EVEO's dedicated customer support team is ready to assist you. Your satisfaction is their top priority.
In conclusion, proper cable management is crucial for maintaining an organized and aesthetically pleasing gaming setup. The EVEO J Channel Cable Raceway offers an easy-to-install solution that keeps your cords and wires neatly organized. With its high-quality construction, ease of use, and versatility, this cable management system is a must-have for any gaming enthusiast looking to create a clean and efficient gaming environment.
Click Here For Cable Management Channel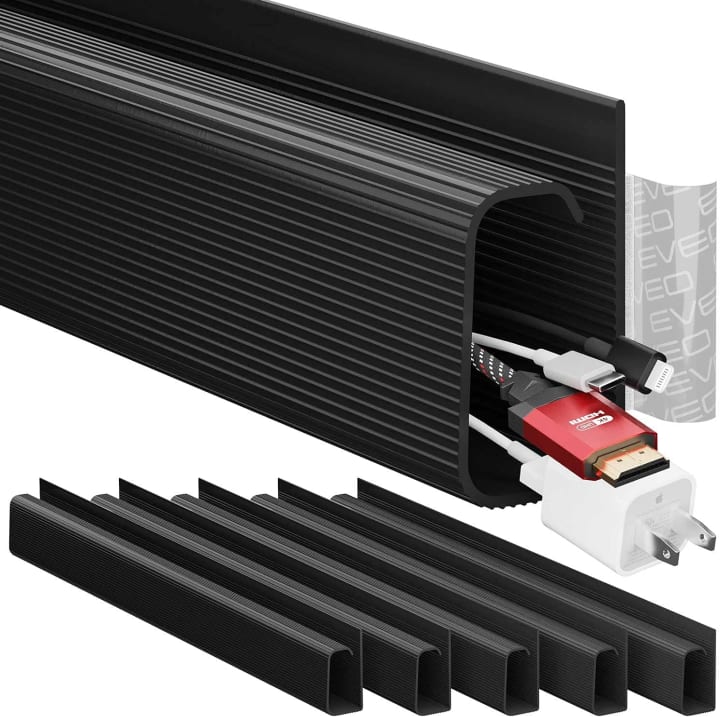 The clock for a gaming setup is not just a timekeeping device; it also serves as an elegant and concise decoration for various spaces such as homes, kitchens, hotels, offices, and bedside tables. With two color display modes, you can choose between a single color setting with seven colors or a smooth loop of six colors, adding a touch of style to your gaming environment.
In addition to displaying the time in 12 or 24-hour mode, this clock offers a range of other functions. It can show the date, temperature, and also serves as a countdown and count-up timer. The display brightness is adjustable across four levels, ensuring optimal visibility based on your preferences and lighting conditions.
Convenience is key, and this clock includes a remote control that allows you to effortlessly set every function. You can easily change the color using the number buttons, and the other function keys are clearly marked for quick access.
For those who rely on alarms, this clock provides simple settings for one or two alarms, with the option to set a second alarm as a backup. This is particularly useful for gamers who want to ensure they don't oversleep and miss important gaming sessions.
Powered by a USB cable, this clock offers the flexibility to hide the power wire behind items or even into the wall, creating a clean and aesthetically pleasing setup. The built-in backup battery (CR2032) ensures that the clock retains its settings and time, even if it is temporarily unplugged.
As a testament to its quality and reliability, the clock comes with a five-year manufacturer replacement warranty and a 90-day no questions asked return policy. Should you have any questions or concerns, the manufacturer can be easily reached via Amazon messages.
In summary, this clock is not only a functional timepiece but also a stylish addition to your gaming setup. With its versatile features, convenient remote control, and sleek design, it serves as a practical and visually pleasing accessory for gamers who want to enhance their gaming environment.
Click Here For Gaming Setup Clock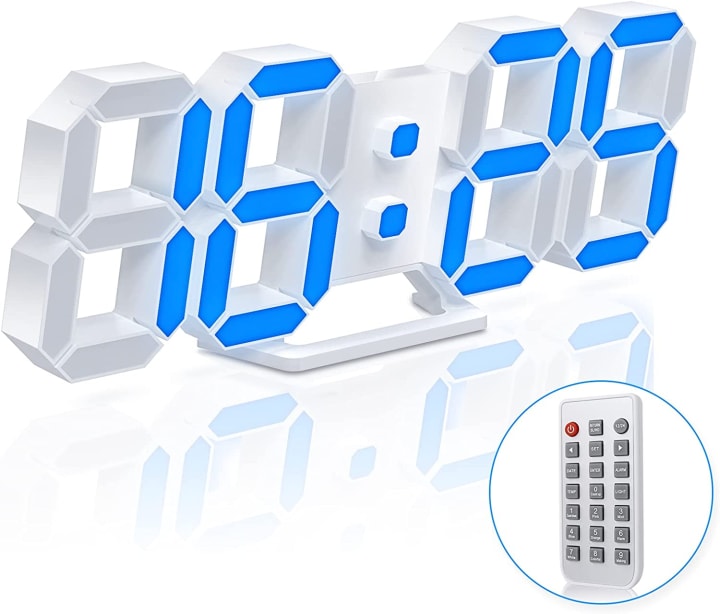 Reader insights
Be the first to share your insights about this piece.
Add your insights