Doyle Brunson: Crushing it at 88
The poker legend who put hold'em on the map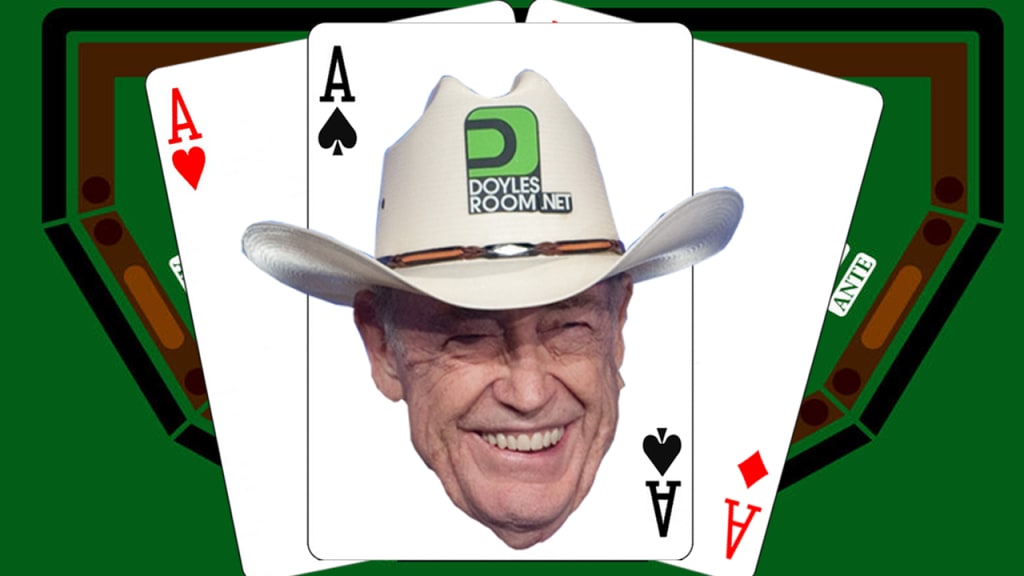 An accomplished college basketball player and middle-distance runner with great potential, Doyle Brunson appeared to have a successful sporting career ahead of him until a summer job in a gypsum plant in the 1950s changed that trajectory immeasurably and ultimately gave rise to perhaps the greatest legend the world of professional poker has seen.
With basketball his true passion, Brunson was also a good athlete and at 18 recorded a time of 4:38 for the mile before eventually setting a personal best of 4:18.6 in the days when four minutes for the distance seemed an impossible target.
That mark was eventually achieved in 1954 by Britain's Roger Bannister but Brunson has gone on record as saying it was an achievement he felt capable of if only he'd devoted as much time to the track as he did to the basketball court.
Born today, 10 August, 88 years ago in 1933 at Longworth, Texas, Brunson was enrolled on a basketball scholarship at Hardin-Simmons University in Abilene and was attracting interest from the Minneapolis Lakers when one summer day at the local gypsum plant that all changed.
The plant produced "sheet rock" and while unloading the heavy sheets and stacking them, Brunson noticed the heap begin to wobble. Throwing his body against the 2,000lb stack he jammed his knee against it to try to stop the inevitable, but the leg was crushed and snapped in two places, with further complications meaning he spent two years in a cast.
His sporting dreams dashed, Brunson spent the long road to recovery learning to play poker and there was no looking back from then on.
While poker was an established pastime long before Brunson emerged on the scene, in terms of competitive poker for big money and the WSOP he was undoubtedly one of the founding fathers of the game.
An all-rounder of great ability, Brunson has accumulated 10 WSOP bracelets during his career, including back-to-back main event titles in 1976 and 1977.
Brunson's early experiences in the game were a far cry from the luxurious casinos where the major championships are now staged, his formative years were spent in illegal poker rooms scattered around Texas with those playing the game generally regarded as undesirable characters, widely associated with the underworld.
And on many occasions during his early career Brunson found himself in some very dodgy situations, his life often threatened after taking money off a sore loser with a shotgun.
But despite the crazy experiences he endured Brunson still reminisces about those days being the best time of his life, spent with his partner on the road Dwayne Hamilton. Together they travelled to various parts of Texas, Louisianna and Oklahoma to compete in countless poker tournaments and somewhere along the way became close friends with other legendary exponents of the game such as Amarillo Slim and Sailor Roberts.
But despite his fond memories those early games in Fort Worth were no picnic, with winning the pots not the hard part… the biggest challenge being to leave the table with the proceeds.
In an interview with PokerStars, Brunson recalled one occasion when a man burst in on a game and shot the man beside him in the head. "I remember the guy's head falling off," Brunson said, adding there were times when he also had a knife held to his throat, was threatened with a baseball bat, beaten and was robbed so many times he couldn't "even remember the number".
But as Las Vegas turned into the booming multi-billion dollar empire it is today, Brunson was there at every step of the way and the status of the game now owes much to those early trailblazers who first fought out the World Series in 1970, when Benny Binion invited seven of the best-known players to the Horseshoe Casino for a single tournament, with a set start and stop time, and a winner determined by a secret ballot of the players.
How things have changed since then, as of 2020 the WSOP consists of 101 events, with most major poker variants featured. But the idea of a World Series of Poker first began in 1969 with an event called the Texas Gambling Reunion. An invitational event sponsored by Tom Moore of San Antonio, Texas, it was held at the Holiday Hotel and Casino in Reno and won by Crandell Addington.
The following year Binion invited the men he considered to be the seven best poker players in the United States to play in Las Vegas and the WSOP began. Those invited to the Horseshoe Casino included Brunson; Puggy Pearson, who went on to win four WSOP bracelets, as well as the 1973 main event; Johnny Moss, who took the inaugural title and won again in 1971 and 1974; Thomas "Amarillo Slim" Preston, a winner of four WSOP bracelets and the main event in 1972; Roberts, winner of the main event in 1975; Carl Cannon, a successful poker player who competed for decades; and Addington, a self-made millionaire and no limit hold'em legend.
The event saw the players compete in a series of cash games that included five-card stud, deuce to seven low-ball draw, razz, seven-card stud and Texas hold'em. The winner of the series was decided by ballot and according to legend, although disputed, each man voted for himself when the first ballots were passed out. In order to break the seven-way tie, each player was then asked to vote for the second-best player at the event. When the ballots were tallied up a second time, Moss walked away with a silver cup and the respect of his peers.
The main event format of a Texas hold'em freezeout came the following year, when Moss was again crowned champion.
In 50 years of the WSOP, Brunson has won 10 gold bracelets and had further cashes in more than 30 tournaments during the festival to make him one of the game's top performers… his latest bracelet coming in the 2005 No-Limit Short-Handed Texas Hold'em event.
But as well as being a legend at the tables Brunson has been an exemplary ambassador for the game and devoted family man. He met his wife Louise in 1962 and two years later they married and soon started a family together. Louise was pregnant with their son, Todd, when Brunson discovered a cancerous tumour on his neck. Doctors predicted he wouldn't live to see his son's birth but not only was he there for that event but his tumour went away almost immediately, Brunson putting his miraculous recovery down to a faith healer he contacted via mail. The couple also had two daughters, Doyla and Pamela. Doyla passed away aged 18 due to a heart valve condition.
Still playing at the grand old age of 88 "Texas Dolly", as he's known in the game, lives in Las Vegas and can still be found crushing cash games at Bobby's Room at the Bellagio even though his appearances at the WSOP are now few and far between.
Other famous stories from his illustrious career include the 2006 business decision that cost him in the region of US$230 million, when he rejected an offer for the online poker room he owned.
Having brought a few pros on board as sponsored players, DoylesRoom soon began to attract big offers but Brunson, expecting the poker room to continue its growth, turned them down only to see the passing of the Unlawful Internet Gambling Enforcement Act throwing online poker in the US into chaos, with DoylesRoom plummeting in value.
Then there's the WSOP main event title he reputedly gifted away in 1972. After the 1971 event drew only six players, the event a year later had just four players remaining from a starting field of eight when the players went on a break.
While drinking coffee together in Binion's the discussion turned to who seemed likely to win. "Amarillo Slim" was very short-stacked, while Addington and Brunson had plenty of chips but weren't overly interested in the attention the title world champion might bring. The final member, Pearson, had already sold 200 per cent of himself so a deal was struck, with "Amarillo Slim" agreeing to dividing most of the money between the other players, while he would be crowned champion.
It could so easily have been three main-event titles to his name, but long after Brunson's participation at the tables comes to a close, his legend will live on in the many strategy books he has published and been featured in. The most famous of which is his Super System: A Course in Power Poker that was published in 1979.
About the Creator
From Covid to the Ukraine and Gaza... nothing is as it seems in the world. Don't just accept the mainstream brainwashing, open your eyes to the bigger picture at the heart of these globalist agendas.
JOIN THE DOTS: http://wildaboutit.com
Reader insights
Be the first to share your insights about this piece.
Add your insights