Best Gaming Mice in 2018
Whether you're choosing them based on looks, features or price, the best gaming mice in 2018 have something for every gamer.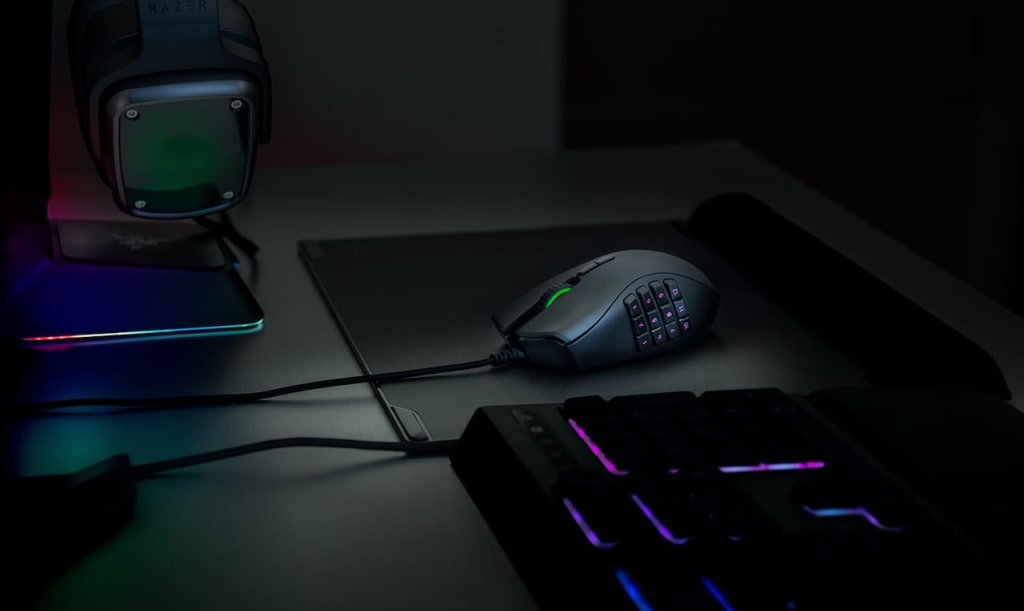 There are those who play video games and there are those who are gamers. For the latter, finding all the right accessories from keyboards for gaming to headsets can seem like a daunting task. Add on the mission of choosing the optimal gaming mouse with a high DPI, that works well wirelessly or wired, has thumb buttons, is good for left-handers, is comfortable for long game-playing and looks really cool even when you're not using it… the struggle is real. Fortunately for you, we've got the scoop on the best of the best gaming mice, from the budget-friendly models to the super high-end ones with all the buttons and scrolls a true gamer could hope for while playing the greatest PC games.
This is the best-selling gaming mouse at Best Buy and for good reason. The G502 Proteus Spectrum by Logitech features 11 programmable buttons and a scroll wheel that allows you to customize them as you see fit including an amazing RGB lighting display.
Different reviewers give it props for how well it operates on whatever type of game you want to play including FPS (First Person Shooting), RTS (Real Time Strategy) or Massively Multiplayer Online (MMO) games. It features the best tracking accuracy with a highly responsive optical sensor that offers reliable targeting. There are five DPI settings from 200 to 12,000 DPI. The textured grips and unique layout of buttons allow for comfortable gaming for however long you want to play and it is compatible with Windows 7, 8, 8.1 and 10.
The G300S by Logitech is one of the best gaming mice options for players on a budget giving you most of the bells and whistles that you need but lacking in a few that you want. But for the price, it will do in a pinch. It features a simple USB connectivity, a gaming-grade optical sensor which allows for precision and accuracy during gaming sessions, a scroll wheel for quick and easy navigation and nine programmable buttons so you can create your own shortcuts for frequently-used commands. This comfortable mouse is great for left or right-handed users. It also comes with Logitech's intuitive gaming software and though not as fancy as the others, you can change a fee LED lights too.
This best-selling wireless mouse is listed as "Amazon's Choice" and Tom's Guide rated the Logitech G900 Chaos Spectrum as the "best wireless gaming mouse" for 2018. It is one of the fastest, more responsive and more reliable wireless gaming mice out there and even outperforms some of today's best wired gaming mice. One of its best features is that it runs virtually lag-free whether wired or sans wire. Pro gamers appreciate how fast this mouse operates and boasts an impressive 32 hours of battery life on a single charge and if you should need to plug it in, game play continues seamlessly. The mouse features a PMW3366 optical gaming sensor, customizable RGB lighting, pivot button for improved click performance, 11 programmable buttons and five DPI settings from 200-12,000 DPI.
The super-fast G305 from Logitech performs with a one millisecond performance and a maximum of 12000 DPI so you can adjust for whatever makes you the most comfortable or you can go all out if you want. The ultra-long battery life lives up to an astounding 250 hours of continuous play on a single AA battery (not that you should, but it's nice to know that you could.) LED lights scan the area beneath the mouse to detect movement, the scroll moves smooth as butter and the mouse features six programmable buttons to save your frequently used commands or special shortcuts. It is compatible with most Chromebook, Windows and Mac computers. The G305 is super light too–just 99 grams.
The Razer Naga Trinity is one crazy MMO mouse. First of all, it contains three interchangeable side plates for two, seven or 12-button configurations for maximum game domination. The RGB lighting is customizable too with up to 16.8 million color options. (Sorry, if you were hoping for 16.9 million, you're out of luck.) There are also 19 independent programmable buttons to set your frequently-used commands and shortcuts. The scroll wheel is silky smooth and fast and this mouse offers up to 16000 DPI so you can adjust to your preferred sensitivity and 1000Hz polling rate and insanely quick responsiveness. It is compatible for most Windows and Mac computers.
One of the best FPS mice on the market is the Basilisk by Razer. It's beautiful with its customizable RGB lighting offering 16.8 million color combinations to fit whatever mood (or outfit) you're wearing. The mouse features eight independently programmable buttons (providing one-touch access to your frequently used commands and shortcuts) and gaming-optimized mechanical mouse switches that will hold up to 50 million clicks. Unlike other gaming mice, this one features an adjustable scroll wheel so you can fine tune your "bunny hops," selecting weapons, zeroing and other actions. It offers a maximum of 16000 DPI and is capable of mouse movements speeds of up to 450 inches per second with an amazing accuracy of 99.4 percent. Katie Marchbank featured this mouse in her "10 Best Gifts for Gamers for 2018" saying, "It's designed with FPS gamers in mind, so if your gamer girlfriend or boyfriend can't get enough of PUBG or Fortnite, this is the perfect mouse for them."
Tom's Guide has rated the Rival 600 by Steelseries as one of the best for Real Time Strategy (RTS) and Multiplayer Online Battle Arenas (MOBA) game playing. First of all, it's a light show in the palm of your hand offering one-click RGB lighting effects. It features seven buttons to use for frequently used command and functions, three thumb buttons, a super-smooth scroll wheel, removable sides and eight 4g weights so you can customize the weight of your mouse for advanced play. It features an ergonomic, right-handed design for comfortable game playing and even offers a choice of grip from claw to palm. It will work on a wide range of computers too.
The M65 from Corsair sounds like the optical gaming mouse James Bond would use if James Bond played video games. Along with its high-mass scroll wheel (a rubberized exterior that is wrapped around a metallic core) this laser gaming mouse features a 12000 DPI laser sensor which offers precise tracking, a dedicated and optimized sniper button and eight programmable buttons for your super-secret sneaky repeatable actions. The weight tuning system allows you to play God and actually set the center of gravity. It is compatible with most PC computers.
The Lancehead by Razer is unique in that it will scan constantly for frequency channels looking out for any type of interference and provide a virtually perfect lag-free data transmission from the mouse to your system. It's powered by Razer Chroma and has a maximum of 16000 DPI for perfect sensitivity and it features nine programmable buttons for frequently used tasks. The mouse is amazing in that its laser to detect movement works on a variety of desktop surfaces including glass. All this and it's pretty too. It comes with customizable RGB lighting offering up to 16.8 million color combos. The Lancehead wireless gaming mouse works great with Macs and PC or all sorts.
One of the best features of the DeathAdder Elite Destiny 2 edition gaming mouse by Razer is the advanced optical sensor which works well for both sports games and FPS games that require quick thinking as well as quick movements. It is also unique in that it comes with a gaming-grade tactile scrolling wheel that serves as a guide while you play your game. It features seven independent programmable buttons providing one-touch access to the commands you use most. It too comes with a customizable RGB lighting with up to 16.8 million color options because you can't really have too many. The Destiny 2 DeathAdder mouse also has a maximum of 16000 DPI allowing you to find the perfect sensitivity and a 1000Hz polling rate for really fast responsiveness and personal preference. It is compatible with most Windows and Mac computers too.
Left-handed gamers rejoice! This is the mouse for you. The Sensei 300 by Steelseries is similar to other gaming mice listed here, but is a lot more lefty-friendly with its ergonomic shape and side grips. (Although "righties" have enjoyed using this mouse as well.) The fun begins with a range of one-click lighting effects to full "lights shows." The mouse isn't just good for games, it's good for everyday use as well. It features six buttons to use for frequently used commands, a smooth and fast scroll wheel, and a maximum of 12000 DPI. It is compatible with most Windows and Mac computers.