Sunak Highlights Happenings in China.
Speech At Lord Mayor's Banquet.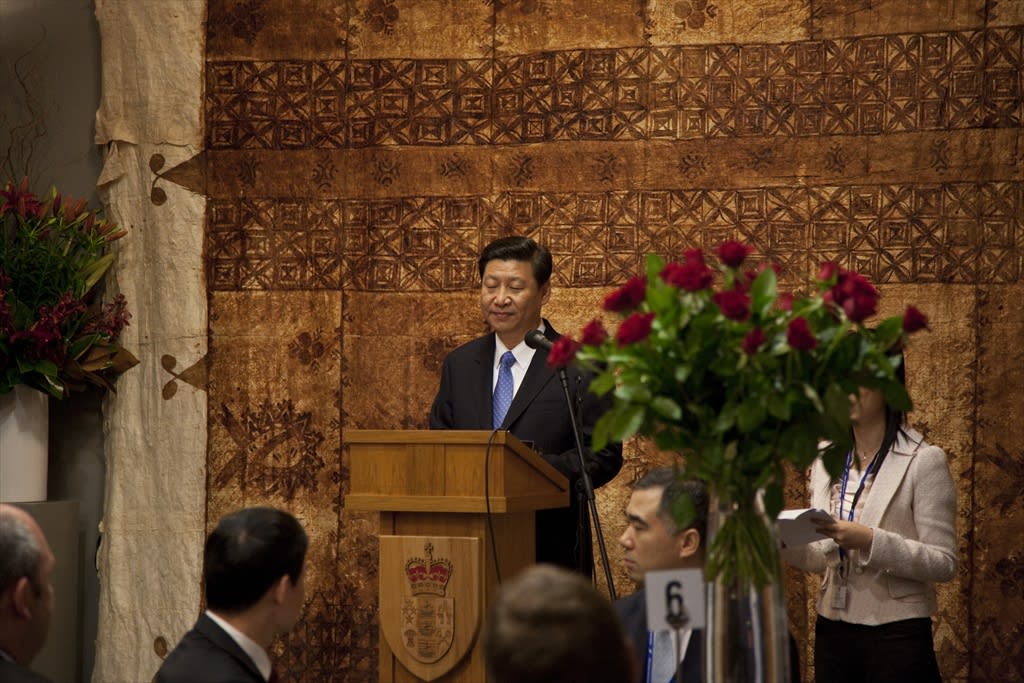 President Xi.
Former Chancellor George Osborne said in 2015 that Britain had entered a "golden age" with China. That was at a time when Elizabeth II entertained the Chinese President and rode with him in the Golden Coach. Things back then seemed rosy during Xi's state visit to the UK. David Cameron even took him to his local in his constituency in Oxfordshire for a pint at his local in Witney.
How times have changed. President Xi has become President for life. Covid originated in China and hit the world hard. China has some of the most stringent lockdown processes in the world. Like the West, it has a vaccine programme. Unlike the West whose vaccine has a 90% success rate, China's vaccine lags behind at 70%. The take-up in China has not been that good either. Older people still relying on traditional medicines are deeply suspicious of it.
Chinese people are demanding an end to the cycle of never-ending lockdowns. It is understandable why the Chinese government would want a strong lockdown. Given the ever-evolving nature of the Coronavirus. However, humans are not used to being hemmed in and caged in. We are social animals and people will want to mingle and see friends and family.
The Chinese people are fed up with the Communist dictatorship. They are openly calling for Xi to step aside and allow free and fair elections. Of course, this reminds me of 1989 in Tiananmen Square where students called for democracy. We remember the bloodbath that ensued as Chinese civilians were mown down and crushed by the wheels of tanks and the guns of the Chinese army.
Back in 1989, the protests were just restricted to Tiananmen Square in Beijing. Now they have spread to every Chinese major city and town. Protesters have already come up against the police and other security forces. Beatings and arrests have ensued but these forms of repression have done little to stem the tide of the demonstrations.
The question is what will Xi do in the face of such national protests? He could compromise and release people from harsh lockdown. He could import western vaccines with a 90% success rate in protecting people from the virus. He could do more to limit his time in power. He could reform the Communist party ala President Gorbachev. Introduce limited forms of democracy or he could take the opposite stance.
He could send in the military to put down the demonstrations. That might work or might set in the chain a major rebellion leading to civil war. Yes, it's that serious folks. Like in Iran, people don't seem scared of the efforts of their government to put down their demonstrations. Could the protests in Iran and China be a joint effort by Western governments to stoke trouble? It would not surprise me as thanks to the West another enemy Russia is breaking itself in Ukraine. It could be a thrice effort by Western intelligence agencies to break Iran, China, and Russia as dictatorships. This might be a conspiracy theory but it could have validation too.
At a speech at the Lord Mayor's Banquet at the Guild Hall (The Lord Mayor of London is different to the post of City Mayor of London), Rishi Sunak mentioned China. Sunak said the 'golden age' of the UK-China era was over referring to George Osborne's statement in 2015. Referencing the happenings in China Sunak said the UK must still factor in China as a world power. However, due to the repressive moves of Xi, the UK-China relationship could not be the same. Mr Sunak said the relationship between China and the UK based on China's repressive actions against its civilians needs "to evolve". The whole approach must now change and Britain must deal with China as it is not how we would want it to be.
Sunak was attacked a while ago for being soft on the People's Republic of China. Will this speech given by the hapless Wishy-Washy be enough to stave off similar criticisms?
government
About the Creator
I am a freelance writer currently writing for Blasting News and HubPages. I mainly write about politics. But have and will cover all subjects when the need arises.
Reader insights
Be the first to share your insights about this piece.
Add your insights