5 Cool Things You Didn't Know About New Jersey
It's more than just "Dirty Jersey". Here are 5 interesting facts about New Jersey: America's beloved Garden State.
Hello, readers! Welcome to the first article posted in Vocal's new community of trivia and fun facts! I can't wait to read the wonderful stories you will create within this group. I don't know about you, but I can spend all day sucked down a Youtube rabbit hole watching crazy video essays on "useless" information, so I know this community is going to be something real special.
The Vocal team asked me to contribute some useless information of my own. While I don't know anything worthy enough to be printed on the back of a Snapple cap, I do know more than I should about the place I call home: New Jersey.
If you're from New Jersey (or really anywhere in the United States), you know the Garden State gets a bad rap. It's called "Dirty Jersey" for a reason. It's densely populated, the Meadowlands are full of toxic waste, taxes and cancer rates are pretty high, and if you're a Sopranos fan, well...you know we've got more mobster activity than we're willing to admit.
But despite its faults, I'd argue New Jersey is one of the best places to visit. It's more than just Snooki and Italian hot dogs. We have beautiful coastlines, great diners, nightlife, and townsfolk. We're minutes away from Philadelphia and Manhattan, and we're smart, too - 87% of New Jerseyans over the age of twenty-five have graduated from high school, surpassing the national average of 84.5%. We've also got local legends like Bruce Springsteen, Thomas Edison, and Frank Sinatra to boast. And we don't pump our own gas!
Many Americans think we're just the state to pass through in order to get to Delaware, but we're far more interesting than that. Whether you're a fan of New Jersey or not, here are five cool facts you didn't know about our beloved Garden State.
1. Jersey Was the Original Hollywood
Many famous actors hail from New Jersey: Meryl Streep, James Gandolfini, Zoe Saldana, Queen Latifah, John Travolta, Danny Devito, Gaten Matarazzo, Tom Cruise, and Ethan Hawke, just to name a few. But did you know that before Hollywood, New Jersey was home to the first movie town?
In 1915, Fort Lee was the film capital of the world. Today, Fort Lee is known as that town you pass through once you're over the George Washington Bridge. (It's also the headquarters of Vocal Media!) But back in the day, it was home to several silent film stars, up-and-coming directors, and the place where all the magic happened: Champion Studios.
Thomas Edison invented the first movie camera, the kinetoscope, in West Orange, 1897. Soon, Edison had a film company and in 1907, came to Fort Lee to shoot "Rescued from an Eagle's Nest". D.W. Griffith was the lead actor. (Yes, he's that dude who made the infamously racist Birth Of A Nation in 1915.)
Fort Lee was the perfect place to make films. Because of its diverse scenery - cliffs, forests, waterfalls - and because it's next to Manhattan where all the Broadway stars lived, 11 major movie studios operated in the town by 1918.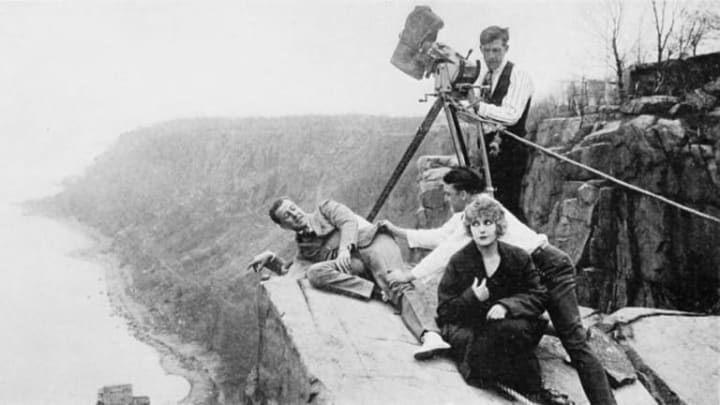 Unfortunately, just as quickly as movie production in Fort Lee began, it ended. Due to cheap land and the rise of westerns in the 1930's, actors, directors, and producers gradually moved to California. A coal shortage during World War I halted several Fort Lee productions, and in 1918, Spanish Influenza raged across the country. That killed even more productions, similar to how COVID-19 has halted our modern film industry.
Although Hollywood is the new movie capital of the world, film production in New Jersey is making a comeback. Films and shows like The Plot Against America, West Side Story, Joker, and The Many Saints of Newark have filmed in the Garden State recently. Additionally, several shows and movies are set to film in NJ this year. It's all thanks to tax credits for filmmakers, plus a new movie studio in Jersey City and two more studios in the works. Lights, camera, action!
2. A Famous Elephant Lives Here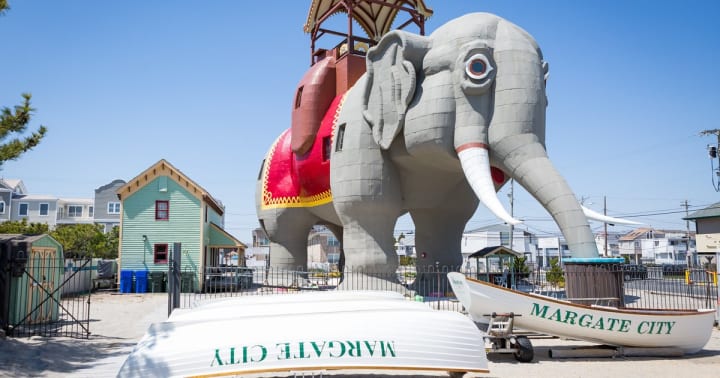 Did you know the oldest roadside tourist attraction is in New Jersey? In 1881, James V. Lafferty built a six-story elephant in Margate. Named "Lucy", she's been around longer than the Eiffel Tower or the Statue of Liberty. She was made out of nearly 100 pieces of wood, and there are twenty-two windows all over her body.
Through the first half of the 20th century, Lucy was a restaurant, business office, cottage, and tavern (the last closed by Prohibition). She was set to be demolished in the 60's, but the Save Lucy Committee rescued the lovable elephant from destruction. She was moved to a new location, and is now a popular tourist destination for those hanging near Atlantic City.
Last year, Lucy the Elephant was made available to stay in via AirBnB! This year, a lucky couple got to stay inside her for Valentine's Day. Guests can only live inside Lucy for one night, because she's a very old elephant who needs her rest. But a night inside Lucy only costs $138! (Priced because she's been around for over 138 years.)
3. Love Campbell's Soup? We're Responsible For It.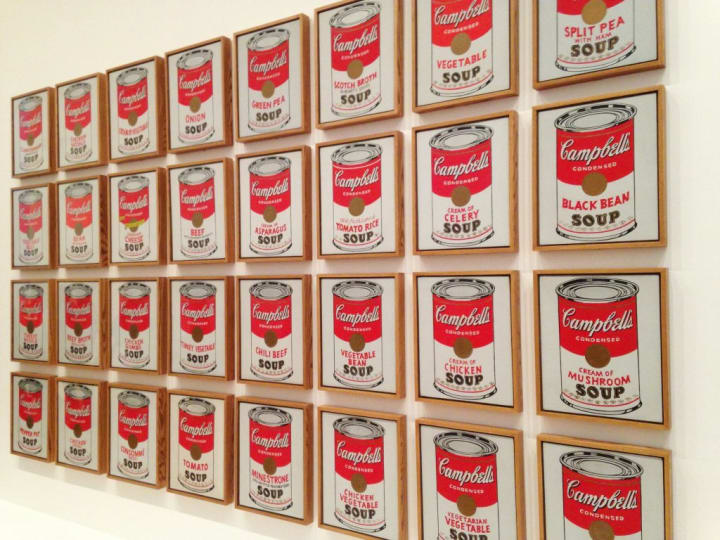 In 1897, the first condensed soup in America was cooked and canned in Camden County, New Jersey. That condensed soup was created by John T. Dorrance, who worked for the Campbell family. Before Dorrance, Joseph A. Campbell ran a successful fruit company in Bridgeton, New Jersey. While he did sell soups, he also sold canned tomatoes, veggies, jellies, condiments, and minced meats.
After Dorrance created the condensed soup can, he became president in 1914. The carnelian red and white colors were adopted as the company's signature hues, and Campbell's turned into the powerhouse it is today. Over the years, the Campbell Soup Company has also acquired Pepperidge Farms, V8 juice, Franco-American's gravies and pastas, Swanson Bros, and Godiva Chocolates.
While the original Campbell's Soup plant in Camden closed down in 1991, the Campbell's headquarters still resides in New Jersey. It's a beautiful glass building that includes the logo in a red stripe. Can you believe Campbell's has been around for over 150 years? I still love their chicken noodle soup on snowy days, or whenever I'm sick. Maybe it's because I consider that iconic snowman commercial a part of my childhood...
4. Modern Sporting Events Started Here
If you like watching baseball, basketball, or football, you've got New Jersey to thank.
On June 19th, 1846, the first organized baseball game was played in Hoboken, New Jersey. It was played on Elysian Fields, and the New York Mutuals defeated the Knickerbockers 23-1 in 4 innings. (I love that name: Knickerbockers. Ha!) Because of the game in Hoboken, Henry Chadwick, a cricket reporter from England, fell in love with baseball. He developed the sport and invented statistics for analyzing games. Now, he's considered the father of baseball.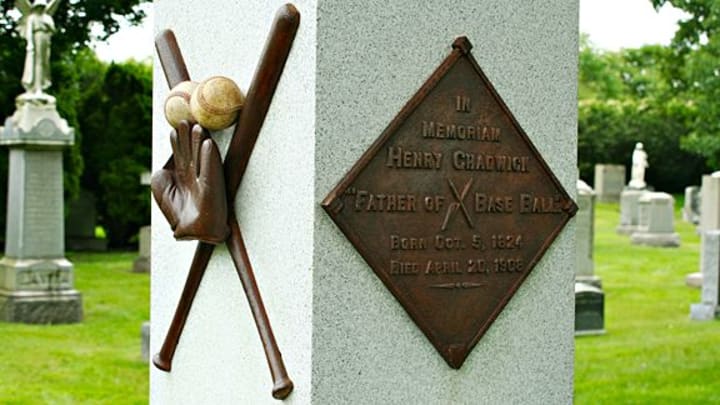 On Nov. 7, 1896, the first professional basketball game was played in Trenton, New Jersey. It was two YMCA teams - one from Trenton and one from Brooklyn - who decided to take on official team names. The Trenton "Cagers" beat their NYC opponents, 16-1. There wasn't much to do in the winter back in those days, so YMCAs around the Tri-State quickly adopted basketball as a wintertime activity. In 1896, basketball nets didn't even have holes in the bottom. A dude with a long stick would have to poke the ball out every time a team scored a basket.
Finally, if you're a college football fan, you should know the first intercollegiate football game was played by Rutgers and Princeton in New Brunswick on November 6, 1869. Technically, it's considered the first American football game. There was an audience of about 100 people, none of the players wore helmets, and unsurprisingly, Rutgers won 6 to 4. Go Scarlet Knights!
5. Atlantic City is Our Monopoly Board
I'm not a huge fan of Monopoly, but I know people who've spent days playing the game with their families. If you wander through the streets of Atlantic City, New Jersey, you'll find yourself in your own game of Monopoly. Why? Because the streets in Monopoly get their names from real streets in Atlantic City!
Before Monopoly was Monopoly, it was called The Landlord's Game. It was created by antimonopolist and feminist, Lizzie Magie, in 1904 as an educational tool to demonstrate Henry George's single-tax theory. A man named Andrew Darrow loved it so much, he began distributing the game more widely. Soon, Parker Brothers bought the copyright from Darrow, and paid Lizzie Magie $500 (about $10,000 today), for the patent.
When Parker Brothers bought the rights to Monopoly, a makeover was given to the game's board. Cartoonist F.O. Alexander contributed Monopoly's iconic design, and it's rumored Ruth Hoskins was responsible for adding in Atlantic City's streets. It made sense at the time. In the 1930's, Atlantic City was considered one of the most luxurious resorts in America. It's still a place where people can have fun and gamble, but today, it's nowhere near its former glory.
If you're curious to know what the Atlantic City streets from Monopoly look like or what the property actually sells for today, check NJ.com's write-ups. Hilariously, some of the game's less expensive properties contain more valuable real estate than properties toward the Boardwalk. And sadly, some streets, like States Avenue and Park Place, are mostly gone.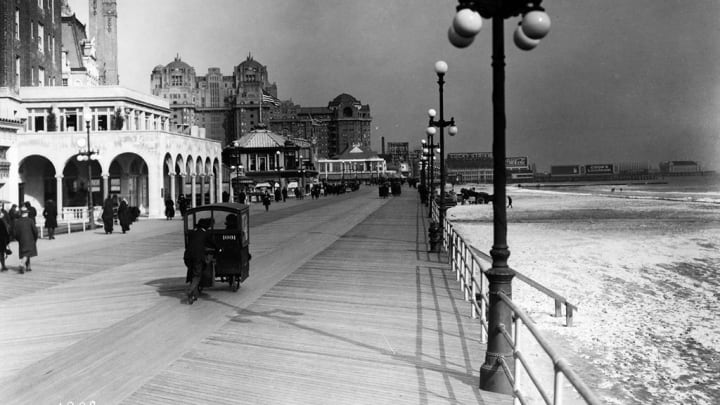 ____________________________________
That's it for my fun facts. Did I change your mind about New Jersey? Leave a like if you enjoyed! Tips are greatly appreciated. Got another cool fact about New Jersey I didn't mention? DM me @katyisaladybug and let me know!
Also, if you'd like to learn more cool facts about New Jersey, particularly the Pine Barrens, check out my other article, Why Bayville, NJ is a Stephen King Town. I highly recommend it if you like spooky stuff.
As always, thanks for reading! And thanks to Vocal Curation for asking me to write this. Until next time. :)
-Katy