The Wandering Wizard
Beginning in the Middle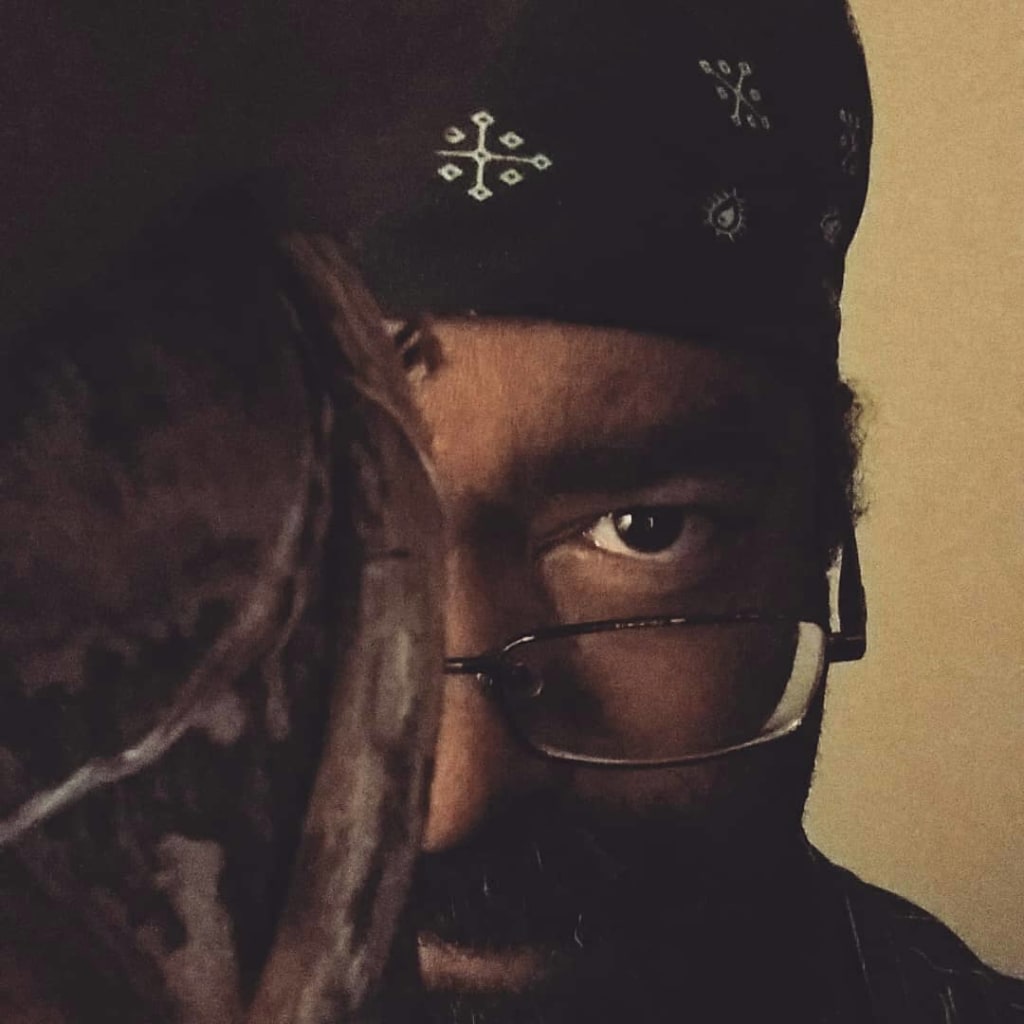 Me... More or less...
Good afternoon... For a Monday, anyway...
My name is Shadow DarkFyre... Yes, that is my real name, though not my full real name... And yes, I am a practicing wizard, among other things: of 14 years, no less... And I am as the title suggests: the Wandering Wizard...
I hear some of you thinking... "Wizards don't exist..." Hm... We'll get to that subject later...
I've been around for a little while in this lifetime... Been a few places in the world and elsewhere... Been on a good handful of adventures... I've met many people, beings, and things... Been in a good amount of conflicts... I've loved and lost along the way, and have paid prices for what I've learned... I've had meals, drinks, tastes and other culinary experiences... I've made friends and allies, garnered enemies and opponents, and most importantly, grown a family together... So, it is safe to say than in my short 4.5 decades, I've lived a full life...
The encouraging thing is that all those things and more arenae' yet done being done, if you understand... The world: for as much of a dust speck as it is in the vastness of the Tellurian, is still itself vast and relatively unknown... So therefore, there is still more to learn, experience, and understand... That will never run out... Nor for that matter, will run out my willingness to discover and explore as much as I can before my days are done... And as I've already said, my days are a long way away from being that...
Knowledge and understanding will always remain a wizard's stock and trade: a part of how we do our magick... So the above is always a silver cloud with a black lining, instead of the opposite... As the late great Anthony Bourdain once said, "Travel is not reward for working. It's education for living." And the late great Samuel Clemens - Mark Twain - said "Travel is fatal to prejudice, bigotry and narrow-mindedness, and many of our people need it sorely on these accounts. Broad, wholesome, charitable views of men and things cannot be acquired by vegetating in one little corner of the earth all of one's life." Stands to reason then that travel and wizardry go hand-in-hand... A wizard is about many things... Amongst those things, being insatiable about learning... Knowledge is power and responsibility, and in my opinion, you learn both by moving your feet...
What I've never actually done is share all or even some of my somewhat peculiar life and experiences beyond those of my family and friends of my familial House... I had always been encouraged to do so,... but being as archaic and crochety as I am, I never saw the use... Regular life, making a living, and the habit of time getting away from a person tends to nix such endeavours... My wife once sat me down one night six years ago, thanking me for working to keep the family supported, but admonished me in the same breath to find something to do that is conducive to who and what I am... I told her I would, but that such things didn't pay the bills...
Things have changed in the past few years, however,... and so have priorities... On a small scale, opportunities and attitudes have changed in me, as well as more people conducive to me - and I to them - joining my family, and being ambitious about the same and similar things as I am... Such people encourage and empower you to move forward... Especially now... Changes are coming to the world en masse, and magick is more afoot than it used to be... And one of the skills I've developed over the years is the ability to adapt... Especially when adaptation is not only more feasible, but more necessary... There is much in the world to be experienced, and more still to be taught... Things both magickal and mundane that the world has forgotten... Those of us who are Awake, aware, and knowledgeable, have a responsibility to share a few things here and there with the rest of the world as best as we are able... That way, many of you will be a bit better prepared for those changes on the horizon...
And so, do I start in the middle of my life's journey: sharing my experiences, telling my stories, and letting you - the reader - see who I am... Why...? Because it is simply time... So here do I reintroduce myself again...
I am a wizard, and I am a wanderer... Amongst other things... I've been on a great many journeys and adventures, met gods and people, had meals and drinks, and learned a great many things that make me who I am, as I've traveled along the most magickal of journeys:... life... My name is Shadow DarkFyre... I am the Wandering Wizard, and I welcome you aboard... This is to be an ongoing adventure, so we'll see what journeys we can find together, as I share my stories, my experiences, and a few tips for you on your own journeys and your own adventures... Perhaps what I share will resonate with some of you, and spark something in you... Besides,... Fate ever has Her reasons, and I've never been one to not understand that fact...
This is simply an introduction to this new part of my journey, and new aspect of my life... The podcast matching this is already into its second season, at http://anchor.fm/shadow-darkfyre... I got a head start by first finding my voice, before finding my words... I'll do my best to transcribe every once in awhile, as time and memory allows... I hope in some way it serves you well... This adventure calls... Shall we...?
Good...
As I often say, and will often say, I wish you Good Dreaming and Blessed Be... May the road rise to meet you, and - as always - Dream Well...
Simply me...