Defiance:
What To Be In The Face Of Evil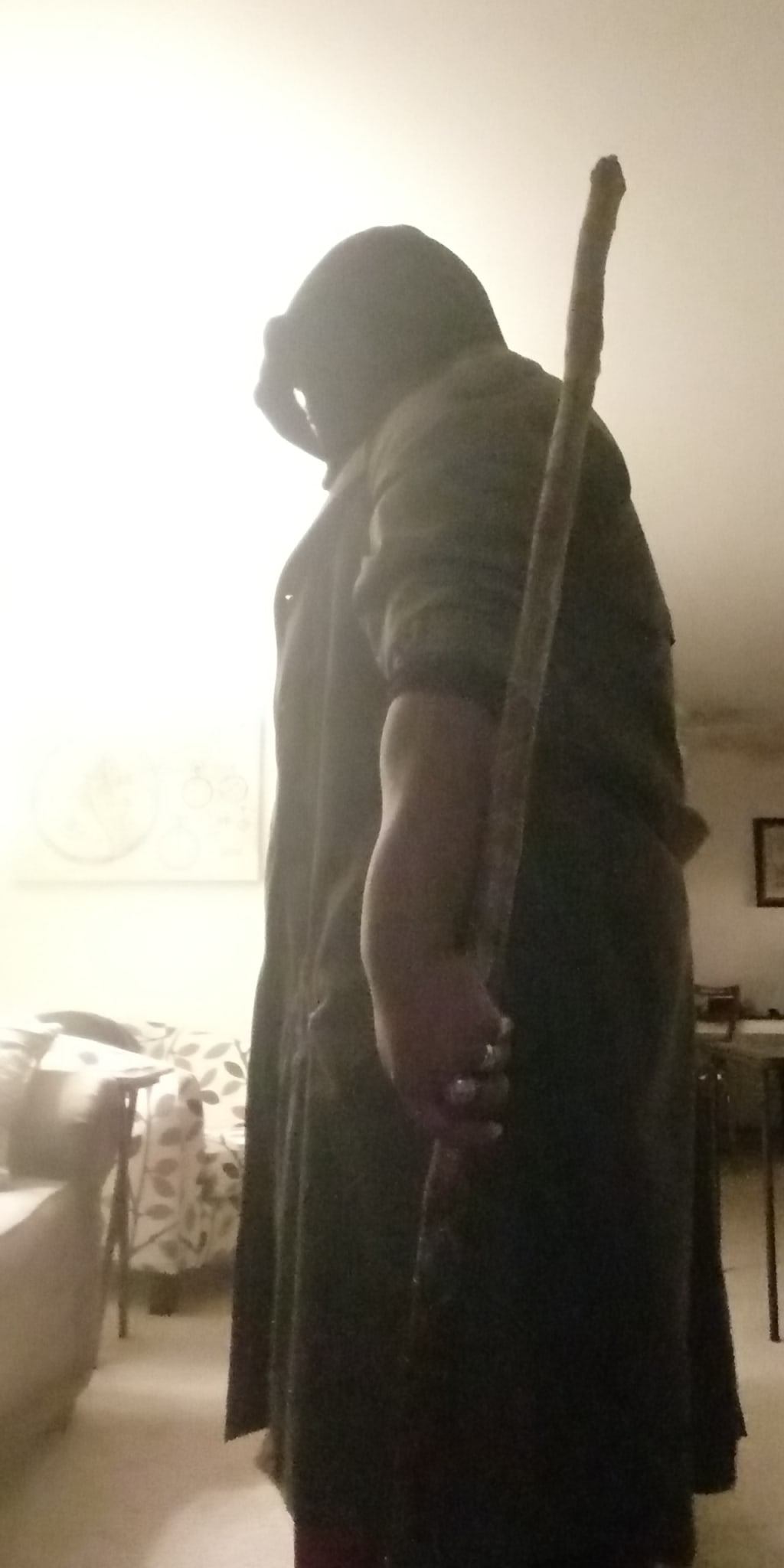 "We too can be heroes: each in our own lives, is we have but the courage to try." -Optimus Prime
Evil exists... It almost always has... Like Good, it is eons old, and exists both in the choices we make & in the forms spoken of in myths and legends... And it exists independant of whether or not we believe in it, like most everything else in Existence...
We, as a species, tend to have a rather arrogant and self-assured view of ourselves and where we sit in what we know and the level of superiority that we have in the world: which is itself little more than a dust speck traveling through the plasma of space in a 5,500-mph spiral... Sometimes, I think we should remember the famous picture of the Little Blue Dot, and the words of Carl Sagan that goes with it... The sum out the existence of our species has only occured here on this speck: a speck we don't know as much about as we think... We know 5% of our oceans, about as much of our forests, our knowledge of the layers of our planet are relative guesswork, and we have likely destroyed more species than we've discovered... Atop of that, we ourselves are a mystery to ourselves... We still debate on what the nature of consciousness is: everything from whether or not the conscious mind is held in the body, to whether or not we are in the Matrix...
So it isn't surprising when the subject of good versus evil comes up, and we almost automatically dismiss the idea of the concepts to little more than tendencies of the mind... We often do that, however, to counter the fact that we don't like not knowing... The unknown is a terror to us that won't leave, and we do our best to end run around facing our fears: making logical, reasonable excuses that sound like reasons all along the way...
I am magickfolk: my catch-all phrase for those of the magickal, supernatural, paranormal, and metaphysical communities... As a practicing wizard (among other things), I've dealt with evil: bot the mortal and non-mortal varieties... I believe in the existence of evil as much as I do in good... Like good, evil is as real as you... Get out of that fantasy thinking in which everything in Existence has your best interests at heart... Not everything does... As a favorite character of mine: Harry Dresden, once said, just because you don't see anything, doesn't mean that there's not an invisible demon sitting in front of you waiting to bite your face off...
Evil - in whatever shape or form - is a challenge every living being in Existence has to contend with... It's a fluke if you escape encountering it in normal everyday,... and a holy blessing if you get past without encountering a whisper from some of the interstellar terrors out there... Yes, they exist... The variety of types and forms of evil keep the Multiverse busy: whether you believe in it or not... You might as well believe in its existence... It believes in yours...
Now that I'm done being longwinded about the existence of evil in the Multiverse, I can get around to how to face it...
Be defiant...
Evil is a bully: plain and simple... Evil, for the most part, is an unnecessary asshole... Preys on the weak... Causes division... Makes you see it in the faces of those who are good... Don't get me wrong... All the things I said about it just a few moments ago are true... However, they're not the only things that are true about it... Evil takes the easy way out by making you do the work yourself for it... Evil's modus operandi is to make you give up... It'll destroy you if you have to, make no mistake, but it will goad you into doing it yourself first if it's successful: like Emperor Palpatine goading Luke Skywalker into killing his own father so that he could complete the journey to the Dark Side of the Force himself... As many forms as it takes, as versatile as it gets, as outright destructive and beyond ancient as evil is, that's it's signature more: scare you into doing yourself in...
That's the thing about bullies, though, if you let yourself remember for a moment... The moment you get up in their face and stand them down, they fold...
In the old Fox TV show, "Werewolf", one of the characters said, "My daddy always told me that you can stand up to anything, if you have the guts to look it in the eye." In Stephen King's "It", the Losers faced off with and defeated the titular cosmic terror twice... In Dreamworks' "Rise of the Guardians", it was the children who found the courage to believe in themselves, and band together with the Guardians to face off with Pitch Black... In "Return of the Jedi", Luke made a mockery of the Emperor's plans: at the risk of his life, and told him - TO HIS FACE - why... In the legendarium of J.R.R. Tolkien, it's said that Sauron the Dark Lord didn't fear the destruction of the Ring: which he could never imagine, the return of the Sword that was Broken, or even Isildur's Heir... The one thing he truly feared was another alliance of Elves, Men, and Dwarves rising up together to stand against him, for it was the Last Alliance that destrouyed the Black Gates and chased him to the very sloped of Orodruin itself, where the Ring was cut from his hand... And in real life, it an alliance of nations who rose together to face and defeat the Nazis and the Japanese Empire in World War II, and free the world from what would have been worldwide tyranny had nothing been done...
Get where I'm going with this...?
Look around you when you're done reading my ramblings here... The world is changing... For those of you mundanes and sleepers, evil in the form of injustices and abuses of power are around every day... To my fellow magickfolk, many of you know what's on the horizon... What this world stands to face... The days we all knew would come... It altogether seems overwhelming... It gets too easy to just fold... To lay down and take it... to turn away because it's too much... Or at least seems like it... I remember a conversation at work with an individual I admire as an intelligent living being, in which we ticked off all the things stacked against good people in the world rising up together to help do the world some good... He gave in to hopelessness... He said, "We can't win, man. There's just us, and they got all the power. What can one do?"
My answer is simple...
Hope in the face of hopelessness...
Rage against the dying of the light...
Love enough in the face of hate to make a stand...
These are examples of what to be in the face of evil: in all of its forms...
These are examples of defiance...
The Marquis de Lafayette said, "Insurrection is the most sacred of rights and the most indispensable of duties." In the Ridley Scott movie, "Robin Hood" is found the saying, "Rise and rise again, until lambs become lions." The song for "League of Legends" admonishes the player to "Prove yourself and Rise! Rise! Make them remember you. Rise! Push through hell and Rise! Rise! They will remember you. Rise!" Another song by Soundgarden has the late, great Chris Cornell saying adamantly "Like the sun, we will live to rise!" In the movie, "300", Leonidas speaks of a new age of freedom for the world, saying, "And all will know that three hundred men gave their last breath to defend it." Winston Churchill said that Britain's policy in World War II was "to wage war against a monstrous tyranny never surpassed in the dark, lamentable catalogue of human crime." He went on to state that their aim was "victory, victory at all costs, victory in spite of all terror, victory, however long and hard the road may be." In the movie, "Pacific Rim" were said the words, "Today: at the edge of our hope, at the end of our time, we have elected to believe not only in ourselves but in each other. Today, there is not a single man or woman in here who shall stand alone. Not today. Today we face the monsters that are at our door, and take the fight to them. Today, we are cancelling the Apocalypse!" In the movie, "The Return of the King", Aragorn says, "I see in your eyes the same fear that would take the heart of me. The day may come when the courage of Men fail: when we forsake our friends and break all bonds of fellowship. But it is not this day. A day of woes and shattered shields when the Age of Men comes crashing down. But it is not this day. This day, we fight! By all you hold dear on this good earth, I bid you stand, Men of the West!" From "Independence Day", "And should we win the day, the Fourth of July will no longer be known as an American holiday, but as the day when the world declared with one voice, 'We will not go quietly into the night! We will not vanish without a fight! We're going to live on! We're going to survive! Today, we celebrate our Independence Day!'" And in the movie "We Were Soldiers", were uttered the words, "I can't promise you that I will bring you all home alive. But this I swear: before you and before Almighty God, that when we go into battle, I will be the first to set foot on the field, and I will be the last to step off, and I will leave no one behind. Dead or alive, we will all come home together. So help me God."
I've given you a wealth of quotes above: words that aren't my own, both fact and fictional... Trust me, as some of you already know, there are a wealth more of quotes out of books, movies, television, and music... Enough to inspire whole armies and nations... And they have... These words and others evidence the hallmarks of defiance against evil: hope, courage, faith, endurance, strength, peace, and love... I don't talk in a shiny happy people context of those words... When faced with evil, and the hard road against it, many will say instinctually, "It's not that easy." No one said anything about ease, only that it must needs be done... Rise up... Stand your ground... Hold the line...
As I said, evil comes in many forms: all very real... You will face evil in your lives, and in your world: as others have in generations and ages before you... Even the kinds that everyone hopes and wants to believe could never exist... None of us are going to escape facing evil at some point in our lives, nor will the world as a whole escape that eventuality when our collective challenges rear up... That event is inevitable for us all, and no mistake about it... So the when is neither here nor there, and in the hands of fate...
But,... when that day comes,... and it -will-,... do what so many: both real and fictional have done before you, and will do after your time has come and gone... When evil shows its face, if you show it nothing else, show it one thing as you walk into that conflict...
Defiance...