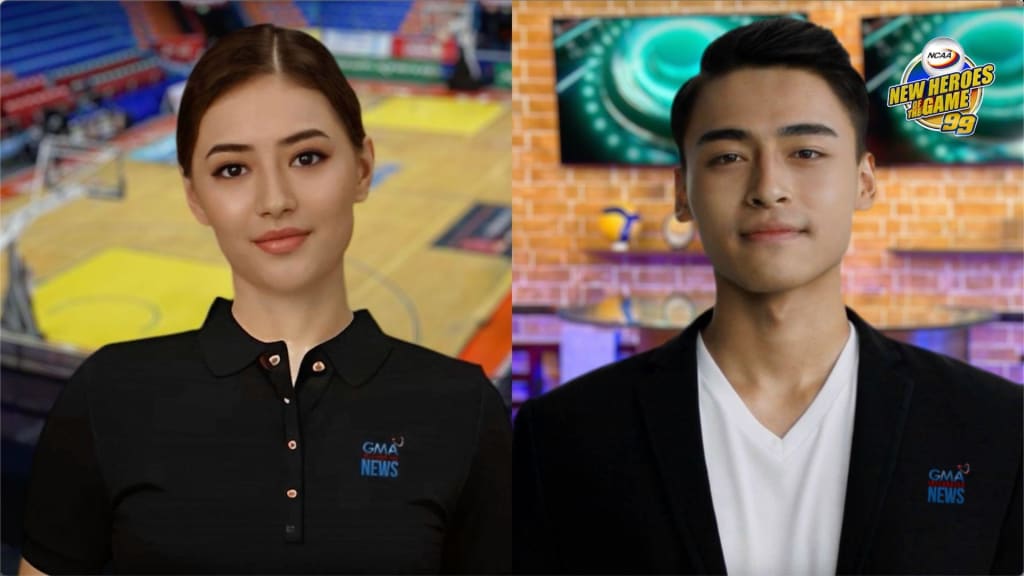 Here are the images of AI sportscasters named Maia and Marco
GMA Integrated News unveiled its groundbreaking AI sportscasters, Maia and Marco, during the opening of the National Collegiate Athletic Association (NCAA) Season 99 on September 24th. These virtual sportscasters were created using a blend of cutting-edge technologies, including image generation, text-to-speech voice synthesis/generation, and deep learning face animation.
Oliver Victor Amoroso, the Senior Vice President and Head of Integrated News, Regional TV, and Synergy, emphasized the significance of this initiative in aligning with their mission of broader public service and inclusivity in reporting. He stated, "The introduction of the first AI sportscasters by GMA Integrated News is a groundbreaking initiative that significantly impacts our objective of 'Mas malaking misyon, mas malawak na paglilingkod sa bayan.'"
Amoroso also highlighted their commitment to innovation in journalism, embracing emerging technologies to offer a modern and engaging sports news experience to their audience. However, the introduction of AI sportscasters sparked criticism on social media, especially regarding concerns about AI's potential to replace human workers in the media industry.
Renowned DJ, actor, and host KC Montero expressed his apprehensions on social media, suggesting that AI could potentially take away job opportunities from human hosts. User @macturijatweets voiced similar concerns, emphasizing the challenges faced by mass communication students who aspire to work in the industry.
Some users criticized GMA's decision as a mere gimmick that diminishes the talents of sports journalists. @azafeisty even urged GMA to reconsider their use of AI, emphasizing that it doesn't add value to sports journalism.
Another critic, Phillip Templo Jr., pointed out the contrast between the qualifications of international journalists and those in the Philippines, implying that popularity and charisma often outweigh academic credentials.
YouTube user @kf.9844 raised concerns about the tireless, cost-effective nature of AI, highlighting the potential drawbacks for human hosts and newscasters. User @MC_Nands expressed reservations about an overreliance on AI, arguing that it could diminish the significance of human skills and talents.
The University of the Philippines Broadcasting Association expressed alarm over GMA's use of AI newscasters. They argued that while technological advancements are inevitable, they should not replace individuals who have dedicated years to the field of broadcasting. The organization urged GMA to address labor issues in the industry and provide more opportunities for aspiring media professionals.
In contrast, some individuals praised GMA's initiative as a step toward the future and a starting point for discussions on the impact of AI on media. User @mkiarah2021 commended GMA for diving into uncharted waters, wondering whether Maia and Marco would be well-received by viewers.
User @patyourshoti acknowledged the business aspect of the decision, emphasizing the need to minimize expenditures and maximize income. Meanwhile, @Pumadine suggested that the rise of AI-generated newscasters could be inevitable, even though traditionalists may resist this change.
GMA Integrated News addressed these concerns by clarifying that Maia and Marco are AI presenters, not journalists, and are intended to complement, not replace, human broadcasters. They emphasized that these AI presenters enhance the coverage of NCAA events while maintaining the integrity of GMA Integrated News' reporting.
Ramil Escarda, Head of Creatives at GMA New Media Inc. Studios, stressed that generative AI enhances the creative process and storytelling capabilities of the network. It doesn't replace human ingenuity but amplifies it, making storytelling more powerful and accessible.
Aileen Rae Perez, Assistant Vice President and Deputy Head for GMA Integrated News Social Media, underscored the need for discourse on how generative AI can benefit journalism. She encouraged a proactive approach to adapt to the evolving preferences of the audience and use AI to improve the way modern journalism is conducted.
In conclusion, GMA's introduction of AI sportscasters, Maia and Marco, has generated a mix of enthusiasm and apprehension. While some view it as a pioneering step towards the future of media, others express concerns about its potential impact on employment and the role of human journalists. GMA Integrated News, however, maintains that AI is a tool to enhance storytelling and complement human expertise rather than replace it. The debate on the role of AI in journalism continues, highlighting the need for a balanced approach that preserves the essence of journalism while embracing technological advancements.
Reader insights
Be the first to share your insights about this piece.
Add your insights