Behind the Scenes of 'Star Wars'
A look behind the scenes of 'Star Wars' reveals why Carrie Fisher wanted to play Princess Leia, among other interesting facts.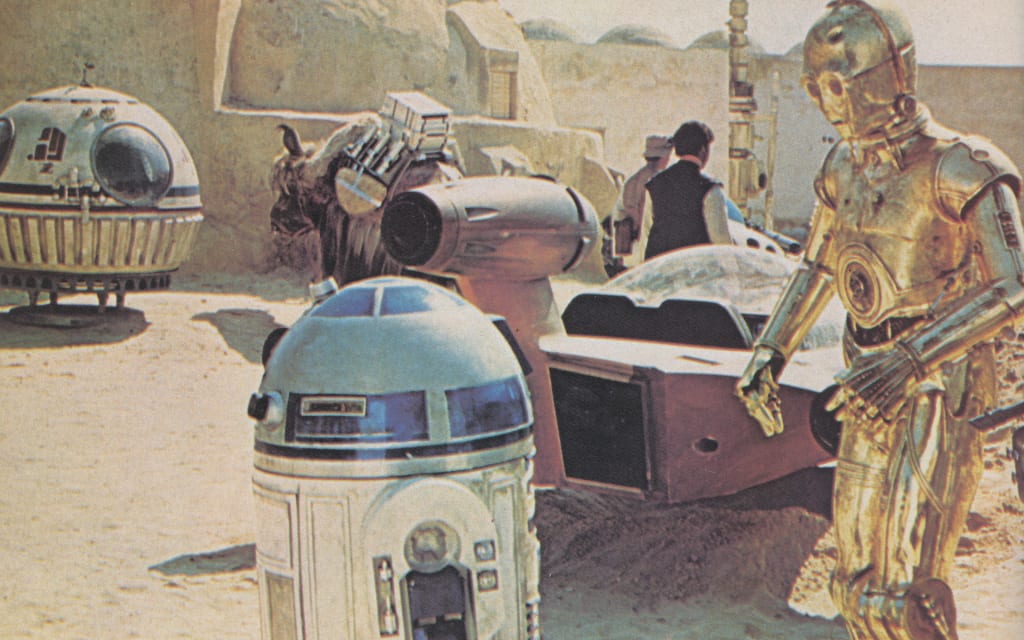 Carrie Fisher is the beautiful Princess Leia, the woman who inspires the rebellion against the evil Galactic Empire. Carrie is the main female in the Star Wars movies up until A New Hope, where she still maintains her presence. When Star Wars was first released, this was quite an achievement. In the previous two biggest-ever money-making films of the 70s, The Godfather and Jaws, women had very little to say about things. But in Star Wars Carrie, tough-willed and rarin' to go, is right in there with the men. In February 1978, Fisher and some other Star Wars fan favorites sat down with Roy Pickard of PhotoPlay magazine to discuss their experience on the set of the well-known space opera.
Carrie Fisher and Why She Wanted to Play Princess Leia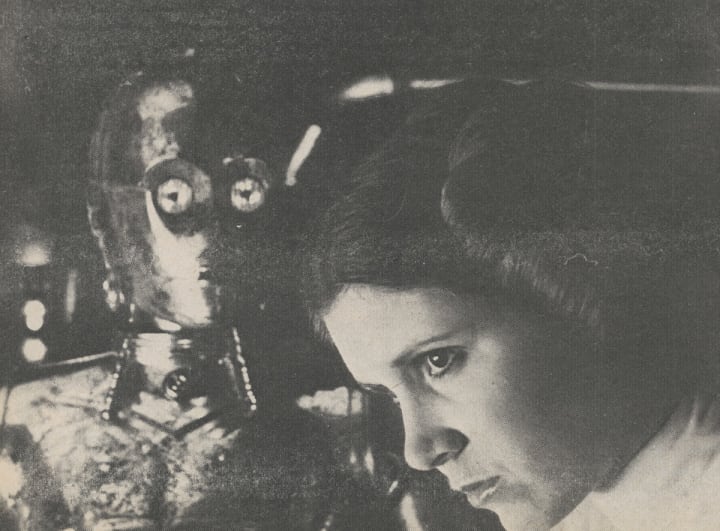 Carrie, who was twenty-one at the time, is the daughter of singer Eddie Fisher and actress Debbie Reynolds but, not unnaturally, doesn't like to feel that her success is due to the fact that she comes from a showbiz family. "Times have changed quite a bit since their day, anyway," she said. "I get masses of fan mail," added Carrie, "but the funny thing is when I walk down the street nobody recognizes me. I guess it's because I look so different in the movie."
Carrie, who's a movie buff—showing old comedy films by Frank Capra, George Stevens and George Cukor is her idea of heaven—Can't remember when she decided she wanted to go into show business. "But it was always assumed that I would do it," she said, "so I kind of went along with that assumption—although I wasn't pushed."
At the age of thirteen, Carrie made her first unannounced appearance on stage with her mother during a summer tour and surprised everyone with her strong, deep singing voice. She continued making appearances with her mother during summer holidays until she was seventeen.
Deciding to work seriously at a career in show business, Carrie left Beverly Hills High School to join the chorus of the Broadway revival of "Irene" starring her mother. She remained in the cast for its year-long run in New York.
After "Irene" closed, Carrie appeared in her first movie, Shampoo.
Declining subsequent film offers, she decided to study acting seriously. After making a guest appearance in her mother's act at the London Palladium in 1974, she enrolled in London's Central School of Speech and Drama, where she studied for 18 months.
On returning to Los Angeles, Carrie Fisher was asked by director George Lucas to test for the role of Princess Leia in Star Wars and ultimately won the role over many other young actresses.
She certainly wasn't pushed into doing Star Wars. She enjoyed filming it enormously, not least the stunts. "Especially swinging across the Death Star chasm," she said.
"I was scared to death. And when I finally did it, I felt like my body was being ventilated from the inside. But it was a different kind of terror. And I knew it was also going to be fun to do. I was really afraid of doing something wrong. I was also afraid my hairpiece would fall off. Despite the fears, I was sort of sorry we got it right on the first take. Once I had got over the initial shock of doing it, I wanted to do it again. I still do. And that's why I hope they do a sequel with lots of swings across chasms in it."
Carrie needn't have worried. The several subsequent Star Wars films certainly had their fill of swings across chasms.
Carrie said, "I wanted to do the role of Princess Leia because I wanted to have real conversations with people with bubbles on their heads. Although I never read much science fiction before I made Star Wars, I had a kind of active space fantasy life all my own. Once I saw a science fiction movie that scared the hell out of me."
"I don't know what it was, but it took place on the moon. And I used to be afraid of Martians. There was an invisible Martian in that movie who was surrounded by an electric field. If you got thrown into that electric field, it was goodbye forever. It was really scary, scarier than even burglars or snipers." She laughed. "You can't put Martians in jail can you?"
Mark Hamill as the Heroic Young Luke Skywalker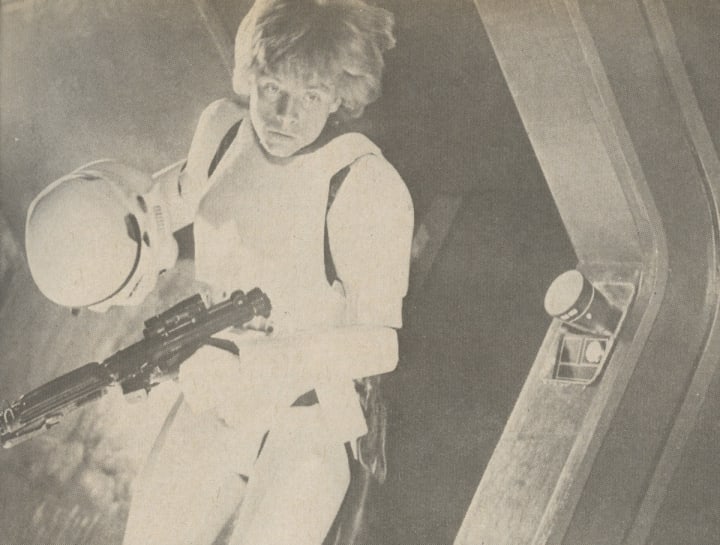 A star is born! It might seem a bit of an obvious statement in hindsight, but Hamill's breakout role as Luke had many in the industry predicting a big, big future for the twenty-five-year-old American actor.
As the heroic Luke Skywalker, his clean cut good looks, innocence, and college boy personality shine through Star Wars from the moment he appears on the screen. From the beginning he had a huge following among American teenagers. In fact, he became so popular that on occasion he had to barricade himself in his Malibu home because teenage girls were camping outside his front door.
Two years before Star Wars he was unknown, living off small parts in commercials and afternoon TV soap operas. He joked about his sudden success. "I'm ordering 50 buck bottles of champagne I can't pronounce."
That he became such a success in Star Wars isn't all that surprising. Mark had been into science-fiction since he was a kid. "If I had to pick the kind of movies I went to see as a boy it would be films like King Kong and horror and monster movies. When we lived in Brooklyn I saw King Kong on television every afternoon for a week."
Added Mark: "When I was seven or eight, it suddenly dawned on me that some people actually made a living making monster and science fiction films. Since then—I don't know how or where or when—I always knew that making these kind of movies is what I'd like to be doing when I grew up."
He never dreamed that George Lucas would give him a starring role in his space fantasy. Said Mark: "I thought if they were making a big space fantasy movie, I'd be satisfied just to watch part of it being shot. I even asked my agent if she could get me on to the set. I wanted to see some of the special effects being done. I wasn't thinking of acting in it!'"
Mark was twenty-five at the time, and after Star Wars we went on to guest-star on just about every important comedy and dramatic series on television.
How did this young man, born in Oakland, California (one of seven children), keep his feet on the ground after all this heady success?
"Fortunately," he said, "I have been in this business long enough—since 1969—not to believe in all the madness. I also have six brothers and sisters and they'd give me a Swift kick if I got out of line."
As if to prove his point he chose as his next movie a comedy thriller called Stingray, which is about a boy and girl and a fast sports car.
When asked about the nature of the character he portrays, Mark Hamill agreed that his character was very much as director Lucas had described him. Mark added: "George Lucas is Luke Skywalker."
"I guess in many ways George and l are alike," Mark added. "Because neither of us is tall and we both look really young, we've both been called 'the kid' on movie sets. George said he has given to me, forever, his nickname of 'the kid.' That's what he used to be called until he grew his beard. And that's what I ended up being called on the set of Star Wars. 'Hey, where's the kid,' was the way the people called me for a scene.
"I realised that my character, Luke Skywalker, was really George while we were filming in Tunisia. I was doing the scene where I discover the robots. I said my lines very big, very dramatic. George came over and went over the lines with me. He didn't give me line readings, but as he explained the intention of the scene, he was very low-key. I just watched him. I don't know why, but something in me told me to observe how he was speaking, to try to pick up his inflection. I even imitated a few of his gestures as he explained to me what he wanted me to do. At one point, I thought to myself that he was doing it so small. That can't be right. I thought I'd try it very small and he would see that it didn't work. He would tell me to go back to the way I was doing it before."
"So when I played the scene, I did it just like I thought George would react in the scene. When I did it like that, George called, 'Cut. Perfect.' I was flabbergasted. I thought, 'Oh, I see. Of course, that was right. Luke is George.' Even the names are similar, Luke, LUCas."
"From then on, I followed through on my feelings. I began to really feel I was playing George. I guess if you sit down and write an adventure like this, you have to think of yourself as the main character. I actually think Star Wars is the adventures of George Lucas," Mark said.
"Making this movie has been to George like playing with a big toy. He had a great time. While we were filming, Carrie Fisher brought over to England a Buck Rogers helium pistol. She gave the toy to George and he wouldn't put the thing down. We would see him with the gun in the hallways of the studio. Although he was not conspicuously running down the hallways and aiming it at imaginary villains, he did spend a lot of time kind of twirling it around. You couldn't pry that helium pistol away from him," Mark said.
Harrison Ford as Captain Han Solo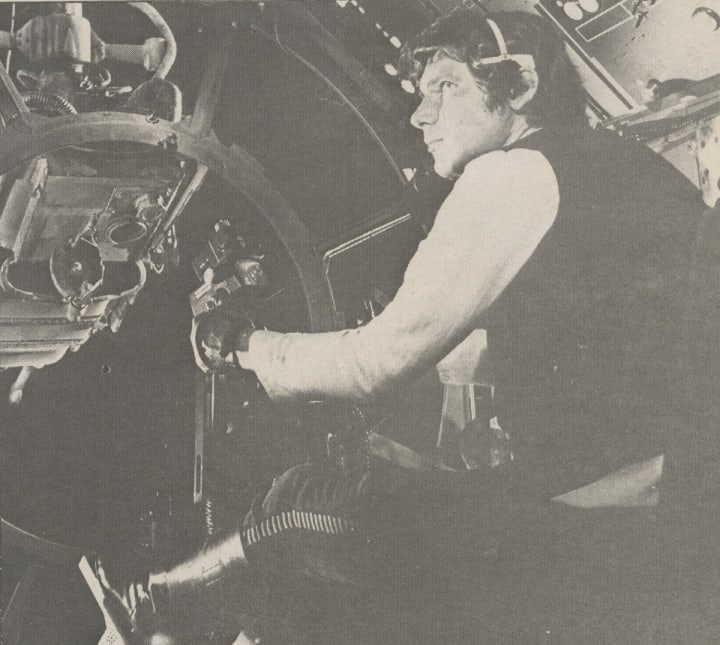 Compared with the galactic innocence of Luke Skywalker, Harrison Ford's Captain Han Solo is very much a man of today. A mercenary who joins up with Luke, Princess Leia, and Ben Kenobi in the battle against the Death Star, he is in it purely for the money—cynical and disillusioned.
But although the very opposite to Luke, he is no less attractive. With his pirate starship and his huge Wookiee companion, he is as big a Star Wars attraction as any of them.
For Harrison Ford, the success has all Come as a big surprise, more so than perhaps the other members of the cast. The then-thirty-five-year-old actor even told George Lucas when they were filming the script: "You can't say this stuff; you can only type it."
Now, he admits he was wrong although he still said "Star Wars is a silly film but wonderfully made."
Ford was very much part of the new American movie scene and well in with the Coppola/Lucas fraternity. He was the white-hatted drag racer in American Graffiti and the corporate hatchet man in The Conversation.
Early on in his career he appeared in movies like Dead Heat On A Merry Go Round (as a bell boy in his movie debut), Luv, and Getting Straight. On TV he played heavies in The FBI, The Virginian, and Gunsmoke, but he got so fed up with playing these TV roles for $150 a week that at one point he decided to give up acting and support his wife and sons by working as a carpenter.
The acting bug was soon at work again, however, and after securing his association with Copola and Lucas, Harrison Ford didn't look back. In fact, he very nearly stole Star Wars from everybody—robots included
Mark Hamill said of him: "Of all the humans in the show, Harrison Ford comes closest to stealing it. When I heard him say 'Keed, I been from one sida this galaxy to the other,' I thought 'Oh, jeez, this guy's got every good line.' "
Well, Harrison didn't get every good line. Carrie Fisher got quite a few—she calls his Wookiee "an overgrown carpet" on one occasion, but he's certainly got plenty.
 Alec Guinness as the Old Warrior Ben Kenobi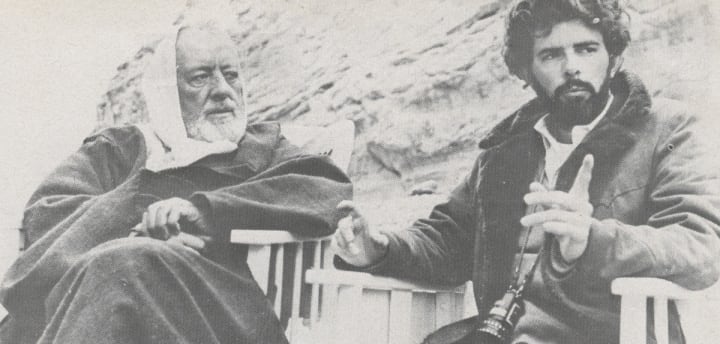 Versatility has always been one of Guinness' strongest assets. Anyone who remembers Kind Hearts And Coronets, The Ladykillers, and The Bridge on the River Kwai will testify to that. But Star Wars was something new for this then-sixty-three-year-old actor.
So why did he choose the role of the wise old warrior Ben Kenobi? "One of the difficulties of being in my sixties is that I can't pick and choose quite as much as I could in my thirties," he said. "But my role in Star Wars has been described as a blend of the Wizard Merlin and a Samurai warrior, and you can't beat that."
"Another thing is that unlike most space fantasy, the characters George Lucas has created aren't cardboard. And the story is gripping. There's a quest, encounters with other forms of life, and conflict between good and evil. The good wins, which is a novelty these days."
The novelty of watching Alec Guinness in Star Wars adds considerably to the entertainment value of the movie. The familiar calm, measured diction and quiet personality give the picture a sane base from which it can blast off in all directions. The sight of Guinness marching fearlessly into a horrific planetary western styled saloon is a moment to savour!
Like other of the film's stars, Guinness was due to receive £500,000 for his work on the film, although speculation was that it could be even more if the movie carried on the way it was going at the time of the interview.
"I suppose it could amount to a million," said Sir Alec, "although I rather think half a million more likely. Anyway, it's all just paper. I would keep more if I went to live in America. But living in America, somewhere like Los Angeles, I'd go mad."
For all his fame and brilliant talent, Sir Alec is not averse to viewing himself with a keen sense of humor, something that is probably left over from his Ealing Studio days.
"I'm a very self-conscious person," he said. "Probably the most self-conscious moment of my life came when I was knighted by the Queen. It was a very odd experience. I remember there was a little band there for the occasion, and when it came to my turn to be knighted, the band struck up 'I'm Gonna Wash That Man Right Out Of My Hair.' It was a very droll moment."
Peter Cushing as the Evil Grand Moff Tarkin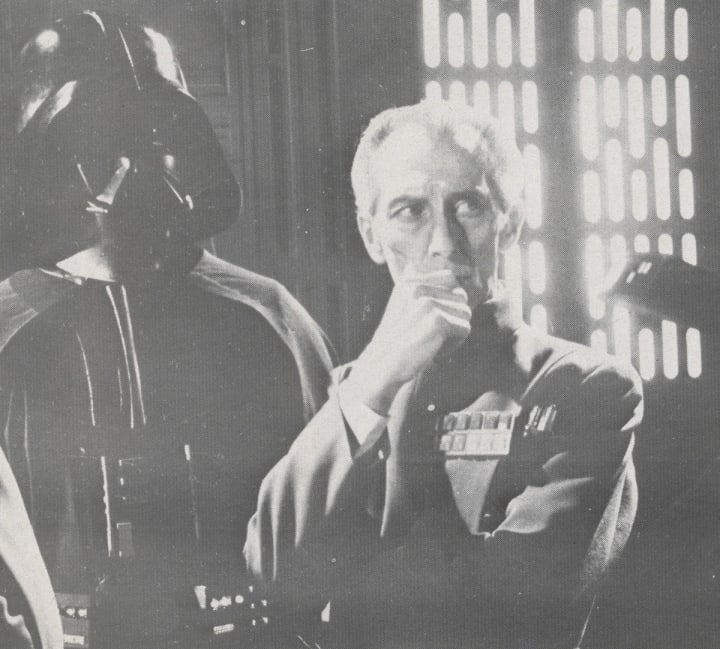 In Star Wars Peter Cushing plays the evil Grand Moff Tarkin, Governor of the Imperial Outland Regions and a man who rules with menace and fear from the giant man-made planet Death Star. Menacing and sinister he is, but only from the knees up. When you see him in the film you will imagine him to be wearing dictator style riding boots, all gleaming and black. And so you should. But what in fact Peter did wear as he strode humorlessly round his man-made space world, was plimsolls.
The 6 food 9-stone actor had taken size 12 shoes since his youth so when the costume people tried to squeeze him into size 9 riding boots, all Peter got was dose of excruciating pain. "I could hardly walk," he said. "So I persuaded George Lucas to shoot me from the knees, which meant I could wear comfy plimsolls all the time."
Long one of the gentlemen of movies, Peter presented a problem for Carrie Fisher during filming. His off-screen kindness and gentle nature threw her on more than one occasion. "I liked Peter Cushing so much," said Carrie, "that it was almost impossible for me to feel the hatred I needed to act against him."
"I had to say to him lines like "I recognize your foul stench," but the man smelled like linen and lavender. I couldn't say that to this nice Englishman whom adored. I substituted in my mind the one person I hate."
And who's that? Sorry, Carrie's not saying.
Anthony Daniels Inside the Gold Robot C3PO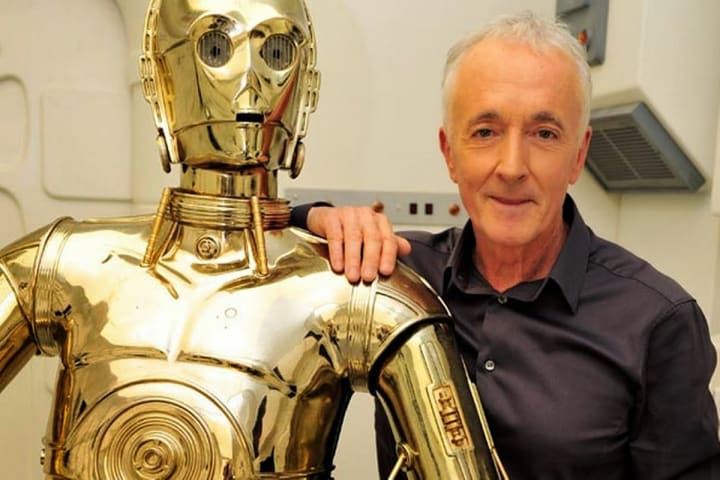 Anthony Daniels is the name of the actor inside the gold robot costume of C3PO.
Unlike David Prowse, he was allowed to keep his high-toned robot voice despite the fact that director George Lucas tried out some 30 American actors when he got to the dubbing stage.
"He'd always seen C3PO as a kind of used car salesman from the Bronx," said Tony, "a rather sleazy type, in fact. But when everyone had heard my own interpretation and said they'd liked it, George very generously admitted that he was wrong."
"The simplest way to describe way I did the voice is to say that I took it up about half an octave and spoke more quickly." The then-twenty-nine-year-old actor smiled. "It ends up a bit like Noel Coward I'm afraid."
Tony, who'd been acting for just four years at the time Star Wars was released, mainly on the stage and TV, gets fan mail addressed to "See-Threepio-Robot" which he takes as a huge compliment. The one thing he isn't too happy about is when people ask him "Did you get the part because you fitted the costume?" That makes him angry.
"The gold costume was a mixture of various materials," said Tony, "but mostly fiber glass that was very thick. It looked marvelous from the outside but from the inside it was rough and full of bumps.
"The first morning I tried it on we were in a tent in the middle of the Tunisian desert. It took us two hours of really pushing, shoving, and swearing to get it all on. There were about 20 pieces in all. That first morning I took 10 paces outside the tent and everybody gasped in amazement."
"I must have looked fantastic in the sun, like a gold blob walking about. Then I had this crippling pain everywhere but mainly in my foot. The whole weight of the costume, about 40 lbs, was bearing down onto my foot and in turn my foot down onto a piece of creased plastic which was poling up and became like a blunt knife. It was agonizing."
"In the end we managed to get the costume on in about half-an-hour every morning but it was still very painful for long periods."
Anthony Daniels calls his costume "the gold job." "It's very strange not being able to see your own face," he says, "so I had a polaroid picture of me taken every day. Just before shooting I would look at it and somehow, from that, I managed to get an idea of the manner, movement, and physical nature of the beast I was playing."
"The character seems so popular I think it must have worked."
Kenny Baker Inside the Robot
R2D2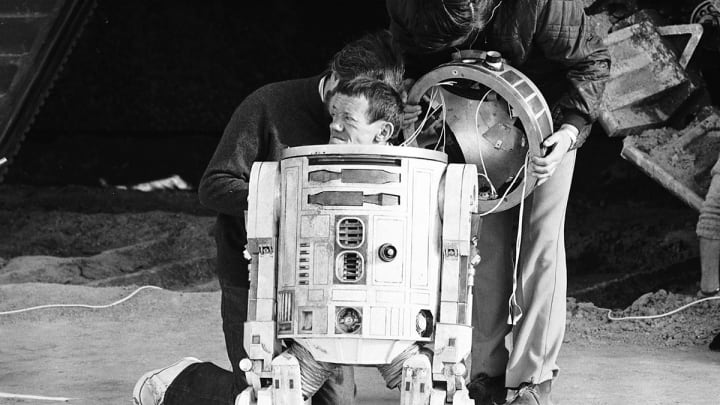 It shouldn't come as any surprise to learn that C3P) is played by a human but it may come as a revelation that, in certain key scenes, his little companion R2D2 had a real live actor inside him. He is Kenny Baker, just 3' 8" tall, who spent most of his evenings touring night clubs as part of a double comedy act—The Minitones—with his partner Jack Purvis.
Kenny, married to a 4' tall wife, Eileen, jumped at the chance of appearing in Star Wars even if it meant he didn't get the chance to be seen or heard.
He would not take the part, however, unless director George Lucas also found a role for his partner, Jack, whom he'd met some 15 years before when playing Dopey in a production of "Snow White And The Seven Dwarfs On Ice." Jack was rewarded with the role of one of the sand people, the hooded little figures whose faces are never seen but whose eyes glow like miniature torchlights.
One of the big advantages of playing R2D2 was that there were no lines to remember. R2 squeaks, bleeps, chirps, even sighs, but doesn't utter a word throughout the film.
Said Kenny: "My role was actually reacting, not acting. The battery driven motors inside my suit which worked my lights made it impossible to hear what anyone else said. When the director yelled 'cut' I didn't hear him and just kept on tootling across the set."
R2D2 may be the smallest hero of Star Wars but he was certainly, and continues to be, one of the movies biggest hits.
Dave Prowse Behind the Image of
Darth Vader
Although you don't see the face of David Prowse in Star Wars or hear his voice (it was subsequently dubbed over by James Earl Jones in the editing stages in America) we know him through appearances in numerous movies (Vampire Circus, A Clockwork Orange, People That Time Forgot, and as the monster in several Frankenstein films). Dave is also the Green Cross Code Man constantly giving advice to children on road safety on posters and in TV commercials.
Star Wars presents him as Darth Vader whose job was to scare the living daylights out of us, something he does very convincingly as he strides menacingly along the corridors of the Death Star.
"I was offered the choice of Chewbacca, the Wookiee, or the villain," Dave told me. "So I said, I'll take the villain because in my experience everyone remembers the villain." And he was right. No one who sees Star Wars is going to forget Darth Vader.
The sheer physical impact of Vader is enough to make you cower back in your seat for onto David Prowse's 6' 7" frame and 50" chest was draped a costume that weighed some 60 lbs.
Said Dave: "The visor, a breathing mask, was made of plastic and the helmet was fitted on top of that. My head was actually clamped in. They made the headpiece too big at first. It would sit on my shoulders but I could still move my head around inside the helmet. So they built up the inside of the mask with foam rubber and, of course, it was absolutely sweltering.
As well as the mask, David had leather trousers, a leather bodice piece with sleeves, two cloaks, and a breast plate. And I had to wear it all in that terribly hot summer of 1976.
One of Dave's most spectacular feats in Star Wars is his duel with Alec Guinness. The lightsabers had heavy handles in which there were revolving motors," Dave told me. "When they decided they wanted to do the fight they put long dowls into the handles and slotted them into the motors so that the motors revolved the swords very fast. Then they coated the dowls—just ordinary wooden rods—with this brand new reflective tape so that as soon as the lights shone on it, it reflected and glowed like mad."
Dave grinned. "The biggest problem during the fight was that we couldn't touch. We couldn't hit each other because as soon as the dowls touched they broke. So there we were, swishing away trying to avoid each other like mad. At one stage of the game I actually knocked Alec Guinness flying. We had to come up close and cross paths. As I'm quite a large fellow he lost his balance and came a cropper. All the crew went dashing over to pick him up. He's such a nice man. He actually apologized for falling over."
Peter Mayhew Plays the Wookiee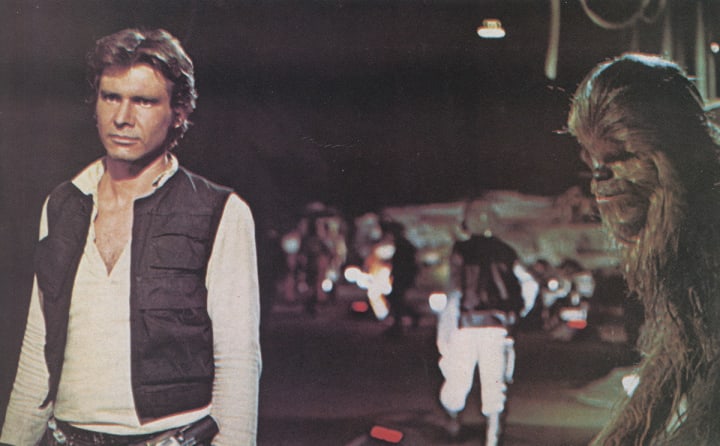 Peter Mayhew, the actor who plays Chewbacca, stands 7' 2" tall. To work on Star Wars Peter Mayhew had to leave his portering job at King's College Hospital and become encased every day in a mohair and yak suit and mask. He had no lines to learn, for Chewbacca "speaks" in a series of grunts and whoops which can reach a deafening crescendo when his quick temper is aroused.
"Acting never occurred to me before," said Peter, "I thought there must be something I could do, but I could never work out what." When he attended an advance screening of the movie hardly any of the people who had worked on it with him recognized him in the audience for he'd been in costume most of the time during the filming.
list
star wars
vintage
Spends his days making his own Star Wars figurines. His craft has driven him to look towards the future, drawing inspiration from past technological advances.
Receive stories by James Lizowski in

your feed