Greatest Sci-Fi Artists of All Time
Science fiction wouldn't be what it is today without the greatest sci-fi artists of all time.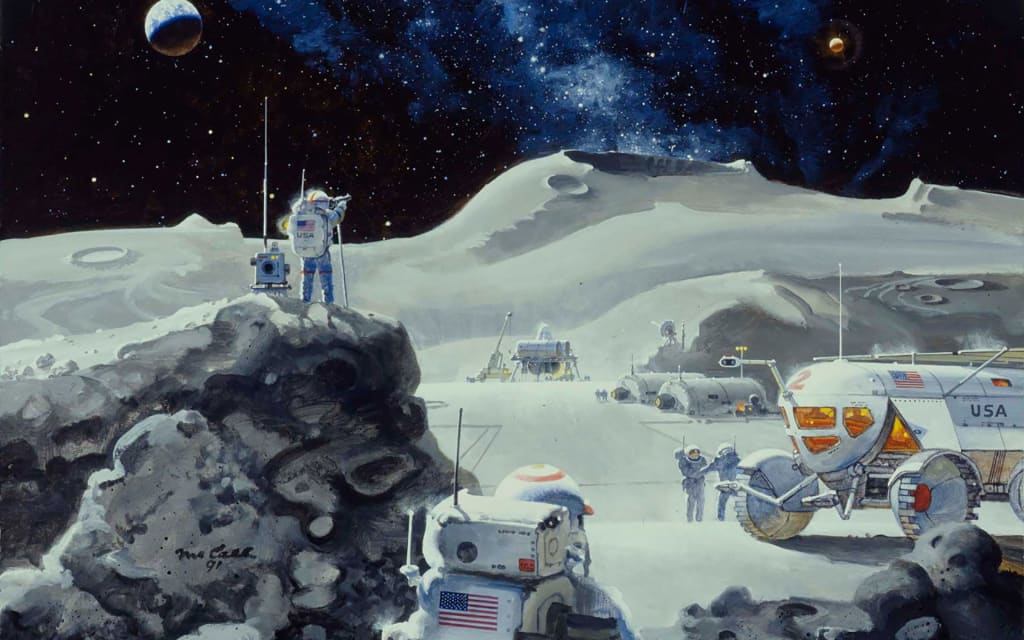 Painting by Robert McCall
When engaged with science fiction as a genre, we are transported by the visual work of great sci-fi artists. Without their work in bringing books to life, and making films a reality, the science fiction world would be impoverished. While literature provides us with the opportunity to imagine science fiction worlds on our own, the work of artists allows us to share that vision with other fans and those outside the genre. Science fiction owes a great debt to the greatest sci-fi artists of all time.
Michael Whelan is something of a living legend. In 2009, he became the first living artist to be inducted into the Science Fiction Hall of Fame. Even if you don't recognize his name, you will almost certainly recognize his work. Whelan has painted over 350 science fiction book covers and magazines. Whelan was born in Culver City, California and attended a number of art colleges and technical schools as his family moved. He eventually dropped out of the Art Center College of Design, in Pasadena California, in 1975 when he began to receive regular requests for commissions.
Whelan's painting style is highly realistic and technical. His extensive list of awards demonstrates his status as one of the greatest sci-fi artists of all time. His impressive list of awards includes an astounding 15 Hugos. You might recognize his work on Stephen King's Dark Tower cover or his recent cover for The Best of H.P. Lovecraft:Bloodcurdling Tales of Horror and the Macabre.
John Harris was born in London, England. His painting is grand and almost impressionistic. He is obsessed with the grandeur of space and his paintings demonstrate this impression of scale. Harris began painting at age 14 and by 16 had entered school to study painting. Soon after completing his second degree, he traveled and began to study transcendental meditation. This has had a profound influence on his work, which he describes as often inspired by his dreams.
While Harris' work has been featured on many sci-fi book covers, his work is far more diverse than that. NASA commissioned him to paint the Endeavor mission launches and Sinclair Research hired him to illustrate the technical manuals for the personal computers they were releasing in the 1980s. His work has also appeared in video games, movies, collected volumes, and is permanently on display at the Smithsonian. You are likely to recognize his work from the original cover of Orson Scott Card's Ender's Game.
David Hardy is the oldest science fiction artist in the world. Not only is he one of the greatest sci-fi artists of all time, but he is also the grandfather of the genre and one of its most important pioneers. Born in Bournville, England, Hardy became interested in science fiction painting from a very early age when he found speculative paintings of space exploration in a library book. He became fascinated from that point with creating a highly realistic style of painting.
Today, his work has a bit of the charm of an older style of science fiction painting but he has nonetheless been incredibly influential and important to the genre. Hardy's work includes everything from science fiction book covers to the highly technical painting and drawing demanded by scientific and astronomical publications. You may recognize his influence on the design of The Never-Ending Story. And to think that all of this incredible work, that helped to spur an entire school of painting, began with a man who started his career as a box illustrator for Cadbury chocolates.
H.R. Giger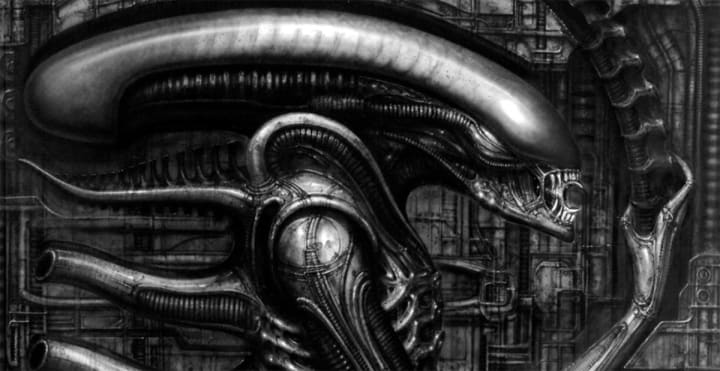 It's hard to imagine that anyone on this list could be more recognizable than H.R. Giger. Giger is, without question, one of the greatest sci-fi artists of all time, if not the greatest. Giger's horrifying, visceral work brought about the aesthetic that gave us the Alien franchise and served to usher in a new era of dark, realistic, dystopian, post-human artwork. Giger was born in Switzerland in 1940 and began his career in architecture and industrial design. His family disapproved of his work as a painter, but Giger continued his studies at university.
The influence of his study of architecture, industrial design, and interior design can be seen in his work. His work is not only dark and terrifying but it embodies landscapes and architectures made up of living beings. His paintings come to life in dark surrealism, but the life they represent is one of a poisoned post-human world. Giger has been criticized heavily for his themes of depression, darkness, and Satanism, but his work has also received widespread acclaim. Nowhere is this more apparent than in his involvement in the Oscar winning design team for the first Alien film. The film's set, ships, and even the alien were based on Giger's earlier work. This work was carried over from his influential involvement in the never completed Dune by Jodorowsky. Giger passed away in 2014.
John Berkey is the astounding artist behind the original Star Wars trilogy posters. Berkey was born in North Dakota. He worked as a freelance artist for most of his life after leaving an advertising agency. His work is diverse, appearing on posters, stamps, book covers, in movies, and as commissioned paintings. His painting style is vibrant, impressionistic and richly evocative. Today his work still commands a remarkable price and his work on the Star Wars trilogy is still widely emulated. For his Star Wars artwork alone, Berkey deserves recognition as one of the greatest sci-fi artists of all time. Berkey passed away in 2008.
Born in Columbus, Ohio, Robert McCall is a celebrated realist painter who began his career as an illustrator for Life magazine in the 1960s. This was a time when the American public was focused on NASA's space program and Kennedy's promise to place a man on the moon by the end of the decade. McCall's work for Life during this period was thus strongly focused on the advancing technology of the time as well as conceptual art of what space exploration and a future in space might look like.
As such, his work reflects an attention to realism. This technical painting proved invaluable in McCall's promotional art for Stanley Kubrick's film version of 2001: A Space Odyssey. As one of the most visually important films ever made, and certainly one of the most important sci-fi films ever made, the promotional material needed to reflect the attention to detail that Kubrick had put into the film. McCall's work did just that. He was also involved in the first Star Trek film and his work appears on American stamps and Apollo mission patches. In 2010, McCall passed away.
Chris Foss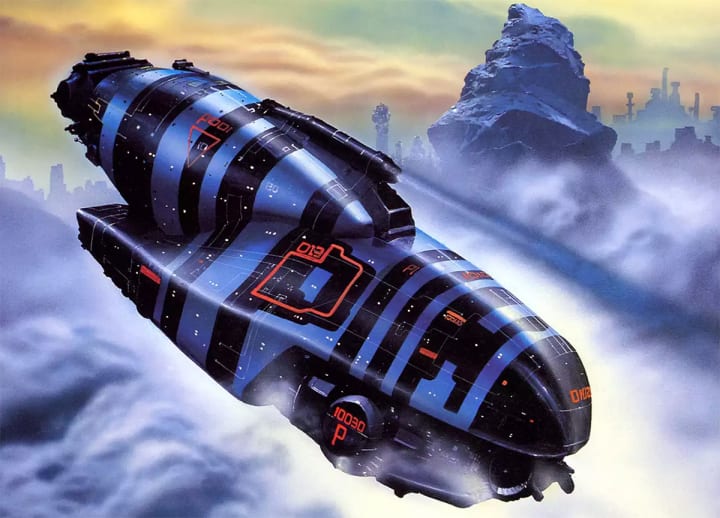 Chris Foss was born in England and began to pursue commissioned work during his university studies. Foss was not a fan of science fiction, even though he is one of the greatest sci-fi artists of all time. Because of his distaste for science fiction his work is widespread and includes illustrations for The Joy of Sex, but his sci-fi work is also largely of his own imagination. It is impressive, harsh, of immense scale, and depicts scenes almost entirely of his own imagination. Despite the strangeness of his occupation, given his aversion to science fiction, Foss' work on the covers of books and for Jodorowsky on the planned Dune, is some of the most important work in the science fiction genre. If you want to see some of his most recent work you can see some of his spacecraft design in Marvel's Guardians of the Galaxy.
Chris Moore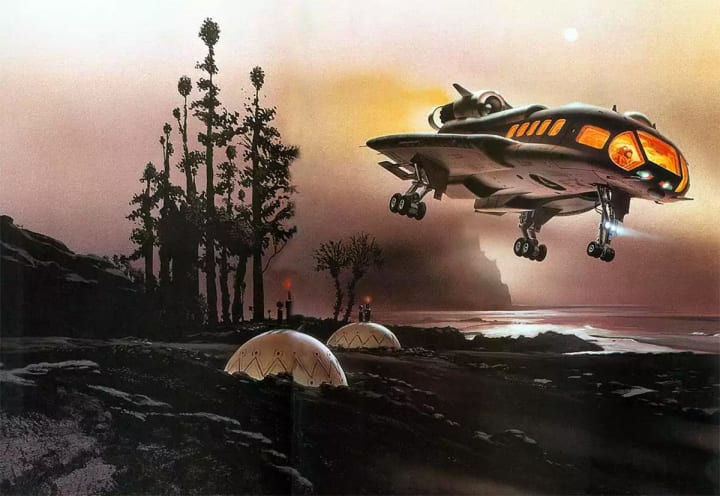 Chris Moore is an English artist known mostly for his sci-fi book covers. His work is some of the most technically proficient in the genre. He has received widespread praise for his illustrations for Phillip K. Dick and Alfred Bester, but he is likely most recognizable for the poster work that he did to tie in with Star Wars: The Empire Strikes Back. He also illustrated the cover of Arthur C. Clarke's novel, 2001: A Space Odyssey. His work appears in many genres, in many mediums and has even been sent into space. As one of the most diverse artists on this list, Moore is deserving of a place among the greatest sci-fi artists of all time.
Vincent Di Fate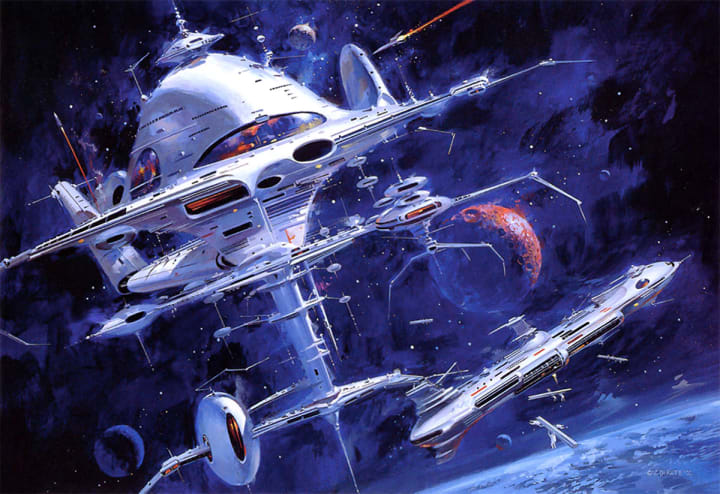 Vincent Di Fate is an American artist of science fiction and fantasy work. Like Michael Whelan, he too was inducted into the Science Fiction Hall of Fame in 2011; one of the few living artists to ever receive this honor. Di Fate's work reveals a faith in the mystical energy of machines that is unrivaled by anyone else on this list. His style is technical, though it has a certain 1960s futurism to it that may now seem dated. Di Fate's work appears on book covers, magazines, pulp fiction and in his history of science fiction art, Infinite Worlds. Di Fate has been awarded the Hugo for best professional artist, and has been nominated nearly a dozen times. He is still a prolific practicing artist to this day.
Rafał Olbiński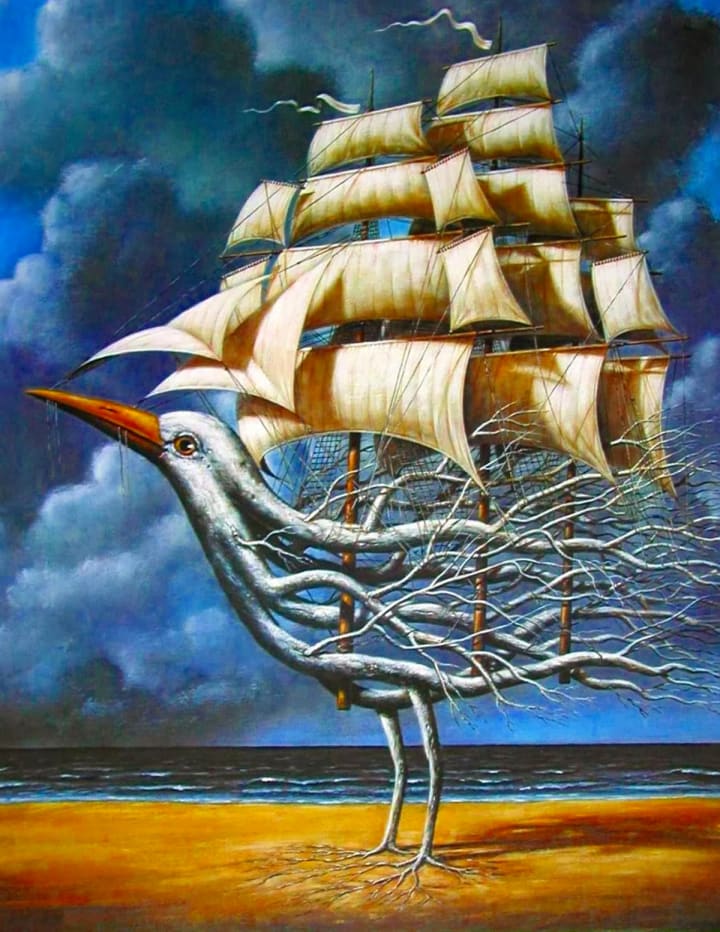 Rafał Olbiński is a Polish graduate of the Warsaw University of Technology who emigrated to the United States in the 1980s. Olbiński describes his work as poetic surrealism and it is clear from his work that he bridges a gap between fantasy and science fiction with his strange alternate realities. Olbiński is one of the most celebrated artists on this list despite the difficulty one might find in associating him closely with the science fiction genre. With over 150 awards to his name, Olbiński's work has had an enormous influence on the way in which we imagine science fiction as a psychologically complex genre. This shift in attention earns Olbiński a place among the greatest sci-fi artists of all time.
Jim Burns
Jim Burns was born in Wales. After leaving the Air Force, Burns attended college to study art. He then began to paint primarily in the science fiction genre. His work includes photo-realistic technologically advanced machinery and lush alien landscapes. Much of his work explores the relationship between these harsh machines and these soft beautiful landscapes with sexual and erotic overtones. Burns is known for his book and game illustration, as well as his work on Blade Runner. He is a celebrated artist with 3 Hugos for Best Professional Artist. For his sensitive approach to sexuality, machines, and landscape and his widespread acclaim among fans, Burns is undoubtedly one of the greatest sci-fi artists of all time.
About the Creator
Spends his days making his own Star Wars figurines. His craft has driven him to look towards the future, drawing inspiration from past technological advances.
Reader insights
Be the first to share your insights about this piece.
Add your insights