Unexpected Lessons
A Dojang Romance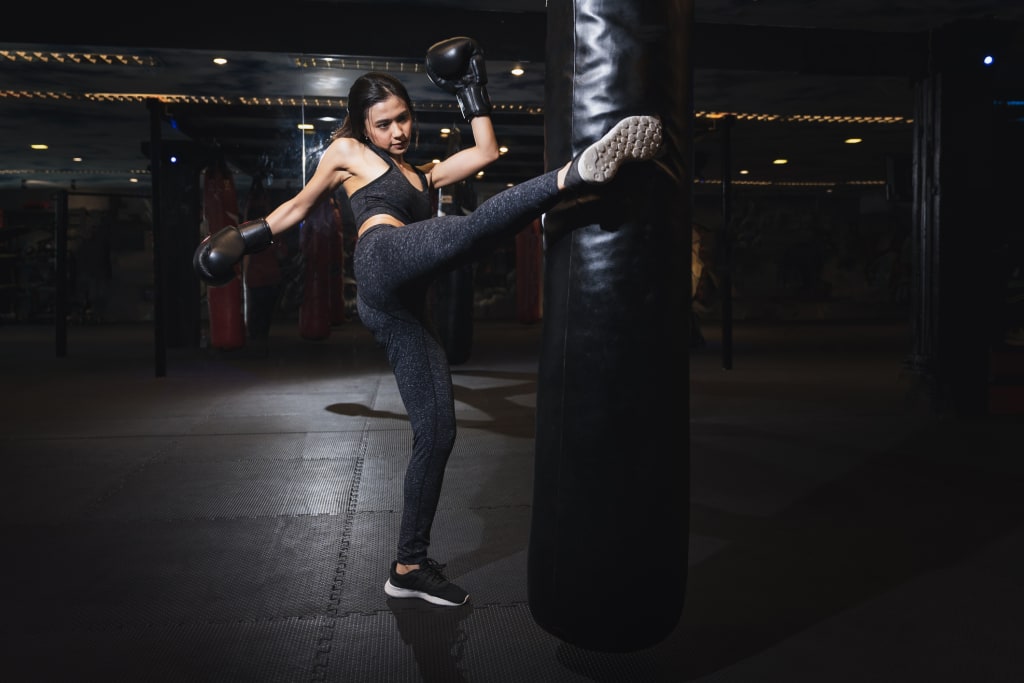 Episode One
My name is Emily Walker and I am a 20 year old college student who works part time as a taekwondo instructor. I also work even more part time as a cashier at my local Walmart but that isn't really important to my story…I am working towards a double major in Business and Early Childhood Education and also my Second Degree black belt. I have just finished a long day of school, starting at 7am(yes I know that's crazy!) and ringing up groceries for 8 hours straight and I am very happy to finally be entering my small apartment.
After changing into my "comfy pants" and a tee shirt, I scrounge up some left over pizza from the fridge and a soda. I sit at my counter and open up my laptop. I have plenty of schoolwork to work on but because I am also single and lets face it lonely, I open up my latest obsession instead. I have decided that the only safe way to find a romantic partner is the internet! I sign in to "Submissive for You" the premier dating app for the underdominated. Have I forgot to mention that I am also currently exploring my submissive side sexually?
I have been using the app for a few months and most of the guys on here are either ass holes or just not true doms…at least by my standards. I have pretty high standards for a virgin with no kink experience, however I have discovered one promising prospect. His username is Master T and we have been talking (by text) almost daily since we met last month. He is funny and kind hearted but tough and best of all he is local! We have been following the safety rules of the app so far….no phone calls, no pictures, and no real names…until 2 days ago. I became very brave and send Sir a selfie of just my face. He responded immediately with "Beautiful with a heart emoji" but it's been radio silence since then. I asked him earlier today if everything was ok…still nothing…and I am beginning to worry that I am gonna have to start all over from the beginning in my search for Mr. Right. I glance at my reflection in the hallway mirror. I think I look fine…I pass for cute on a good day…more of a girl next door look than beautiful with my shoulder length brown hair and blue eyes, but defiantly not ugly. My body is petite at 5"2 and 120 lbs, but thanks to martial arts its pretty toned.
I sigh heavily and close my laptop, thinking I will just watch TV instead when there is a knock at my door. Now, all my friends are busy working tonight and they usually text first anyway...so I am immediately alarmed. I grab a butcher knife out my drawer and head to the door. My peep hole is about a head too tall for me so I engage the chain and cautiously open the door.
I am very surprised, yet relived to see Mr. Malloy the head instructor from my dojang. "Hello…" I say not bothering to hide my surprise and confusion.
"What's wrong with your peep hole?" he responds.
"Its too tall…hang on a second." I quickly close the door, stash the knife, and open the door for him to come in. Mr. Malloy is a good maybe 8 years older than me…he has been a friend, a tutor and a martial arts instructor to me. And I would be lying if I didn't tell you that I have had a huge crush on him since I met him 5 years ago. He is tall with a slim yet toned physic. His sandy blond hair is kept short and neat because he is also in the National Guard. I invited him in with a swoop of my arm. He has only been here one other time when him and Eric( another instructor and one of my best friends) helped me move into my apartment.
He follows me into the kitchen where he sits on one of my stools while I lean against the counter. "Is something wrong? Did you have car trouble or something?" I ask thinking there has to be a logical reason for his visit. Although Mr Malloy, James, and I have attended a few movies and competitions together, we really haven't hung out for a non-taekwondo reason before.
"No…" he says with a sheepish grin, "…I have something personal I need to discuss with you."
" OK,…" I say, really worried now…" Did you want something to drink?" ,lifting my own Dr. Pepper to my lips to wet my dry throat.
"No thanks….listen Em you really need to delete the "Submissive for You" app."
Dr. Pepper shoots very unappealingly out of my mouth. "What!?" I say wiping my mouth with my hand. I was incredibly shocked and yes a bit embarrassed but I have never been one to shy away from any type of conversation being quite a nosey person by nature, so I retort "Why would I do that?"
Mr.Malloy is looking at me very sternly, a look I have much experience with. He is not the type to back down or take "no" for an answer. "Because its dangerous Emily…I would hate to see you hurt or taken advantage of."
I start to nod my head as this sounds logical coming from Mr. Malloy…he is a very safety first kinda guy, then it hits me! "How do you know I am on there?...unless…are you on there too?" I know my eyes are huge and my mouth is open in surprise but he just stares at me coolly with his stern expression still on his face and says nothing, waiting on me to catch up. "…but still how did you know it was me? There are rules in place to protect identity and no real information is shared."
"True…" Mr Malloy says quietly…" except two days ago, you sent me your picture…"