Tinder Vs Grindr 
Swipe left. Swipe right. Initiate playful banter. Receive dick pic. Wash, rinse, repeat.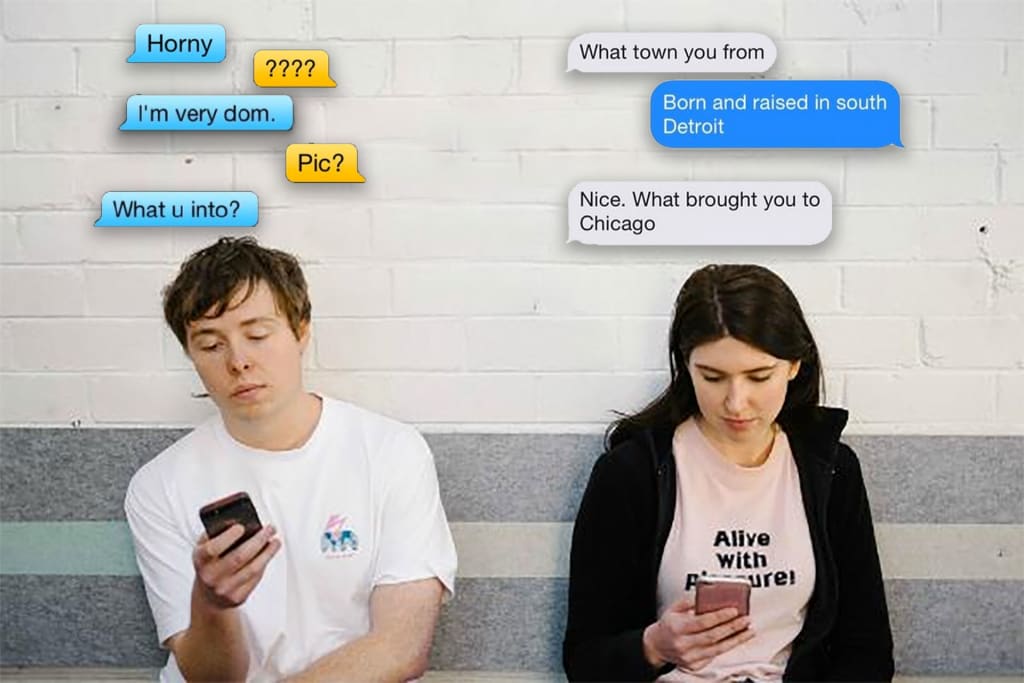 Are we talking about Tinder or Grindr? The similarities between the two dating and/or hookup apps extend beyond the basic swipe left/right model, and the history of the two is somewhat intertwined. The most obvious feature setting the two apart is the target user base. Grindr has been called "gay Tinder," alluding to the core distinction: gender preference. Although Tinder gives you the option of setting which gender or genders you are seeking, it seems to be discussed and used primarily by the straight community. Grindr, however, is targeted directly to gay, bi and curious men, making it the clear preferred choice for some.
Tinder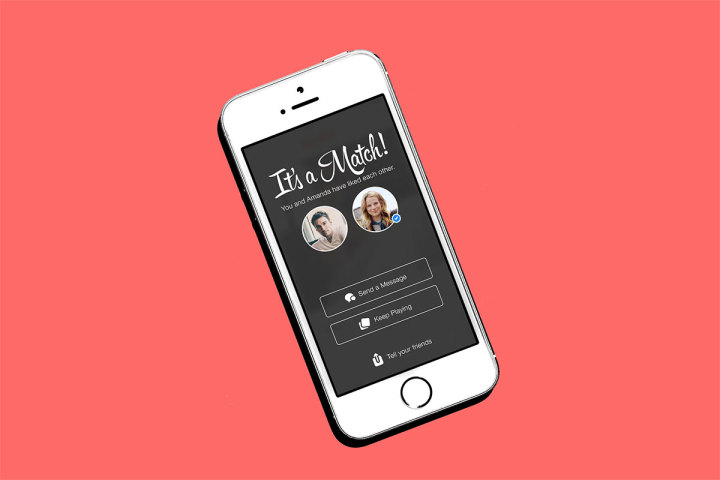 Tinder, which had 50 million users swiping away as estimated in late 2014, seems like the giant here. It is nearly impossible to visit any corner of the internet or even watch TV without hearing some mention of the uber popular app. Tinder's success has cleared the way for other dating apps that have had success, primarily in straight communities: OKCupid, Bumble, Happn, Hinge — the list goes on.
Grindr, Where It All Started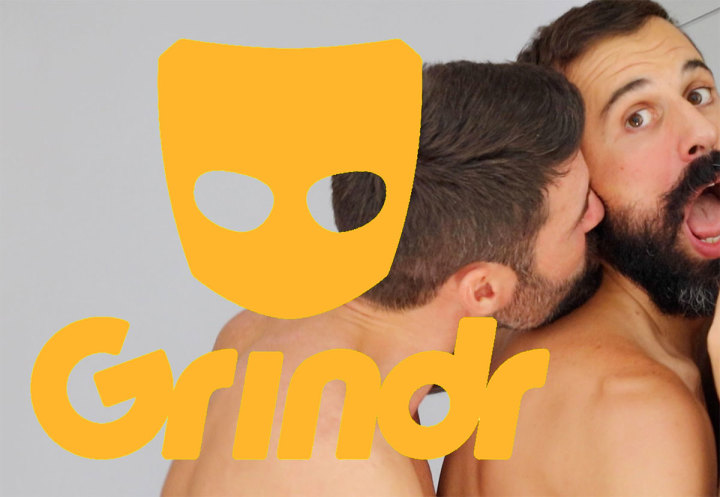 Grindr, by humble comparison, celebrated 5 million active users for its 7th birthday in March 2016. It seems like the straight swiping apps abound while Grindr (and maybe Scruff) remain on a short list of options for gay men. But what you might not know is that Grindr actually is the app that started it all.
Launched in 2009 by Nearby Buddy Finder, LLC, Grindr was a pioneer in this new wave of dating apps. At the time, there were big players in online dating such as Match.com, but actually using an app (and especially one that is location-based and allows you to swipe through potential matches) was largely unheard of. Incubated by Hatch Labs, our presumed champion of all dating apps Tinder did not become available until 2012. By 2014, though, Tinder had seen booming success, boasting one billion swipes daily by 2014. If Grindr's success has been a slow and steady climb, Tinder's was a rapid rise to fame. Seemingly everyone in the dating world has tried their luck on the widely-used service by now.
Similar, But Very Different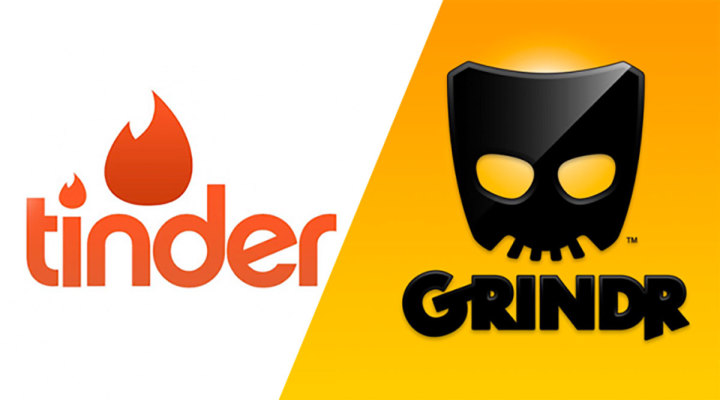 There are some important general usability distinctions between Tinder and Grindr, too. The interface is different; Tinder is very minimalist, allowing you to see just one person at a time, while Grindr presents you with a collage of possible matches to sort through. This can be a bit overwhelming if you prefer the basic look, but for some, it adds to the thrill of the hunt. There is also an ongoing debate as to whether either of these apps are really meant to help people find relationships, or if they are just for hookups. This tends to vary greatly by personal experience; if you're looking to get down and dirty with a wild one-night stand, you'll certainly find that arrangement on either app. If you're looking for a little more than that, then — just like in real life — you find yourself at the mercy of fate. But that's half the fun, right?
Of course, the experience of using a dating app is totally subjective and different for everyone who uses the app. If you've ever chatted with more than a few matches on any dating app, you probably have a story or two to share. Funny, frustrating, freaky — once the topic comes up, "bad Tinder/Grindr dates" can take up an hour of party talk. Who doesn't love to watch someone else reliving those deliciously awkward moments? The happy ending stories are almost as fun, instilling a hope in all of us that maybe we will be the next #tinderlovestory — or at least finally match with a smokin' hot pilates instructor.
For your reading pleasure, here are some of the best/worst Tinder/Grindr stories the world wide web has to offer.
Tinder Wins: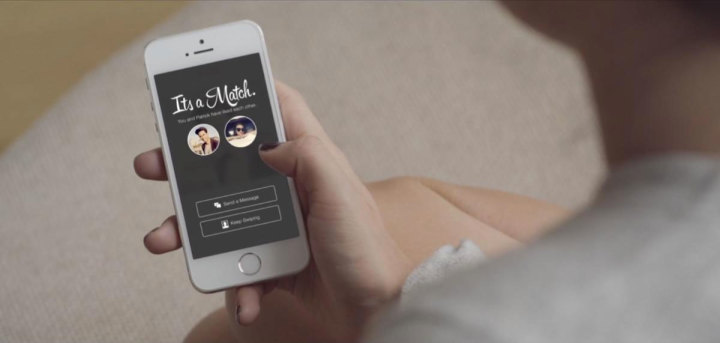 "I think it was the first Tinder message I ever sent. It said something like, 'pretty sure yours is the best profile on Tinder. Thanks for making this app worth it. Hello.' I got a response in about 15 seconds which was awesome, I won't lie. Over the course of the night, I drank wine and painted. He drank whiskey and wrote. We started texting. I texted him my paintings. He texted me his writing. By the end of five hours it was 3:00 am and I was on my roof to get some air—might have been the 100 degree weather, but was probably all the wine that went to my head. Then the inevitable question was asked.
'Where are you?'
'On my roof. Where are you?'
'On my bike. Where's your house?'
So yes. I gave him my address. This total stranger.
Five miles and thirty minutes later he was on my front stoop. Five minutes after that we were on my roof.
From there, let's just say, it's fortunate none of my neighbors felt like hanging on the roof that night...although it might have been a good show." -Louise, GQ
Grindr Wins: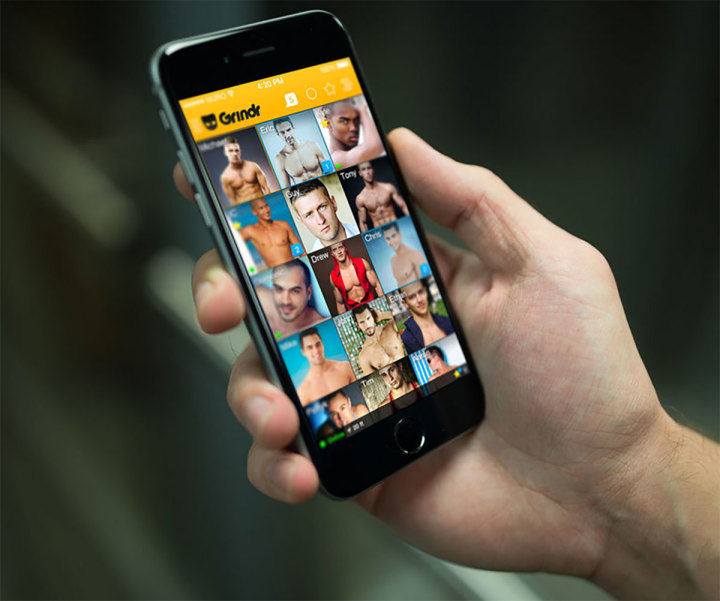 "I was getting a coffee from this place at the mall on my break. I was on Grindr and saw a really hot guy, shirtless pic, nothing covering his face, really sexy guy. It said he was like 400 feet away some minutes ago. So I get rung up for my coffee by another cute guy, a little bit more dirty looking and [unkempt] but cute nonetheless. I go back to work, finish the rest of my shift.
After work is done I open up Grindr and sexy guy messaged me. He says something like "look up next time doofus" (lmao, doofus). I asked [him] what he was talking about, and it turned out that HE was the one who sold me my coffee. I'm telling you he looked cleaning his picture but looked like a hobo at work! Not to say he looked bad, just that he hadn't shaved, was wearing glasses, a hat, and an apron. But it's so funny, the guy I was checking out on Grindr was right in front of me and I [didn't] even realize it!" -Sindelian, Reddit
Tinder Woes: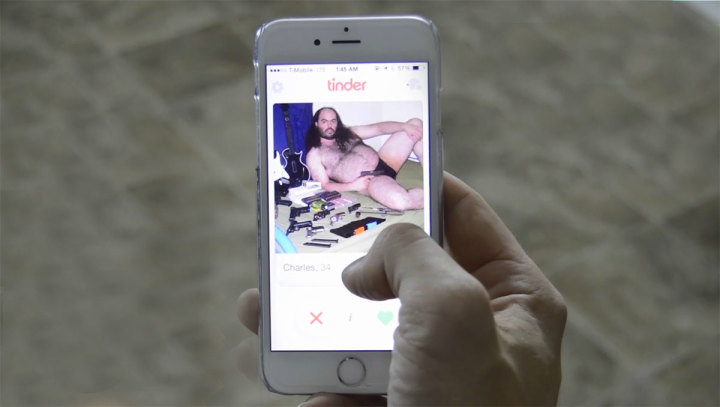 "I went on three dates with a guy I met on Tinder before we decided to go away for the weekend. He seemed nice enough: great job, well dressed, educated…until we were on our way up to the vacation destination… and he starts crying and explaining he had been in prison for the past 11 years…and then asked if I wanted to meet his parents on the way there. We still dated for two months. I'm not proud of this." -Tessa, Buzzfeed
"When we met up, he was definitely drunk and had absolutely no interest in talking to me. As we walked to what I assumed was a bar, he walked in front of me (I took a pic).
This whole time, my phone was dying and I had zero knowledge of this particular area of New York.
All of a sudden, he said, 'This is my apartment, we can go upstairs.' I told him I wasn't going to have sex with him and he asked if I was a virgin.
I said no, but he could have an STD. He said he was clean and I was 'probably clean, too,' so it 'shouldn't matter.'
Again, I said I just wasn't going to, but I did need to charge my phone. We went up to his apartment (after I texted my roommate his exact address), and promptly plugged in my phone. He started to kiss me and then just took a big chomp on my neck.
Not a hickey. A bite. I kept going back to my phone to see if it was charged enough, and at one point, I went back and he was on his sofa and had straight up whipped out his penis.
I immediately got my phone and he went to the bathroom. While he was in the bathroom, I ran out without saying a word.
He didn't text me or ask where I went." -Eliza, Elite Daily
Grindr Woes: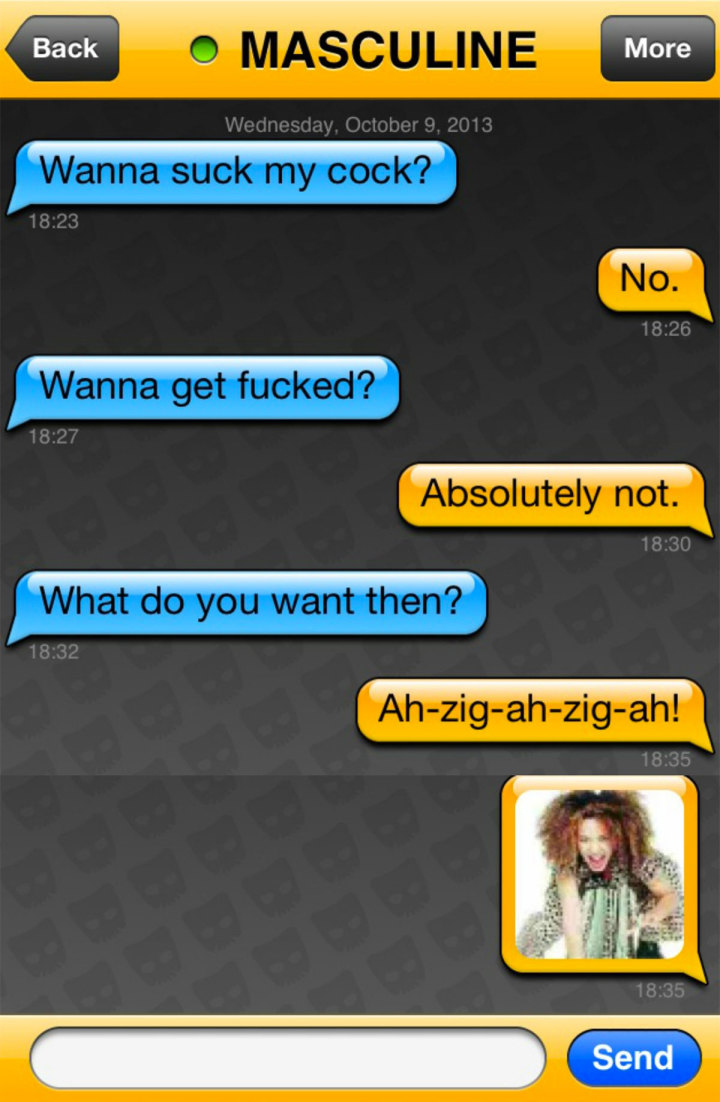 "Take 39-year-old Manuel for instance. After three or four cocktails at a bar in the Castro neighborhood, Manuel came over to my apartment. Ten minutes later, we were furiously making out. But things got awkward fast.
'Do you have cocaine?' Manuel asked.
I shook my head no.
'Poppers?' he continued, referring to alkyl nitrites, a popular muscle-relaxing drug.
'Nope,' I replied.
Ten seconds later, Manuel bolts for the door, arguing he no longer feels 'comfortable' with the situation." -JP, Mashable
pop culture
satire
social media
advice
lgbtq