Through the Velvet Curtains
Take my hand and open your mouth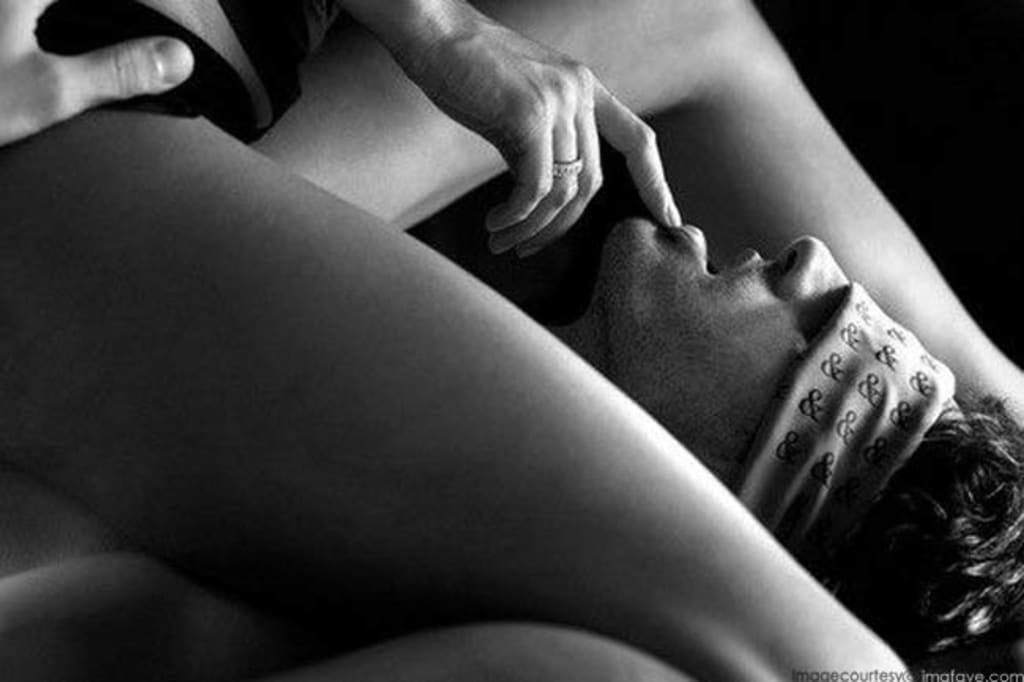 The bushes rustled as we walked through the open field at dusk, our hands interlaced and our voices hushed in the luminous expanse of the last rays of light onto the Earth. We enjoyed the restfulness of the dusk on our senses knowing what the evening had in store. Our quietness didn't hide the intensity of what our bodies anticipated. I could feel my heart thumping in my chest and could almost make out a pulse in his hand, that wrapped comfortingly around mine.
When we reached the top of the hill we stopped and turned to one another. No words came before our lips met and our tongues curved around one another creating little rushes of heat between my legs. I loved the way he played in my mouth, showing me his desire and playing with my sounds, the moans that i couldn't help from escaping my lips.
We stopped and looked at one another, smiling as we caught our breath.
"So, are you sure you still want to go, I know we've been excited about this all month, but i want you to know that we can wait, I mean are you still all in Blue?" I loved it when he called me Blue, my middle name and I knew it meant he was really serious.
"Yes Dee, I want to go, with you, for us," I said as I gave him a big smile and came down on his lips again with renewed excitement. I was so ready for this.
"Ok, well let's do this, I am getting really hard just thinking about it," he said and we looked into each others eyes sparkling in the dimming light.
We walked back to the car and drove towards the Dojo. The Erotic Underground Dojo that was hosting a "temple night" that our friend Jay had invited us to a month ago. We'd all been out at a live music event and had had a few too many drinks when he had shared that he had been going to the Dojo for the past three months. It was a members-only erotica club and you had to be invited. We were so curious he promised to invite us to the next one. He had been sparse in his explaining just what would happen at this event, he said it was best to just come and experience it. Tonight was the night.
We parked near the address and kissed again while I unzipped Dee's pants and petted his hardness with my hand. I was so turned on, I brought my mouth down onto his cock and had him cumming within minutes. He smiled at me and said that was probably the best idea before going in. I smiled back as I wiped my mouth and nodded. "I had a feeling," I said and winked.
As we approached the door I turned to Dee and asked him if he thought I looked beautiful. He ran his eyes over me with a little grin and bit his lip. "Babe, you know you always turn me on, and tonight you are lit up." Although I didn't need to hear it, it felt good, and we turned to the door. I was ready. We were ready. Or were we?
The red velvet curtains that covered the door had an allure that made me grip Dee's hand a little more tightly. This was hot! The doorman asked our names while looking us over and checked his list. When he found our names, he crossed them off and said to us that no photos were allowed to be taken in the space. If we were found taking photos we would be escorted out. We agreed.
He pulled the curtain back and as the door opened deep bass music came filtering into our ears as we adjusted our eyes to the ambient lighting. We were greeted by a beautiful half nude woman with a feather boa. "Hello darlings, welcome to the Dojo. First time?" she said as she looked us over.
"Yes, we were invited by a friend. Do you know Jay?" Dee volunteered.
"I haven't had the pleasure, can I take your coats?" she asked with a velvet voice and offered to take my coat. "The coat check is right over here," she said as she escorted us to the other side of the hall. "Enjoy the night," she whispered as a soft laugh escaped her lips and she winked at Dee.
We were in. At the end of the hall another pair of doors opened and I felt like i was entering a movie scene. The heavy bass and sexy female vocals rippled through my body as we entered what looked like the main bar and dance floor area. All the bodies in the space were sparsely dressed and moving to the bass in slow gyrations. We got a drink at the bar and watched the scene.
"So far it looks like a sexy dance club," Dee said while nervously sipping his gin and tonic. Only I could tell he Was nervous, because i knew him so well.
"Ya let's hit the dance floor for a bit and loosen up," I suggested when Dee's phone buzzed. He looked down and said Jay is here, he says to find him in the dark room.
"I think I need to dance for a minute and just get into my body," I said and he agreed by pulling my hand softly to the dance floor and turning to pull me close. As the bass dropped we dropped into each others' bodies forehead to forehead, grinding up against each other. It felt hot and sexy and as I looked around, I felt eyes watching us as we watched them. At first I felt a little nervous, and then Dee pulled me closer and brought his lips to mine, melting into my mouth for a wet deep kiss. My belly softened against his and I forgot anything but the bass, his lips and my hips grinding into his hardness.
At the end of the track we slowly moved back to the bar and asked the bartender where the "dark room" was. He pointed to the back of the space where another set of doors lead out of the room. We thanked him, paid and walked slowly through the room as another heavy bass track began. When we got to the door, we looked at each other, took a deep breath and opened the doors. As we entered the dim lights, it took us a minute to adjust. The sounds and smells were thicker and slower and the music had dropped into a slower deeper rhythm. It was a smaller room, and there were a lot more people, closer together in small groups.
Jay saw us come in and slowly walked over. "You guys made it. How are you feeling so far?" he asked with a grin.
"It's a cool place Jay," Dee said as he looked over at me. I smiled and nodded.
"What is this room all about?" I asked and he shared that this was where the fun began.
"You're invited to watch and of course join in. I'm sure you'll get plenty of invites to play," he smiled. "There are condoms in all the little boxes around the space and you're asked to use them, between playing." Dee and I looked at each other and said we didn't know if that would happen, but it was good to know.
"If you get inspired to try something new, there's a sacred BDSM corner with rope and floggers. It's not something I never thought I would get into, but you'd be surprised," he shared with a little laugh. "Have fun and see you in it," he said before disappearing into the low light.
I felt good in my lacy thigh highs and black lace lingerie. Dee was topless in his tight black jeans. We let go of each other's hands and walked together slowly into the space as the music seemed to engulf us. The more we entered the space, the more the sounds of pleasure began to rise. The first group of people we saw was a woman on all fours receiving a back massage from a tall muscular man with gold underwear, while another mostly nude man was gently placing a blindfold over her eyes. Her pussy was exposed to the room and the man massaging her was blowing into it while kneading her buttocks as she moaned. My pussy pulsed as I saw this. Dee looked over and his eyes were round as he bit his lip.
We continued walking when a woman walked over to us. She was very tall and slender and only wearing a g string. Her perky breasts were hard and her long black hair almost covered her nipples. She put her hand out to me and I took it. She then took Dee's hand and walked us over to an empty corner. "Jay tells me it's your first time at the Dojo. Welcome. My name is Lady Lydia. What are your names?" We answered her in low tones filled with excitement. She was beautiful, older and full of sex appeal. "Would you like to play?" she cooed. Dee nodded and I asked what she had in mind. "I'd love to tie your man up and undress you while he watches." We agreed.
She invited me to help her tie up Dee after taking his pants off with her long fingers, her nails painted deep red. The music was so deep and sultry and made the experience feel otherworldly. Once he was in his tight little shorts, she laid him down on the leather bench and sat on his chest while guiding me to tie his hands behind his head. Once he was tied and able to see both of us from his position, she turned to me and kneeled down before me.
"Can I disrobe your lady Dee... with my mouth?" He nodded, his breath short. She looked at me for confirmation and I too nodded. She stood up and slowly traveled from my neck to shoulder where she slipped the shoulder strap of lacy lingerie teddy down one side with her teeth. One of my breasts slowly fell out and she blew on my nipple. I shivered. She came over to the next shoulder and repeated the same action. I shivered again as her breath tickled my sensitive nipple, which stood fully erect. She then ran her tongue down the middle of my chest to the base of my pubic bone, which left a wet river of sensation on my skin. I trembled. I looked down at Dee who was riveted and noticed his full erection peeking out of his shorts.
"May I suck on your breast Blue?" she asked as she looked over to Dee. We both nodded, and just as a new track started with a velvety vocalist and deep bassline, her tongue made contact with my nipple and a moan escaped my lips beyond my control. Then she blew again. I couldn't help myself and brought my hands around to her shoulders. She continued.
Eventually she stood and asked if I would like to suck her breast. I looked at her beautiful breasts and whispered I did. She leaned her head back as I took her hard nipple in my mouth and played on the tip with my tongue. She shuddered. I had the same effect on her. It surprised me. It delighted me. It was so hot. My fire was rising fast.
I looked over at Dee who was salivating and pulling on his ties. Something came over me and I stood up and said to Lady Lydia that I wanted to fuck my man and if she would be so kind as to watch and join in. She smiled slow and deep and her eyes twinkled. She nodded.
I turned to Dee and pulled down the rest of my teddy so that it fell to the ground, and as I leaned over to kiss the tip of his cock protruding from his shorts, I looked over my shoulder to Lady Lydia invitingly, and she leaned down and grazed my buttocks with her breasts. It brought shivers to my spine, and made Dee tremble in my mouth. I looked over at him and saw him taking in her breasts moving over my ass. I smiled and pulled his shorts down to his knees, freeing his hard cock at full attention. Leaving his hands tied, I brought my leg over the bench he was laying on and brought my pussy to the top of his penis. He moaned. Lady Lydia came around to his head and asked if she could kiss me. I nodded as Dee did, and as she was bringing her lips to mine, her breasts fell just above his face. She stopped and asked if Dee would like to suck her breasts. He croaked a yes as I did, and as her lips met mine and his lips met her breasts, my pussy slowly, with the bass and the fire and desire, came down on his hard cock.
We all moaned simultaneously. For a moment we were all suspended in a moment of shared passion. For a delicious moment we were one. Then my passion overtook me and as slowly as I wanted to keep moving, my inner animal was consumed with desire. I planted my hands on his hard chest and began to ride him. Lady Lydia was still being suckled by Dee, who was now moaning loudly. She leaned forward so that her pussy was closer to his face and untied his hands.
"Can your man fuck me with his fingers?" she asked.
"Yes," I moaned as I tried to maintain my passion. I was able to slow down after a deep O had shattered through my body. She brought her lips back to mine as her pussy approached his face. His hands freed, he began to explore her lips and quickly found her wet pussy asking for penetration. She stood up, her long legs spread over his face, and took her hands to her breasts as she let her head fall back. I continued to ride his cock as he put one of his hands on my hip and began fucking her with two fingers. We all began to moan and cry out. We were all rising together. We were journeying to the peak together. I closed my eyes as the huge waves began to rise and Dee began thrusting harder while his fingers continued furiously fucking her pussy, while her wetness dripped down his fingers. The bass track hit some deep hard notes and we all moaned together over the edge. Rippling, writhing, synchronous motion until the wave subsided and we all came to stillness.
We all remained with our eyes closed for a few moments, taking in the scent of sex, the sounds in the space, the beating of our hearts, the passing pleasure. We finally reopened our eyes to meet again. We smiled as we moved our eyes over each others bodies, eyes and mouths.
Lady Lydia walked away without saying a word. Dee and I looked into each others eyes and smiled. His hands on my hips, he still inside me. I leaned down to kiss him and he slipped out. We kissed for a few minutes, just enjoying the wetness, the heat, the sensations still moving through our bodies.
We went home after that. We enjoyed the deep slowness that was left on our skin and in our bodies. We'd be back.