The Weird, Sexualized Art of 'Grace and Frankie' by Nancy Rosen
Amazingly talented and satirical, Nancy Rosen is a big part of the 'Grace and Frankie' cast.
Art by Nancy Rosen
Grace and Frankie is a hilarious, albeit obscure Netflix comedy starring two longtime Hollywood favorites - Jane Fonda and Lily Tomlin. Grace, played by Jane Fonda, is a retired upscale cosmetics mogul, while Frankie, played by Lily Tomlin, is a hippie art teacher who occasionally freelances.
Most people are aware that the two get into all sorts of crazy hijinks together. Fans also can tell you that they met because of the fact that their husbands fell in love with each other and divorced the ladies so that they could be together as a gay couple.
But, what most fans can't tell you is where all Frankie's artwork comes from. The fact is that Lily Tomlin doesn't use her own artwork for Frankie - the strange stuff you see on the show is actually the work of underground artist Nancy Rosen.
Rosen's artwork was featured on the show thanks to the discovery of executive producer Robbie Tollin. Tollin's family had been collecting Rosen's work for years, and once the question of Frankie's artwork came up, her paintings seemed to be a clear choice.
The Weird Side Of Rosen's Art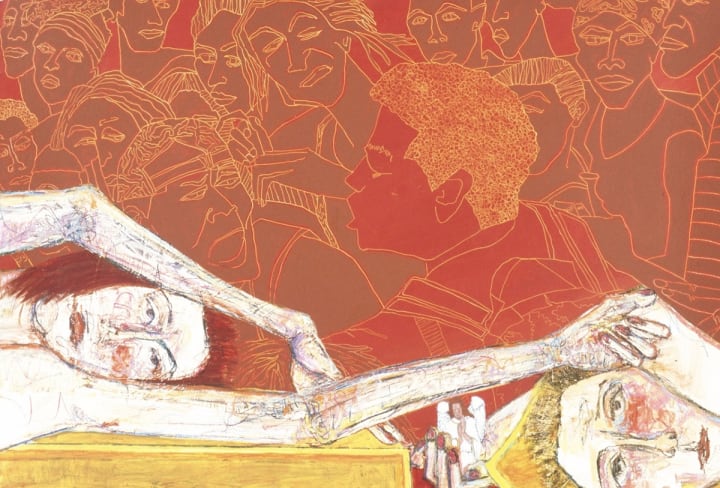 If you've seen Grace and Frankie, then you already have a good idea of Nancy's strangely appealing art. The sharp angles, bright colors, and strikingly emotional faces in each of her paintings just has a way of gripping you - even if you don't know the person being painted in the picture.
That being said, it's pretty obvious that Rosen's art isn't exactly typical compared to most other artwork you'll see on the market. The fact is that her artwork is supposed to be intense, and it is intense enough to gather notice on the sets of the show.
This may be the reason why Rosen is able to make a living as a painter. After all, people don't typically want to pay for "run of the mill" artwork, do they?
The Vagina Painting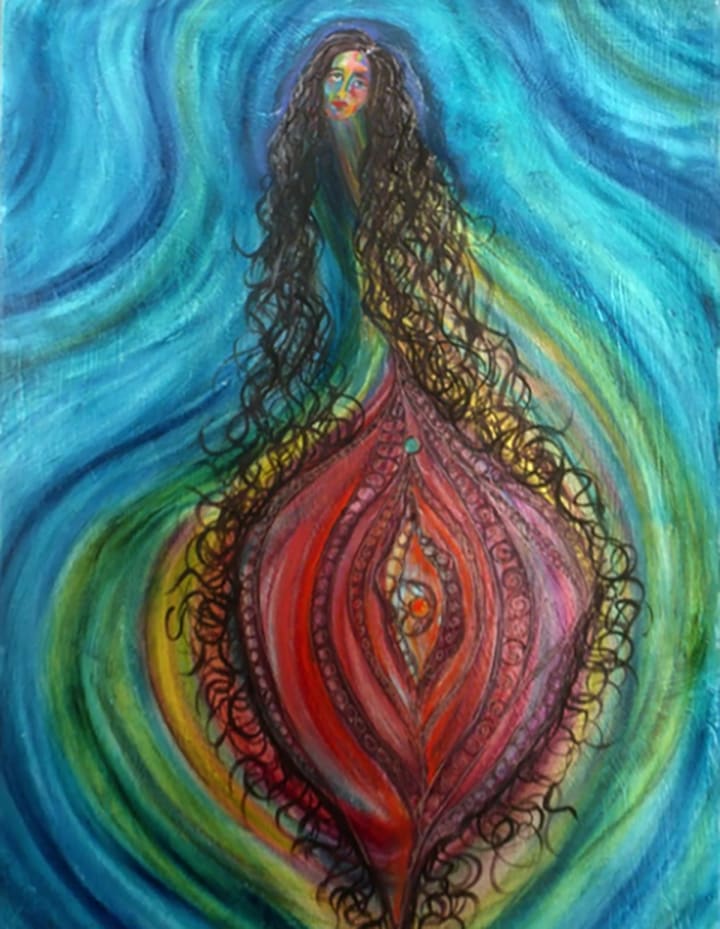 Assuming you're a fan of the show, you probably already know that Frankie had a very long period of time where she was all about painting vaginas. In fact, when she was designing the "I Yam" personal lubricant design, Frankie's idea for a logo was her own vagina.
From what we can tell, the Frankie Vagina paintings that have caused such a hilarious uproar on the show weren't necessarily Rosen's own idea. Rather, they may have been commissioned by the show's producers.
This is definitely backed by some evidence when Rosen was quoted as saying:
"What I have discovered in working with Hollywood is they don't give you much time. They call you on a Sunday and say 'We need something for Tuesday.' So it's been wonderfully challenging. They've thrown me all sorts of wonderful challenges over the last three years that have taken me out of my comfort zone."
That being said, there's still a good chance that Rosen may have had some say in the vagina paintings. It's been neither confirmed, nor denied. Even so, Rosen's work still has that very same quirky, raw, and fascinating vibe that most of her regular work has.
The Mystery Painting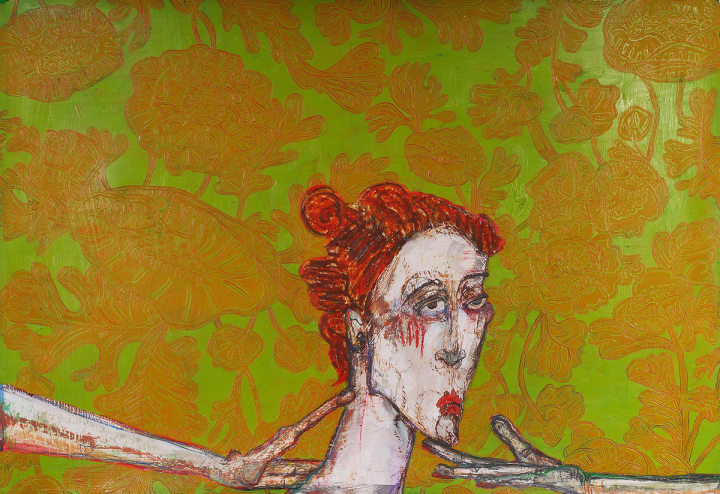 Most of the artwork definitely has the same type of feeling that you'd expect to see from a single artist. Whether she tries or not, Rosen's funky-cool personality comes through in her artwork. However, there is one painting that doesn't seem like the others. It also has caused the most controversy of all of the paintings featured on Grace and Frankie.
We are, of course, talking about "Hitler's Circumcision."
This painting just doesn't seem to have the same art style as most of Rosen's work. The brush strokes are different. The anatomy is different. Most obviously, it seems like the artwork itself just doesn't have that same spark.
Some have suggested that it has a lot in common with Jerome Caja's work, while others have just asked if it's still the same work by Rosen. Either way, it seems like there's a lot of questions surrounding this artwork. Could Rosen have switched up her style as a way to distance herself from the work? Or, was it someone else's idea? We won't know the truth - unless Rosen or a cast member of the show speaks up.
The Most Artistically Inclined Show On Netflix?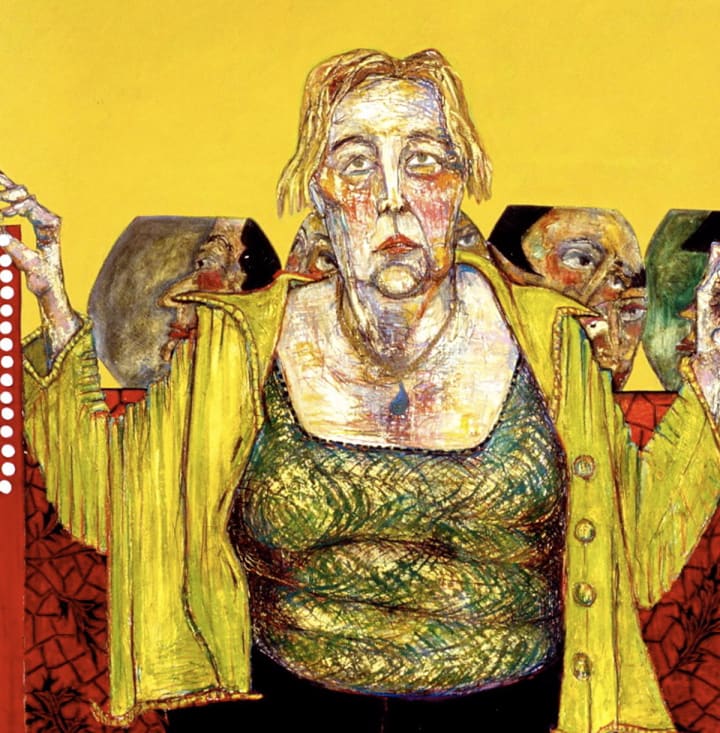 Considering that Grace and Frankie is a comedy show that really isn't actually about art, it has a surprisingly heavy focus on artwork - and we're not complaining. It's refreshing to see a show that makes a point of showing art's importance in the world, and how it can affect mainstream culture today.
Though the artwork itself may occasionally be purposefully crass, the fact that Grace and Frankie does put art in the foreground makes it a subtly highbrow comedy worth checking out - particularly if you like shows that add realistic dimension to their characters throughout the show.
About the Creator
New Yorker in his forties. His counsel is sought by many, offered to few. Traveled the world in search of answers, but found more questions.
Reader insights
Be the first to share your insights about this piece.
Add your insights