Ten of the Best Stepmom Porn Scenes on the Web
We break down some of the best scenes so you don't have to.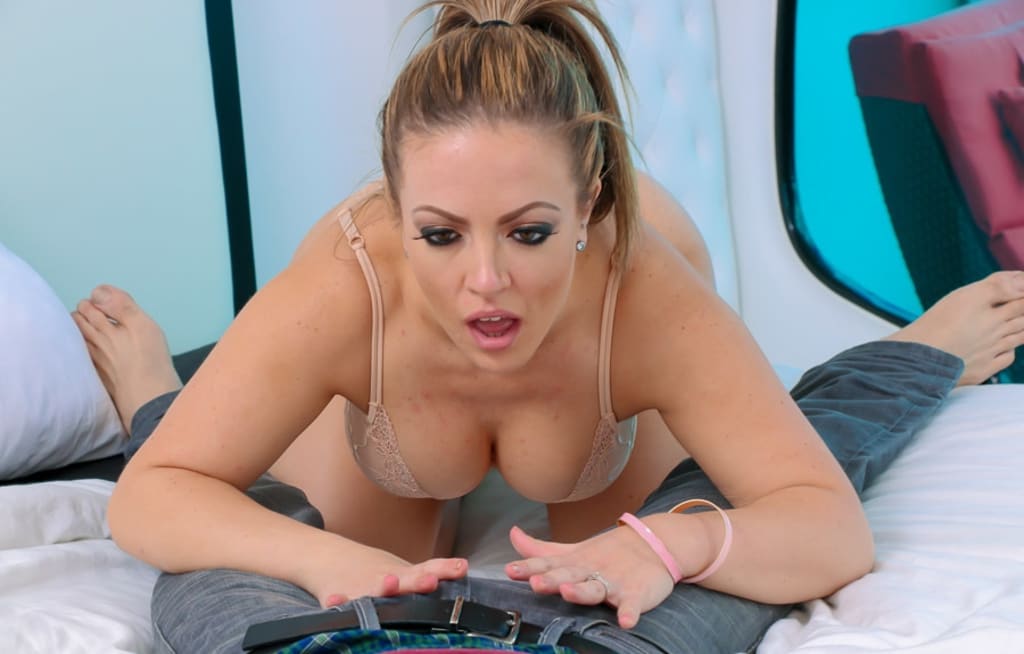 One of the best scenes, I've watched stars Carmen Valentina having a fun holiday with her stepson.
I like my pornography to have a taboo twist to it, which I believe adds to the excitement of the scene. Not everybody likes what is often termed as "story porn," but I think it's fantastic. In the dark ages of the internet (we're talking late nineties), I remember having a discussion about the type of porn I liked with a friend. While he was naming various pornstars who I did like, I was naming various scenarios. When I described the scene which was a Naughty America one, he replies with, "What you don't like story porn, do you!?"
I was of a young age and didn't know the difference but since then it's been my focus. I started off with scenes from "My Friend's Hot Mom" which showed mature women in various scenarios. I do have a thing for older women so it was always going to develop into a fetish for stepmom porn scenarios. I've already written an article of ten of the best stepmom scenes I've watch which was pretty popular. So I decided to type up another one to save the readers trawling the internet looking for a scene. These to me are not the best but are definitely quality scenes. So I'd like to present to you another ten of the best stepmom porn scenes available on the internet.
10. "Faking Out Your Father" - Carmen Valentina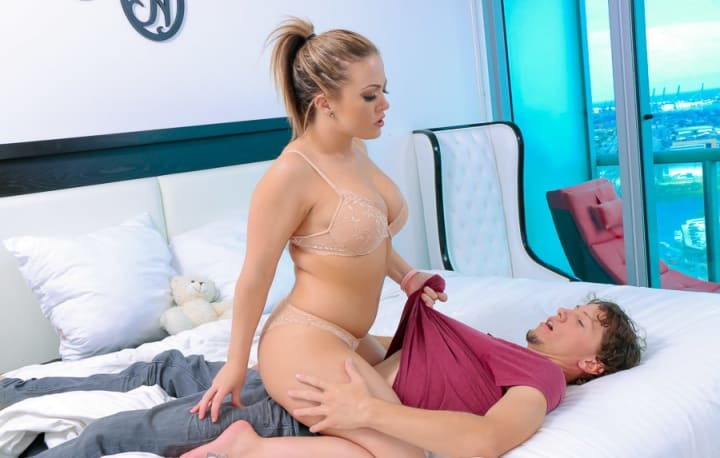 While I said this wasn't a top ten, this particular scene has to be one of the best I've seen. I'd never actually heard of Carmen Valentina before watching this but she appears to have a nice natural look about her. It's from the "Family Strokes" website who I don't particular rate but they got it right here. The production values are good as they even use additional actors to tell the story which makes it more convincing. In this scene, Carmen Valentina goes on holiday with her husband and stepson. Unfortunately, they are not credited but do well in their respective roles. Carmen's husband is preoccupied with work on the telephone and so her attention is instead shifted to that of her stepson. While he's out exploring, Carmen has an argument with her husband as he doesn't seem to want to leave the hotel room. Carmen storms into the bedroom sick of her husband's behaviour. Her stepson returns as he needs his swimming trunks to use the pool. His Dad says they are probably in the bedroom but to be careful as his stepmom is a bit volatile. It's good acting and as the stepson enters the bedroom he catches his stepmom in her lingerie. There's a mutual attraction between the pair as Carmen takes advantage of the young man teasing him seductively. It's not long before she is sucking his cock on the bed. There's even a part where she's arguing at the door with her husband while being penetrated by her stepson. It's kinky stuff but entertaining so I think you should watch it.
9. Dana DeArmond & Seth Gamble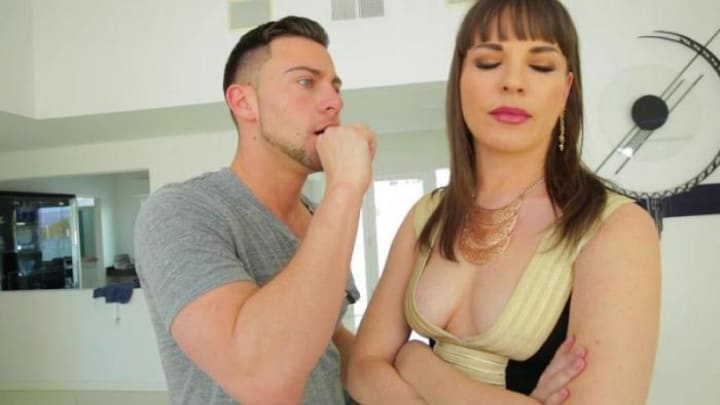 The next scene is from Blackmailed.com which does some taboo scenarios. This one stars unique beauty Dana DeArmond as the stepmom and the likeable Seth Gamble as the stepson. Seth is quite the brat as he starts losing his temper because someone has eaten his cheese sticks. His stepmom Dana makes the situation worse as she goads her stepson about him not going out and getting a girlfriend. Seth loses his rage and starts shouting at her to "fuck off" before storming off. It's good acting from the pair who seem to work well together. Later on Seth catches Dana having sex in the bedroom with one of his Dad's friends from the country club. The two meet later that day and Seth informs Dana that he knows about her little affair. While Dana originally denies this, she knows from Seth's explanation that he knows too much. It appears Seth is willing to blackmail her and that she must go along with this if she wants to stay at the family home. His demands are simply stated as "Suck my cock" to which Dana reluctantly obliges. Yet as Seth aggressively fucks her throat she starts to enjoy it, even sticking her hand there after he remove his penis. What ensues is a great sex scene which even includes a bit of anal if you're into that.
8. Alexis Faux & Levi Cash - Bang My Stepmom.com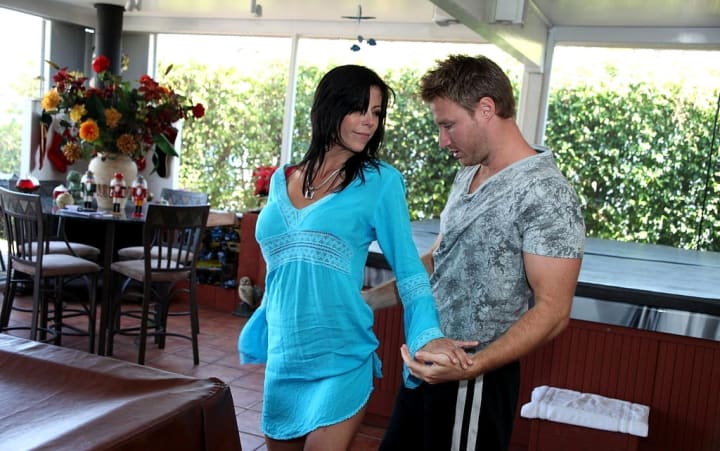 I believe this was Alexis Faux's first stepmom scene but she's done many more since this one. This is also one of the rare occasions she's been a brunette as well. Most scenes of this model like MILF are fantastic and worth a watch. Yet if you're after her original stepmom scene, then this is the place to go. This scene also stars Levi Cash, who I think is a bad actor, but he's not too bad in this. In previous articles, I've called him a poor man's Bill Bailey which may have been harsh. Levi arrives on the scene at his parent's house while his father is away. There's an obvious sexual tension between the pair who know they can get away with some kinky deeds. The sex is fantastic and the unhygienic angles Levi work Alexis over you would probably do yourself. Alexis has done a tsunami of stepmom scenes since and most are worth a watch.
7. Amy Andersson & Michael Vegas - "My Stepmom's Boobs"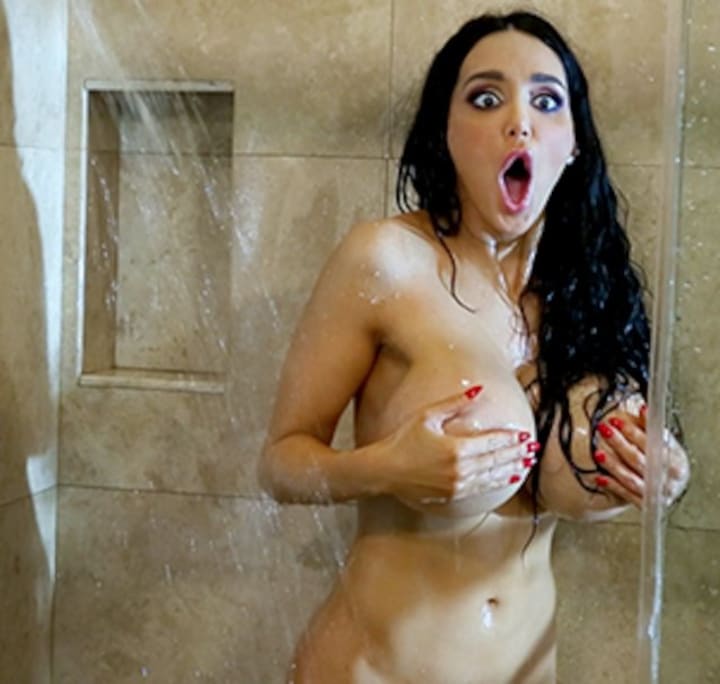 There are about three of these "My Stepmom's Boobs" scenes available and this was the original, brought to you by Digital Playground who hopefully are going to bring us a fourth scene. It stars Canadian Amy Andersson who has juggernaut-like breasts. The scene begins with her husband proposing to her to which she gets all excited about and accepts. Michael Vegas spies what they are doing the background and loses his temper. In the process he calls his stepmom a "whore" before storming off. His father is angry with him and clearly disgruntled. It's good acting for porn and really builds on the fantasy of the situation. The next scene is Michael skateboarding with his buddies, telling them about the situation. He explains that Amy is a gold digging whore and that she is only marrying his father for money. His friends explain that he should expose his new stepmom for the whore she is or sample the goods himself. Michael isn't too pleased with their answer but attempts to do a combination of the two suggestions. While attempting to film Amy in the shower the pair end up in an intimate tryst which leads to some hot sex. It's a good scene for those who like shower sex and a must for anyone with a breast fetish.
6. Ava Addams SpyFam.com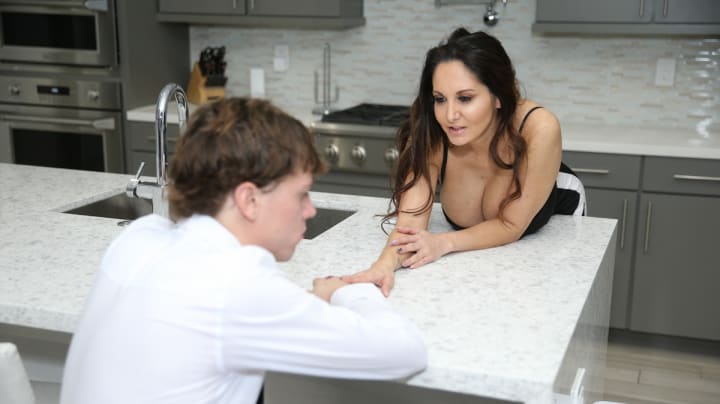 SpyFam.com do some brilliant scenes and this has to be one of their best. Their scenes have a gimmick of being filmed by people's home CCTV and usually involve step family members who aren't related. This particular one involves Ava Addams who is no stranger to playing the stepmom. Her stepson has been rejected on Valentine's Day from a marriage proposal and is looking down. It appears his girlfriend is into really big black guys which he can't compete with. Ava herself is ready to go out for a meal with his father but doesn't mind relieving her stepson sexually. It's one of the best scenes I've seen and Ava just has this maternal hotness which draws you to her. Unfortunately, the stepson isn't credited but he does a good job acting and performing.
5. Emma Starr - "My Dad's Hot Girlfriend" & Danny Wylde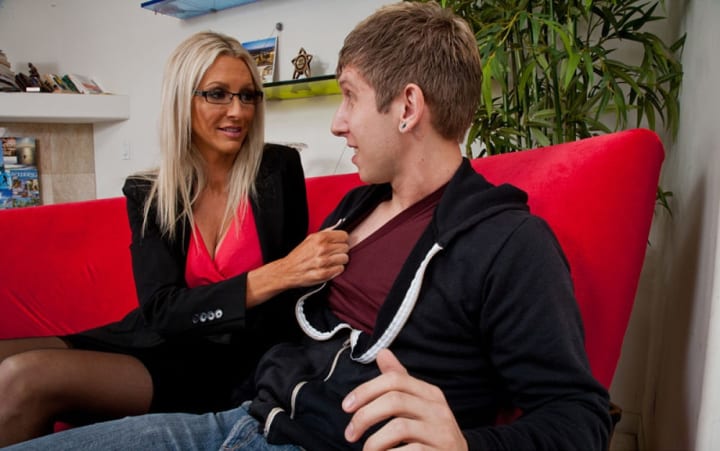 It's only been recently that Emma Starr has started to move into stepmom scenes. I've watched countless videos of her playing teachers, moms, secretaries, etc.
In this scene for Naughty America, she's just gotten engaged to Danny's father after working as his secretary for around 6 months. She hasn't exactly been the best secretary either, messing up the books and accounts in the process. Regardless of this, Danny's father has gotten engaged to her and has brought her to his dorm to meet his new stepmom. During the introduction, Emma keeps touching Danny inappropriately. She's relieved when Danny's father goes to toilet with a bad stomach after eating Mexican. While Danny was initially horrified with Emma's behaviour, it looks like he likes the idea of misbehaving with her. His father is going to be gone a while so the two decide to have sex. It's one of the better "My Dad's Hot Girlfriend" scenes and a great debut of Emma Starr. Danny Wylde is a competent actor and decent performer.
4. Gamer Heaven - Cathy Heaven & Danny D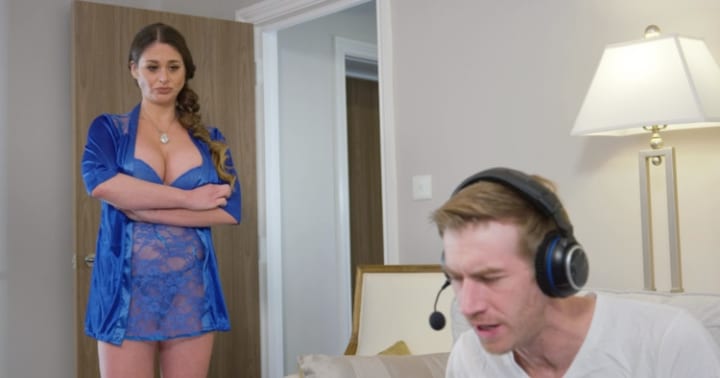 This is a great scene from Brazzers with a model I'd never heard of until watching this. Cathy Heaven is a Hungarian beauty who is well worth your attention. In this scene she's bought her stepson Danny D a new keyboard to go with his gaming system. She was hoping to gain favour with her stepson but enrages him when she turns his console off mid game. Furious, he snaps his new keyboard on his knee, yelling at Cathy who is equally angry. She grabs him by the ear and subjects him to a punishment of giving her what she wants: sexual pleasure. It's top quality from Brazzers and the charismatic Danny D is always good to watch. I think the scene is pretty hard to find on the web but is definitely available from Brazzers.com.
3. Preppies in Pantyhose - Chanel Preston & Van Wylde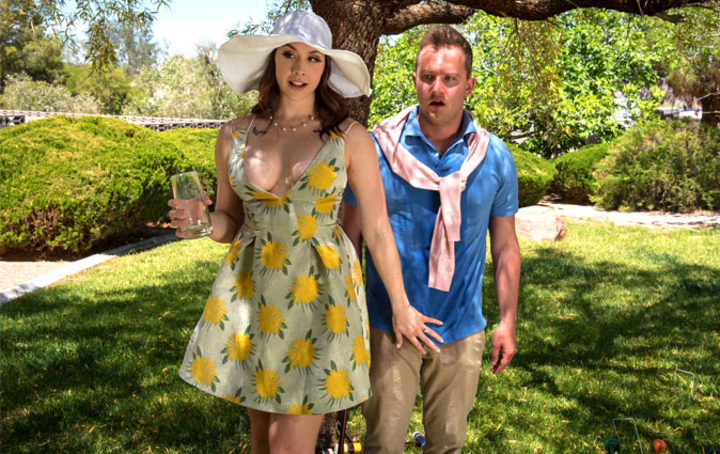 Brazzers seem to be the most consistent with the quality of their stepmom scenes. They must have a pretty big budget as they often use extras to make the narrative more cinematic. This scene was actually a follow up for a lesbian scene where Chanel had her wicked way with her step daughter. In part two, she wants to try the stepson on for size and just looks delicious in that summer dress. While playing crochet with Van Wylde and his father, she purposely spills a drink on her stepson. This gives her the opportunity to sneak away with him and have sex in the shower. Chanel has a particularly big ass in this scene and isn't squeamish. The acting is good and so is the sweaty sex!
2. "Clueless Dad, Sneaky Stepmom" - Joslyn James & Bill Bailey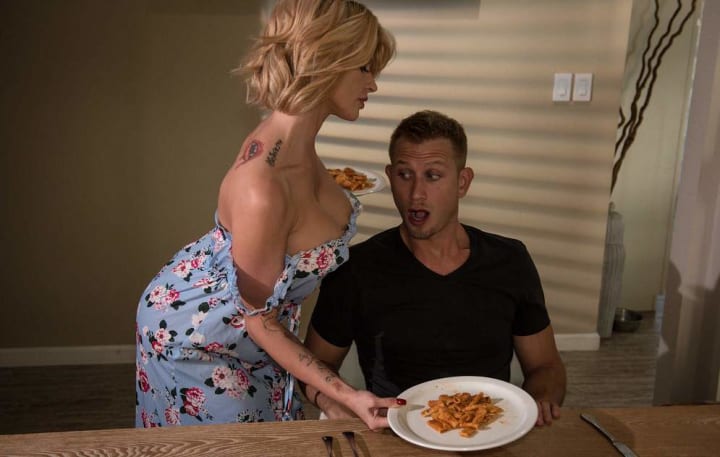 Joslyn James' scenes seem to be getting filthier by the minute and this one with Bill Bailey is no exception. It plays on the fantasy that the husbands of promiscuous women are oblivious to their wives' antics. Joslyn says a series of smutty things to her husband's stepson Bill Bailey while her spouse is seated next to them. Yet he's absolutely blind to it which seems to traumatise Bill Bailey who is already sexually frustrated. When it gets too much he escapes to his bedroom only to be joined by his stepmom. The sex here is really filthy and the pair absolutely slobber on each other. This isn't Joslyn's only stepmom scene but it's definitely one of her best.
1. JanBurton.com - Jan Burton & Tom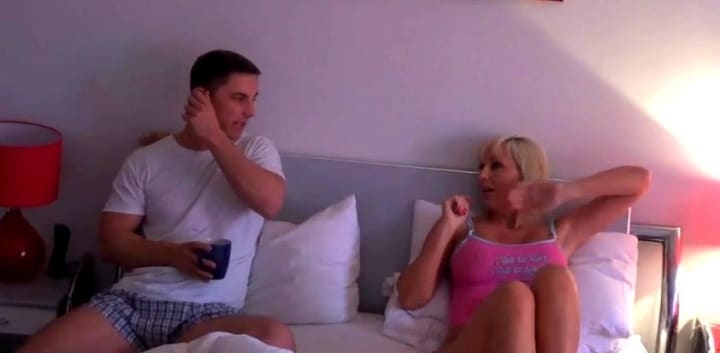 Probably the least known but the best scene out of the ten: Jan Burton is a British pornstar with a very cool reality site. She's very clever in that her videos are done as if she's documenting her promiscuous lifestyle. This day to day independent woman likes to get to grips with her boss, her husband, and even her stepson. Yes, the best scenes on the website are the stepmom scenes and she really gets to grips with Tom. Whenever Jan's husband leaves the scene the pair fuck like rabbits which makes great porn. There are numerous scenes on this website involving the pair and they're really worth your time. It has to be some of the best stepmom scenes ever from this British MILF; Yanks reading take note.