Robe Bondage Art!
Introducing Solomon Abrams aka The Knotologist!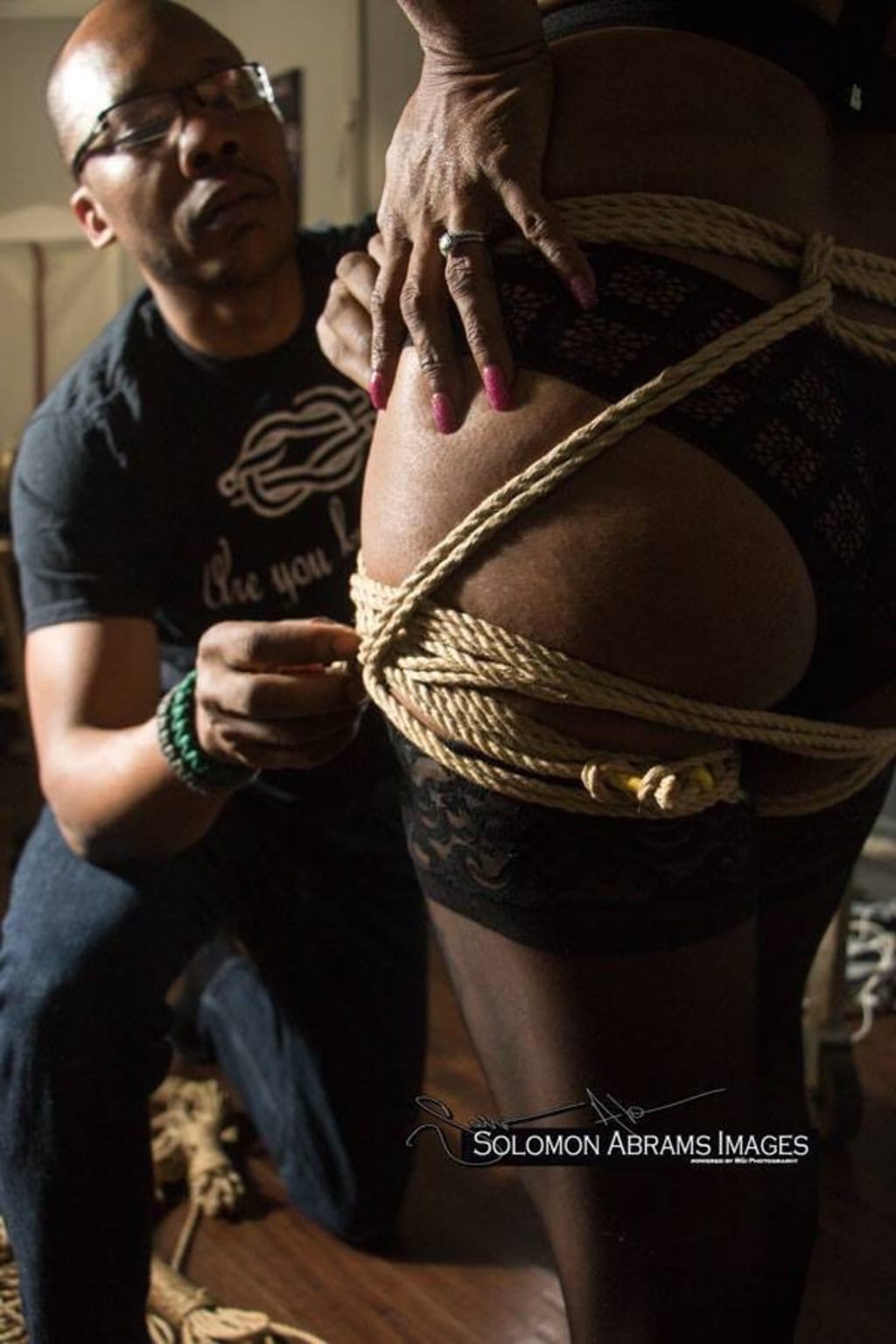 Afro erotic ropefusionist photographer....yes indeed! I've been following this man's art work ever since he caught me re posting a photo of his on my Instagram page. Instead of being upset with me for using his work to advertise my blogs, he simply said "if you're going to use one of my photos, at least let it be a clearer, better looking version" and sent me the same picture in its original form. From that point on I was a fan and I followed him on all social media.
Last night as I got ready for bed with my good night joint, I was trying to come up with ideas for my next blog and my dirty mind immediately thought of Solomon Abrams. I smiled wickedly as I thought about how great it would be to write a blog on him and have him as a guest on the Motherhood Sex Marijuana podcast so dive into his information below & do lookout for him in on our show!
I'm such a big fan of your art photography and what I call kink knot displays but for those that don't know you I would like you to introduce yourself, what you do & how you do for the reading audience.
This is certainly a question that flowed better vocally. I'm Solomon Abrams. A photo erotic journalist from Chicago. I'm a photographer, Rope Service top, videographer and all around good dude; I hope. My pronouns and he/him/fam .
I like that...fam is a NYC thing too!
When did all of this start for you? How did you start?
I've been a photographer since 2008, I moved from porn into more commercial stuff. In 2011/2012, I got into rope bondage as an art and theme for photography. I began living the life openly in 2013. These answers seem so bland typed out. I can't wait for the podcast(fingers crossed that I'm invited).
Actually these are great answers and you'll definitely be invited on the show.
How are things going so far? What are your future goals?
Things are going pretty well. Not great but well enough. I'm happy. My future goals continue to change. I'm currently in the process of writing and creating a book for introductory rope bondage, creating video content for different things and platforms and just living positively.
Describe your clients aka what does it take to work with you?
This is another good question to hear and not read. From a clientele base, I work with mostly women. I enjoy working and creating with women who have great energy that can be projected out into the world creatively. As far as what it takes, the easiest thing to do is reach out and start the conversation. I'm hired and/or get hired based on different moments so if you're looking to book me when those moments arrive for you, don't be afraid just reach out. As for people looking to work with me or have me hire them, WHEN you reach out have your pitch ready. Don't have me do both things. All in all all you have to do is reach out. Also, have your contact information easily accessible, so if I find you first I can start the conversation quickly.
When working with a client, who directs the scene? You or the client?
The shoots are collaborative efforts but the direction can only come from behind the camera in my opinion. If you're the muse or model and you're posing, you can tell me the poses you want or tell me how it feels but ultimately you have to trust me that the photos looks good. However, my ego isn't so big that I'm not open to suggestions or willing to do things some one else's way. With that being said, for my Service top work, I direct the scenes based on the boundaries and limits that are negotiated between myself and the client.
Are your clients on a long term session basis?
Yes and no. I work with people on some longer termed things as well as one off bookings.
Is your business a traveling business or is it set in one space?
I travel and limitations apply.
How can people contact you?
Facebook: Solomon Abrams
IG: @solomonabrams
Twitter: @urban_american
Fetlife: @solomonabrams
What's your sexual fantasy? Have you accomplished it yet or is it still in the air as weed lovers say?
My biggest fantasy now is to be a oral slut for a group of women... haven't done it yet.
Child, let me clutch my pearls & gather myself!
Is there anything you would like everyone to know about you that no one knows?
I'm happy to get to touch more people. I'm approachable but please don't be an ass. Thank you to the blog and Kai for the interview.
Yes indeed, I always bring you what you need aka something new for you to think through! Checkout nattiekai.com, nattiekai.wixsite.com/kaih & subscribe to my YouTube channel! TIP BIG PLEASE!
interview
About the author
Author of 7 novels, mom of 3 daughters, co-Host of Motherhood Sex Marijuana The podcast on YouTube!
nattiekai.com
nattiekai.wixsite.com/kaih!
motherhoodsexmarijuana.com
Reader insights
Be the first to share your insights about this piece.
Add your insights