Ridiculous Geek Sex Toys
Thor's Hammer dildo. Hulk's muscle cock. Enough said. Order these ridiculous geek sex toys now.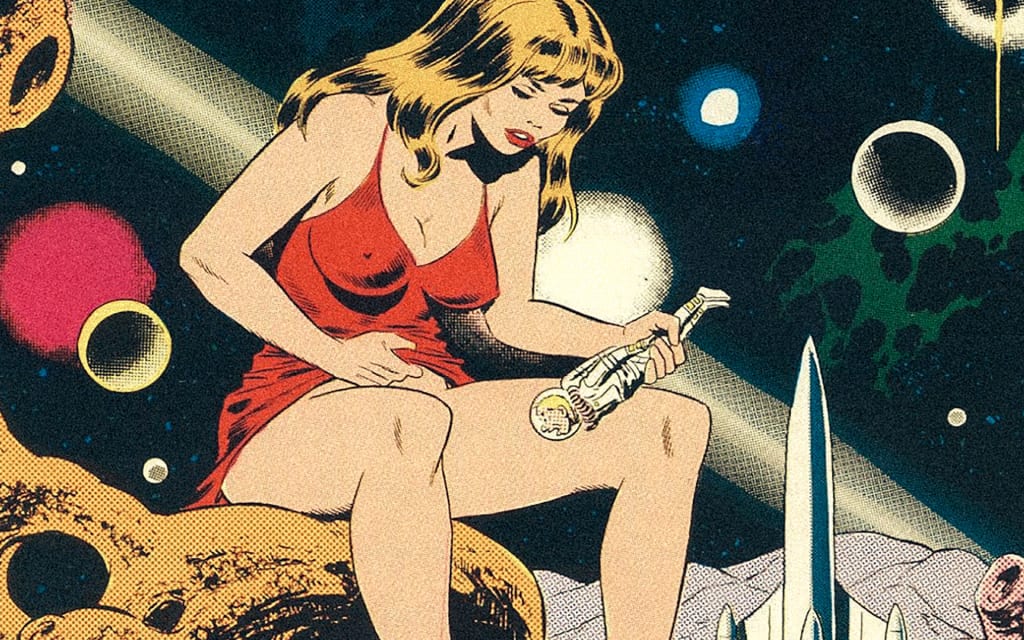 Some toys don't need to be signed at ComicCon. Clark Kent isn't likely to show up on your Tinder. Batman isn't on any online dating sites. Wonder Woman isn't taking care of herself in her Invisible Jet. Geeks need somewhere to turn to satisfy their superhero fantasies. Ridiculous geek sex toys can lighten up those awkward moments when two geeks disrobe and find out a Clark Kent look a like doesn't have a super sized penis. Wonder woman look a like may not have a golden lasso but she still enjoys being tied up. Geek sex toys are a great way to bring your favorite hero into bed.
"Bulby," that's what she said. Living in the grass and bush, this Pokémoan has a big seed tip. The large tip makes her Poke me dreams come true. At about 2" wide and 1.5" tall, the seed tip rests on a 6" shaft. Watching her play with Bulby will definitely get your bulba soar.
Mjölnir, the hammer of Thor, is capable of leveling mountains and The Hammer by Doc Johnson is capable of pounding Loki. Your boyfriend or girlfriend may not be worthy, but Doc Johnson's hammer sure is. At 9.4" and a usable length of 9", this is sure to satisfy any Norse god. Made of platinum premium silicone but forged in the halls of Valhalla, the hammer's shaft is where the magic lies. As much as most geeks of any sexual persuasion would love for Chris Hemsworth to sneak into their bedroom in the middle of the night, that's not happening. But why go to Asgard when Asgard can come to you? Doc Johnson's Super Hung Heroes Hammer is the closest any mortal will come to enjoying the feeling of being touched by a god. The Hammer Dildo might be a ridiculous geek sex toy but it'll banish the Frost Giants of bedroom boredom and make you rumble with pleasure! The best part is anyone's worthy to caress the shaft of this hammer.
Power up your intimate passion with the Red Mushroom Fleshlight! Don't worry about causing any harm to your personal Princess Peach, because this mushroom is made out of completely safe silicone material, so you can enjoy a special mushroom mustache ride with no worries. Unlike Mario's single use mushroom power-ups from the video game, the Red Mushroom Fleshlight can be washed and used again and again. Of course, this ridiculous geek sex toy might not come with a Shigeru Miyamoto seal of approval, but it'll keep you feeling positively peachy as you turn your bedroom into a veritable Mushroom Kingdom of pleasure. We always knew Mario was a plumber so what better way to get a little help from a plumber than for the dirtiest kind of manhole.
Charmy gets her hot. At 7" long, this fire type Pokémoan has a long way to go. The intense Charmy orgasm will get his balls ready for battle. A flaming tail is just the beginning. Watch her fire get started when you pull Charmy dildo from your ball bag.
Every special lady and lucky guy wishes they could receive a nocturnal visit from everyone's favorite genius billionaire playboy philanthropist. But let's be honest, full-time inventor and Avenger means the real Iron Man is probably too busy tinkering in the lab to be under the bed sheets. That's why Doc Johnson's Super Hung Heroes Rock Hard Man is on the case. Offering a superior choice, you can take this sexy rock hard super hero to bed tonight. Just like Iron Man himself, Rock Hard Man is proudly made in America. Pepper Pots probably wishes she had this little guy instead of Tony Stark. No need to worry about Iron Man's PTSD or alcoholism. This geek sex toy gives all of the pleasure without any of the pains of having to live with the real life Iron Man. At an aerodynamically fit 10.4 ounces, the Rock Hard Man is a piece of space age tech that'll hit any fanboy fantasy. Forget Iron Man, Doc Johnson is the real hero.
What's his penis girth? It's over 9000! Now with Super Boy Z Anime Girth Rings Nubbie your penis can feel like a real Z-warrior by powering up its girth to the level of a Super Saiyan. Goku's Saiyan super powers can't match Super Boy Z Anime Girth Ring Nubbie. Chi Chi and Bulma wish they could leave Goku and Vegeta behind so they can hook up with a guy who turns himself into Super Boy Z. You'll feel stronger then a Super Saiyan when you have this bad boy on and get ready to rock your dragon balls. This anime girth ring nubbie is better in the bedroom than a bag of senzu beans. Then you'll make your significant other scream out that it's over 9000 again and again whenever you use this as your super power.
It all ends with a Squirtle all over her Jigglypuffs. A water Pokémoan dildo gets you extra wet. The smooth, round head moves swiftly through the jungle. The grooved shell on its turtle back makes her bristle with pleasure. At 5.5" long, Squirtle gets the job done.
BOOM! POW! Holy Dildos Batman! Looking for a grizzled Batman with the intensity of Christian Bale and the chiseled pecs of Ben Affleck? Well, the Super Hung Heroes Caped Cock has you covered. With the iconic bat symbol on this black schlong, you can enjoy the caped crusader's caped cock to rock your bat cave all night long. This is the dildo Gotham deserves, and it's the one you need right now. No need to ask Commissioner Gordon to turn on the bat signal. You can have the Super Hung Heroes Caped Cock ready to strike at whatever glory hole you need at a moment's notice. This dildo is so big it'll have you screaming I'm the goddamn Batman all night every night. All it's missing for the complete experience is a Robin butt plug.
Who needs super soldier serum when you have the Doc Johnson Super Hung Heroes Captain Cock Dildo? Forget the average guy's measly 6", Captain Cock is sporting over 9" of pounding patriotic power and 2" of width ready to liberate any prude inhibitions. Agent Peggy Carter probably wishes she could get a taste of the patriotic pleasure of Captain Cock. Doc Johnson's Captain Cock will liberate your bedroom from the oppression of a banal vanilla sex life. Better yet, buy both Captain Cock and Rock Hard Man to reenact your own personal civil war to determine who's more powerful before Captain America and Iron Man square off in cineplexes. This is the one geek sex toy you can always count on to stand upright facing at attention. Captain Cock, with his perfect specimen of a shaft and wide, safe, harness compatible base, is all set to avenge unimpressive toy collections everywhere, saving playmates and solo pleasure seekers from bedroom boredom in the very nick of time.
"Honey, Pikachu is up my ass." Now thats the way to win a battle. The insertable Piky butt plug is approximately 1" wide and 1.5" tall. The 3" long tail make extraction easy and preps her for your hard as rock Geodude.
Get ready to look out! Here comes the amazing Spider Cock! Spider-Man was always famous for squirting his sticky white substance everywhere. It's no surprise that he'd be a natural fit to swing into the bedroom in dildo form. It's Doc Johnson Super Hung Heroes Amazing Web Shooter, ready to bring the ripped webbed pleasure of Spider-Man into your bedroom. With its unique webbing texture, this dildo will show you that "with great power cums great responsibility." You'll have all of the fun without any of the mess thanks to this incredible Web Shooter that requires no clean-up. Peter Parker might not have any luck with the ladies, but no lady needs luck to have a good time with the Amazing Web Shooter.
Ever dream of getting freaky with a Na'vi or going down on an Asari alien from the Mass Effect game series? Well, now your final fantasy is a reality with the Fleshlight Alien Male Masturbator. You can explore your primal alien desires, and take your manhood to a place where no cock has gone before. It's the next best thing to hook up with Neytiri or Liara T'Soni. Now your dick can travel to brave new worlds and go on to the final frontier and explore a whole new galaxy of sexual pleasure. While your earth bound friends are stuck with regular fleshlights, you can enact all of your Captain Kirk Fantasies all thanks to the Fleshlight Alien Male Masturbator. So lube up your space ship and get ready to slip into this wormhole to experience an extraterrestrial galaxy of pleasure.
Admit it, you've seen The Walking Dead and thought to yourself, "man, some of those zombies are pretty hot." Forget vampires, zombies are the undead that love to eat. Now you can enjoy your own personal undead feeding frenzy while keeping yourself free of any necrotic infection. It's almost like a movie, since zombie junk can't stay attached forever. Everything eventually falls off. Now you can enact your own fantasy as Daryl Dixon takes you aside to show you the pleasures of the Freaks Zombie Dildo. Zombies may want to eat your brains, but now you can show them what's what by eating their cocks. This satisfying horror fetish dildo comes with "life like" zombie flesh texturing. This dildo will help calm your insatiable hunger as you enjoy the long insertable length and thicker heavy texturing with attention to every vein and rip that will have you screaming for more.
Ever wish the Hulk would stop smashing buildings and just smash you instead? Now you can whip out Doc Johnson's Super Hung Heroes the Incredible Hunk Dildo so you or your significant other can feel the pleasure or pain of being thrashed by the green goliath. Those rays of gamma radiation didn't just increase the size of his muscles. Every fanboy and girl has been wondering if the incredible hulk is sporting some incredible junk under those purple trunks. Now Super Hung Heroes Incredible Hunk Dildo has the answer. At over 9" long, the Incredible Hunk Dildo will have even the mightiest heroes blushing with envy. So get ready to smash it in the bedroom with the jade giant's incredibly detailed junk.