Pays to Be Glam!
Gracie gets her way with friend's brother and his buddy!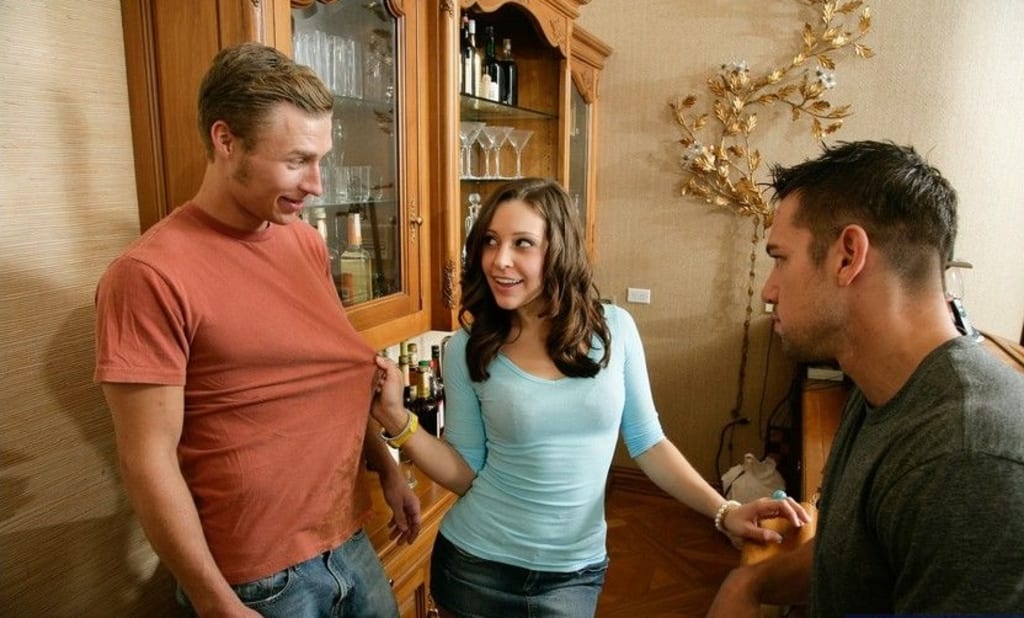 My Sister's Hot Friend can be a hit or miss series at times producing gems like the "Mia Rose" episode. Yet it can produce the occasional stalemate with uninspired scenarios that don't really excite the viewer; not in my case anyway. Luckily, back in September 2010, Naughty America produced this filthy escapade starring Gracie Glam. I managed to pick the scene up for free at whorestepmom.com but the scene is available at Naughty America's website.
Glam is a native of Raleigh, North Carolina and oddly attending 18 different schools in the area. She has an alluring, everyday girl appeal about her with natural statistics of 34B-26-36. Clearly a mainstay in the industry, the minx won an AVN Award for 'New Starlet of the Year' back in 2011. Her stage name comes from the want of a glamorous alter ego of herself which she says manifested as 'Gracie Glam.'
Double helping?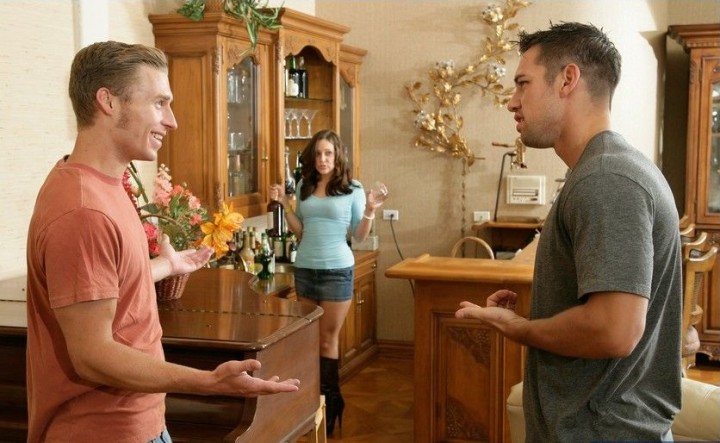 Gracie's two male co-stars are the charismatic Johnny Castle and the cool Michael Vegas. I've reviewed lots of Johnny's scene; a good actor and a solid performer he tends to get a lot of work in the industry. Although I've seen Michael Vegas before I haven't reviewed his work. Seemingly over-qualified for the porn industry, the California man has studied medicine and has worked as a medical technician. That's not all though, as he gets his built physique from working as a firefighter as well. A motorcycle accident forced him to give up that vocation and now he does pretty well in porn. A decent actor he brings a confidence to scenes and his boyish good looks make him believable in most roles. The first role I saw him in was as the stepson of pornstar Allison Moore. It's a terrific scene and Michael does a good job with his minor acting role.
Puss in Boots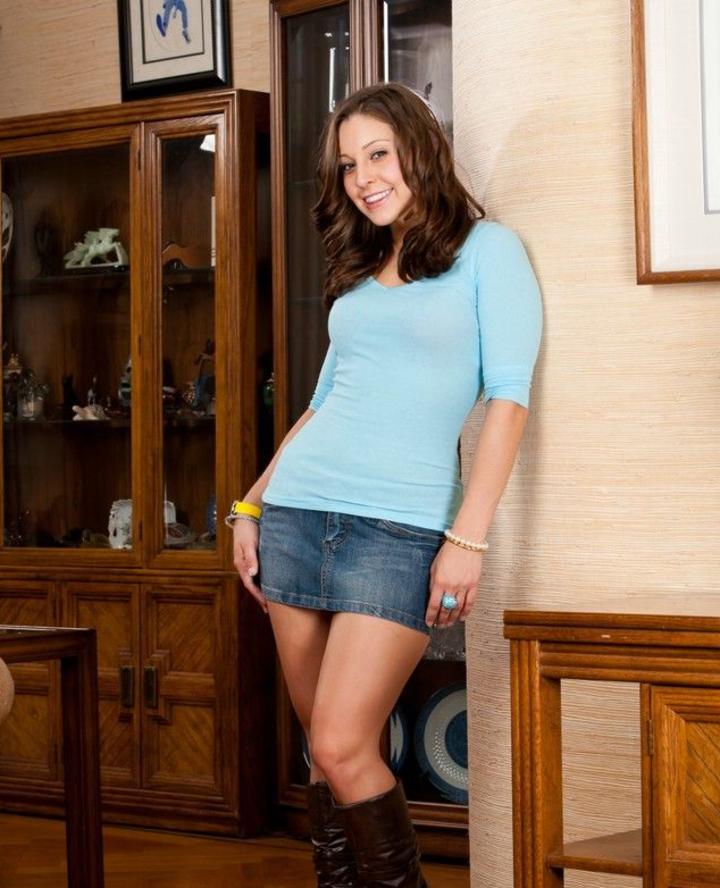 The Naughty America scene takes play on holiday with Vegas, Glam and Castle staying at Johnny's grandparents. Johnny's sister has gone with the rest of the adults to some type of festival leaving the three of them home alone. Michael & Gracie are frustratingly bored as they came on this trip not expecting there'd be nothing to do. Johnny reminds them that he did tell them there wasn't much to do at his Grandparents but they both insisted they come. Johnny asks Gracie why she didn't go with his sister to this festival. Gracie answers sarcastically stating 'Oh yeah, Johnny, that sounds swell.'
Everybody get naked!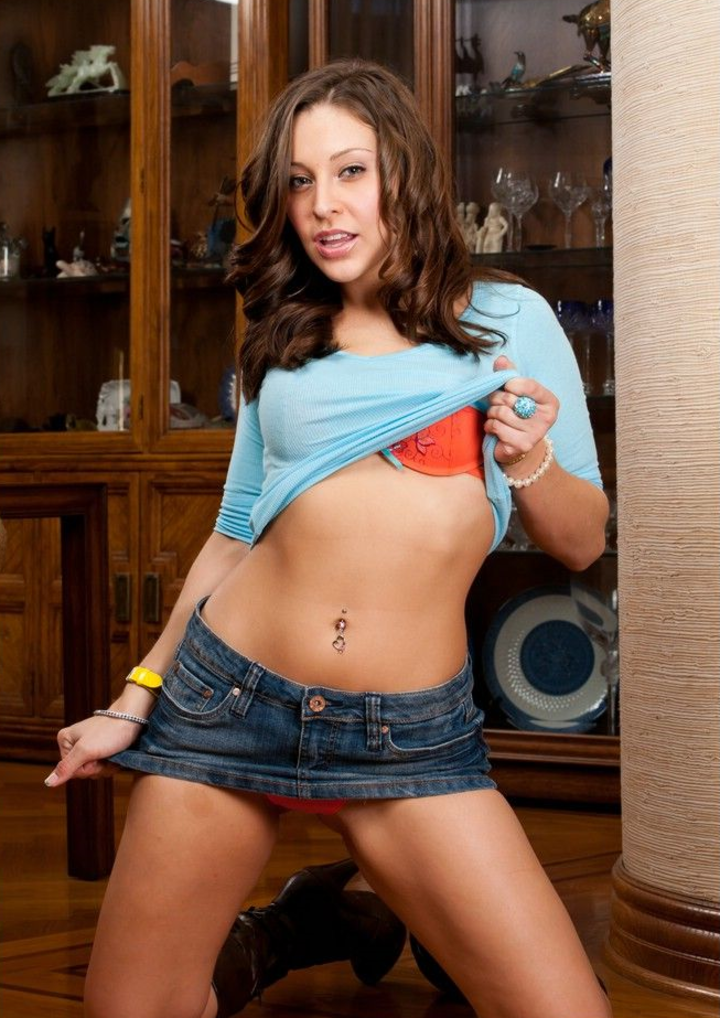 While Johnny converses with Michael, Gracie raids his grandparents' drinks cupboard much to the disapproval of Johnny who shouts at her. Gracie gets frustrated emphasising to Johnny she needs a club, somewhere she can 'show off her booty.'
Johnny sympathise but reiterates he told them both before they came there wasn't much to do. Gracie has an idea and starts to grind Michael suggesting the three of them could maybe have a little fun.
What did people do before television and video games?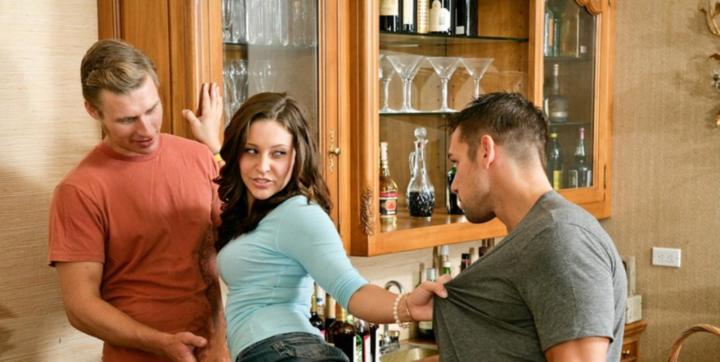 What follows it a great sex scene as Gracie smooches and grinds the guys. Johnny decides to up turns her denim skirt and licks her ass much to Gracie's satisfaction. Gracie's 'everyday girl' look makes this scene twice as hot as she manages to seduce these two guys who are clearly bored. The action moves to the sofa and Gracie takes both their shafts in her mouth changing between one and the other. The guys strip her as she does this which must give Gracie a 'wide on' the size of the Grand Canyon. Once the blowjob part is finished Johnny starts to worship Gracie's ass again before she takes a seat on his cock. While she rides Johnny, Gracie sucks Michael cock all while looking seductively at the camera.
Gotta love a natural beauty...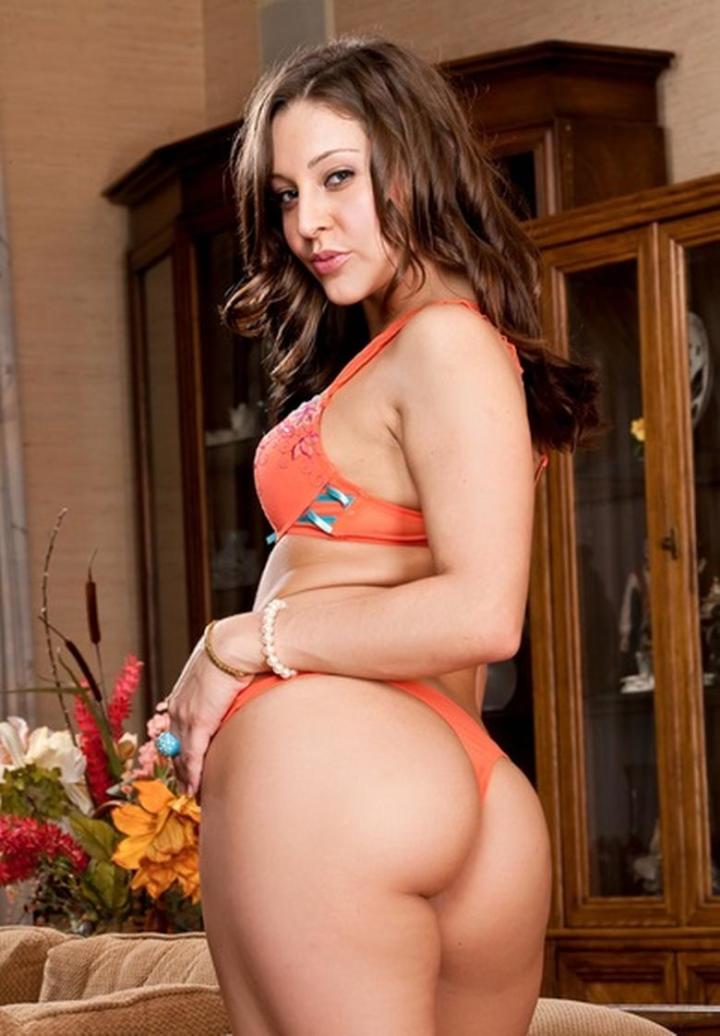 It's great stuff and it only gets better; Gracie taking it doggy while sucking one of the guy's cocks. I know, personally, I'll be looking to watch one of her scenes again but am not quite sure if anything could top this. Naughty America clearly knew what they were doing when they picked her for a scene. The way the scenes shot, the good actors and the whole scenario make this a quality. I can't give it less than 5 out of 5 from how much I enjoyed it. If you can give it a watch then do so because it is a good scene.
5 out of 5.