Paul Harmon's Innocent Erotica
Award-winning artist Paul Harmon reflects on erotic art, Penthouse magazine, and Bob Guccione.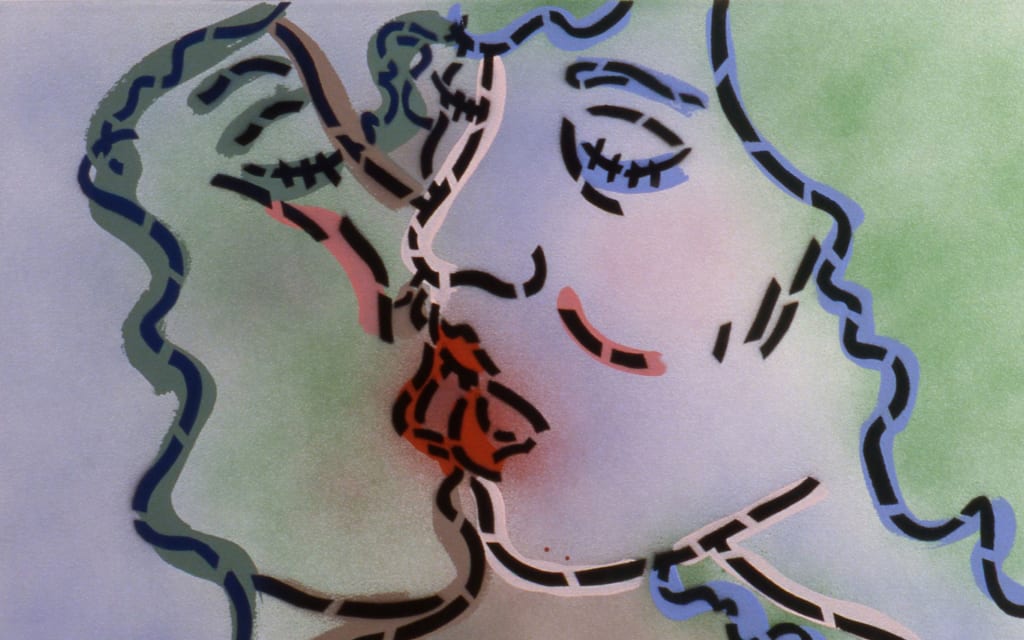 "My work is a personal journal of my life. It is, therefore, both serious and frivolous. Spiritual and erotic." As an internationally exhibited artist, Paul Harmon's work is well represented in numerous galleries, museums, and private collections throughout the world. During the 1980's, his work attracted the attention of Penthouse Magazine founder, Bob Guccione. Guccione featured Harmon's art in Penthouse Magazine and the two men developed a friendship. In the following paragraphs, Paul reflects on the legendary Bob Guccione.
It was obvious that Bob liked the company of artists. Artists contributing to his magazines, other contemporary artists he admired, and artists long past was a regular topic of interest. There was little distinction between fine arts artists and illustrator artists in his musings. Admired aspects were talent, invention and a unique vision, be they illustrators or museum/gallery fine arts artists. At the time, I admit that I was a bit snobby thinking that I was strictly a fine arts artist who got lucky to have such great visibility by my work being published in Penthouse.
When I first visited Bob Guccione at his mansion in New York City, I didn't know Bob very well. I had only met him a few times (and those times rather formally). Bob had a phone call and invited me to accompany him into his office, a very small room off of the main living room. He said, have a seat, and became focused on his call. I couldn't sit because the two chairs and small sofa had numerous paintings on them so I just stood and waited. When he got off the phone, he said, something to the effect of "why are you still standing?" I said, "Bob, I didn't feel comfortable moving these paintings around myself."
Bob picked up the nearest painting and handed it to me. "I just got this one. You like it?" It was an El Greco and here I was holding it with my fingers on the surface edges. I quickly shifted my hands to the canvas edges. Of course, I had seen a ton of old master art but always standing a safe distance behind a museum rope line or under the scrutiny of museum guards. Bob took the work from me and casually flipped it to the sofa with other paintings.
Bob was certainly aware of the impact on others (like myself) of owning major world class artists but as to the work itself, I felt that the jump from El Greco and other big names in his collection to favorite contemporary artists was rather seamless. It's a great magnanimous quality I understand but have never been able to fully realize in myself.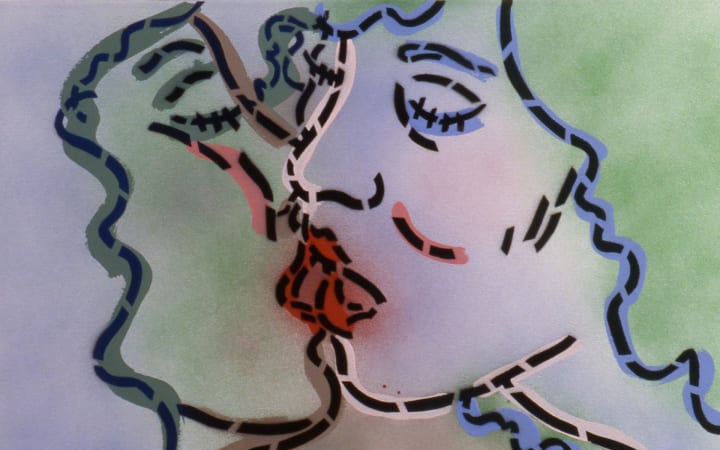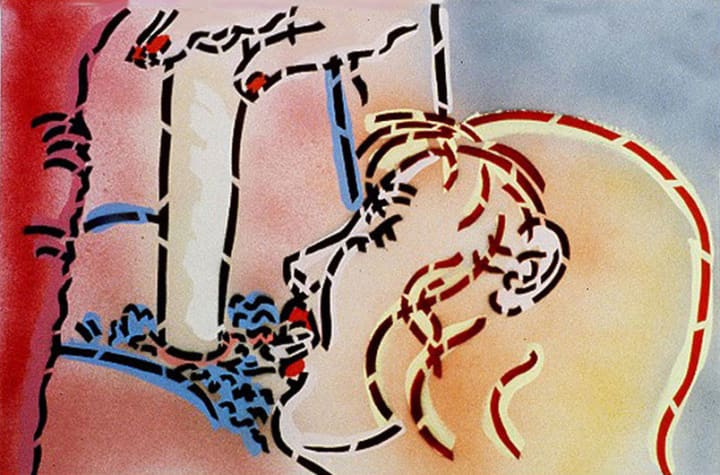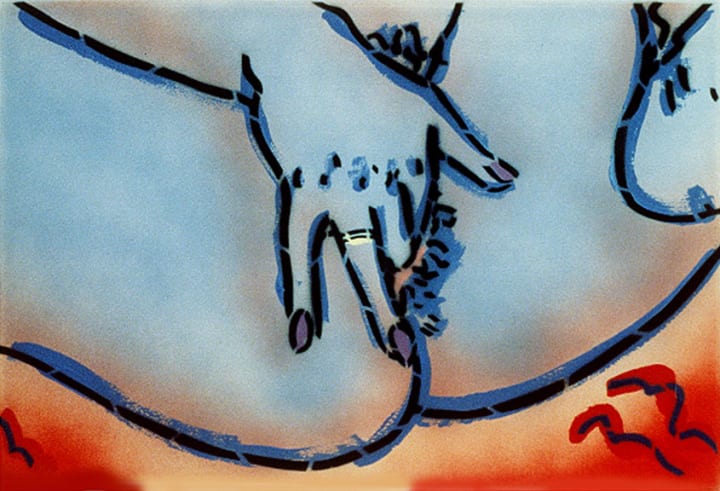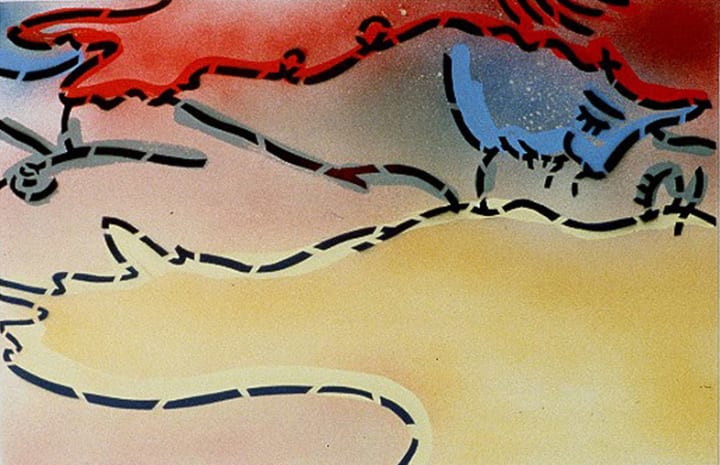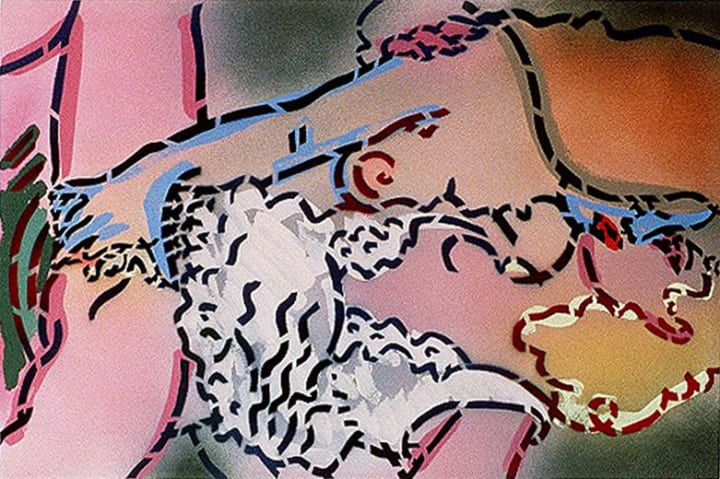 Our relationship grew over time and soon the publication of several of my painting series appeared in Penthouse. When Bob told me he wanted to publish selected images from the series, I was ecstatic. However, thinking that my caveat might just kill the deal, I told Bob that I wanted approval of the text. I wanted the verbiage to reflect on the history of art and the importance of erotica on a whole host of artists from Rembrandt to Tomi Ungerer. I didn't want an editor writing in a sexually frivolous manner about the series. Bob understood and agreed in a split second. Preconceived ideas about who Bob Guccione was had to be adjusted. As I was in my Paris studio when the checking copy came out, my assistant over-nighted it to me. Whoa…the erotic images, reduced from 30 X 22" to 4 and 5 inches in the magazine became so much more explicit. Full sized, they were masses of color and bold stenciled lines while small they were very graphic. The International issue of Penthouse was to hit the streets in Paris the next week. I invited the owners of the building housing my studio…and everyone else in the building for aperitifs the next evening. They were given an early look at what was soon to be all over Europe wrought by the artist downstairs. I was pleased that they loved the erotic work and still loved me. The next week I got a call from my assistant in the USA saying I was to soon be getting a bunch of phone calls from the media. Seems that that issue of Penthouse was banned in the Canadian Province of Ontario. It was because of the blatantly vulgar and patently obscene art of Paul Harmon. (The media characterized my work in a wide variety of ways). I called Bob, first to say I was sorry to have caused sales to be killed in a huge geographic area of North America. Also to get some advice about upcoming interviews with the media. Did he have any talking points that would benefit "the greater cause." Bob was obviously entertained by my concern and quandary. He said all that censorship and furor simply helped sales. People in Ontario were getting copies by mail from friends, traveling across province lines as well as individuals buying the issue in bulk for black market sales. We were a hit! As to upcoming interviews, Bob bemusedly said "say what you feel, say what you think, say anything you deem relative to your motives for making this erotic art. Don't worry about Penthouse or me. We're fine. Onward and upward, Paul. Great issue, great feature…thanks to you!"
Besides being published in Penthouse, knowing Kathy Keeton was also a huge honor as well. Her, along with Peter Goldsmith, came to Nashville on a sales trip for Omni, Penthouse, etc. Peter launched Penthouse with Bob in London in 1965. He helped establish Penthouse in the USA. I called the best Italian restaurant in Nashville for reservations and notice that very important guests would be with me for a special evening on the premises. Heads up! I was assured by my regular acquaintance, the owner, Mario Ferrari (a name he gave himself on leaving Sicily) that we'd be given the princely treatment. It started off wrong when Kathy complained strongly of the tobacco smoke odor in my Jaguar. She said she couldn't ride in the car. I emptied the ash trays and sprayed "country vanilla" scent in the car, telling her we only had a 4 minute trip to the restaurant. She begrudgingly accepted the ride.
I must add here what I thought was the coolest thing, ever, that a restaurant owner could do. We were seated in the bar for drinks before dining, with the main room of the restaurant just around a corner. The owner came through the main room several times over a 30 minute period and, well knowing we were there, didn't acknowledge our presence. This didn't feel like the promised "princely treatment." Nashville's Mayor (Richard Fulton and his wife Sondra) came in, along with John and Delores Seigenthaler (the publisher of the Tennessean Newspaper and his wife). They were seated within easy earshot just around the corner in the main dining room. Owner Mario Ferrari rushed to their table saying in full voice, "Welcome to Mario's Mr. and Mrs. Mayor, Mr. and Mrs. Seigenthaler. We are truly honored to have you with us tonight. Guess who else is here tonight with friends, the artist, Paul Harmon. The stars must have aligned." Now THAT'S princely treatment…if not a bit over-the-top! However there is more regarding my hosting Kathy Keeton and Peter Goldsmith. Owner Mario Ferrari personally escorted us to a table in the main room. Actually, it was a dining chamber beneath the main dining room, accessible through a trap door and steep stairs. As often as I had been there, I never knew of its existence. A wine steward and waiter came down and took our orders. Shortly after dinner was served. Kathy said the salad dressing was stale and that the pasta was far beyond al dente. Peter, my date and I were happy as clams but Kathy was clearly not. So, what else could possibly go wrong? Maybe it was the fact that the restaurant forgot that we were underneath the floor. I had to climb the stairs and push open the trap door to the surprise of the main floor diners and beg service from the staff. It was a memorable evening for Kathy Keeton, just not a good one. But then, I have a story.
Together, Bob and Kathy were unstoppable. In fact, I distinctly remember the time they started OMNI Magazine. It was a star-studded afternoon at (if I remember correctly) at Ian Schrager and Steve Rubell's Studio 54. I took my son, Jason who was 15 or 16 at the time. Peter Goldsmith and Bob Guccione were terrific and with me introduced Jason to all manner of celebrities. Writers, comedians, actors, politicians and people famous just for being famous. It was certainly dramatic and heavy for my son. I was deeply touched by the generosity of Bob in introducing celebrities to Jason as if he was the most important person in the room. A side story having little to do with recollections of Bob Guccione.
Buzz Aldrin was at the Omni launch party. Not just there, but as the official greeter. Omni Magazine was encouraging women to consider careers in Science. Plus the Girls Scouts had special new merit badges for science or something to that effect. At any rate, Buzz Aldrin was involved through a combination of science and the scouting program. His job on this occasion was to meet and greet everyone invited. He was in US Navy dress whites with a slew of ribbons and medals. Understand, that if Frank Sinatra or Charles DeGaule had been there, I would have walked up, introduced myself and introduced my son Jason to them. But, I couldn't approach Buzz Aldrin. He had just walked on the moon and was beyond reality. I've never felt that kind of awe barrier except in this instance. I have regretted not asking Bob Guccione to introduce my son to Buzz Aldrin. He'd have done it in a second.