Naughty College Twin Coeds
My Friends Since Freshman Year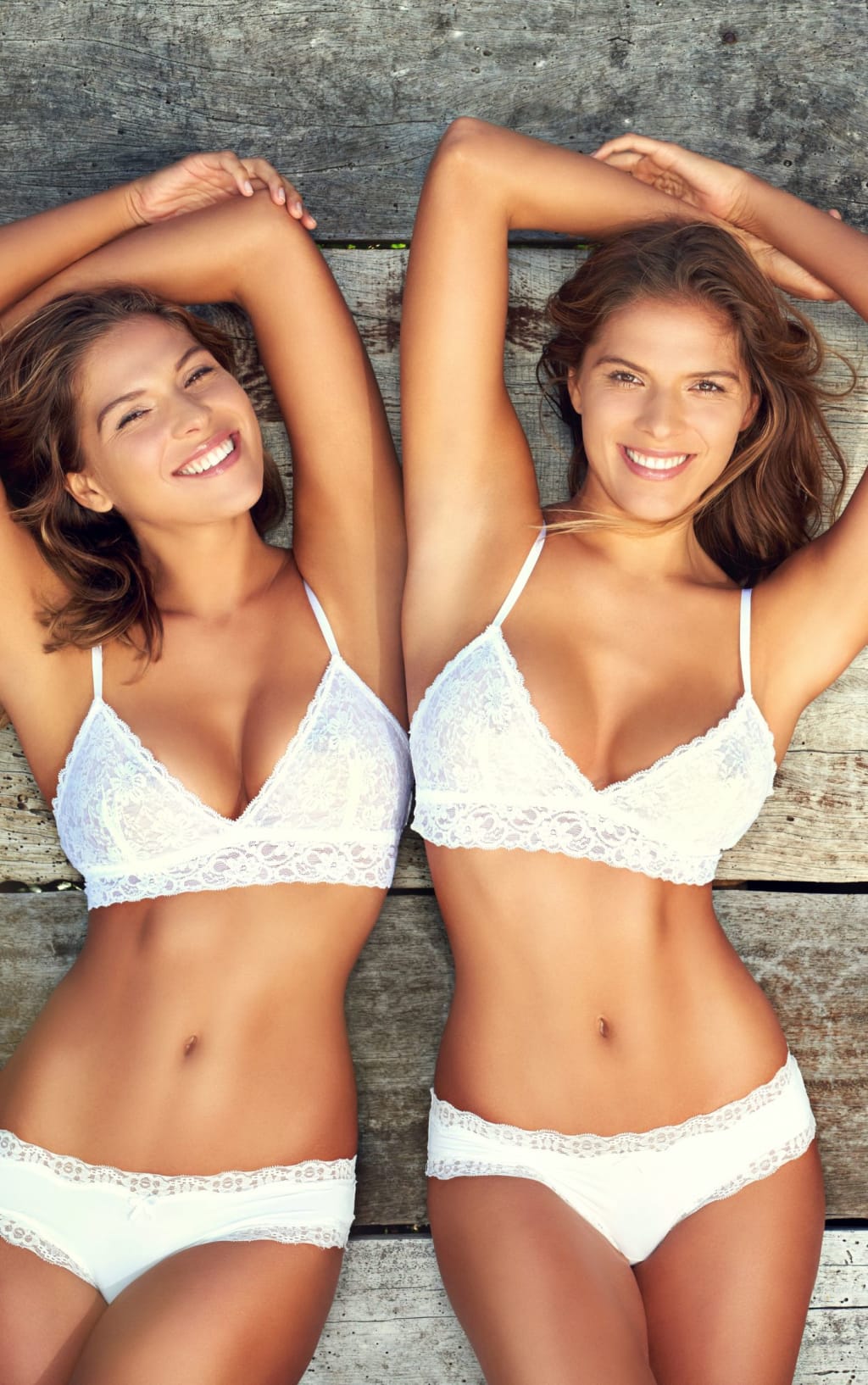 Photo By Canva Pro
My Clemson Tiger basketball team just defeated the North Carolina Tarheels. The greatest victory in program history.
I'm the last man leaving the locker room, wanting to savor the last drops of victory. I begin the long, dark walk exiting the tunnel that leads outside Littlejohn Coliseum.
At the end of the tunnel, I spy a shadowy figure. It's obviously a woman's silhouette.
I hear My Boo.
"Hurry slowpoke."
She comes from the shadows. Annelise is a beautiful sight for the sore eyes of a warrior. She is one of the first students I met while registering for classes oh so many years ago.
She introduced Annastasia and I. Stasia is her twin sister and a Clemson cheerleading goddess. We all have remained friends since freshman year. Our relationship, mandated by Stasia, has been purely platonic.
"Hey Boo, what are you doing here?" I asked.
"I'm here to take you to heaven."
I chuckle.
"I'm not ready to die tonight."
"Let's just say you will not have to die to see this heaven. It's here on earth."
She gives a soft kiss on the mouth and a sensual hug. Anne feels different, her touch erotic. I knew from the way she kissed me that maybe our platonic relationship was ending.
Annelise takes my hand, and I follow. God bless. I love her, but she can be so dramatic. I'm too tired to put up a fuss.
"Boo, maybe we can go to heaven tomorrow. I will give you a ride, but I park my car in the opposite direction."
"Patience, grasshopper, our carriage shall arrive at any moment."
She giggles.
A familiar car rounds the corner. A Nissan 280ZX. The cheerleader, Annastasia, pulls up.
"You guys need a lift." She asked.
I never tire of her beaming smile.
"I would ride with you through the gates of hell to Lucifer's bosom, my friend."
"Well, Mr. Kincaid, after that performance, I'm no longer your friend but your sexy Genie. I'm granting you three wishes."
"We plan this for you, win or lose, consoling if we lost or celebrate a victory. It's so much sweeter celebrating a victory."
"My accomplice and I are here to sweep you away and take you to our Lovers' Lair. We have secured a suite at the Lake Hartwell Marriott." She continues.
"Tonight, Anne and I will be your tour guides and vessels to unimaginable pleasures of the flesh. We don't beat the Tar Heels often. The thought alone makes my panties wet. Hurry, get in. Let's go!"
Annelise and I jump in the car and we're off to Lake Hartwell.
"Hey, do you guys remember our first road trip together?" I said.
"Of course, I told my sissy I had a crush on a boy. He was one of her friends. The three of us went window shopping at the mall. You were just a little freshman then, but you're a big muscular man now. I was robbing the cradle back then," Stasia jokes.
"Kade, Stasia's hands-off policy is no more," Annelise says.
"Wow. This night just keeps getting better." I reply.
"You just don't know, big boy," Stasia says.
Our Lovers' Suite
We make it to our suite. I walk to the large window overlooking the lake while the sisters are in the bathroom.
The suite is even nicer than the ones the team books for our away games. I'm reliving key moments of our epic game, daydreaming because I don't hear them enter.
"Hello, Kade. Kade, baby!"
I snap back to reality. Turning to find Annastasia & Annelise, standing bedside naked, hugging each other.
A Polaroid moment for the ages. I don't know whether to be jealous or join in. Both of them are giving me the come hither finger.
"Kade, I've shared almost everything with my sister, except for you. After tonight, it will be everything."
Needless to say, it was a great night to be a Tiger.
FINAL THOUGHT
I hope you enjoyed my story.
About the Creator
A freelance writer who offers ghostwriting ebooks, FaceBook posts, article & blog writing services. He works with B2B & B2C companies providing digital marketing content designed to drive traffic, increase conversion and SEO.
Reader insights
Be the first to share your insights about this piece.
Add your insights