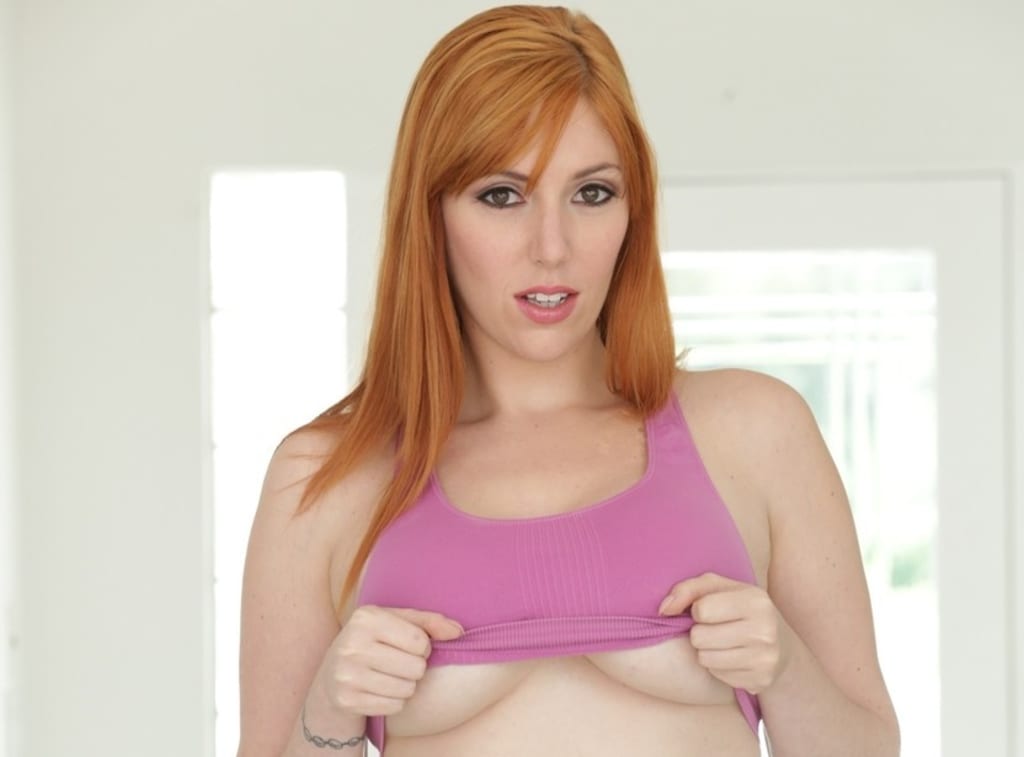 There are porn niches all over the internet; like wise there are websites that are better at certain niches than others. These niches range from interracial, gang bang, threesomes, girl-on-girl and taboo to name a few. One niche which can be hard to do well on camera is the blowjob as it can be quite limiting at times. One company which does this particular niche well is the 'Mommy Blows Best' website. I've watched quite a few of their scenes ; they're clever in that they often cross over the blowjob niche with the taboo theme. Quite often it's the guy's stepmom or mother-in-law giving him a blowjob which works quite well at times. Yet they don't always get it right as this scene proves as it lacks a bit in the visual department. Brazzers now owns 'Mommy Blows Best' and has combined their scenes with it's massive archive.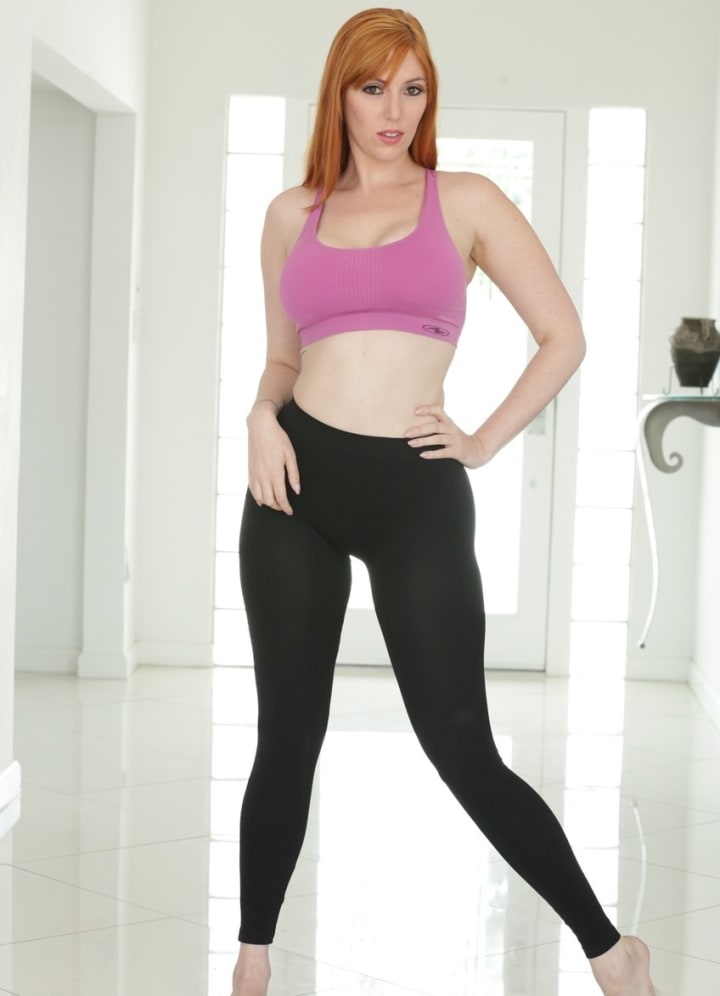 I was quite surprised that this scene was lacking as it starred two very competant performers. Anthony Rosano, a native of Hialeah , Florida stars as a personal trainer. I've seen the young looking 43 year old in some pretty good scenes. I watched one where he's banging his stepmom Silvia Saige in a very strange scenairo. He's actually quite the talented actor as well and is normally in a good scene. Here he's stretching out his married client; busty red head Lauren Phillips who appears well versed in Yoga. I bring it up as it seems to be what she's practicing when the scene begins. She's in some odd pose which I think is a downward dog position but as the scene progresses she tries some alternative stuff. Lauren is a former lap dancer from Atlantic City, New Jersey and started in porn back in 2013. Previous to her lap dancing days she was actually a massage therapist and a nanny. Lauren has a very distinct voice and is actually a lot younger than her MILF look would suggest. At 32 year old she's been in some erotic scenes herself and is always a consistent performer.
As personal trainer Rosato stretches her out, Lauren tells him about her failing marriage and how her husband doesn't seem to pay attention to her. As they switch positions, Rosato gets closer to Lauren and more 'hands on.'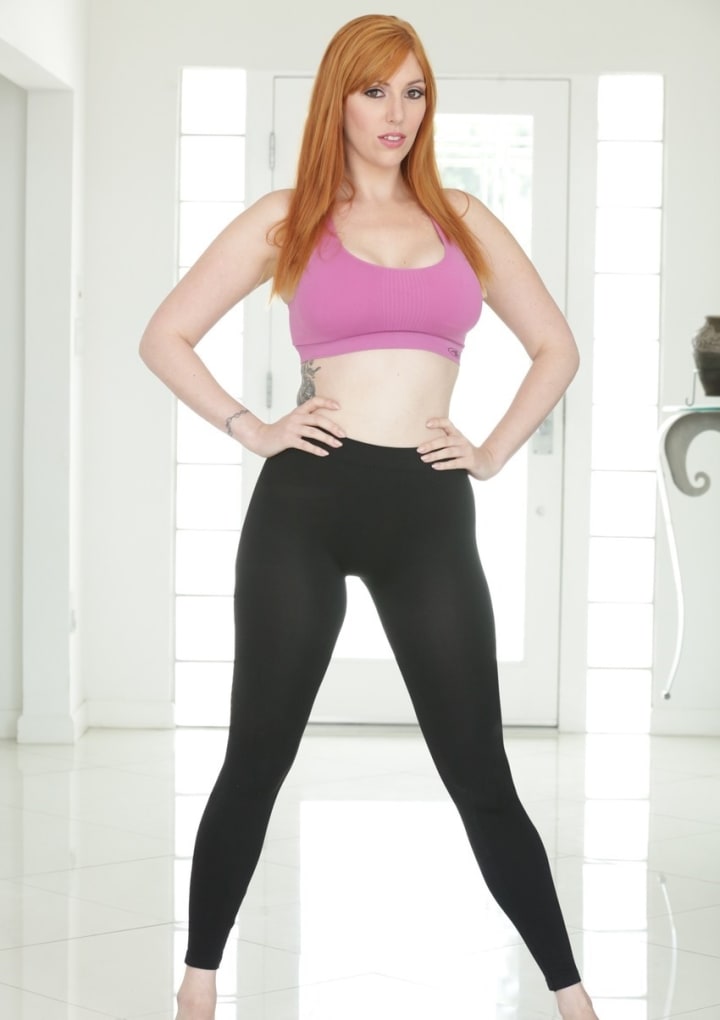 She gets more open about the relationship stating that her husband hasn't been pleasing her sexually. Rosato is impressed with Lauren's advanced stretching techniques but he makes it clear that Lauren is being too open about her failing relationship. Lauren makes her intentions clear when she grabs Rosato's cock as he's stretching her. Rosato is in shock and tells her 'it's not that muscle we're trying to stretch.'
Lauren defends her actions stating that 'She hasn't had anything in her mouth for months.'
The acting is good which is why am so disappointed about the scene; the director tried to do something new but it just doesn't seem to work. Rosato is pretty worried about keeping his client and doesn't want Lauren's husband to fire him. Lauren tells him not to worry and pleasures him orally as Rosato looks on.
It's starts off well enough, just a regular blowjob scene. Rosato lobs out Lauren's massive tits from hiding which is a welcome sight. The scene gets weird though as Lauren decides to suck Rosato off in an upside down 'crab like' position. It's not particularly sexy and just looked strange to me as Rosato pounded away at Lauren's throat. The 'making her gag' stuff wasn't too bad if you're into that sort of thing. The scene gets weirder visually again as Rosato fucks Lauren's mouth while she's in a kind of 'pretzel' position. Again it just looked weird and not the slightest bit arousing but I suppose they were limited to what they could do in a solely blowjob type scene.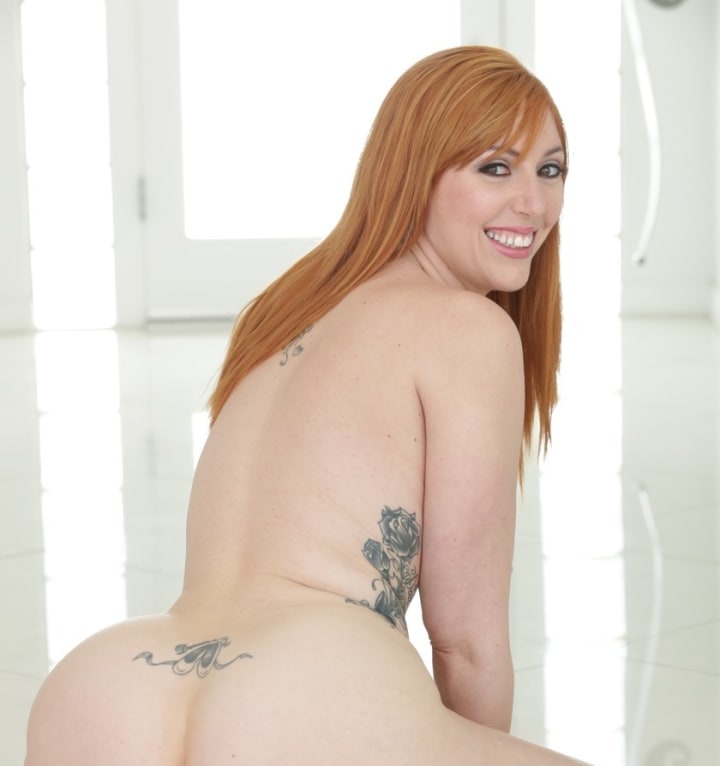 The pair actually keep the acting up during the sex which is pretty good. Rosato still anxious about losing his job; Lauren tries to reassure him he's likely to get more work on the back of this escapade. One of the redeeming factors was Lauren getting fully naked and the audience getting to see her pale tattooed body. It's a beautiful sight especially for those amongst us that love red heads. I almost gave this scene a 2 out of 5 but there are a few redeeming factors to it. It's mildly entertaining if a bit limited in variety; I give it 3 out of 5.
3 out of 5.