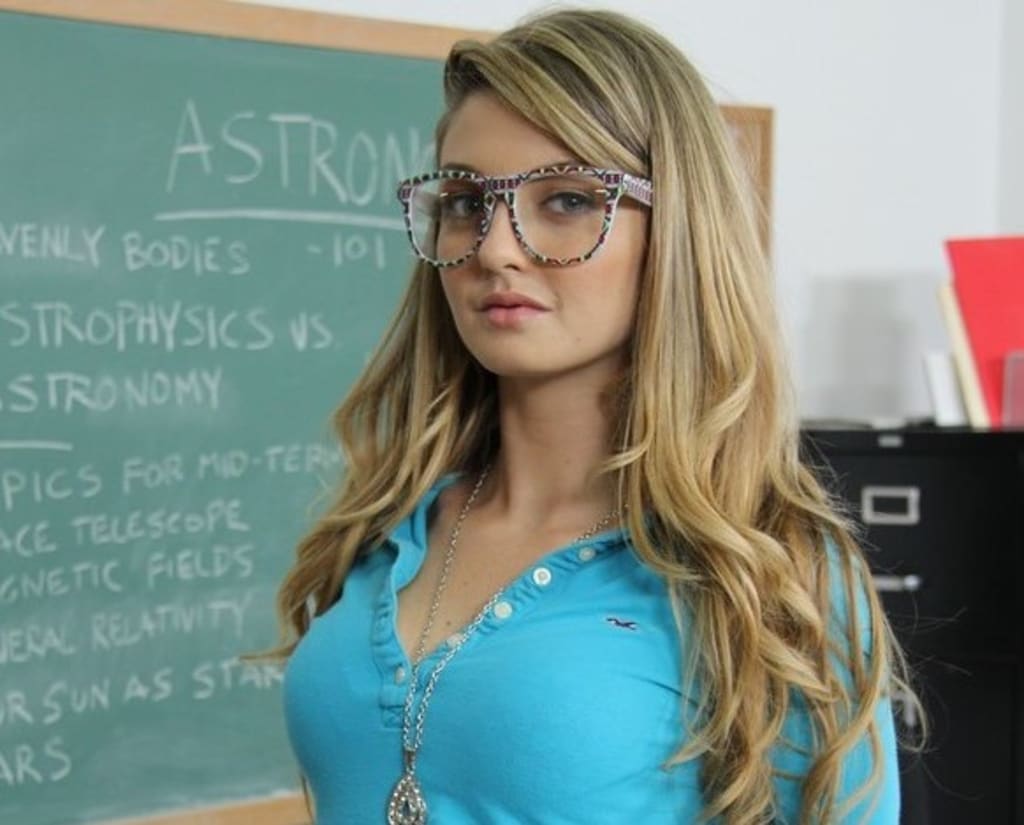 There's plenty of 'school themed' porn on the internet but very few websites that do it consistently well. There's a number of series like 'MomsTeachSex, Innocent High and Big Tits at School which don't do to badly at the school fantasy. Yet if you're looking for naughty school girls the best place to go to is 'Naughty Bookworms' by Naughty America.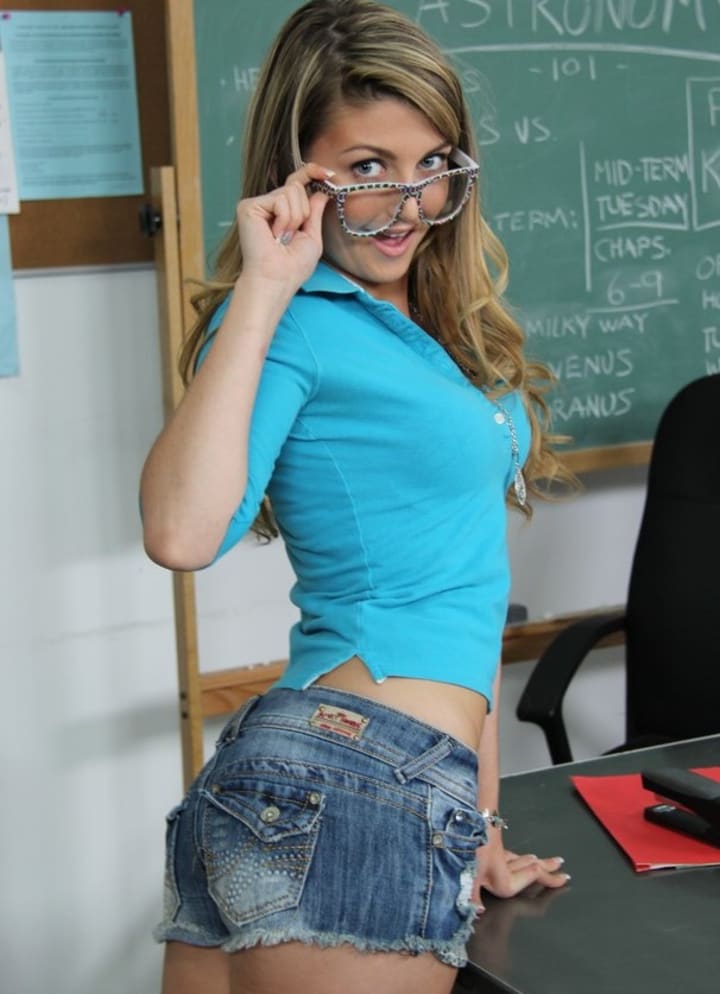 The series has been pretty consistent from it's raw beginnings (it was originally called Bookworm Bitches) and I've very rarely seen a bad episode. As the budget has increased for these type of scenes so has the quality. While I did always like the rawness of the original scenes it's good to see Naughty America trying to keep up with the competition.
This particularly scene stars a very young looking pornstar in Staci Silverstone; currently 26 years old and from Florida. The first scene I ever saw her in was a 'Devil's Pictures' scene where she played this guy's stepdaughter. The scene was pretty scandalous as Staci is fairly young looking but it still made for great entertainment. Staci did get into the porn business two months after her 18th birthday which makes her presence even more controversial but twice as hot.
Her co-star in this scene is the unheralded Alec Knight who has been in the porn business a long time. Alec is a 48 year old native of Missouri and was previously married to fellow porn star Mika Tan back in February 2004. Sadly the couple divorced and went their seperate ways back in January 2006.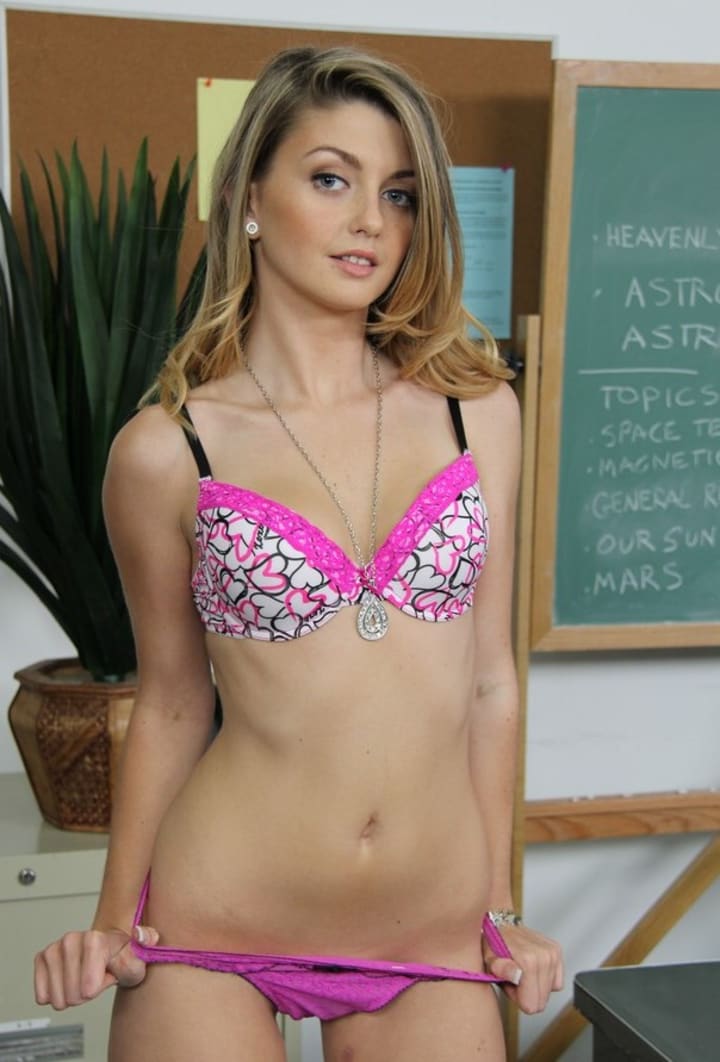 Again this scene is pretty controversial as it's a guy who is having sex with his student who is around 30 years his junior. Never the less it makes for great entertainment; the final product is a pretty decent scene.
Staci turns up at her Science professor's classroom as she was absent from his class last week. This absence has caused her to miss out on the exclusive tickets for the school trip to the observatory. Staci is guttered that she's missed out on the ten tickets which were available; she literally begs Professor Alec to make some sort of exception.
Professor Alec informs Staci that there's nothing he can do as all ten tickets have now gone. Staci really wants to go as there is suppose to be some type of 'Blue Moon' event to see. She thinks of other ways to get hold of a ticket while seductively playing with the professor's tie. She informs Professor Alec that she's willing to do anything to get hold of a ticket. It's good acting from the pair and you can really believe that Alec is Staci's teacher. As the two start smooching, Staci suggests the Professor take away Natasha's ticket; the Professor while being seduced suggests that he can tell that they over-sold. It's good improv acting by the two performers and makes for a realistic scene.
The next scene is of a seductive Staci sucking on her Professor's cock; it's gold as she looks cute and innocent as she does it. There seems to be good chemistry between the pair as they cannot seem to keep their hands off each other as they switch positions. The professor dives nose first into Staci's ass and pussy which does look really tight. When the sex does start in the 'bullet position,' the professor comments how tight it is. While he's hammering away , Staci tries to sexily play with his tie before giving up on the idea and tossing it away. The acting continues while the pair are having sex more from Staci than Alec but it's still good stuff.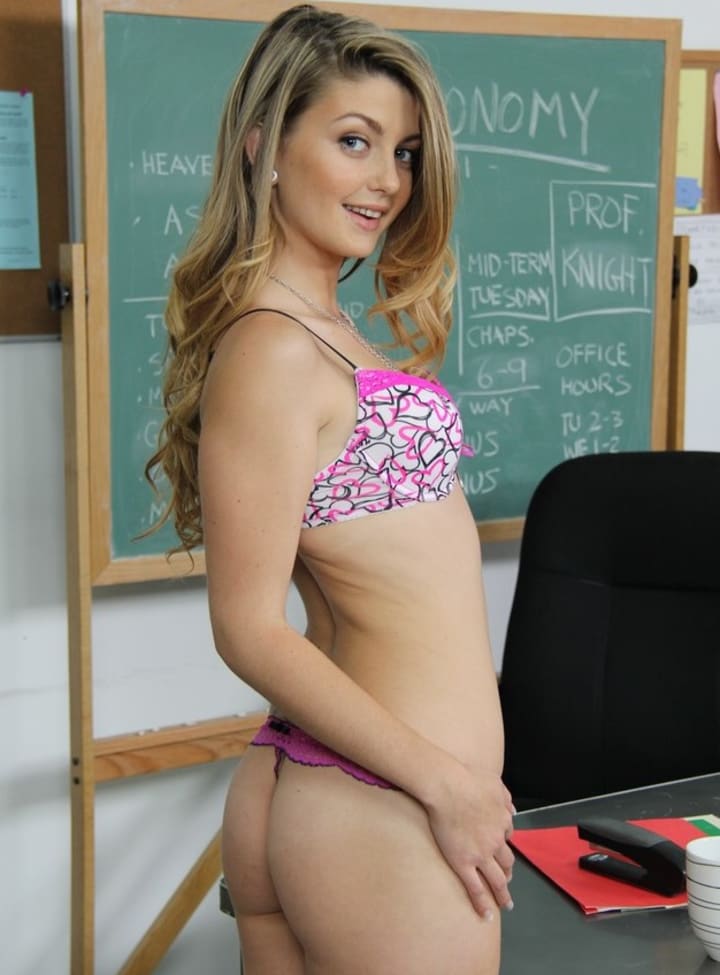 Staci seems to get genuinely turned on while having sex on camera which makes for an enjoyable scene. The best part is when Professor Alec has her bent over the desk and she asks him to 'spank her.'
It shows that the pair clearly enjoyed shooting with each other and there was good sexually chemistry. Overall it's a cracking scene; the controversial nature only adds to the provocative entertainment that it provides. I give it 5 out of 5; really good scene.
5 out of 5.