Mom, Don't Blow My Cover!
Cherie Deville and Jake Jace in a Taboo Nuru Massage Tale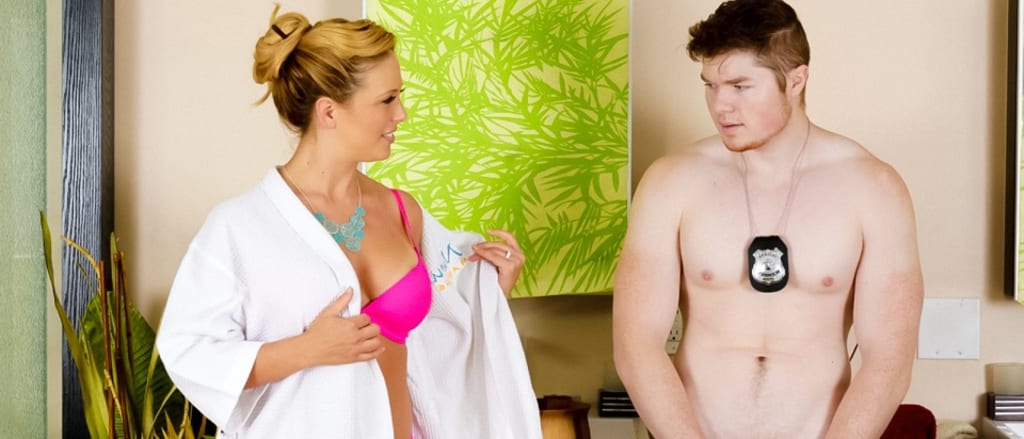 That's right, it's time for another "Nuru Massage" scene review. So strip bollock naked, get showered, and relax as we take you through this week's erotic escapade from a website that's turned an erotic Asian massage into a full blown orgasm. To their credit Nuru Massage consistently do excellent scenes with good narratives. I think their quality comes from a slow build up of strip tease to a full on hardcore sex scene with tasteful shots. I've watched a fair couple now and I rarely see a bad narrative, they all seem to be well thought out. It's available at Nurumassage although I did manage to find a copy at Whorestepmom. In this particular episode, popular "MILF" pornstar Cherie Deville gets to grips with Jake Jace in a well acted scene at the Nuru Massage Spa. Jake plays Cherie's stepson, an undercover police officer investigating prostitution activity at the Nuru Massage Spa. He does a good job as well, playing the role of confident police officer and has a good look about him. I think women will appreciate his youth and he gives a good performance when the sex commences as well. First time I've actually heard of him but it's good to see porn companies casting new actors. This is actually Cherie Deville's fifth scene for Nuru Massage and I have to say one of her best. The 40-year-old honey with 32DD-24-36 assets has been in some pretty kinky scenarios and has done some pretty taboo scenes. If you look for her online she's done taboo stuff for both MissaX and Brazzers usually playing the stepmom. This is going to sound terrible but I like her personally because she's mature with a sleazy twist. While having sex she usually has a sleazy insincere grin on her face which I find pretty hot, a very good performer and actress. Again she plays the stepmom here, Jake startled to see her working at the Nuru Massage Parlour.
Mommie's Boy...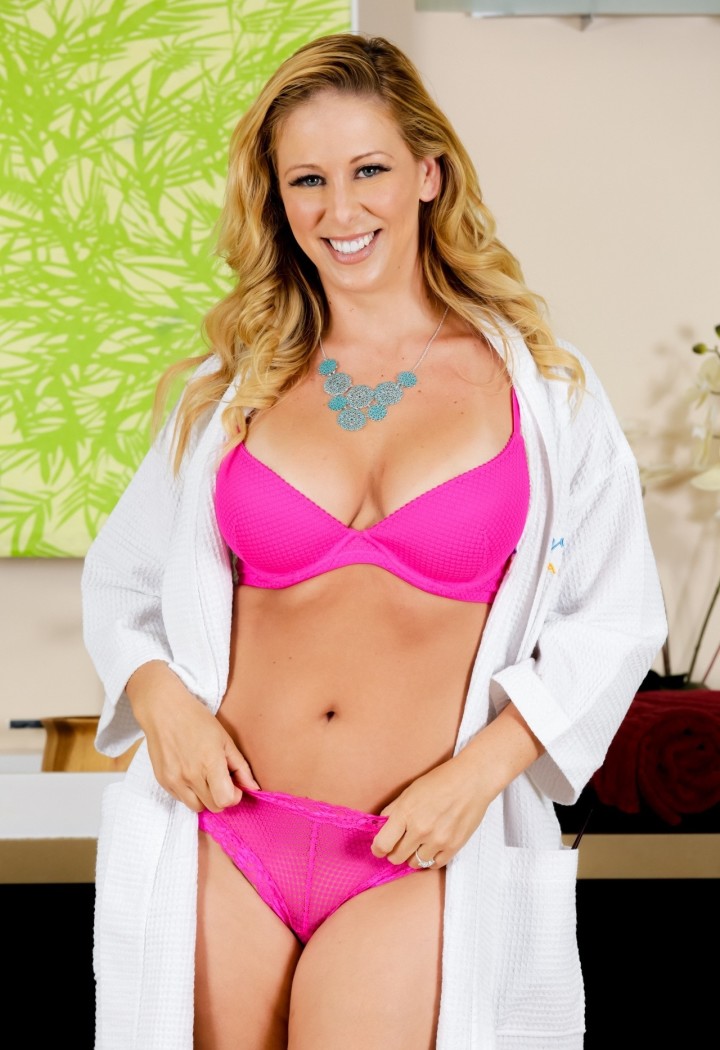 He enquires how long she's been working there and does his father know. Cherie is very dismissive of his up tight attitude towards it all, she clearly has a different attitude towards sex and what is legal. She reminds Jake that it was her who paid towards his police academy training and why he's in the police in the first place. Jake clearly enjoys flashing his badge at her even though he's suppose to be undercover he has the thing place evidently round his neck. Jake is clearly meant to be a bit dumb which makes it all the more believable that he is unable to resist his stepmom's advances. Cherie decides to try and calm him down with her Nuru Massage techniques, getting him to remove his clothes. Jake is reluctant realizing his responsibilities as an officer of the law but complies out of respect for his stepmom. Jake gets an enjoyable rub down in the shower off his stepmom which he is reluctant to receive but can't resist Cheries sexy advances and maternal coos telling him to "relax."
You've been a bad boy!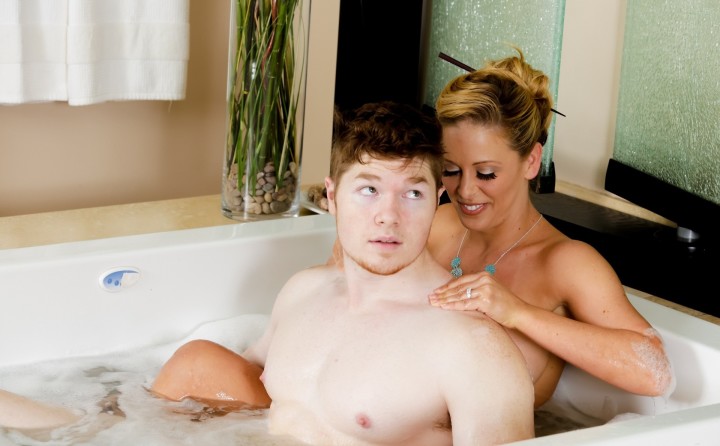 Cherie strokes his cock in the shower and Jake is powerless to resist clearly enjoying the treatment from his promiscuous stepmom. As the scene progresses to the jacuzzi tub, it's revealed many officers of law have tried to close down the Nuru establishment but without much success. They've all succumb to a pleasurable massage from the Nuru Massage staff. The chemistry and acting from both Cherie and Jake is really good. Their difference in age is pretty evident and makes the scene even more erotic. Eventually Cherie gets her stepson down to the inflatable bed and rubs her naked, oily body all over him. Jake continues to resist only to be made aware of all the cameras filming the two in the erotic clinch they're in. It's only then that Jake finally succumbs to his stepmom's advances, smooching her and sliding his cock into her from the "cowgirl" position. It's hot action and the acting doesn't stop there from Cherie. As they have sex she remarks, "What would your stepdad do if he saw us now huh? Bet he'd want to watch."
Pure filth, but great entertainment as the two move from the cowgirl position and into the spoon position. From here the sex is good and it's another quality scene from Nuru Massage. It's hard to believe Cherie Deville started with just girl/girl scenes back in 2001. The mature model has also been a ballerina, lifeguard, and a cheerleader so she's no stranger to performance. Jake does a good acting job here as well and hopefully females will see a lot more of him. I give the scene a four out of five, nice erotic build up with good sex.
4 out of 5