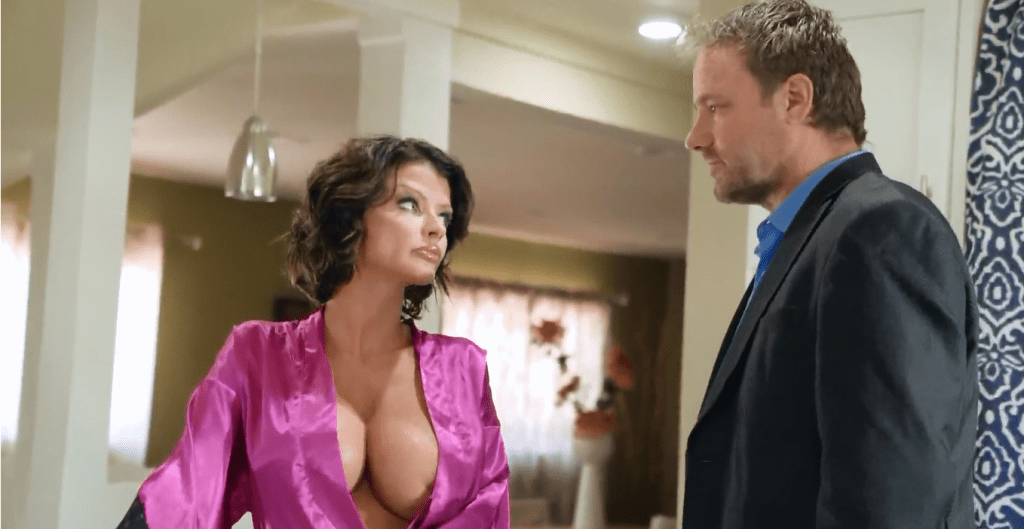 "The Tigress MILF" is back with another naughty scene from Brazzers released on the 2nd July 2018. Joslyn James is now in her forties but seems to get progressively better with age. With her model face, enhanced 34DD bust, and fuller figure, she truly is a young man's fantasy. Brazzers must have had much success with the scene "Joslyn's secret shower" as this scene plays out in a similar fashion.
Scratching the Itch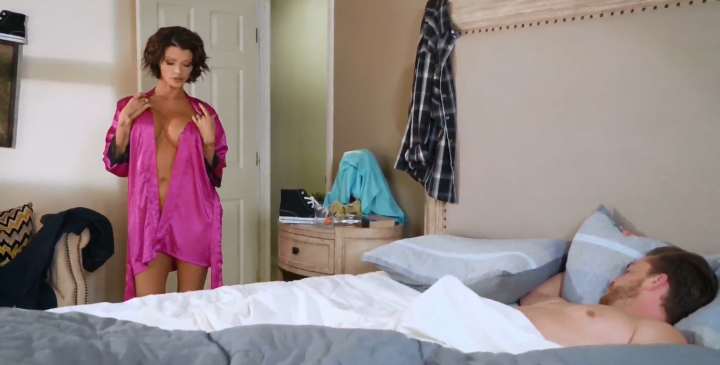 Joslyn's co-star in this scene is Kyle Mason who does an excellent performance as Joslyn's new stepson. His acting is convincing and he plays the part of the "blue-eyed boy" relatively well. He's in good shape as well, which I am sure will please female viewers. The scene begins with Joslyn in the shower masturbating, her tattooed body is a great spectacle. She also seems to be sporting a new tan, which suits her rather nicely. Her alone time is rudely interrupted by her chauvinistic husband who states "his breakfast isn't going to make itself."
Time to get dirty again.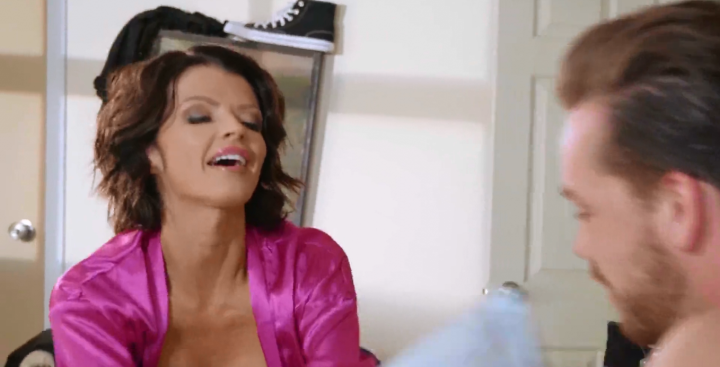 Joslyn's husband is played well by an unaccredited actor; he's both confident in his role and looks rather similar to performer Kyle Mason which makes the scene all the more convincing. Joslyn makes his breakfast, while he's eating, strokes his head in pursuit of affection. She's ultimately scolded, which leads to the conversation about their stepson. Joslyn's husband is wondering what he's doing with his time and whether or not she has talked to him. Joslyn states that they've only been together two months and that their relationship hasn't really blossomed yet. His father states he's sick of his free-loading ways and that he needs to sort his life out. It's a good set up and her husband's rudeness is good motivation for the illicit affair with her stepson.
A Husband Scorned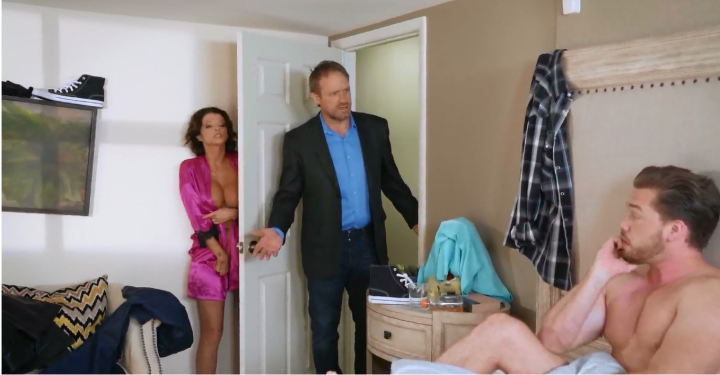 Joslyn's husband makes his rude exit for Joslyn to proceed to Kyle's bedroom for the naughty tryst. She sneakily approaches his bed and pulls back the quilt on a sleeping Kyle. He ultimately wakes up and panics at the arousing sight of his stepmom already half exposed. Joslyn states she's there to wake him up and also to tell him to "get his shit together."
When he asks for a bit of privacy, she states that she needs to see if he can follow orders. With that she gets up close and personal with Kyle, pushing her large breasts into his face. The acting is believable and Joslyn looks stunning as she plants her gorgeous pink lips on Kyle. She then proceeds to give him a blowjob, which I believe is what Joslyn James does best, at least from a visual standpoint. She does this thing where she flicks her tongue while she sucks the male performer's penis. Here she adds some good audio cues, generally stroking Kyle's ego like good female performers do. It's great when Joslyn finally gets fully naked though and we get to see her shape in action. The scene is 35 minutes long in total and the director seems to want to get in as many positions as possible. Kyle's father interrupts them at one point to which Joslyn's hides behind his bedroom door. His father's continued arrogance adds to the tension and while he scolds his son, Joslyn is exposing herself to him behind his father's back.
You're in bother now.
My particular favourite is when Joslyn is fucking in the cowgirl position while pressed up against the headboard of the bed. She seems to have a couple of new tattoos on her body as well, think I saw a frog somewhere. Her body looks that good. I think most blokes actually envy Kyle when he gets to go down on her, I know I do. The gap in age adds to the naughtiness and taboo of the scene; Joslyn, although glamorous, gives off a maternal vibe due to her age. The fact that she has a more "friendly" approach to Kyle's lack of motivation is equally arousing. Other positions like "the spoon" and "doggy" are done filmed well. There's enough here for the men and women I think will be satisfied with Kyle's performance as well. The scene ends with a literal and figurative bang that I won't spoil for fans. Better than her last scene, but fans might have wanted to see something different this time round. I give this scene 4.5 out of 5, visually well juxtaposed scene with "celebrity porn performers."