Hottest Porn Stars to Follow on TikTok
Love seeing fun clips of your favorite porn stars while you're on your lunch break? Check out this list of the hottest porn stars to follow on TikTok.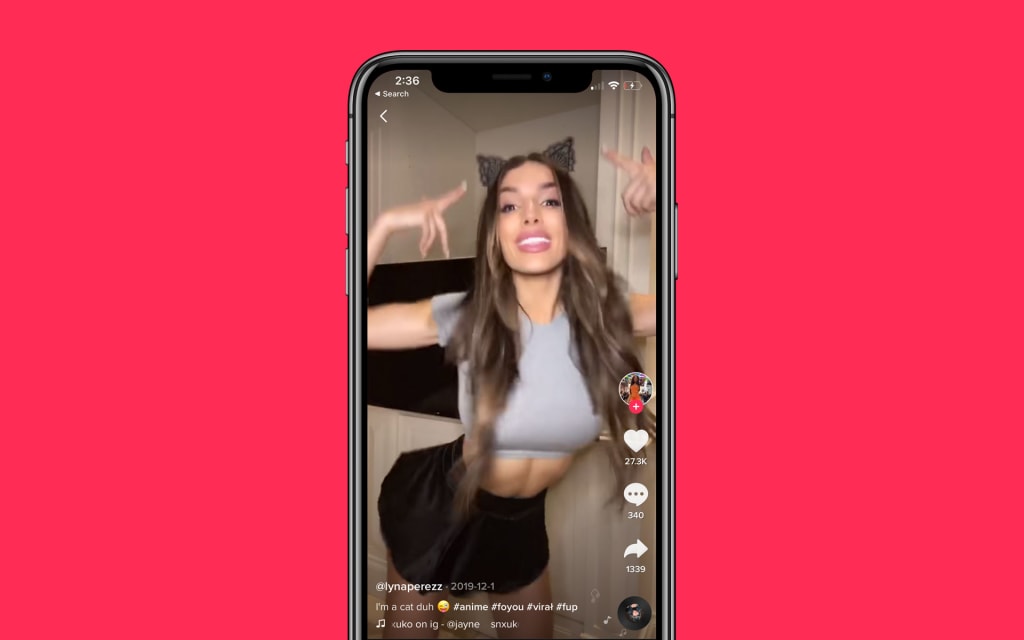 TikTok is one of the fastest-growing social media platforms in existence thanks to its first major introduction via a viral challenge. It's a platform known for getting people to do hilarious short video clips with the help of video editing software, and truthfully, it's fun for everyone.
Though TikTok is known for being more kid-oriented and having a very strict enforcement on content deemed unsafe for work, there's a little secret most people don't know. Porn stars are on the platform, too!
Want to follow them and check out their goods? Take a look at the hottest porn stars to follow on TikTok.
Laci Kay Somers
Laci Kay Somers might look innocent, but trust us, she's anything but! The busty blonde has long been known for her love of all things social media, and now that includes TikTok, too!
Her account is filled with interesting shots of her hanging out with her friends, flaunting her sexy body, and occasionally trying on new outfits. If you're a fan of seeing girls enjoying their life as girls, you will enjoy Laci's flirtatious TikTok material.
Violet Summers
Or, if you're more into brunette porn stars with beautiful behinds to boot, chances are you've fantasized about Violet Summers at least once in your life. When she's doing porn, she looks amazingly sexy, always bringing the heat.
When she's on TikTok, she's a sexy kind of nerd. Viewers will get to watch as she dances in skin-tight leggings, enjoys life in the gaming scene, and geeks out. What could be better than that?
Dani Daniels
A true veteran of the porn scene, Dani Daniels is a woman who needs no introduction. She's been the dreamgirl of thousands of men and women, and rightfully so! She just knows how to tease and please.
The blue-eyed brunette enjoys making humorous posts, featuring throwbacks to old school movies, 90s trends, and funky filters. Even if you're not a porn fan, you'll end up loving her work!
Kindly Myers
Kindly Myers is a relative newbie to the porn scene, but that doesn't mean she can't rock it like a veteran. She's got everything that people love: a great personality, full lips, silky blonde hair, and a figure that just won't quit.
While some porn stars might be down to stray from the sultry vibes of porn, Kindly Myers keeps it hot as hell. Expect to get hot under the collar here!
Bronze Goddess
Who doesn't love a beautiful, kissable tan? If you're like the rest of us that fit this bill, you're going to fall in love with Bronze Goddess. Known for her deep tan, her love of BDSM, and the uniquely powerful way she acts on cam, it's easy to see why she's got tons of fans.
Bronze Goddess's TikTok tiptoes the line between SFW and risque, which might be why so many people are checking her out every single day. She really knows how to bring those goddess vibes to life. Can we get an amen, here?
Lyna Perezz
Lyna Perezz, also known as "Lynaritaa" on TikTok, was recently cited as one of the hottest Latina porn stars in the industry. Her petite body, expressive brown eyes, and gorgeous legs are what's to blame.
The fiery Latina sweetheart really shows her sweet n' spicy personality on TikTok. Expect plenty of clips involving cute dance routines, her adorable pup, and her awesomely snarky sense of humor.
Kitten With Dabs
Now that cannabis is getting legalized throughout the states, girls are starting to cater to a new type of kink: stoner girl fetishism. Kitten With Dabs is one of the hottest 420-friendly ladies you'll see in the industry.
Kitten With Dabs, also known as cutelilkitten, is a member of the new vanguard of sexy porn girls known as egirls. If you're a fan of super-cute, alternative ladies with juicy behinds, you're going to fall head over heels for her TikTok content.
Rusty.Fawkes
Her porn name has a subtle nod to Guy Fawkes, and her porn style has a pretty strong lean towards anime culture in general. We're talking, of course, about Rusty.Fawkes, one of the sexiest porn star egirls to hit the TikTok tidalwave.
Her TikTok account is chock-full of ahegao faces, anime references, and video clips of her acting cute as a button. Once in a while, her feed will have a special guest star… in the shape of a waifu pillow... Kawaii, desu ne?
Bree Louise
With her gorgeous brown hair and large, sparkling eyes, it's not surprising that Bree Louise has been gaining so much traction with her work in porn. She's a natural in the spotlight and a hardworking gal.
To help give her fans even more content, Bree recently started up her own TikTok account. The results have been absolutely phenomenal. It's a little bit of humor, a lot of sexy outfits, and all fun all the time!
Billie Beever
Billie Beever isn't just one of the hottest porn stars to follow on TikTok; she's an actual spokesmodel for the Be A Bimbo Clothing movement, an adult film star, and an advocate for sex workers' rights! This beautiful porn star with bigger brains than you has gained a lot of love on the net for her avid support of fellow models.
On TikTok, Billie adds her own unique flair to content creation. Often touching on subjects involving sex, relationships, and fashion, her work is just as thought-provoking as it is hot.