Hot Summer Bods 2021 Pt. 6
The Hottest Summer Ever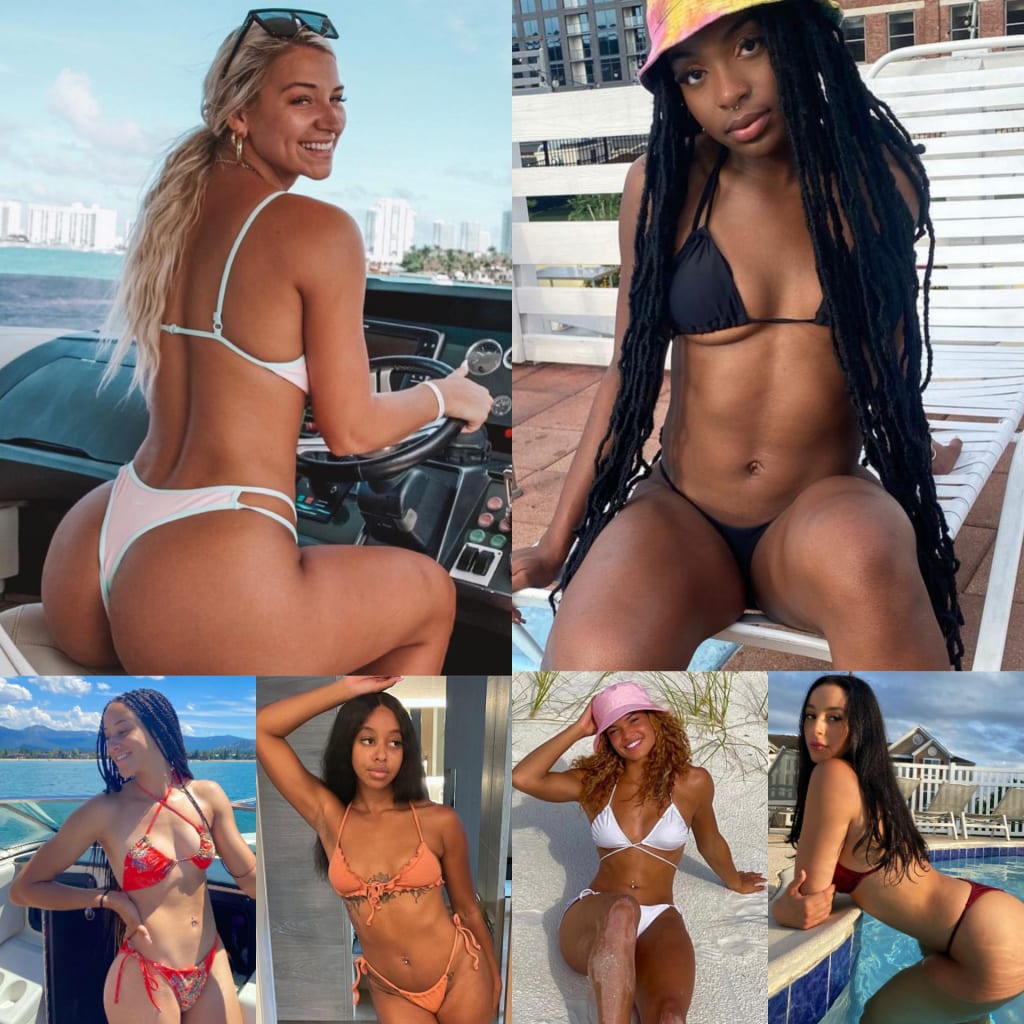 Brooke, Victoria, Ceonna, Lexie, Michelle & Caitlin
Victoria Abunaw
After starting her college career at the University of Akron, Victoria Abunaw transferred to Cincinnati where she competed in 2020 and 2021. She earned her first win of 2021 at the University of Akron Campbell Invitational where she won the 60-meter hurdles during the indoor season. She kicked off the outdoor season with a win in the 100-meter hurdles at the Oliver Nikoloff Invitational. Abunaw placed third at the Clark Wood Invitational before running her best time of her career at the American Outdoor Track & Field Championships 100-meter hurdles prelim where she qualified for the final at 13.70.
While at Springfield High School, Abunaw was the state runner-up in Ohio in the 100-meter hurdles.
Ceonna Pipion
During her first collegiate season, Ceonna Pipion scored some wins at Fresno State. The freshman won at the Cal Poly 4-Way meet in the 400 meters. She also won at the Wildflower Invitational in the 400-meter relay. At the Fresno State Invitational she was a runner-up in the 400 meters and second in the 400-meter relay at the West Coast Relays. Pipion qualified for the 400 meters finals at the Mountain West Championships. She had her best placing in the 1,600-meter relay at the conference championship, where she nearly medaled in a fourth place result.
Prior to college, Pipion, a native of Folsom, California, was an All-American in the 400 meters at the USATF National Junior Olympics.
Michelle Lehmann
Michelle Lehmann has been named Academic All-Mid American Conference and recently graduated from Ball State in May. As a member of the Ball State track and field program she scored points at the Mid American Conference Outdoor Track & Field Championships placing fifth in the 100 meters final and sixth in the 200 meters final. She was one fourth of a very successful 400-meter relay team in 2021 that earned first place finishes at the Blizzard Buster, Vanderbilt Black & Gold Invitational, Bob Harris Open and Rocket Invitational.
Lexie Brown
If we have a Hall-of-Fame for Hot Bods Lexie Brown is first ballot. She manages to make our list every season and we don't see her not making it in the future. The 26-year-old made her 2021 debut in the WNBA with the Chicago Sky on June 1 against Phoenix where she posted four assists and just one turnover. In her first eight games Chicago is 5-3. She shot a season best 2-4 from three in a road win over the New York Liberty. So far she has recorded 11 assists and only three turnovers.
Caitlin Cooper
Like Lexie Brown, Troy volleyball star Caitlin Cooper finds her way to the Hot Bods feature season after season. Her body positive Instagram photos are as good as it gets in the world of social media. During her most recent season the 6-4 middle hitter recorded a career high 1.07 blocks per set. Cooper recorded a season best nine total blocks against Appalachian State. She also recorded 10 kills with a .529 hitting percentage in that match. Cooper recorded at least 10 kills four times last season. Her season high 13 came against South Alabama.
Brooke Thomas
Brooke Thomas has sprinted for Oklahoma State where she competed in the 60 meters, 100 meters and 200 meters. She ran her best 60 meters of 8.01 at the Texas Tech Shootout in 2019. As a high school athlete at Tahlequah High School in Oklahoma she was an all-state performer in the 100 meters. She also was also one of the best relay runners in Oklahoma medaling in the 400-meter relay, 800-meter relay, 1,600-meter relay at the state meet. She was also an all-state volleyball player.