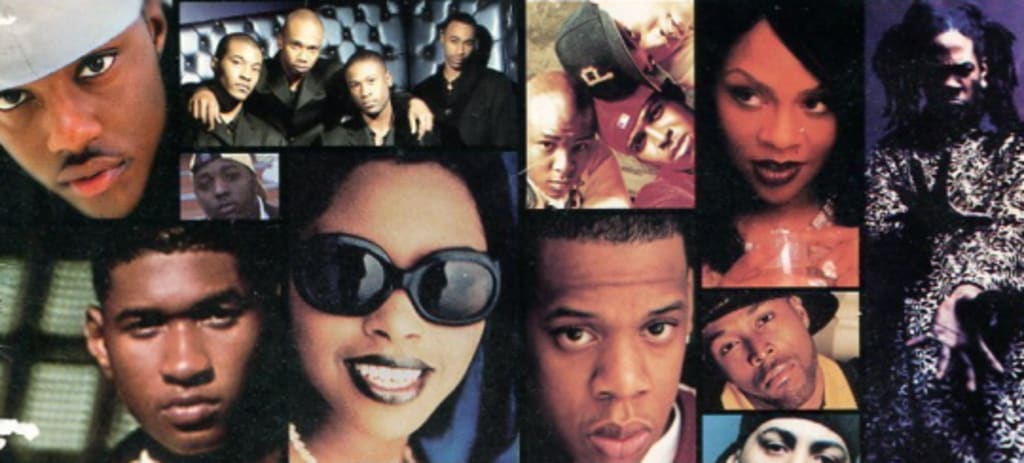 Hip Hop Night's Episode 1 Pilot By Brian Salkowski
•We pan to Jersey City on a rainy cold winter day. All cast members are dressed in black displaying their angst over Whitney Houston's "supposed" overdose. As the funeral progresses, the paparazzi on hand, Jersey and NYC police show up. As the funeral ends, Mary J Blige is cuffed, ordered to godown to the station to answer questions. Once at the station, Detective Sanchez informs her of a recording that was obtained from the day of Whitney's Death. The voicemail was 15 minutes prior to Miss Houston's death. It's a vocal recording of Mary stating that she will be meeting her in 10 minutes. Photos of her and DMX at Club 47 on 7th Ave the Tuesday prior to Whitney's death, is a VIBE magazine party. (Unknown to the audience, Faith Evans has orchestrated this meeting, along with supplying Earl (DMX) w/ crack cocaine to subtly place it in Mary's Fendi Clutch). Prior to this, Earl gave a paparazzi(RuPaul cameo in full drag) money to snap a photo of Miss Blige and him. It's clear that Faith & DMX have successfully set their plan in motion.
On the day of the funeral the hip hop and R&B community are grieving the legend and then shocked by the police arresting Mary. As Mary is publicly humiliated, she was walked to a squad car and turns and sees Faith Evans wearing a smirk. She puts out her cigarette and goes into the service. Those present are Bobby Brown, Bobbi Kristina, Janet, Latoya, Aretha, CeCe Houston, the Winans, Dionne, Patti LaBelle, Kevin Costner, the cast of Hip Hop Nights, the cast of Waiting to Exhale, including Larenz Tate whose a shoulder to lean on for Mary.
Later
Brooklyn NY
Melody Restaurant
•After the funeral, camera shows the image of a music note 🎵🎶in a store window, above it is saying "Melody". Melody Restaurant is owned and ran by none other than Faith Evans. In the back of the establishment, Faith and DMX just finished having sex on her desk. "oh, that was incredible. Who knew setting up that bitch would want me to suck your big cock" DMX slaps Faith across the face.
"Shut your slut mouth up bitch. You think what the fuck we just did is fun? We are about to destroy an innocent woman." Faith, filled with fury stands face to face with Earl. She slaps him right back.
"You son of a bitch first of all don't you ever lay your hands on me again. Second if I'm not mistaken this plan would not have been neutralized if it weren't for your part. Spare me the moral outrage of what we did. You've been telling me for months that this is exactly what Whitney deserves." (Unknown to the audience, Earl and Whitney while on a crack and alcohol binge, had a brief affair the year prior. DMX fell in love. Whitney just wanted good coke and sex. DMX became obsessed with Whitney) "It's what she deserves but at Mary's expense?" Faith lights a cigarette and chuckles. "Yes, at her expense. Do you know what it's like when customers come in here and after I greet them & show them my signature music note cupcakes, they ask "How is Mary? Where is Mary? Are you and Mary cool?" Do you know how fucking humiliating that is?
DMX laughs. "We are two fucked up people. You think it's going to work?"
"Don't tell me you're starting to feel guilty. What a pity. You got to get over it though. Things are finally on the track."
Earl looks out the window, guilty and conflicted.
The Hilton Hotel
Manhattan
•Miss Nicki Minaj checks into the Hilton Presidential Suite, her 15 Lou Vuitton bags, and one Fendi dog carrier, with a lil yorkie, whose shrill bark is annoying the staff. After her luggage is brought to her suite, she makes a phone call to Drake, he shows up with a bottle of Cîroc and asks for glasses. After filling both, she pours her glass down over her cleavage, Drake goes in for the kill and begins licking the booze off her breasts. After fucking like rabbits, they have pillow talk in which Drake asks Nicki what her plans in NYC are? She straddles him, and slides down his throbbing cock, saying "You'll see, daddy. You'll see. I'm about to take over NYC. But more importantly, I'm going to take over the world." She leans up and removes her bra exposing her fresh new set of breasts. Sex ensues.
•Meanwhile in the studio @ Def Jam Records, long time collaborators and friends, Jay-Z and Kanye West are disputing over a track, Beyonce walks down draped in a Dolce & Gabbana diamond laced gown, after coming back from a Vibe party celebrating women in hip hop, R&B, and Soul. She interrupts the arguing by announcing she is pregnant. Jay-Z is elated and responds, "Hopefully, our Blue Ivy will have herself a brother. This is wonderful, B." She smiles contently, the perfect couple, happiness seems to shine on them. It gives the audience a sense of affection for this super couple.
"Charlie's Hair Did"
West Philadelphia
•Little do they know a dark cloud looms in Philadelphia as the camera pans to "Charli's Hair Did" beauty salon, as Inga Marchand enters to reconnect with an old friend, Charli Baltimore. Charli realizes that Inga seems a million miles away. She inquires as to if it has anything to do with Nas, and their island getaway. Foxy replies, sighing, "If only that were the case." Charli continues to probe her, but Inga remains evasive, asking Charli to get on a track with her. "Charli, right now things are all sorts of chaotic. Kim and I have made tentative peace, but things around me are falling apart. I wish it was just Nas. You my girl, you my friend, and I need your support. I bought a plane ticket for you to come back to NYC. The game, and ya girl needs you. You down." Charli naturally asks about her boutique. "I can't just leave the boutique." Inga drop 15,000, and looks to the manager Roxy Bolsom, an ex Glenview exchange, "You got this blondie?" Roxy smirks and nods. The duo make for Philadelphia Internatinal Airport
Brooklyn Perk
Brooklyn, NY
•At a coffee shop in Bedstuy, Kimberly Jones sits across from manager, Big Hill. Kim is going on a rant about Wendy Williams "That bitch had the gal and audacity to call me out in her Hot Topics. That bitch is like a dog with a bone. She needs to be taken out back and put down. I'm sick of that ho always up in my shit." In a dark maternal yet husky tone, "Kimmy, I told you that this is part of the industry. The main concern we have is Nicki Minaj. My sources informed me she checked into the Presidential Suite of the Hilton. I know since her career has skyrocketed, she's been bicoastal. Her presence in New York makes me uneasy, to say the least. She's a threat, Kim, a major threat. Focus on that, Wendy is just an irritating fly. You catch more flies with honey than vinegar. Turn the cameras back on them, I'm arranging your guest spot on Wendy for Friday." Kim cocks her face, raising an eyebrow "What the fuck Hillary? You're not only sending me into the snake pit, but you're also asking the Queen Cobra herself for an invitation. Do you really think I'm that masochistic?" Hillary, in maternal defense, "Kimmy, how many times do I have to tell you can't combine personal feelings with business. If you can't stand Wendy Williams, you're duty is to go on that soundstage, smile, be sweet an polite. And flip the script. You've got the charm, the know-how, and the gumption to get it done. Lastly, it's been the collaboration that Hip Hop has been waiting for in baited breath. You and Inga, this Thursday in the studio. Get it done, girls. Inga is thoroughly excited as you should be."
Eastside Manhattan
Evans Medical Plaza
•We pan to Dr. Marlena Evans, an upper eastside stuffy, maternal, sympathetic psychiatrist who has her own "celebrity" client, Amil. Amil starts on the bitchfest right away. The moment her head hits the couch, her tirade begins.
"Foxy, Foxy, Foxy!!!! Ill Na Na Entertainment is going global. Gavin's LP went number 2, she signs AZ. Kim and her are slated for the most historical and anticipated collaboration of the past decade, and where am I? SHELVED!!! ALL I AM IS A FUCKING SHELF, A COLLECTOR OF DUST!!!! WHAT'S YOUR TREATMENT TO THAT DOC? YOU QUACK ASS CRACKER BITCHES HAVE NO CLUE WHAT ITS LIKE FOR A SISTA!!!! I DON'T KNOW IF YOU CAN IMAGINE THIS, BUT I WAS SELLING MILLIONS OF RECORDS, I WAS WEARING PRADA & GUCCI. I WAS DOING THE "JIGGA WHAT WHAT" VIXEN ACT, I HAD IT ALL. JA RULE FUCKED ME ON THAT VIDEO SET. I WANT IT BACK. WHATS YOUR FUCKING PROTOCOL?" A look of disgust and concern paints Dr. Evans face. She curtly responds. "My protocol first and foremost is to take a breath. Miss Largon, I'm going to increase your Xanax and Librium. Two sessions a week as well. Your subconscious feelings of abandonment and rejection has made you go on a uncouth power trip. Frankly, it's all in your mind. Face the fact that your spin on the merry go round is over." Amil stands up in fierce defense then she SLAPS her shrink across the face. "You fucking lying bitch! For weeks you have been spoon-feeding me lies. Saying that I will get everything I want as long as I get therapy and motivation blah blah blah" Dr Evans tries to compose herself as Amil grabs her by the shoulders. "This time I'm doing things MY WAY BITCH" Amil storms out leaving a visibly shaken psychiatrist sit down on her own couch pulling out her voice recorder pressing record "Case #2314 after weeks of unsuccessful treatment, 2314 is terminated"
2 DAYS LATER
MELODY RESTAURANT
BROOKLYN, NYC
•A cheap television in the back room turned operation center of "playing Operation" between these 2 New York City hip hop artists, Faith and Earl look on at a pencil like studious reporter:
.... POLICE MUM NO MORE AS AUTHORITIES OF NJ STATE POLICE CONFIRM A 2ND AUTOPSY OF MISS HOUSTON WAS DONE AFTER NEW EVIDENCE EMERGED...14 GRAMMY AWARD WINNING SINGER MARY J BLIGE WAS CHARGED WITH SUPPLYING & CREATING A DEADLY DOSE OF CRACK COCAINE. ANONYMOUS SOURCES CONFIRMED VIDEO & AUDIO OF MISS BLIGE'S ACTIVE ROLL IN THIS STUNNING TURN OF EVENTS.....WHEN BOBBY KRISTINA TRIED TO TALK TO CHANNEL 8'S LORI LOFT, SHE COLLAPSED FROM A SEVERE PANIC ATTACK
The television is shut off by Faith as she sits in her novelty red chair in the shape of lips.
"That fucking bitches daughter overshadowed my press!" Faith is frazzled. She is holding a glass of Whiskey, finally finishing it in one angry gulp. Earl has been mute in the corner, infuriating Faith.
"And you...what the fuck is wrong with you" she ignorantly spurs. She notices a little tear falling from X's eye making Faith roll her eyes.
"I can't believe she is gone. We were supposed to see each other at the hotel" He looks up and sees that he is alone. Faith left.
Hilton hotel
Manhattan, NYC
•At the Hilton, Nicki is looking at various outfits courtesy of Gucci, Louis Vuitton, Fendi, Dior; brought by her stylist Cecilia. The flat screen was echoing the same news Faith was just learning of stopping Nicki in her Fendi slippers.
(TV Female Pencil interviews stuffy specialist in peculiar murders)
... "So doctor let me get this straight you are saying a fractured relationship with someone in the same industry can lead to such depravity?..... Hahaha (husky cough laugh) if only that simple my budding little liberal. (Blonde pencil rolls her eyes) When females are in the wild they are extremely threatened by each other with the proliferation of expired feminism and the promotion of not just needing no man around but no conviction, it made a bomb go off. This Superstar trapped in her bubble, her ideological isolated world in jeopardy, had to eliminate the risk on a primal level."
Nicki is in awe at the enormous amount of press this case was getting when she hears the door knock assuming it's Drake coming back for more of her personal "shake".
"Cecilia Cecilia God damn it would you get the fucking door! I didn't negotiate your wage for your services to sit there like a garish lamp!" The servant, a mix of midasia and Puerto Rico descent, subserviently obliges.
"Yes miss Nicki yes miss Nicki." She speed walks over to the door to open it to the Canadian former teen actor, but instead, the greatest man of caramel flesh NYC hip hop has took his place. Nasir Jones. His fresh but young assistant stood behind the rap icon noticing Nicki letting her breast slowly show itself from behind her robe. Nas & Nicki exchange a pleasant yet sexually charged look.
"Nasir! Aren't you a snack." Nicki makes her signature lady squeaky laugh as he enters the room, assistant following. Nas is smooth with his swag. He subtly nods his head at his assistant to give him a minute. He points to the door and she exits the room.
"Nicki it's been awhile. How you been?" Nicki saunters over to the MC God. She begins kissing him passionately confirming to the audience the sexual tension did exist.
"Yo girl hold on hold on...I want to talk to you for a minute woman." Nicki don't want words. She wants cock. She rubs her hands down his muscular arms, grabbing his hand and putting it on her ass.
"Shut the fuck up ______ and let me get that dick first." Nas gives into this Cardinal urge as she pushes him onto the couch, subsequently ripping his shirt off and giving him oral sex. "You wild as fuck" he muttered leaning his head back.
Elizabeth, NJ
The Estate of Miss Mary J Blige
•(Mary has spent the last two nights in the local jail. She would have got released the night she got arrested for the bogus charge if her lawyer wasn't on vacation. Mary and her lawyer walk into the estate.)
"Look I am no cookie cutter white girl. I was able to handle a New Jersey county Jail, but Richard, I don't pay you to take vacations while I'm being charged for a crime that I didn't commit." Mary was exhausted but just glad to be home. Her lawyer worked out bail. He profusely apologized to her. There is a court date 3 weeks from now for the state to present its evidence for the death of Whitney Houston. Mary's long time house maid came to her with a bottle of water.
"Thank you Chen. Can you get Richard a Brandy" her maid scurried away. Mary fell into her plush leather couch.
"I feel like I can take a shower for a week. All right Richard no preamble. Am I fucked? And who the fuck would want to set me up to do this?" Richard sat next to the soul diva.
"Apparently the district attorney told me that there is some recording of you saying that you were going to meet Whitney that night."
"I fucking told you down at that snake pit. We were supposed to meet I called and I left a message. Then I went to her room. I knocked there was no answer. I turned around and went home." Richard, while being a prestigious upper East side attorney for celebrities, he still had a look of worry. Mary picked up on this instantly.
"Richard I don't like this and I don't like how you look right now so just tell me what the fuck is going on?"
"Mary. I wanted to wait and tell you that you didn't get too emotional near all them officers. My sources tell me they found your purse in her room with leftover crack cocaine and at the very same cocaine that was in her system and responsible for her death. I told the DA that it's impossible. Then he pulled out the purse and the crack in a plastic bag." Mary felt her world slowly falling apart. She stands up, throwing her water against the wall.
"So I am being set the fuck up! Jesus fucking Christ. I didn't even want to go see her that night. The only reason why I went was to talk to her about...." Suddenly Mary started to put things together. Her lawyer was curious.
"Talk to her about what Mary? Mary?" She was pacing back and forth in the living room.
"Go home Richard. I'll be okay. I'm going to take a shower and sleep for a day. Keep me posted." Richard didn't know how to take all of this. He told her to have a good night and left. She pulled out her phone to call Earl (DMX). No answer. He was too exhausted to investigate any further. She retreated to her bathroom and then bed.
Wendy Williams Show
Green Room
Manhattan, NYC
•Kim and Hill are in the green room, patiently waiting for the urban gossip queen.
"Hill I don't know about this. That woman is a viper!" On cue Wendy walks into the room.
"I was called that so many times. But to my face Kim. How are you?" Her tone was condescending and Kim and Hillary knew it.
"I'm good All things considered. Wendy before I go out there I have to say what you did and said was fucking bullshit. I always thought we had an understanding before I came on the air? " Wendy laughs making Hill unsettled.
"But Kim that was the radio this is television it's a totally different medium." Big Hill stands up.
"So what you're saying is it's the medium to flat out ambush people, behind people's back" Wendy looks at the intimidating manager.
"Hill I got this" Kim says as Wendy is quick to reply.
"No Kim. Let her speak." Wendy insisted. Big Hill is filled with overprotective fury.
"Look and listen talk show host. The way I see it there would be no Wendy Williams or no Hot topics if it weren't for my client and the genre she represents. Now I can bounce you from caviar to chip dip, limousine driver to hack cap. You catch my drift? Knock off patronizing and let's just do this." Wendy is taken back by Kim's Manager's "tell it like it is" demeanor.
"Hillary. I didn't think you had a backbone so strong. Okay you're right." She looks at Kim.
"Kim I'm sorry about what I said but don't worry, I promise. No ambush. No sandbag." Kim looks at Him and then back at Wendy. She smiles and in her helium tank voice goes to hug Wendy.
"Oh Wendy I'm so glad all that's cleared up. We go way back." Hill removes the two, reminding Kim that it took 3 hours to do her hair.
"Oh Kim I have to ask. Any word on Mary?" Hill took all she can take.
"You duplicitous bitch did you not just understand what we just..." Kim cuts Hill off assuring her it's ok.
"Wendy my God. You heard too. No. Nothing. I tried reaching out many times all I got were voicemails & empty text messages." Wendy wears a frown as she leaves the room reminding Kim she has 9 minutes until airtime.
Hilton Hotel
Presidential Suite
Manhattan, NY
•After a quick collage of intense and Savage hardcore fucking with slaps & moans included, between Nikki and Nas, they are now both laid out on the California King. Nikki is bare ass nude as Nasir has the sheet covering his manhood. Nikki crawls onto his chest, rubbing her nail in between the erogenous zones.
"Oh QB that must of been a record. You made me cumm 3 times." Nikki was satiated.
"Yea? Well your a hard woman to please. I'm glad I can be of service." This made Nikki make her Disney laugh.
"And you... Your just.." she feels his erection under the sheets.
"Fuck! A n****a with stamina, let me take care of that escoooooo" Nasir smiles but stops her quickly.
"Wait you saying that Canadian exchange student don't hold on?" Nasir is referencing Drake of course.
"Oh shit. Let me give that throbbing cock a morning greeting. And FYI... Drake is a business arrangement. And from what I see he isn't here. Now you lay back and let momma suck you up." The prelude to fellatio began again. By the end of that day, they would have sex another 4 times.
Later
Melody Restaurant
Brooklyn, NYC
•Faith Evans is entertaining a table with her cupcakes in the shape of a music note (it really was a hideous site but she is the ex wife of BIG and you just nod your head and agree it's beautiful) as a tap on her shoulder alarms her. It's Mary J Blige. Faith turns around and is frozen.
"Mary! What the fuck do you want? Your not on the run are you?"
(Unknown to the audience faith is extremely worried about her presence.)
"Faith I'm not here to fight. Is there somewhere private to talk?" Faith Evans is 2 feet away from a woman she has hated for over a decade & campaigned to frame recently. She plays it cool, determined to keep up with appearance.
"Sure, follow me." They walk past the dinning area and behind the register. She opens the door to her private office. Pictures of her and biggie and a host of other R&B stars and starlets paint the office room. There's another door but that is only reserved to the operation her and DMX share. Faith tells Mary to have a seat as she goes to a makeshift mini bar.
"Bourbon Mary?" Faith knows about Mary's alcohol issues. Surprisingly Mary is well prepared for Faith's petty exploits.
"Sure make it with no ice. Look I came over here to talk to you about Earl. I know you and him have been "friendly" now for awhile, or at least that's what the press says" Faith is furious inside, but has a good handle on not showing it. She rather throw this drink in her face than serve it. She hands the drink to her, sitting back at her desk.
"The press! Hahaha. You should be very familiar with how the Press monopolizes things. I assure you whatever they have been saying has been greatly exaggerated. He is a good lay." Mary is quick.
"So that's a yes and Faith drop the preamble's there is no cameras here" This was the office of Faith Evans inside the restaurant owned by Faith Evans. She didn't like the tone.
"You never know. Maybe I should have had security check you before coming back into my office. What the fuck does my relationship with Earl have any concern to you?" Mary stands up after downing the drink.
"The concern is my life you condescending bitch! I have a strong suspicion that he has something to do with my arrest and the claim that I had something to do with Whitney's overdose. Also, its no secret that me and you are not fond of each other but I would certainly hope you would not want to see another sister be taken down for something she didn't do?" Faith laughs a bit.
"Your assessment would be wrong then. To the question of you being responsible, I don't really care about that. Now seeing you rot in prison might make my day. I would even say possibly elated even but at this point in my life I don't need any added drama. So of course I wouldn't want to see you punished for a crime you didn't commit." Inside Faith was smiling. Mary was not feeling where this was going.
"Oh so the passive aggressive approach takes center stage. Faith look. We're not 22 anymore. We both came a long way from Uptown and Bad Boy"
(Unknown to the audience faith has been holding resentment against Mary for assuming that she was going to be on the same level of her career-wise only to see Mary succeed to the highest level without the help of Puffy & Bad Boy)
Faith is secretly clenching her fists as Mary continues.
"And you should understand more than anyone what it feels like to have their whole world feel like it's slipping through their fingers." Faith is indignant.
"What the fuck! So your comparing your current legal plight to what exactly? The loss of my husband? The loss of my ability get signed to a good deal anywhere.?" Mary makes her signature squinted eye look.
"Faith what are you talking about? We all know what happened back then. I left bad boy under my own volition. Why the anger towards me?"
"Anger? you call this anger? I'm not angry at you. I'm just shocked. We were a force together. We both did each other's background vocal on both of our most successful albums. And what happened? your fucking record went to the top while mine, the very same album you were fucking featured on, (Faith was almost petulant in her scorn) it sold poorly or "lack of promotion" and you were high on God knows what to do any kind of promotion with me" Mary is perfectly okay with admitting her own faults, but faith is being ridiculous.
"Is that what this is about! I did not do enough press junkets with you? We were label mates for 5 seconds. We weren't exactly equal collaborators."
"We weren't equal to anything you got that right." Mary goes face to face with Faith.
"If You have something to say just say it. I'm not going to play guessing games with your buried resentment." Faith couldn't counter that with words because unfortunately it was true.
"I left bad boy and you continued to make records. did you ever think it wasn't me, it wasn't puffy, that maybe it was you? Maybe you were the reason for your lackluster sales."
" Meaning..." Faith is defensive.
"Do I have to spell it out for you? Instead of letting the personal life be expressed through song you let it effect your work. You're unsuccessful ride had nothing to do with me you insecure bitch! Maybe you just WEREN'T THAT GOOD!". The words. Those 2 words haunted her. Not Good. Faith saw red & next minute she was slapping Mary across the face. Mary goes Yonkers pulling Faith's hair, punching her in upcut fashion. They fall on the desk alerting a no name waiter. The scene went total daytime soap opera.
"You carbon copy fucking bitch!" Mary screams in rage as the waiter pulls her off a bloody nose Faith.
" GET HER THE FUCK OUT OF MY RESTAURANT!"
As Mary is being walked to her limo, a stilleto heel 👠 puts out a cigarette to reveal a silhouette in Big, dark Versace Shades (not recognizable to the audience at all) , smiling towards the Brooklyn afternoon sun.
A new day has begun...
1 Day Later
Jamaica Plains, NYC
•A sound system playing a pulsating Spanish-reggae hip hop beat sets backdrop for Amil's unfortunate reality. Living with her mother and sister, who both have a clinical co dependent relationship which is the very grand of pity. Amil awakens to her sister screaming at her mother. Just another day. She gets up and walks to the window to reveal the great view of the spectacular- back alley. She questions why she even woke up. She heads out to the war zone known as the kitchen. Her sister was no longer screaming. She was bent over in the kitchen chair, nodding off. Her sister, Rina, was a habitual heroin addict. She must of got a good bag of it this morning.
"Rinaaaaaaaa!" Her mother shouts. No response from the peanut gallery. Amil goes over to try and wake her and she still is just sitting there, eyes closed and labored breathing. Amil smacks her and still nothing. She had overdosed.
Later that day
Def Jam (East)
Mid Manhattan, NYC
(At Def Jam, Russell Simmons is holding a press conference with local news outlets as well as entertainment and Hip Hop publications. In this press conference a majority of the label stands behind him. DMX included.)
"First and foremost I want to thank everyone in this room for providing not only New York City but the world some of the best and innovative hip hop music!" Applause.
"With that being said I would like to address what this conference is all about. When I was young I pictured my dream and my dream came true. Each one of you artist are a vessel of real artistry & gumption. But I never thought my dream would include a hostile takeover."
Quiet chattering between the audience. Some even make low gasps.
"As of late this morning I was informed by my lawyers that a major chunk of stock was purchased. So much stock that I now am no longer the president of Def Jam records." Even louder gasps are heard throughout the room.
(Unknown to the audience a power play was done by none other than Jay Z. Off camera a scene between Jay and Russell went down. Jay being the capitalist that he is, one day walked in and seen Russell getting a blowjob from an Asian prostitute in his office. Seeing an opportunity of a lifetime, he subsequently blackmailed Russell into the sale price of the stock. Russell gave him the price not believing Jay could ever match it. Well, Jay did. For the company Jay would be silent and not tell Kimora about def jam's President's predilection for Asian women. It was an intense scene that I cannot find to this day.)
"So without further ado, ladies and gentlemen the president of Def Jam records...Sean "Jay Z" Carter"
Jay walks to the podium, Beyonce alongside as the accessory everyone wanted. Photographers snapped and television cameras pointed.
Meanwhile...
Jamaica Plains, NYC
As the paramedics are taking out Rina on a stretcher, she screams expletives.
" What the fuck I told you I'm fine I don't need no goddamn detox hold" she was clearly a woman who lost all control.
"Ma'am, we had to administer three doses of Narcan just to revive you." One young medic said. Amil was glued to the television press conference. Her mother went with the ambulance. Amil was smiling. She didn't have a sister or a mother at that moment. All she cared about was what she was watching.
....(TV set shows Jay at the podium thanking certain people for helping him and his success. Questions were directed to Beyonce as well asking about what designer clothes she was wearing how happy she was etc.)
Amil is now furious. Something about seeing another woman next to Jay just got under her skin. She picked up a heavy ashtray and threw it at the TV, smashing it.
"Well Mr. Def Jam....it's time me & you talk." Amil says to herself as she grabs her purse and keys rushing out the door.
Meanwhile
Brooklyn, NYC
Home Of The Marchands
Foxy arrived in New York the day before yesterday. She has been staying at her mom's with her brothers. Just as Amil was watching the press conference, so was everyone else in NYC. Inga just came out of her childhood bedroom when she heard Jay's voice coming from the living room TV.
.....(.........Jay Z is continuing his speech and announces the new talent roster. "The first, a rapper from Philly named "T- Bone (Raheim Smith)" 2nd, a R&B singer from Newark named "Longz" (Lamar DeRelle)" 3rd was what everyone was waiting for. A new yet enigmatic artist named "Synagogue" She is a rapper/singer/actress. The buzz around her has been raging for weeks. She recently was in the Miramax blockbuster "Lipstick Hustler", wrote original music and score for the movie." Cheers from the audience. Beyonce stands up clapping making a shout resembling "yeaaaaaaa let's get it y'all", coming off like a rehearsed white girl playing a black girl role in a TV show......."I want to give a shout out and warm welcoming to "Synagogue"!!!!" .........A roaring collective applause and screams go through the audience. 5 ft 11 caramel apple bottom with long legs, layered hair and a smile that invites the world (reoccurring guest star Lisa Raye) walks onto the stage...........) Synagogue does the default thanking of God and then announcements of upcoming projects. Def Jam clearly had a new gem in the house. Gen X mystery artist before it's time. Very private but does show cracks in interviews of unique life. She is talented. beautiful. she is a threat to the current arena of stars, egos and ex "could of beens" . Suddenly the TV is shut off by Mrs Marchand.
"Inga!!! My daughter will not watch a man who almost killed your spirit!"
(Unknown to the audience her mother is extremely overprotective and holds anger towards Jay for leaving foxy in the wind during her personal problems. Only to replace her with Amil, and then she was cast aside, fox's mother has no trust left in the industry)
Foxy is understanding but mad.
"Mom! While you're concerned is justified I am a big girl and I can handle watching a news conference" she goes for the remote only for it to be snatched by Gavin.
"Mom is right. You're about to embark on a collaboration with Kim you don't need to know what's going on over there" foxy is growing irritated.
"Oh please. If anything I was instrumental in his success and yes vice versa. But I will not stand here..." She is cut off by a knock on their brownstone door. Curious to know who it is the mother begins to walk as Foxy stops her saying that she will answer it. To her surprise she opens the door to....
Amil
Later That Day
Hilton Hotel
Nikki's Penthouse
(A glass of flowers courtesy of the hotel smashed to pieces all over the wall. Nikki ducked at the right time as Nas threw the fucking thing out of nowhere. Her Mickey mouse scream would of made the current situation comedic but his reaction was too intense. He viewed the same news conference that the others did. Nas & Raheim went back a long time. A drug deal gone South turned the two into enemies. Nas had a cocaine operation being funneled through Philadelphia & Queensbridge via T-Bone. Now Jigga has hired him, making Nas question his true motives.)
"Jesus Christ sexy but can you watch my head next time you want to have a breakdown and throw things" Nikki says with an almost cocky tone. Nasir looks at her, and without a word signals to her to tone down any of her crap.
"Look bitch spare me your obvious condescending bullshit. You can't sit there and think he did not know about what me and him have been doing with the cocaine." He runs down the whole operation again to her after incessant questions that were borderline annoying. Him and T Bone initially met in NYC and thru some casual conversation, Nas knew of Raheim's friend D-Rock, who happens to be a cocaine distributor with a good price. Only problem was geographical. The cocaine was sold primarily in West Philadelphia. The friendship then turned sour after diminished returns. But the operation still continues even as "T-Bone"is signed to Def Jam.
"Me and Bone and D are all still cool but I don't like how jay and this new ownership...I don't like how close it is to my private business." He was concerned and tense. Nikki was listening intensely but continued to be Nikki. She slowly walks over to him, again this time revealing her breasts, letting her Dolce & Gabbana panties fall from her fresh smelled pussy.
"Oh Nasir I can only try to understand what it's like to be a strong sexy man embroiled in such a... ghetto situation(squeaky laugh). We are millionaires this type of shit doesn't happen to us. And it shouldn't happen to us and it won't. You are the King of New York he is just a peasant. He probably landed across a crack in the system over there and used it against Russell. And I'm sure he wouldn't dig any further, especially into your business." She spoke with an almost supportive confidence and experience that turned him on. He knows Jay on the other hand. The opportunism she brought up is exactly what was bothering him. She pours two shots of Cîroc.
"Take this honey." She hands him the shot and a little blue pill that was 1mg of alprazolam. Nas looks like a willing participant after all of this stress. He takes the shot and pill and then takes the woman. He rips the rest of her clothing off as she rips his shirt off. Suddenly, They are against the wall. She blows him with reckless abandon, sloppy and loud. He throws her vertically into the air and bed, servicing her pussy for an hour before fucking for another four times that very hour. She screams in her Mickey mouse orgasmic tone. His worry and concern could wait.... for now.
(A even more explicit scene included Nas throwing her vertically in the air but she misses the bed accidentally hitting her head. He begins to help her with the little bit of blood and she graphically sucks his dick fast and extremely saturated with lots of saliva. It was hard for him to bandage the injury as she was sucking his dick on her knees too much and too hard and too good. When he finally taped her up he "sperm banked", exploding all over her face. I cannot find where that paper is and probably that's a good thing-- it'd be too graphic for public viewing.
The Next Morning
Streets Incorporated (Formerly Def Jam Records)
Manhattan
(A chaotic office scene plays out as old executives leave & new ones enter. Some of Russell's staff was hand picked to stay. Construction workers are busy expanding what was Mr. Simmons office into Sean Carter's office. Russell is there, looking at his baby being changed and destroyed really, by an artist he signed and then was blackmailed by. He is almost in a trance until Jay pats him on the shoulder with a cup of coffee.)
"Russell, I thought you might want a cup?" Russell stared right at him and knocked the cup of coffee onto the ground, alerting everyone. They all stopped and looked.
Jay looked indignant. "Lets talk in here privately." Russell was clearly a man with the weight of the world on his shoulders. The two walk into what seems to be a copy room. Russell let's it all out. He slams his and on top of a printer.
"Jay...I mean Sean. Can we talk "Tell me Jay tell me what did I do so wrong to you in the past to make you not only blackmail me but sandbag me? If it wasn't for me and my money and my confidence you wouldn't be "jigga jigga what what" you would be "dig a grave n***a what what" and this is the thanks I get? I would love to see how you spend this you opportunistic bastard! It was one thing to protect Kimora but what you're doing here, "Streets Incorporated", it's a lowball. You fucking piece of shit." He was shaking now in anger. Jay normally, if this was 5 years ago, would pull out his piece and pistol whip him. This was the business World though. Some sort of civility must be maintained.
"I hate to say this Russell, but you created the final blow to make everything collapse." Russell can't help but cut in.
"That Asian whore prostitute? You think that was a reason for downfall? So, like The Art of War, you knock me down to a manageable level a failure just so you can swoop in and steal my fucking business you left over street shit" PUNCH... JAY PUNCHES HIM RIGHT IN THE FACE. THE TWO MEN BEGIN A TAME PRIME TIME BRAWL. Jay has his hands around Russell neck when a female voice breaks in. It was 2 female voices saying "Stop! Jay your going to fucking kill him!" The two men look at the women & discover them to be Foxy Brown and Amil standing over the two.
Later
(In a non descript location, the silhouette we seen earlier after the fight between Mary and Faith, parks a black Jaguar. She gets out as camera follows her heels 👠 all the way to another vehicle. After entering the passenger side door, The mysterious woman is greeted by a __________________) [What we see is shadows in place of the drivers face and the high heel mystery woman.]
The driver in shadow turns to the mysterious silhouette.
"You gathered all the information?"
The camera pulls out at as the passenger replies.
"Down to the letter. It's going to be an interesting year"
FADE TO BLACK. END OF EPISODE 1 (PILOT)
About the Creator
I am a writer. I love fiction but also I'm a watcher of the world. I like to put things in perspective not only for myself but for other people. It's the best outlet to express myself. I am a advocate for Hip Hop & Free Speech! #Philly
Reader insights
Be the first to share your insights about this piece.
Add your insights