Eat Pussy for World Peace
Our governments have not figured this out.

Eva. Gina. Rosalee.
Covid, Black Lives Matter, Global Warming (with little Greta scowling)-- all the current anger, paranoia and outright lies can make any sane human want to binge-drink absinthe and smoke heroin off tin foil. Jumpin' Jeezus on a skateboard! Why do we put up with this loud daily nonsense? There are protests in the streets--- BUT FOR THE WRONG REASONS! In fact, for fake reasons. As my black friend reminds me, and shakes his head in wonderment, while very white people protest. Jamal says: "You know, Roscoe, black people also kill black people, in Chicago every weekend." If Americans protested about that, it would be a good reason. If Americans protested because their government was completely decimating the U.S. economy, sending tens of thousands of U.S. citizens into poverty. That would be a good reason to protest in the streets. What we currently have is angry people blowing off steam and pissing in the wind, and accomplishing nothing at all.
A much better solution to world problems, for the betterment of the human condition is: Eating Pussy. Lots of pussy. Two or three times a week. Cheerful, willing, giggly girls, spreading wide their magical mystic time-warp biochemical fleshy slurp-slurp machines, joyful faces nestled cozy between their thighs--- AHHHHH! Then at last, after more than 2000 years of Christianity and Buddhism, we would have World Peace. A lasting peace. Lasting as long as a good piece of ass. Longer, and longer. Pussy is a renewable natural resource. Young, sweet tasty pussy for all! Except for gay boys. They get tight, warm, smooth boy-ass, thick-spurting smooth Asian cocks and bearded blow-jobs.
As a healthy, sane, heterosexual male, I believe if all the protesters in all cities in the U.S. had pussy to eat, they would be eating it, and not making a nuisance of themselves, destroying property and slowing traffic. Calmer people with jobs and pussy to eat, go about their lives, and keep their heads above water. The calmer people are the ones who get things done. Make things better. Invent solutions. Do the hard work necessary to implement those solutions. And do not waste anyone's time with useless noise and destruction. The calmer people will smile and recommend hot, tasty pussy as a nutritional supplement. Take as often as required. Five or six times a week, when the pressure is on.
I have admired warm, friendly, young, juicy naked American pussy for over fifty years. The first Playboy and Penthouse print magazines I saw as ten-year-old captured my imagination. I walked two miles or more the the local dump, in the woods of Northern Michigan, hoping to score a few tossed print magazines with full-color, glossy images of tits, ass and pussy. It is no wonder at all, I now make high-resolution videos of beautiful women sucking my cock, and eating each other, and spreading wide their magical mystic time-warp biochemical fleshy slurp-slurp machines, so I can eat my minimal daily requirement of pussy. I am eternally grateful to the women currently in my life!
Oh, just call me an old, romantic, bald geezer with a ponytail. I truly enjoy the company of women. If I was a poet, I might say: "Her eyes, wide open, intelligent and alert make my life meaningful. I love the splendor of her mouth, her smooth, delicious femininity, erect nipples, eager vagina, warm legs and fanny--- but it is her eyes, her voice, and her intelligence which allow me to worship God."
Without feminine beauty, without sexual desire and on-going interaction with such beauty-- my creative existence would be like a toad's creative existence. Hop. Hop. Splish-splash. Gulping mosquitoes or any little thing, living and dying with minimal, biodegradable, unimportant actions.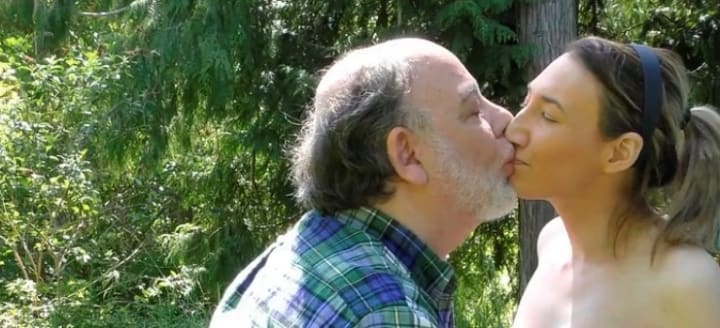 politics
About the author
Erotic filmmaker and novelist. I use x-rated heterosexual short films as a tool for spiritual enlightenment. Laugh all you want. This actually works for many people. Fucking is universal! And very popular!
Reader insights
Be the first to share your insights about this piece.
Add your insights