Curiosity
Something New to Experience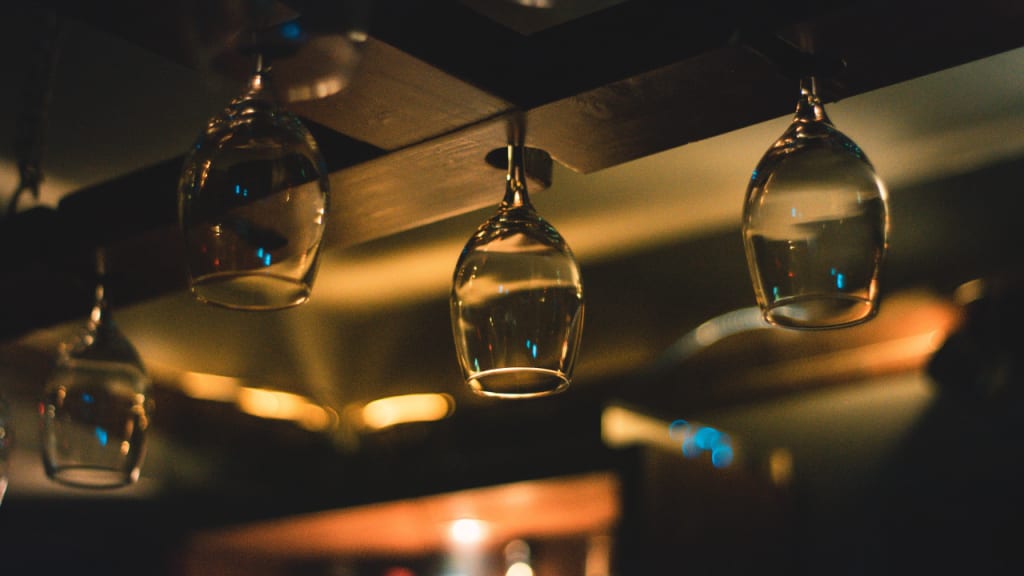 "Are you almost ready?" I heard him say from the bottom of the stairs. Strapping my heels, I reply
"Yes, babe I am give me a few more minutes."
I get off of my bed and take a look at myself in the mirror. My black dress is fitting to all my curves. I touch up my lips and head downstairs. I hear him yell at the television screen, rolling my eyes. I say "babe I am ready now, let's go".
He turns around and gives me the most seductive look. I look at him and smile, " I'm glad you approve".
He comes closer to me and immediately my sweet center begins to throb. His cologne, light but arousing to my senses. He looks at me from head to toe and says I'm almost tempted to say "fuck it" and keep your ass for myself. I roll my eyes and bite my lower lip.
I get closer to him looking up at him and say "this was your idea, let's go before I change my mind".
Our lips lock and tongues entwine dancing to the same rhythm. He takes my hand and gives me my purse. The air is cool, it's mid-February and the sounds of traffic surround us as we drive to our destination. I'm trying to not seem nervous and anxious but my nerves are all over the place. At first, I didn't agree to this outing, but my husband convinced me and had me see all the benefits this would provide for the both of us. I come out of my daydream as I feel Tevin's hand graze his fingers up my thighs. I begin to breathe a little harder and automatically start rubbing his dick.
He lets out a low moan and says "Kendra, baby we almost there keep this up and I'm going to fuck you on top of the car."
I lick my lips and stop rubbing on his already hard cock. I roll my eyes and say "well, baby you started it."
He laughs and says "I plan on finishing it".
The car turns and I look outside the window and see a huge red sign that says Trappeze. I hadn't heard about this place until a conversation with Tevin about him wanting a threesome arose one night. I wasn't too keen on the idea but Tevin set a mood of how things may go down. Before I met my husband, I had a little interest in women, there was something about them that I admired and found extremely sexy. I never got to be with a woman and my husband knew this, for our 10-year anniversary he decided that going to Trappeze would be a great idea and something for us to share together. The upscale club is for swingers that caters to adventurous and open-minded singles and couples.
Tevin comes around and opens my door and holds out his hand, I take it and make our way to the entrance. We walk in and are greeted by an amazing staff. My eyes are all over the place and my heart is jumping out of my chest. Looking around the first thing I notice is that the majority of the guests are naked. Tevin looks down at me and smiles, he leads me to the bar. Ordering four shots of patrons, I take both back to back and immediately start feeling more relaxed. The music is amazing as the deejay plays sultry mood vibes. Tevin takes my hand again and leads me to a booth where we can scope out the scene. As I look around the room, I see various people mingling, and walking to rooms with strangers. Tevin looks over to me and says let me know when you see someone that would interest the both of us, I nod and nervously look around. After another round of drinks, I am feeling lighter and more engaging.
In the corner of my eyes I see a silhouette of a woman who is with a man. She stands about 5'7, with caramel skin, beautiful lips and nicely manicured toes. Her red bottom heels were the highlight of her outfit and made her standout from the rest in the crowd.
I tap Tevin on the arm and say "baby I think I found one", he looks in my direction and says "where".
I describe her to him and he has a huge smile on his face. I look at him and say " what's wrong" he says " nothing, you made a good choice".
We both get up from the booth and walk towards the beautiful woman, who was accompanied by a man. We get closer to her and my heart starts to race. Tevin taps her on the shoulder and she turns around and I am immediately turned on. Her eyes were mesmerizing and her lips were succulent and looked soft to the touch. She glances at Tevin and he says something to her.
I see Tevin give the gentleman she was with a firm handshake and the man kisses her on the forehead and says "have fun babe".
She turns to me and gives me this seductive smile. She reaches her hand out and says "hi beautiful, my name is Janelle, are you ready to have some fun", I say yes and smile. She grabs my hand and leads Tevin and I into a room. First thing I notice is this huge bed in the middle of the room and mirrors on the ceiling.
Janelle breaks the silence and asks us if it was our first time here, we both reply "yes".
She then advises us to relax and get comfortable. I sit on the bed, a million thoughts going through my mind. Janelle walks over to me and begins to caress my arms, Tevin starts to undo his shirt and loosen his tie. She lowers my dress straps and kisses my shoulder. Tevin comes behind me, now missing his pants and unzips my dress. He gently kisses my neck while Janelle helps me out of my dress. We lock eyes, her eyes are haze, almond shaped and absolutely beautiful. I start blushing and laughing, looking down at the floor. She takes my chin in her petite well-manicured hand and kisses my lips. I let out a low moan as I can feel Tevin kissing in between my shoulder blade working his way to my neck. I get up and tell Janelle to turn around, I start to unzip her gorgeous red dress and she gracefully steps out of it leaving her Red bottom heels on. She turns back to me and starts kissing me again this time deeper and more passionate. My breathing is getting ragged as her hand makes its way to my breast. My hands slowly caress her body. We stop kissing and turn to Tevin who was removing his shoes. I walked up to him and started rubbing on his dick through his boxers, I kissed his chest and made my way down to his cock and freed his beast. Semi hard his dick springs free, I motion for him to sit on the bed and he does. I grab Janelle's hand and kiss her lips, massaging my tongue with hers. We both are moaning, touching and caressing. I break the kiss and look at Tevin. He's on the edge of the bed seductively looking at the both of us.
I walk up to him and start kissing him and rubbing his dick while Janelle massages his back and laying kisses all over it. I crouch down in front of him and lick the head of his penis. Twirling my wet tongue all over it, and finally taking him into my warm awaiting mouth. He begins to moan as Janelle is caressing his chest as I go deeper down on his massive 9-inch cock. I work it with one hand while playing with his balls with the other. He lays back and Janelle finds her way on his throne facing me as I devour his dick. He's gripping her thighs as she moans with pleasure while using her hand to guide my mouth deeper and faster on his dick. I am absolutely loving this and her moans are turning me on even more. I lick from the tip to the base of his cock and start sucking on his balls, now I can hear both Janelle and Tevin moaning which causes me to get wetter. I start rubbing on my clit while enjoying my meal. I come up for air and Janelle grabs my face and starts kissing me again. She comes closer to me and I stop rubbing on my clit. Takes one finger and runs it across my folds and puts it in her mouth, closing her eyes savoring the taste.
She opens her eyes and says "I think you're more than ready".
Tevin has moved from the bed as Janelle lays me down gently and starts sucking on my nipples, while caressing the other breast I moan again. Mouth open, Tevin finds his way back on the bed and guides his dick in my mouth. Janelle works her way down my stomach leaving kisses along the way. When she gets to my sweet center, she starts to rub my clit and gently blow on it. I moan and almost choke on Tevin's dick. He takes his dick out and slaps it on my lips and immediately sticks it back into my mouth. Janelle grabs my thighs and starts kissing my inner thighs, gently biting each side. Her tongue slits through my folds and twirls on my clit. My body, in an instant, tingles. She sucks on my clit harder while one finger massages my folds, I can hear my wetness as she rubs. Her mouth humming on my clit is sending me over but I don't want to just let it out. Her tongue finds its way to my folds and makes an upward and downward motion. I start to grind my pussy on her lips and we both moan. Tevin's guiding his dick in my mouth getting deeper and deeper in my throat.
He moans, she moans and I moan even louder when two of her fingers find their way inside of me, massaging my walls while sucking on my clit. I'm about to cum I can feel the buildup and shift her fingers to one spot and I completely shutter. My body feels like it's leaving itself and whatever remains is light as air. She climbs on top of me, kissing my stomach, licking her way to my breast until Tevin takes his dick out my mouth and she finds my lips and kisses me deep and long. My breathing is shallow and I'm sweating. She finds her way to Tevin dicks and begins to sucks while I rub on her clit, the slurping sounds she's making makes me hot as I rub gently on her pussy. Tevin guides her mouth onto his dick moaning with pleasure. He pulls out of her mouth and comes to the edge of the bed and opens my legs. He kisses me and slides his way into my wet pussy. Causing me to gasp as he fills me up with his length. Janelle kisses my lips, getting them nice and wet. She sits on my lips and moans at the taste of her as I work my tongue on her pussy.
I've never done this before and just hope I can make her feel just as good as she made me feel. Playing with my nipples she begins to grind on my tongues and lips. The moaning and humming I'm doing against her pussy cause Tevin is hitting all the right stops, driving her wild as she flips her hair from her face and starts to rub on my clit while Tevin fucks me deep and hard. Her pussy tastes amazing as I suck on her clit, insert my thumb in her pussy and lick it off. She's now bouncing on my tongue as tongue fuck her pussy and gently smack on her ass. Tevin gets deeper while Janelle holds back my legs and every stroke feels better than the last and I am ready to explode. I can't even begin to describe the feeling of euphoria that runs through me due to all these different sensations. I am ready to come again and I hear Janelle say she's about to come as well. Tevin speeds up the strokes and I cream all over his dick and let out a loud moan. Janelle follows suit and comes all over my lips. I lick my lips savoring the taste of her. She looks down at me and kisses my lips getting a taste of herself as well. Tevin takes his dick out of me and flips my head towards the edge of the bed and starts sucking on his balls while Janelle is on top of me sucking his dick clean of my juices. All three of us moaning, feeling elated making sure each of us is satisfied. Tevin holds his cock and Janelle turns around her ass facing him and her pussy licks away from my tongue. She arches her back while Tevin slides inside of her. Her arms wrap around my thighs as she caresses her tongue on my pussy. I still have Tevin's balls in my mouth, my tongue flicking them as they jiggle in my mouth. I take them out and start to tease Janelle's pussy with my thumb. Working my way to her ass as I spread them wide for Tevin. Her tongue twirling, sucking on my pussy makes me melt. This feeling isn't one I want to end. Her moans increase as Tevin plows inside of her pussy. I go back to rubbing on his balls with one hand and rubbing her clit with the other hand.
Minutes later, I hear Tevin say "fuck, he's about to come". I continue to caress his balls with my tongue and he pulls out and comes all over Janelle's ass. The cum dripped from her ass to her pussy and inside of my mouth. I stick my tongue out and he slams his dick across it, I grip it with my mouth and suck every ounce of cum out of him. Janelle continues to play with my pussy, legs wide open. I clean off her pussy with my tongues, rubbing her clit and asshole. She moans in pleasure and I am over the wall in ecstasy as she devours my pussy. Both of us are moaning loudly, I forget Tevin is in the room. The sight of her eating my pussy as I look up at the ceiling makes me moan her name as I come. Holding my thighs, she sucks hard on my clit while rubbing my pussy. I start to feel light headed but Janelle follows and cums again.
I lay there for what seems like forever, panting trying to catch my breath. Janelle lays next to me and smiles and I start laughing and covering my eyes. She takes my hands from over my eyes and says "did you enjoy that as much as I did?
And I replied "yes, I did."
She smiles and says "good." Tevin comes over to me and kisses my forehead and says "Happy Anniversary babe."
I laughed and replied "yes this was one to truly remember."
We all get dressed, Tevin helping the both of us back into our dresses and leave the room. The club is still packed with people, I hold onto Tevin as my legs are still wobbly from our events. Walking towards the exit we thank the staff for a great night and compliment them on their services and the club. Janelle walks us out to our car and we exchange phone numbers. She tells me doesn't do that often but she feels like she and I could be good friends. She hugs Tevin and then me, says goodbye as she makes her way back into the club. In the car, Tevin grabs my hand and kisses it. I look up at him and smile, I tell him thank you for a memorable night.
He looks at me and says "anything for you babe."
We get home and get undressed immediately and head to the shower. The warm water helps to ease the tension my body is feeling. We wash each other, make love in the shower quickly and head to bed. That night I dreamt of Janelle and her gorgeous body and smile. We ended up linking up during the week for lunch and really got to know each other. That night at Trappeze my husband opened Pandora's box and now Janelle is a regular at my house and we've become more than friends and my husband couldn't be happier as he benefits from it all.
erotic
About the author
Painting pictures with every word I write, come take a peek inside my world and explore all the feelings that each story will offer you. I hope you enjoy and come back for more.
Reader insights
Be the first to share your insights about this piece.
Add your insights