Buying Lingerie You'll Both Love
Buying lingerie you'll both love starts with understanding her style and ends with a rewarding night of romance.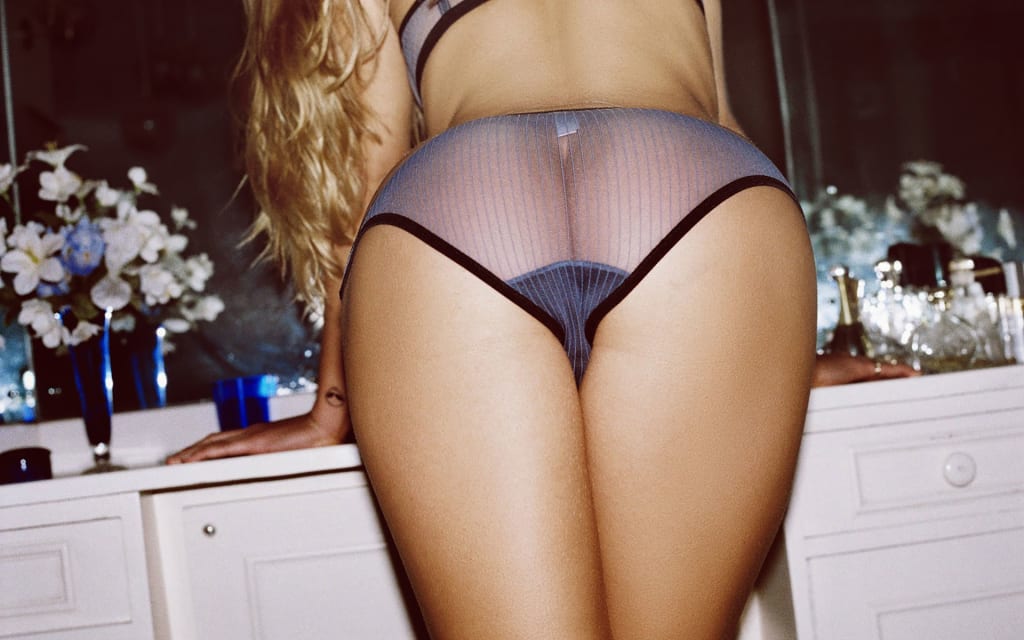 Giving lingerie as a gift can be a great way to spice things up for you and your lady. A job well done can lend itself to a steamy and rewarding night of romance—but executed poorly, it could end in tears, accusations, and a stiletto or two chucked across the room. Let us guide to you picking the perfect naughty negligee.
Comfort is Confidence, Confidence is Key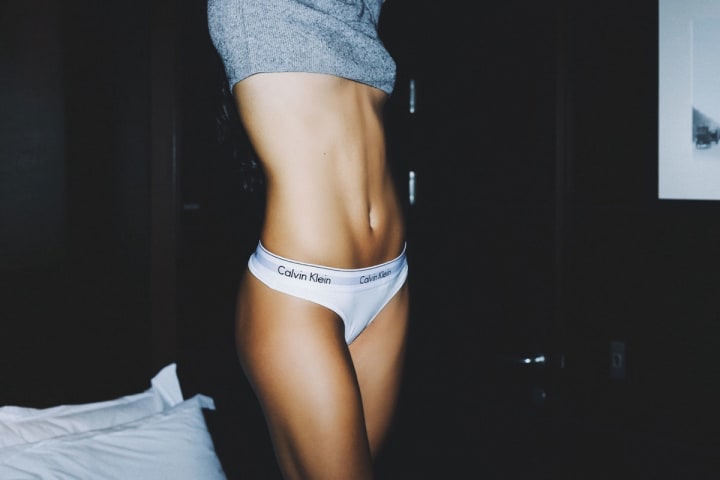 It's been long coined that "confidence is sexy," and most of us can probably agree. A quick shot of courage in the bedroom allows us to expand our comfort zone and take the lead in a surprising way. And nothing instills bedroom confidence more than knowing you look and feel damn good.
If this is your first time picking out lingerie for your lady, welcome to the wild world of women's fashion. Nowadays, there are no wrong answers—lacy dropping necklines, high-waisted underwear, extreme push-ups, and tiny thongs all find their homes in the aisles of women's clothing stores. So, where do you start? How you do ensure your lady feels the most comfortable and confident in the outfit you picked out?
Consider her typical clothing style (the kind of clothing you wear *over* your undies). Is your girl into daring new styles, or does she dress more laid-back? The fashionista among us might be more interested in the brand and design, while the simple dresser might not pay as much mind to where it came from—as long as it looks and feels good. If you don't know what type of style she prefers, try keeping it simple. You can test the waters with a chemise, short slip or nightgown—something that provides a bit more coverage. Sometimes, showing less really is more, and you don't want your partner to feel so over-exposed that she doesn't enjoy the experience. Showing off should be fun, not stressful.
Picking out lingerie is tricky, especially for first-timers, because often, the person wearing it isn't sure of her preferences, either! Adore Me has a helpful quiz for exactly this reason; to walk you step-by-step into finding your personal style. If you dare, try taking this quiz based on what you think your special someone would say.
Take Inventory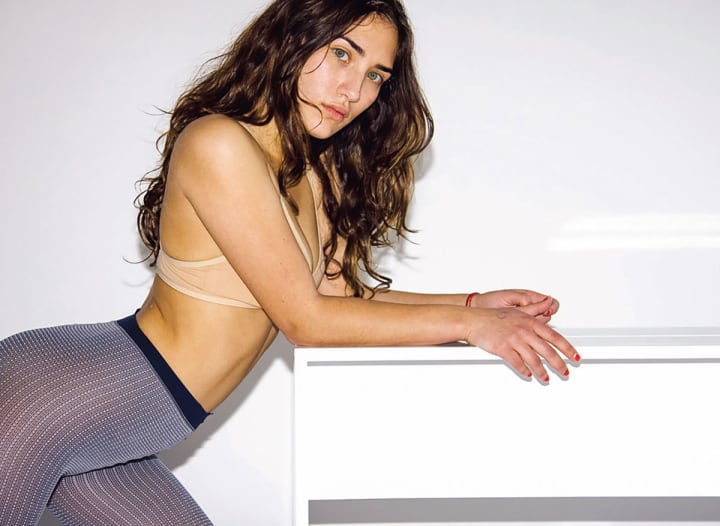 With a little bit of sleuthing, you can take some of the guesswork out of the shopping. There's a solid chance that until now, you haven't paid very close attention to your girl's preferred style of lingerie—you've been much more concerned with, er, removing it.
Next time your girl is in the shower or running some errands, check out the drawer where she keeps her drawers. Does she like satin or lace? Maybe she's partial to all-black garments, or perhaps she sports an array of colorful patterns. There are thousands of options when it comes to picking lingerie, and it's easy to get it wrong with an out-of-character piece that she simply won't feel comfortable wearing. By checking out what she's into before you hit the stores, you have a much better chance of nailing the style to make her smile.
When it Comes to Fit, Play it Safe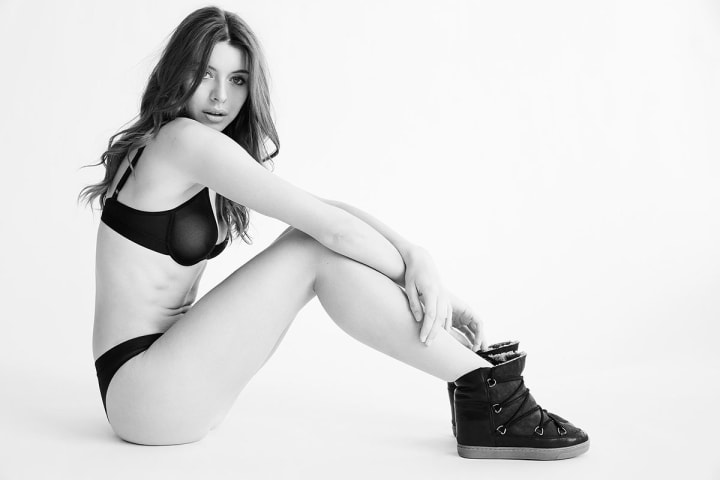 Your research should also include checking out the size of your lady's undergarments. Bras are particularly difficult to shop for, since you'll need to know her cup size. Check out a few of her bras to see what she usually wears—she might even rotate between a few different sizes, as many women do. Some sites, like Freya, allow you to search for styles in each size.
If possible, you can avoid bra sizing altogether by sticking with simple pieces that offer standard Small, Medium, Large, and XL sizes. Especially when you're first starting out in the undies game, it's best to avoid complicated numbers like garters belts, or very form-fitting garments like body suits. Both can be super sexy, but both can also be very awkward if they are ill-fitting.
If your lady wears nothing but bra-and-panty combos, and you know she'll be most comfortable in something a bit more revealing, don't let sizing anxiety stop you! A matching thong and bra in her favorite style will show her you paid attention and put some thought into the gift. The tried-and-true Victoria's Secret is always a good place to start for sizing questions. More than anything, you can benefit from their friendly, informed salespeople. Those ladies know how to fit boobies and butts better than any of us—and they're very much accustomed to helping out overwhelmed, caring partners like yourself!
Be a Big Spender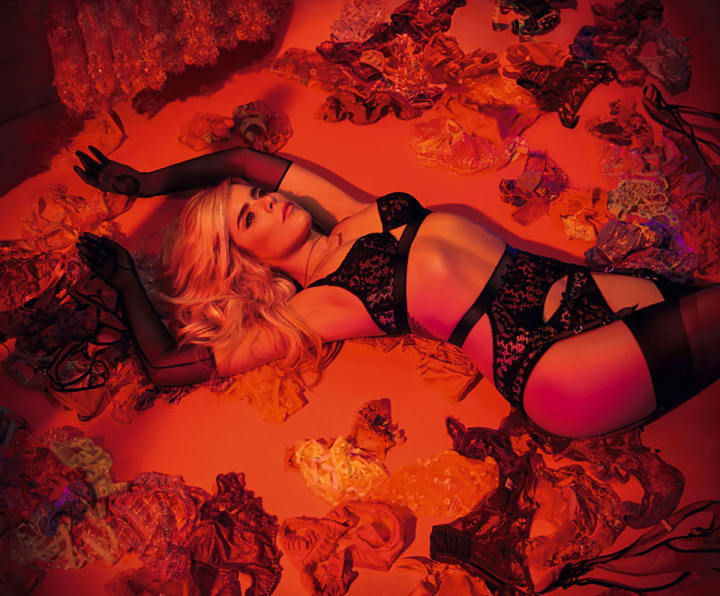 Let's be honest, this gift is as much for you as it is for your girl. Let it reflect your intentions and spring for the good stuff—she will know the difference.
But what will it run you? Expect to drop some cash on this gift. A good quality ensemble will cost you upwards of $300, but it will be money well spent. Think of it as an investment in your sexual relationship—a good quality piece will be worn and re-worn. If you do it right, this will be the gift that keeps on giving for both of you.
Personality Counts!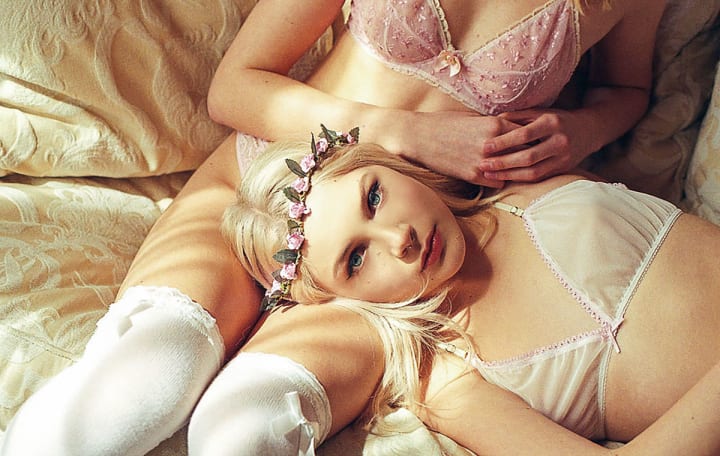 Like any gift, you want your lady to feel that you picked out lingerie just for her, and put some thought into it. Right now, bralettes are flying off the shelves as more women decide to do away with pushups and opt for a more natural curve. Maybe your special someone is into the trend and ridding herself of underwires forever—or maybe she kicks it old-school, and wants all the lift she can get. There are even options to achieve the happy medium, like the Steffie boustier by Naja, a push-up with a little extra coverage and some flattering cutouts on the sides. Whatever you decide, make sure you consider her personality when you make the purchase—not just what you'd like to see her wearing.
If your girl is environmentally friendly, there are more and more companies offering organic and sustainable collections. Check out Clare Bare, Between the Sheets, and Blue Canoe for their eco-friendly wares and trendy styles.
Storefronts (and Associates!) are Your Friends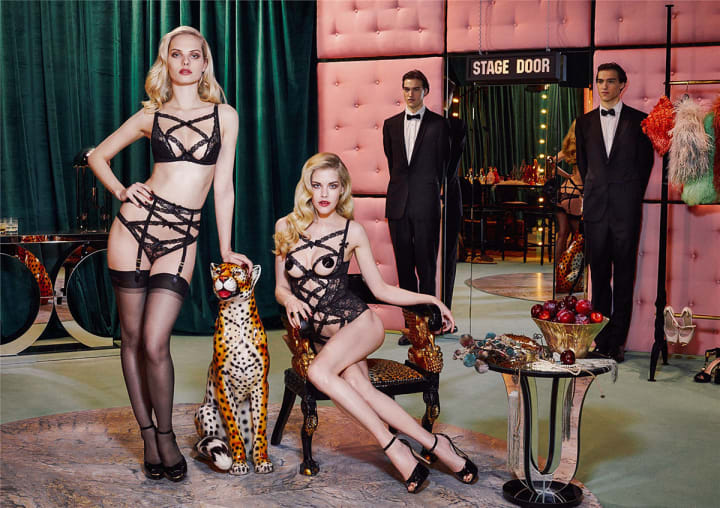 When shopping for something very personal, it's easy to feel uncomfortable. From condoms to zit cream to hemorrhoid wipes, we don't like to have to put our most private items on display for cashiers and other shoppers to see. It's tempting to take the search online, where you can spend hours browsing without leaving the comfort of your own bed. However, if you're unsure what style to go with, lingerie for another person is one purchase you should definitely tackle in person, especially your first few times.
Women's clothing store associates are quite used to helping others pick the right fit for their lady friends, so use them to your advantage. There are dozens of styles and materials out there, and they can help you navigate the long, frilly aisles of negligee. Will you feel awkward at first? Absolutely. Will that awkwardness subside in the first 5-10 minutes of your shopping experience? Probably not! You're stepping into an entirely new territory and it's a bit intimidating. But as you become more familiar with what you're shopping for, you'll become more confident and make better purchases—it all comes with practice. By all means, use online stores to browse and familiarize yourself with terminology and basic options, and once you are familiar with the style you want to buy, buying online will become a breeze. But when it comes to actually making the big decision for the first time, store associates will be the lifeguards who stop you from drowning in a sea of lacy teddys.
With these key tips in your back pocket, you should be ready to head out there and begin shopping. The right combination of flattering, comfortable, and sexy can turn your night from blasé to blown away. So snoop around, take notes, consider confidence, and don't be afraid to ask for help! Enjoy!
The Final Selection
The hard part is over. The stress of deciding what type of lingerie to buy is nothing like the sensation of actually choosing the items. This is where your imagination takes over. Try to imagine your partner in the lingerie from this curated selection and, based on the information you've gathered and your own reaction to these imagined images, buy lingerie that you'll both love.
Chemises and Rompers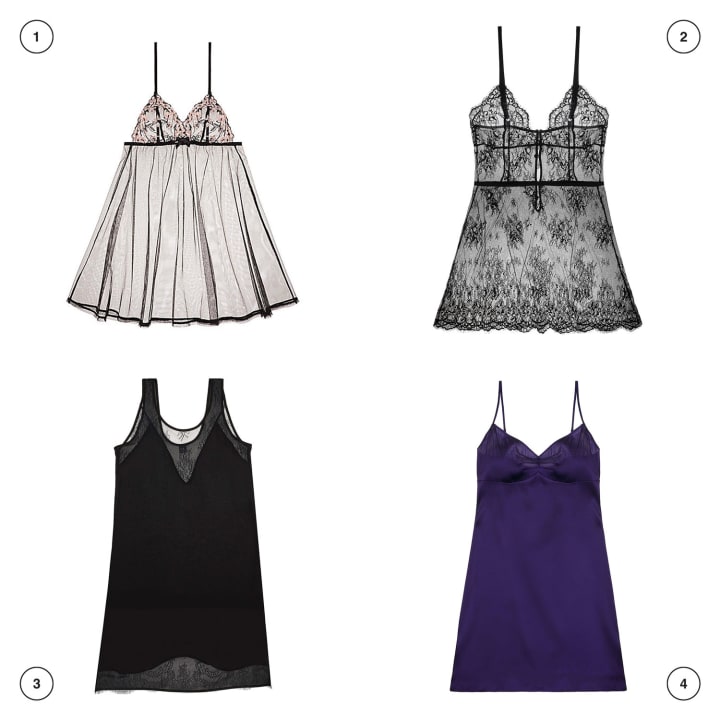 Teddy/Bodysuit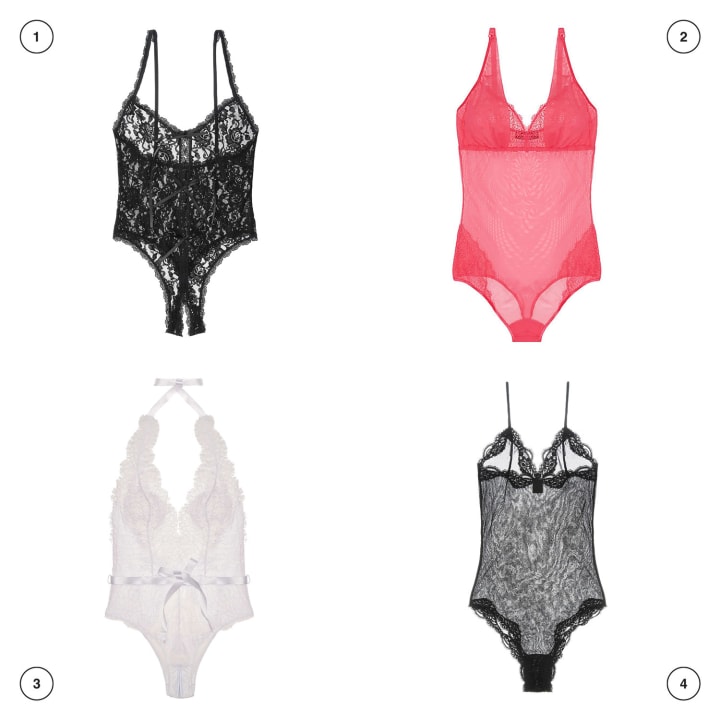 Loungewear and Sleepwear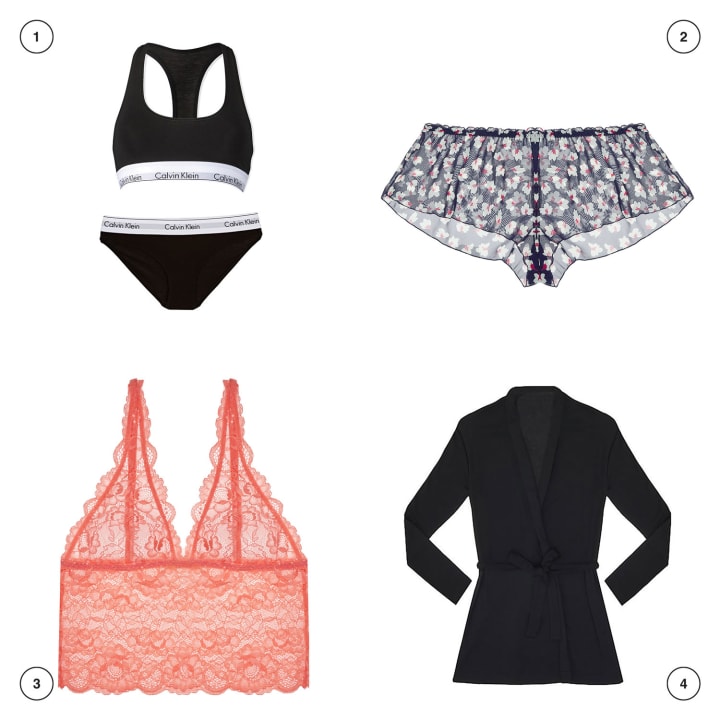 Accessories