Boyfriend picks up the camera
She's sliding on her stockings after slipping on some cute blue panties. She finally turns to the camera with the excitement of the day.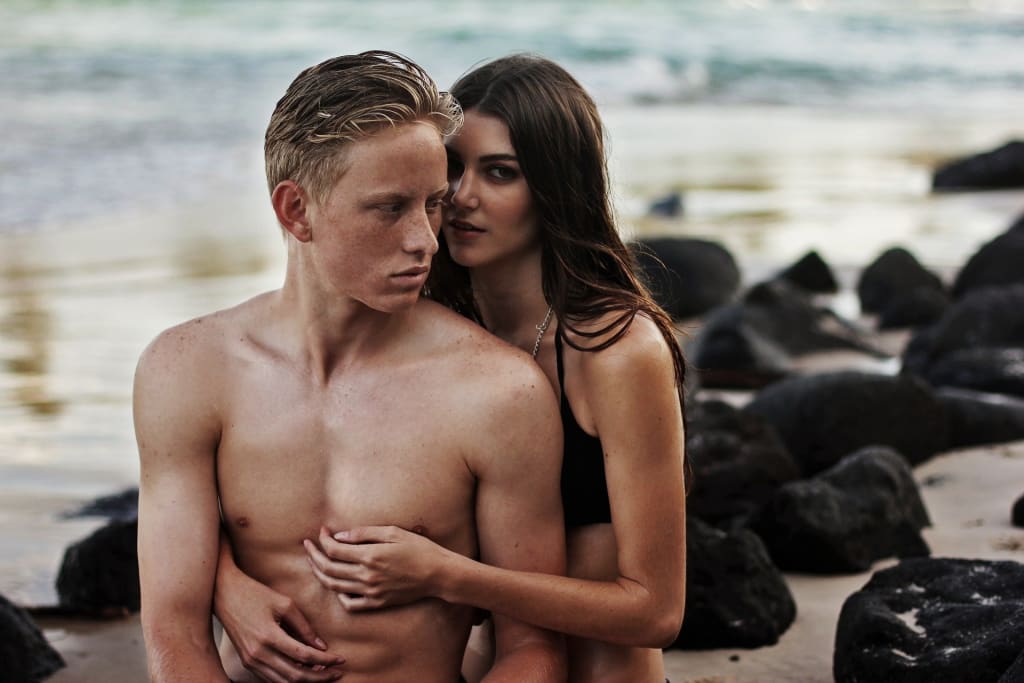 This scene starts with Lyra dressing herself up with extreme close-up camera angles to show you this. She's sliding on her stockings after slipping on some cute blue panties. She finally turns to the camera with the excitement of the day. Talking to the one dating her, the one willing to share his flower from the garden of Lyra with another man. The lucky stud to be stepping in the garden of beauty is Lyra Lockhart and is described as a man that was met at a park earlier. Lyra locks eyes with the camera as she shows her appreciation to her boyfriend that allowed this appointment to happen. As she gets approval for her cute outfit the doorbell suddenly rings. It is the man that they met earlier at the park with Lyra, time to let him in!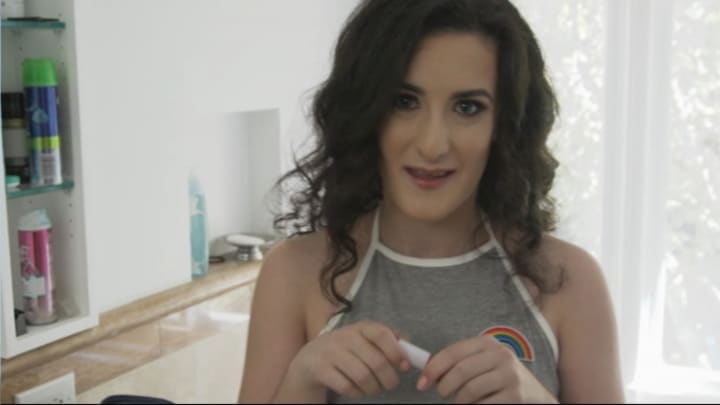 Jason Moody comes through the door and instantly snatches up Lyra as they fall back on a couch kissing. This happens right in front of the boyfriend and she'll acknowledge how excited she is that "there is another guy in the house right now." As Jason leaps at the opportunity to lick Lyra's pussy she'll exclaim her approval of it. She keeps eye contact as she is orally pleased by this new man. As Jason is down eating Lyra out he'll give her a few spanks as she appreciates the roughness demonstrated in front of her and her boyfriend. She is then urged to get up and suck on Jason's cock. As soon as it is in front of her face Lyra will admire its size. She goes all out for the BJ as she reminds her BF that she is sucking off a total stranger.
Jason starts titty fucking Lyra as she demands that her boyfriend start jerking his dick. She'll look right at the camera as she gives these orders. She then moves to Jason Moody's balls to suck on them while locking eyes with her observer. Jason then starts to jab Lyra with his penis in doggy style as she continually makes eye contact with the camera. She says to her boyfriend that eye contact must be made as this strange dick gets rammed into her. Lyra starts to inhale Jason Moody's cock again while continuing her mission to make eye contact with her audience.
Next, she is wrangled into an open missionary mash while praising the choking and slapping during the rough entanglement. Also making sure that her witness is jerking his dick at what is going on in front of him. Lyra even encourages her boyfriend to stroke his cock to the rhythm of her being pounded by Jason Moody's rapid humping.
Constant communication and eye contact are retained as Lyra is filled up by Jason's erect member.
Lyra leaps at the opportunity to start sucking Jason off again. She then asks if she can get back on the cock even though she knows the answer. She gets right on top of Jason Moody for the ride in cowgirl without a word from her man that is watching. After the up and down bounce in regular cowgirl, she is then flipped in reverse cowgirl to face her man as she is plowed. A blowjob occurs in between this transition of a cowgirl riding in a vaginal stance. After differing variations of the reverse cowgirl lock, Jason Moody finally milks his cock all over Lyra's chest and mouth. She's proud of the mess that has been made on her breasts by this strange man and thanks to her boyfriend she feels rewarded. Reiterating she had a good time putting on this show for him.
erotic
About the author
Lanas here to help you with all your writing needs.
Here You will find tips and tricks about tecnology, sex stories and sex education!.
Reader insights
Be the first to share your insights about this piece.
Add your insights