Bloody Mary
She had some salacious details of her own to share.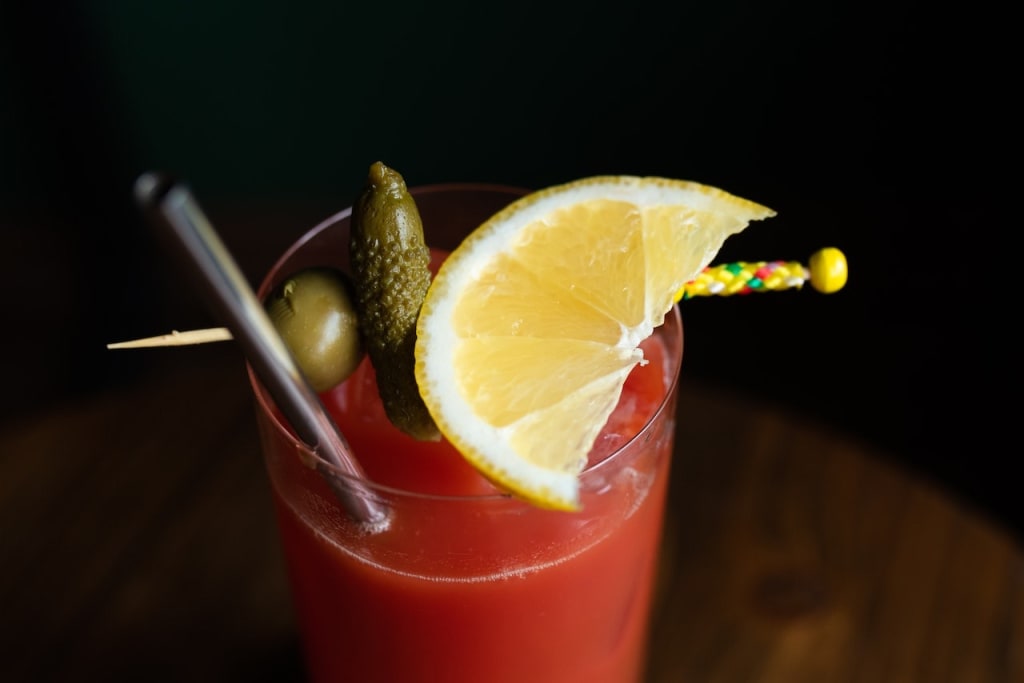 via Pexels by Arina Krasnikova
Read about Gen's previous incendiary encounters with Matt and Duncan here.
Gen was happy to have brunch with Vic, it was something they did as often as they could. She was especially happy to have it with her when this time she had some salacious details of her own to share.
Vic was the one who had convinced her to try online dating even though she had been resistant.
"You're beautiful, it will be easy for you to get dates one after the other," Vic had persuaded her.
Vic always had a date. She was looking at her phone while she sipped a Bloody Mary. Her eyes were concentrated like she was engrossed in a compelling news article.
"How was last night?" Gen asked knowing she would share her dating app adventures after.
From the look on Vic's eyes, she could tell she was in for a good story. Gen took a sip of her own Bloody Mary, as Vic recounted what had happened the night before.
"We were barely in the apartment before we were completely naked and ran for the bed — I did not even know where the bed was!" Vic grinned her smile that was so contagious that you could not help but smile with her. Vic studied her and paused. "You are keeping secrets from me — did you meet someone on the app?"
"Why can I not keep a secret from you, Vic?!" Gen burst into laughter.
"You are not supposed to keep a secret from your best friend, now tell me everything!" Vic swatted her thigh.
"Well, Matt and I have been texting every day. But Duncan and I have been sexting every day."
Vic put down her Bloody Mary and pushed her shades to the bridge of her nose to look at her.
"So you have been getting pretty busy and you have only been on the app for a few days? I told you — a beautiful girl like you? It would not be a problem." Vic shook her head knowingly and picked up her Bloody Mary.
"No, it has not been a problem."
Across Gen's screen, there was a message from the app. Was it Matt or Duncan?
"Oh, and show me what they look like," Vic took another sip of her Bloody Mary.
Gen picked up her phone, opened the app, and started sharing pictures of Matt. He had sent her more and he looked very hot. Then she opened up her conversation with Duncan. He had sent her a very sexy shot of him in a button-down white shirt and that mouthwatering dick of his rising to the occasion. She wanted to put her mouth on it every time she saw it. And with his glasses on he looked like a sexy college professor.
Vic's sunglasses were now in her mouth.
"Fuck, what are you doing with me when you could be sexting or meeting up with him?!"
Gen took another sip of her Bloody Mary and smiled at Vic.
"This is pretty fun, there is no need to rush things."
Vic snorted.
"Um, I think his dick begs to differ which is why he has it on display like that Gen. Seriously, you must want some too — what is the delay?"
"We have plans, I have them with Matt too. I just do not want to take this all so seriously, it's not that serious to me."
"I told you you should have gotten on Feeld. I don't want anything serious either and it suits my needs perfectly."
Gen nodded, the truth was she was not sure what she wanted. But she was content with what she had with Matt and Duncan…and her Bloody Mary right now.
This is one story in a series, you can read the beginning here.
Read ALL of my stories here.
Read every FILTHY story here.
Read more stories by me on Medium.
Reader insights
Be the first to share your insights about this piece.
Add your insights