Best Sex Pillows You Never Knew You Needed
Need a little boost when having sex? Check out these ideal sex pillows to enhance sexual intercourse.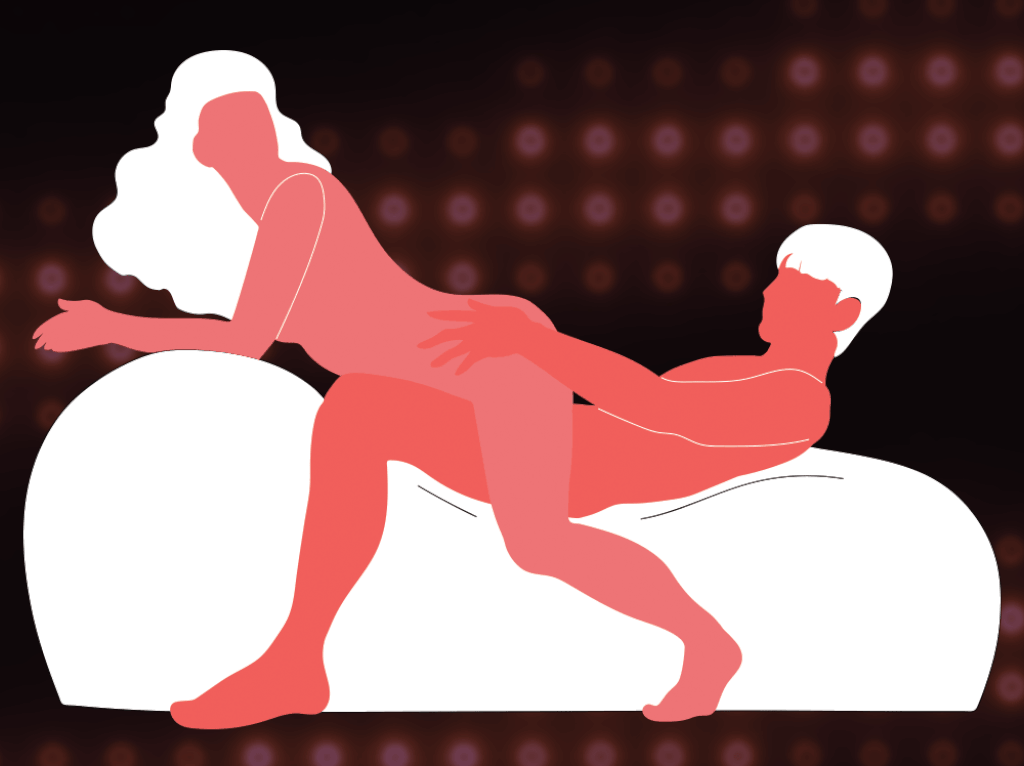 Some of the moves we want to pull off during sex can be really difficult. Either we get tired from staying in one position, or our bodies just don't bend that way, coming up with new moves is an actual struggle.
It's like practicing yoga, there are positions that you know you'll get a kick out of but just how long can you stay like that? But don't simply give up on using new moves in bed, there's actually sex furniture to help and your partner out—sex pillows.
These types of pillows aren't meant to only have sex with, but to help you and your partner pull off some different, exotic moves. They're seen as one of the best sex toys for couples to enhance sexual intercourse and properly hit the G-spot every time. And sex pillows don't come in one or two shapes, there's a wide variety of styles to these pillows for nearly any type of sex position.
If you and your partner want to really up your sex game and have a more pleasurable experience, then get any of these amazing sex pillows to enhance your sex life.
This pillow is one of the more unique sex pillows to purchase. The shape of this is perfect for heightening the missionary position or use it to come up with new moves. The design is also used for a much deeper penetration and can increase pleasure for the two of you. It's meant to lift the hips and let your partner's knees be much more comfortable.
The sex pillow itself is actually very soft and comfortable to use for a long period of time. It's not made with any hard material that would make it unbearable to use during sex. It increases muscle comfort while intensifying your sex experience and getting a stronger orgasm each time.
The wedge sex pillow is among the popular sex pillows to buy to enhance your sexual intercourse experiences. It's also the perfect pillow for hitting the G-spot. The slanted shape of the pillow gives those the opportunity to use it for multiple positions. Since it's a two-piece purchase, you can choose to remove the smaller wedge or it's there to use both.
The high-quality foam helps support the body all while bringing comfort to the body. And the unique angle brings allows access for different positions and offering total satisfaction during penetration.
If you don't want the additional smaller wedge piece, this pillow is a more exceptional choice in choosing which sex pillow is perfect for you and your partner. But aside from the shape, the red wine color truly makes this pillow appealing and tempting to use for obtaining stronger orgasms.
You and your partner can really enjoy using this pillow because it makes pulling off crazy sex moves much more easier and comfortable without feeling worn out quickly. The wedge pillow can be used for under the pack, on the stomach, or for the legs.
Even though this may look like an regular pillow, it's considered to be one of the best sex pillows for you to use—or for you and your partner to try out together. This specific pillow features a section to place either a dildo, vibrator, or even a Fleshlight to go to town with.
You can gain pleasure out of the pillow by yourself for a hands-free enjoyment or experiment with your partner and try out different intercourse moves in bed. The Humphrey Pillow itself can also help out with any positions you and your partner would want to do, too.
Here's another wedge sex pillow, but instead this pillow has a round backside rather than flat for a more pleasant use. This pillow is also known to allow limitless sex positioning for stronger penetration and long-lasting satisfaction.
The pillow is made with a soft, foam base and micro suede covering that doesn't irritate or bother the skin in any way. But did I mention that the foam beneath the suede covering is moisture proof? Which is ideal when things can get messy.
Never seen this type of sex pillow, right? Like I mentioned before, sex pillows do come in an array of shapes and sizes, making this specific one a unique and great buy when aiming to pull off different intercourse positions.
However, this arche wedge sex pillow is made with the best quality form for ideal comfort and using it not only brings relaxation to the one on it, but really feeling heated while being penetrated. You or your partner can lay on the pillow and take it from the back or lay on the back for an intense missionary position.
If you and your partner is searching for a more appealing shape in sex pillows, I highly suggest you get your hands on this heart wedge pillow—perfect for love making. It's still known as a wedge sex pillow, but in the shape of a heart and anyone who comes across this will immediately fall in love.
The heart pillow is ideal for any sex position and gives support when needed. The super soft foam is covered in an ultra-soft velvet material that's luring and feels smooth against skin. And this specific sex pillow also makes a really decorative piece right on top of your bed.
Aside from regular foam sex pillows, you can have the choice to get your hands on inflatable sex pillows, too. Still in the shape of a wedge, the fact that it's inflatable makes penetration more fierce and results to longer and deeper orgasms. It's just like every other sex pillows that enhances intercourse in the best possible ways, this pillow will always make hitting the G-spot much easier.
Achieve different sex positions with this sex pillow and heighten your sex drive. The pillow features handles on the sides for griping and gaining better control. And the outer layer is made with the smoothest and most attractive velvet material that feels great against the skin. You and your partner can really enjoy sex more by using this sex pillow to lift the body and make difficult moves in bed simpler.
Go all out on a sex pillow with this cylindrical inflatable pillow to fulfill both you and your partner's fantasy moves. The cylinder shape makes it easy to wrap your legs around it. Also, this pillow features a gap to insert a dildo or any other sex toy for solo enjoyment.
It's very durable and can handle you and your partner's craziest moves. The outer layer is made with fine velvet fabric that feels comfortable when using it. To store this, all you have to do is deflate it and then stash it away under your bed, closet, etc. This sex pillow is actually ideal for doggy style and anal—offering the best and most satisfying experiences.
Lastly among the best sex pillows is this really uniquely designed sex chair and pillow. If you and your partner are searching for the right chair and pillow for oral sex, then this set is your best bet.
While your partner sits on the chair, you can place your head on the pillow and give them the best oral sex. The pillow is really soft when holding up your head and it's really gentle on the neck. The elastic straps on the chair makes taking oral less effort, too.