Bad Stepdaughter
Newbie Gabbie Carter impresses...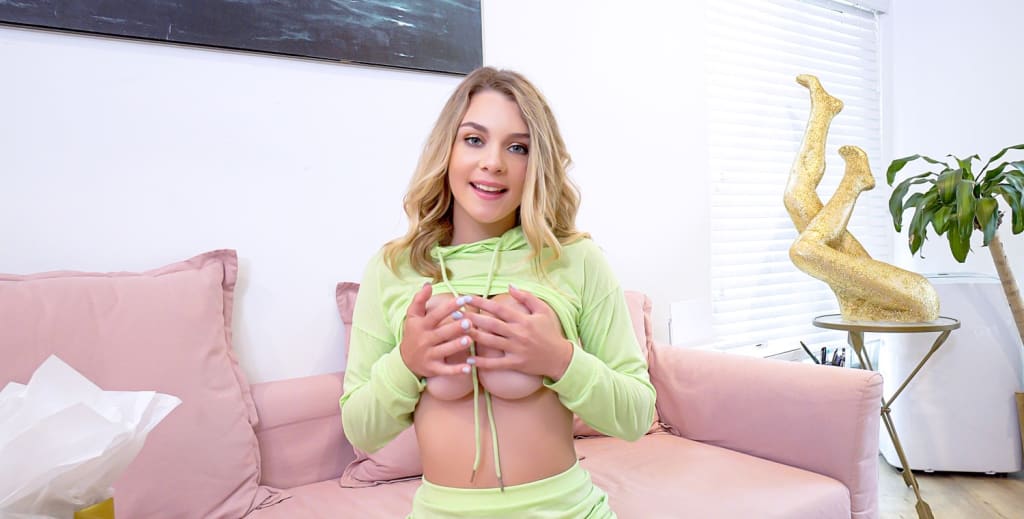 19 year old Gabbie Carter doing some pretty extreme scenes.
Now as time goes by, the internet is producing more and more extreme porn scenes. I suppose that's just cause and effect as people view more sexual concepts they beome tamer in the mind's eye. While watching a dude bang his school teacher may arouse at first, the consistency of this scene on the internet will deflate it's initial arousal factor. Porn producers need to come up with more extreme and more taboo concepts. It's the only way they're going to make more money and continue their economic boom. So one taboo scenario directors have recently latched on to is the 'step sibling' scenario. I've noticed the scenes are few and far between on the major players like Brazzers and Naughty America. This is an attempt to make the scene extra special when they do actually make one. Other websites have went a different route and made this their main concept. One such website is 'Spy Fam.com' who take that reality to the extreme. The concept of SpyFam.com is that they have cameras set up in a reality TV type setting. It's frighteningly real and reminds me of a reality show I saw on Playboy TV years ago where couples are filmed having sex. Luckily it's just porn actors and actresses here who play step siblings such as Stepmom and Stepson or Stepdad and Stepdaughter.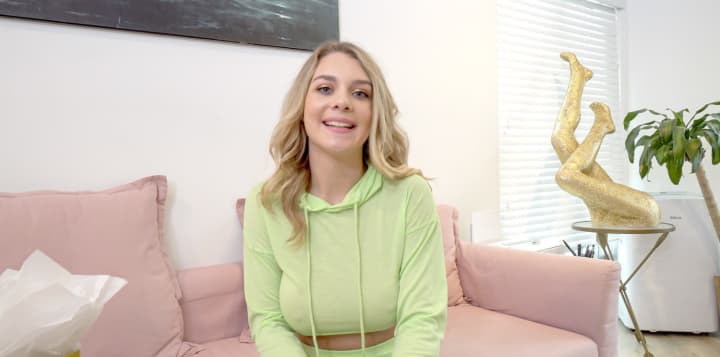 In this particular scene, stepdaughter Gabbie Carter seduces her stepdad Chad White on 'Father's Day.'
Like I said the scenes are frighteningly real but equally hot as Gabbie gets interviewed by the camera man before the incident. The interview is done in role as Gabbie pretends to be Chad's stepdaughter. Detailing what she plans to do while her mother is away, Gabbie is pretty naughty in character. I only discovered her recently as she was getting interviewed on Youtube after 6 months in the adult business. Surprisingly she comes across like some sort of high school student and not the seductress she displays on camera. What kind of shocked me is how professional she talks and if what she does on screen is just a regular job. I suppose it is in a lot of ways but it's not something you would want your family to know about immediately. Another video on Youtube estimates Gabbie's worth of $100,000 in the adult industry. That's after one year in it so I can't imagine what the 32DD-22-32 honey will be worth once she retires. In this scene she candidly explains that she intends to seduce her stepdad Chad as she's felt an attraction between the pair.
Chad White is a good performer but am not sure if he's a bit too young looking to be Gabbie's stepfather in this scene. The guy is in his early thirties but does a decent acting job here to portray an older father. The scene cuts to Gabbie's seduction as she buys Chad an inappropriate present for a step father. Her intentions become clear to Chad as her teal colored top doesn't completely cover her ample chest. Gabbie is one of the few actresses who has natural curves which viewers are bound to appreciate once the action starts. Reluctantly Chad accepts a blowjob from Gabbie who uses those natural curves to wank his cock. There's good chemistry between the two and Gabbie clear loves what she does even at the young age of 19. The action proceeds to the bedroom and the viewer is going to love watching every natural curve of Carter's body in motion. Her jiggly young backside in the cowgirl position is enough to make any young stepfather plead the fifth. This is a great scene and the realism adds to the taboo element of it all. Chad White plays a convincing role and the beefcake should be enough to appease any female viewers watchings. I'm going to give this a 5 out of 5, excellent scene with a believeable concept.
5 out of 5.