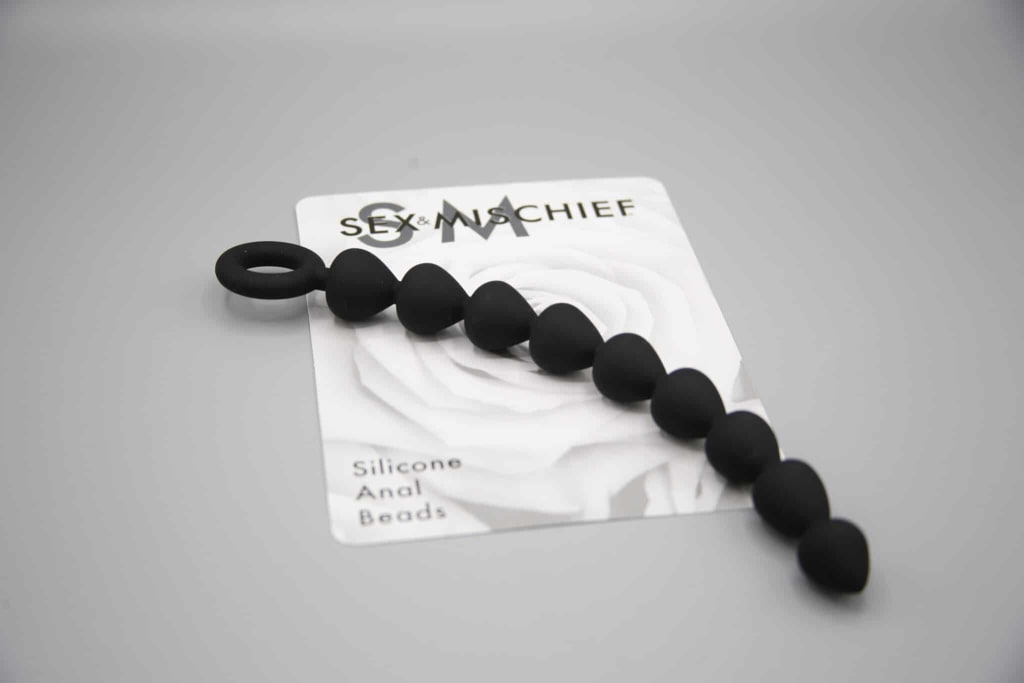 Anal Beads produced by Dingfoo
What Are Anal Beads?
Anal beads are sex toys with circles or ovals of different sizes. People use them for pleasure by inserting them into the anus and moving them into the rectum. There are two main types: beads connected with a string or cord, and beads linked by a shaft.
Are Anal Beads Safe?
Anal beads are safe if they are toxin-free and well-made. Unfortunately, some sellers and bloggers may push beads that could be harmful. Our focus is not only on educating about sexual health but also ensuring that the products chosen are safe for the body.
Safety First with Anal Beads
We make sure our anal beads don't have breakable strings and are made from nonporous, body-safe materials that resist bacteria.
These beads usually start small and gradually get larger, making them perfect for anal toy beginners. They're easy to use, especially those on a shaft.
Unlike other regulated products, anal beads fall into the adult novelty category, leaving them unchecked by the FDA. Some beads on the market may contain harmful toxins that can leech into your body, posing health risks.
For your well-being, we exclusively offer phthalate-free, body-safe anal beads, maintaining the highest health standards in the industry. Our research ensures you access only the healthiest, top-quality sex toys available.
Our anal toys, including beads, meet strict criteria for safety:
All have a flared base or ring to prevent them from getting stuck, crucial due to rectal suction.
Made from nonporous materials (like silicone, metal, glass) for easy cleaning and disinfecting.
Body-safe and phthalate-free to keep harmful toxins out of your bloodstream.
Designed with a safe shape to prevent accidents.
Choosing an anal toy with a ring or flared base is essential to prevent it from getting stuck. A real CAT scan provided by one of our collaborating physicians shows the consequences of using a non-anal safe toy. This patient required surgery for retrieval, emphasizing the importance of choosing anal-safe sex toys for anal penetration.
Non-Vibrating & Vibrating Anal Beads
Anal beads aren't limited to just non-vibrating options; there are vibrating ones too. If you're interested in learning more about selecting vibrating anal beads, consider checking out a sex toys factory guide, such as Dingfoo, available on their website.
Why Anal Beads Feel Good
Anal beads can stimulate the numerous nerve endings around the anus by applying gentle pressure, creating a unique sensation. The sensation of release, especially during climax, can be particularly enjoyable.
They offer the opportunity for simultaneous vaginal and anal stimulation when used alongside vaginal penetration with a penis, dildo, or fingers, enhancing overall sexual pleasure.
For women seeking simultaneous clitoral stimulation, anal beads can be paired with oral sex, finger stimulation, or a vibrator.
Men can also enjoy anal beads for simultaneous penis stimulation, whether through anal sex, oral sex, handjobs, or with sex toys like masturbation sleeves or a male vibrator.
How To Insert Anal Beads
Inserting anal beads with a string or cord can be a bit more challenging, as each bead needs to be individually placed inside the anus. On the other hand, beads connected by a flexible shaft can be inserted by gently pushing the anal bead wand into the rectum.
Prior to insertion, ensure thorough lubrication of the anal beads with a water-based anal lubricant. Slowly insert each bead into the rectum at a downward 45-degree angle.
For safety, anal beads should have a ring or another stopper, like a flared base, to prevent them from traveling too far up the rectum. The ring or base makes it easier to pull the beads out.
Importance of Water-Based Lubricant
The anus and rectum don't produce enough natural lubrication for safe anal penetration, making the use of water-based lubricant crucial when using anal toys, such as anal beads. We advise against using oil-based lubricants, as they can trap harmful bacteria in the rectum. Similarly, we discourage the use of silicone lubricants due to concerns about potential autoimmune and rheumatic responses, similar to issues associated with silicone breast implants.
For easier lubrication application, consider using a lubricant injector (also known as a lube shooter or lubricant applicator). This syringe-style tool allows you to insert lubricant into the vagina or rectum, keeping it off your hands and sheets.
We strongly advise against using desensitizing lubricants, as they may prevent you from recognizing pain signals from your body. It's crucial to listen to your body's discomfort for good health, and using a numbing lubricant might mask signs of potential damage to sensitive tissue.
How To Use Anal Beads
Anal beads offer pleasure through both insertion and removal. Inserting them can serve as foreplay, and the slow, one-by-one removal adds to sexual stimulation. Many find removing anal beads at the moment of orgasm enhances the overall sexual release.
When inserting anal beads, use care. A 45-degree angle with plenty of lubricant helps, slowly rocking them back and forth until they slide in. Due to their small size, they are generally easy to insert, smoothly passing through the sphincter muscles.
Once in place, anal beads remain inserted, held securely by the sphincter muscle. While they're not designed for thrusting in and out, it can be done with beads on a flexible shaft. Exercise gentleness to avoid any potential damage to the rectum.
How To Clean Anal Beads
The material of an anal toy, including anal beads, must be nonporous for proper disinfection to eliminate harmful bacteria, including potential traces of fecal matter and sexually transmitted infections (STIs) like HIV. This is why we avoid carrying anal beads with strings that can't be adequately disinfected.
To clean anal beads, use a sex toy cleaner for disinfection, followed by thorough rinsing. The cleaning method depends on the material of the beads. For detailed information.
Health and Pleasure with Anal Beads
If you have any health concerns, we recommend discussing them with your doctor. We understand this may feel uncomfortable.
Anal beads and other anal toys can provide sexual pleasure and be safe when used with proper education. Take it slow, be patient, and listen to your body when using anal toys. Feel free to reach out to us with any questions or concerns about anal toys, and most importantly, enjoy!
Reader insights
Be the first to share your insights about this piece.
Add your insights