A Taste of Pepper
Or, the "Girl Next Door Goes Ginch-Gobbling"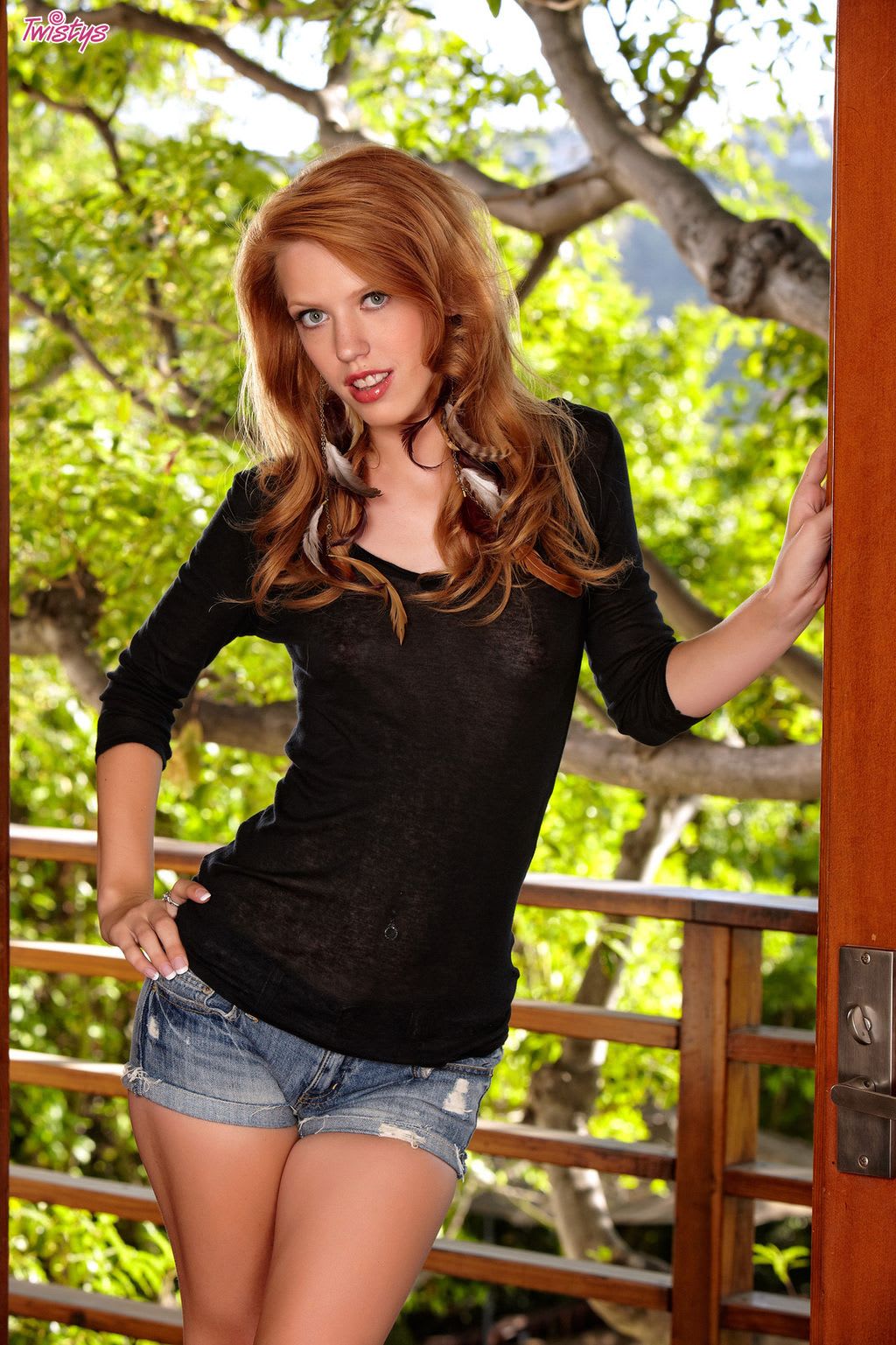 Pepper Kester is a lesbian porn star. Or, mostly so.
I think she has done the occasional straight or "heteronormative" porn scene—but who the fuck wants that? I have absolutely ZERO interest in watching Pepper get pounded by prick. I'd rather see a scene where her "boyfriend" and his "girlfriend" do a partner swap, and she buries her sweet little tongue in the horny honey pot of some snotty, skinny-as-a-rail porn video ingénue. This could progress into a bi-sex foursome, dudes getting it on with each other, getting it on with girls getting it on with each other. Happy times.
But, Pepper, sweet, lean, redheaded, bodacious fucking lesbian porn bitch goddess, is an erotic fixation of mine. Much like Nina Hartley, Annie Cruz, Aunt Peg, Gabriella Paltrova, and a precious few others, if my dick is in my hand and my face in the computer screen, Pepper, and her insatiable appetite for cunnilingus, is on my undeniably warped, perverted mind.
She's, ah, helped me relieve quite a bit of stress over the last few years.
And some of it is just that she's so damn cute. That smile, those eyes! Aye, carumba! She looks, for all the world, like the fabled "girl next door"—whom, everyone suspects, would go down on their precious just-turned-eighteen-year-old daughters like a nuclear-powered submarine of LUST.
Pepper would make the bitches worship her rather large, fetish-stimulating feet first. She might then insert her big toe in the bitch's snatch, exploring that pink little labia and the so-sensitive nerve endings with just a flick of the foot.
Then, she'd spread the Gates of Heaven, and make the bitch (who might be wearing a cheerleader outfit right before taking off her blouse, exposing sweet, fat little melons punctuated with pink, nubile nipples) kiss the Judgment Seat. Then, building to a wet, hot, mind-cracking climax, Pepper would pour a mouthful of her delicious, hot woman-juice down the little ho's oral orifice. Mmm, mmm... I'm feeling a maddening buildup of "stress" just picturing it.
Pepper exudes a tomboy charm that says to everyone (viewing a porn video) that she can "take charge" of her girlfriend better than any lame, football jock jerk stud with a face full of acne and too much testosterone can. In one video, she is laid out on a bed when a raven-haired little cutie comes in. Pepper has tremendous but gorgeous feet, and foot worship is the orgasmic order of the day, as Pepper commands her to "Get over here and worship my feet." The little bitch does, and then Pepper casually informs, and/or commands her that they are going to next be having sex; and beautiful lesbian lovemaking ensues.
That mouth, that sweet, cute, toothsome pussy-pleasure device (having a sort-of early Molly Ringwald quality to it), sits directly beneath a pale, freckled nose and bolt-blue, striking eyes. The eyebrows arch delicately over these twin moons of passionate, erotic hypnosis, and the angular face is framed by long, silken red-headed love locks. A few stats: She's 27. She's 5 foot and seven inches of pure heat. Her body weight is perfect. Her measurements are 34-24-36. She's an Aries born, April 20th of '92.
She's credited with such cinematic offerings as Lesbian Fuck Club (2012) and My First Time With a Mommy (2014), but her real talent is exposed in showing (legal) teen porn first-timers the ecstatic joys of Sapphic sisterhood.
Below, we've linked a video wherein the drop-dead, smokin' hot Pepper BAKES a spicy batch of cornbread muffins with an unidentified female partner, whose skin muffin she's going to devour as an appetizer first, while waiting for twenty minutes for that cornbread to...rise. I'm already rising at just the thought.
Oh, look at that tall, beautiful, lean body! Those delectable chunks of buttock crouched behind long, shapely legs! Skin so smooth you'd swear it was edible candy coating. Mein Gott!
Hot for Teacher
Actually, in her scene with Pepper, Nina Hartley does NOT, in fact, play a teacher. But, she does do some teaching, oh my yes.
Masterful milf Nina Hartley, another porn actress obsession of mine, does, as I have just mentioned, do a scene with Pepper, one I happened upon just this morning. It helped me clear out the dross from my noggin, and, undeniably peaked the pleasure-centers of my sordid brain-scape. Or, in other words, it gave me the requisite dopamine hit that pulled me out of my funk.
Nina is a knockout; no two ways about it. Even at sixty years old, her stout, curvaceous, and utterly mind-blowing body confirms for me my desire to be reincarnated as one of her used vibrators. She has wonderful tits and the sweetest, most desirable derriere you could imagine. She has wonderful if short, shapely little legs. I'd sell my damned soul if I thought it could get those particular gams wrapped around the sides of face for a couple of hours.
Alas, no dice.
Nina has blonde hair, but it is her face, which has that matured, schoolteacher quality,one that says she's going to administer discipline and a degree in delightful milf-on-younger girl vocational training to a naughty newbie. Here the vocation being snatch-sampling for fun and profit.
In the video, Nina is the Boss, and Pepper is the Secretary. I can't hear what the fuck the dialog is, as the quality is so low; but, who the fuck cares? It starts out with Nina and Pepper having a little meeting about office politics or some shit, before progressing into full-on lesbian seduction.
Earlier, Pepper has introduced us to her finger technique, sliding a delicate hand beneath her sheer, lace panties, in a worms-eye camera view between her legs.
Insatiable, Pepper can't seem to quit fingering, and does it leaned up against a wall, too. Finally, she's called into Nina's office before being invited into Nina's orifice. Her ass is still hanging out the back of her skirt, but the clothes of both gals quickly come (come?) off anyway, Nina sitting her bitch on one knee, running her groping hand up the lean, sleek ribs. Momma and her new bitch. Nina dominates; seasoned pro that she is; she's not just fucking around when it comes to fucking around.
BOTH of these women love eating pussy, it should be noted. This isn't two delicate little "oh-me-oh-my" porn actresses who aren't really lesbian unless paid, just dabbling at clit like they are scared of it. This is two genuine, gosh-darned LESBIAN LOVERS getting in there and getting down, for friends, fans and church-goers alike
Mistress Nina puts Pepper up on the desk, her legs spread and exposing her sweet and delectable lips, which Nina kneads between experienced fingers, bringing the pleasure to a peak of sensual satisfaction.
Pepper rubs her nubbin then, while Mommy flicks out her greedy tongue, lapping at the greedy pussy greedily, two fingers inserted whole in the hole. Wonderfully, she reaches up to fondle a solitary pink nipple between thumb and forfinger. Pepper begins to struggle against the pleasure, waiting for the maddening buildup to signal a release of female fuck-syrup into Nina's parched and eager throat. Sing it, folks!: Mama's little honey loves pussy, pussy, Mamma' little honey loves pussy juice...
Roles change, and then it is Pepper servicing Nina, dong what she does best, face buried in thighs.
Pepper has told us, "I just love to fuck girls." This was said very candidly, matter-of-factly, in a video interview.
Yes Pepper, we can see that. And your fans thank you for it, believe me.
Now, everybody wants a taste of Pepper.