A Dinner He Will Never Forget
Date Night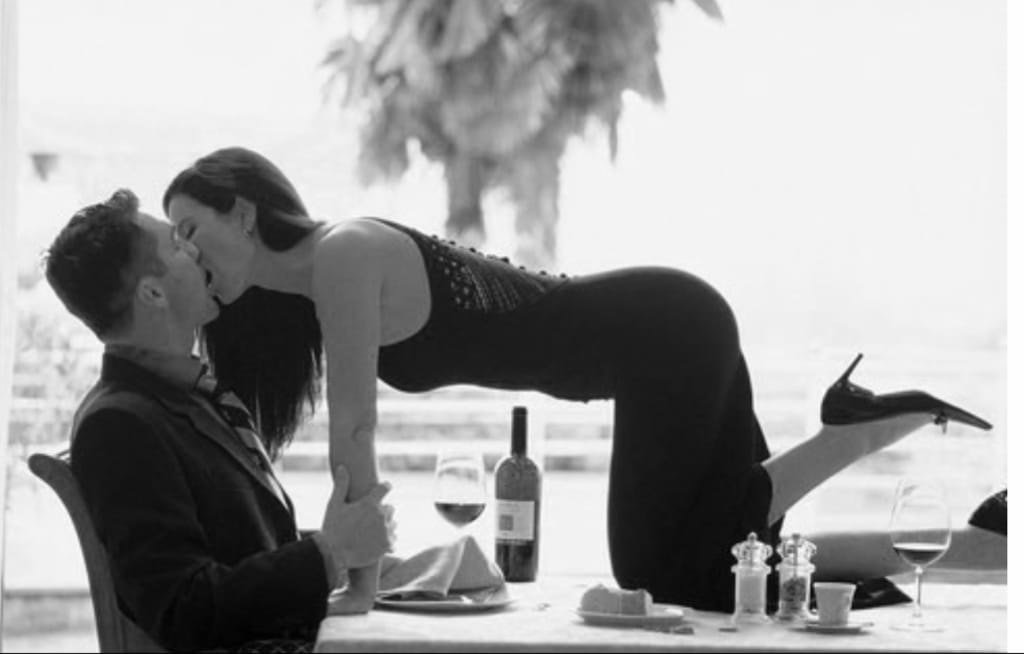 We made plans for tonight to go to dinner but little does he know he is in for the wildest night of his life. He picks me up at 730. I have on this sexy black number that accentuates my booty. He walks around the car to open my door and says damn when he sees my outfit. I give him a hug, a bite on his earlobe and whispered are you ready and hopped in the car. He just shook his head, smirked and closed the door.
As we were driving to the restaurant, I told him to give me his phone, i needed to download an app. We getting freaky tonight! He now had full control of making me orgasm, but there was a catch, he had to let me have control over him too. So right in the car, I unzipped his pants, took his dick out. I didn't even have to get him hard, he already was. While he was driving, I took that opportunity to suck him good. He almost came all in my mouth but he will have to wait for that. Daddy getting all of that back at the house. So I put the ring on him just as we were pulling up. He had to adjust before we got out to valet the car bc he was still rock hard from me sucking and biting on his dick! He even manscaped, so ima see how much pain he can take when I bite them balls tonight.
Well this restaurant is all about aphrodisiac appetizers and desserts. He had no idea. All of the tables have private rooms because, well you can use your imagination to explain that. I had changed our reservation and ordered ahead. I know he loves watermelon, which is an aphrodisiac, so I ordered us a fruit platter with watermelon, pomegranates also known as loves Apple, strawberries and bananas( I'll tease him later with that). There was chocolate too but well save that for dessert.
We sat down at the table with the fruit. We just ate fruit, looked at each other with burning passion and desire. We talked about our day. He listened intentively about my day. When it was his turn, he started talking but he also took out his phone and started pushing buttons. All of a sudden, my body felt the most intense jolt of pleasure to my clit. All I do was moan and throw my head back. He watched intensely as i squirmed in my seat with no control of my body. I beg to stop or turn it down but he doesn't. He just says your about to cum for daddy right now! I'm not stopping until you do. I manage to say that the waiter is about to come in. He stops just in time but I am unable to gain my composure. The waiter quickly gets our drink orders and leaves.
No sooner than the door opening, he had pushed it back up to full blast and was watching me squirm again. He said you better fucking cum right now! If you don't cum, ima bend you over and smack your ass. He counted down from 15. With each number, my pleasure is intensifying but my anxiety is increasing as I'm anticipating him bending me over and smacking my ass. As he got to 5, he stood up to come towards me to bend me over. As soon as he got down to two, my body started jerking as I was cuming hard. He immediately stops me from fully cumming. I beg him to let me finish but he says no that I have to wait. Just then, the waiter comes back.
I was still gaining my composure so he ordered dinner for us. Some baked chicken with a avocado and tomato salsa on top, with asparagus and a loaded baked potato with bacon, cheese, sour cream and chives; 3 of those were aphrodisiac. The waiter assures us he will be back in no less than 20 minutes; I'm glad the waiter understood this room was about to get steamy.
As the waiter filled our drinks before he left, I started turning up the frequency of the dick vibrator. I figured he would try to retaliate so I had managed to remove his phone from the table while he ordered without him noticing. He looked at me with a face of pleasure but also knowing that he had just fucked up.
I thanked the waiter and said I would see him in 20 minutes. The moment he closed that door, is when I turned up the vibrator. He is begging me to wait and let him get ready but I have no mercy on him. I watch him enjoying the ring but I know I can do it so much better. I love sucking his Dick. Its the perfect size and hearing him enjoy being in my mouth turns me on too. So i blindfold him quickly and start unbuckling his pants. My timer was already to 15, but i only needed three. He wasnt gonna be allowed to cum this time either. I turned down the intensity and started sucking his dick real slowly like I was making love to the dick. He was moaning so loudly I had to reach up and put my hands on his throat. Just as I started to choke him to make him be quiet, I started choking on his dick. He nearly came right then. I picked up the speed of sucking his dick. He started to mouth fuck me. I knew he was about to cum because his dick was so swole in my mouth. I turned off the vibrator and stopped sucking his dick. He grabbed me by my neck and shoved his dick in my mouth and started fucking my mouth again. He had managed to get his phone back and turned my vibrator on low. He said if I moved, he would turn it up. I showed him the timer on my phone which said the waiter should be back in 1 minute. He turned the intensity back up for 15 more seconds. I was paralyzed in pleasure but I was going crazy on his dick. He finally stopped the vibrator, and I just collapsed on the floor.
He adjusted himself helped me up and we walked over to the table. Our drinks hadn't been touch but we were both parched. We managed to gain our composure just as the waiter was bringing our food. We agreed to allow each other to eat our dinner with no extra stimulation. We had hit our pen, so the appetite was there. We had the best conversation just talking about life. The food was delicious. We just sat back in our chair from being full and physically spent from the festivities before dinner.
The waiter came in to check on us and clear the table. As the waiter cleared the table, my phone vibrated. It was a text saying truth or dare. I looked at him and smiled and texted back truth. He then texted me the rules. He said there would be no talking. Communication will be through text only. If you talk or make noise, the partner can turn up the vibrator for 15 seconds.
For my truth he asked if I would ever let him fuck me in the ass. I sent him a text with an emoji of a peach with a thumbs up and a check mark. He laughed so I turned that vibrator to full blast. After the 15 seconds, he looked at me like he was determined to get me back. I asked truth or dare. He responded dare. I said do something to me sexually that you know will turn me on. He smiled, licked his lips and dropped to his knees right in front of me. He roughly spread my legs apart. He saw I was commando. He stuck 3 fingers in my pussy and finger fucked me for a few seconds. I cried out in pleasure. He looked at me, smiled a devilish smile and reached for his phone with his other hand. Before I could say anything, he turned up that vibrator while also finger fucking me for 15 seconds. There was nothing I could do but sit there and enjoy it. I was moaning so loudly that he texted me to shut up or he was gonna spank me.
He stopped finger fucking me and turned the vibrator off. I texted him and said fuck this restaurant, if he didn't take me home and fuck me now, I would jump on his dick in this restaurant he texted back and said be patient truth or dare. I said dare. He smiled, turned on some music and sent me a text to do a sensual lap dance on him for 15 seconds.
Just then, the waiter walked in to see if we needed any dessert. We both gave him a look to give us some privacy. Plus we still had the chocolate. As he walked out, I stood up and walked to him. I went behind him, grabbed his arms and tied them behind the chair. He was gonna feel all this but wasn't gonna be any touching. After that I started rubbing and kissing on his neck and ear. I came around to the front and rubbed my bare titties in his face. I forced my nipple in his mouth. He bit it in pleasure and then sucked it. I turned around and started rubbing my butt all over his dick. He was so hard. I bounced up and down on it. He started kissing my neck. Why would he do that? I moan in pleasure bc that is my spot