6 Reasons Every Woman Needs a Vibrator in Her Nightstand Drawer
The days when people assumed vibrators were just for lonely, single women are long over with.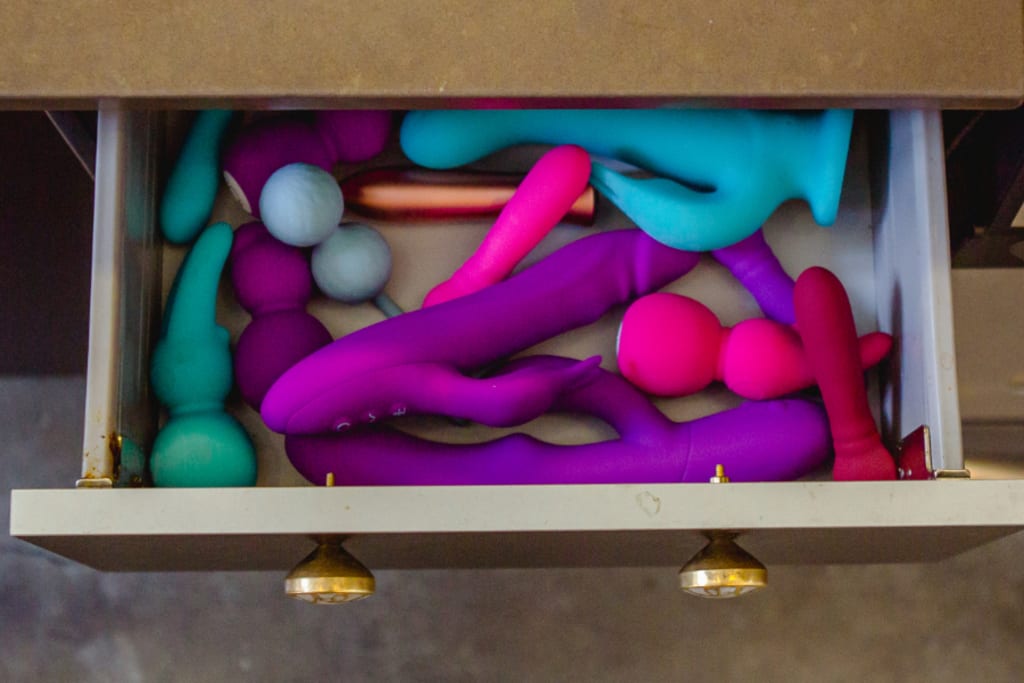 Modern women are empowered enough to know sex toys – vibrators included – are about so much more. They understand anyone can benefit from adding one to their go-to stash of necessaries in their trusty nightstand drawer.
Not sure whether you're a vibrator girl at heart? Love the idea of owning one, but looking for a good reason to pull the trigger on that first purchase? We can give you several. Just pick your favorite from the following list, and go for it.
1. A vibrator puts you in control of your pleasure.
If you still think of sexual pleasure – up to and including orgasm – as something a partner gives you, a vibrator can help you see the light. Sex with a partner is fantastic, but you don't need someone else involved to enjoy the incredible sensations involved.
A vibrator gives you a handy tool for exploring your body's full potential. It takes the guesswork out of getting the kind of stimulation that's highly likely to result in orgasm. You get better at knowing what your body really needs to reach those heights, as well as how much and when.
2. Using a vibrator makes you a better lover.
Let go of the outmoded belief that using a vibrator will somehow spoil your body and make it unable to respond to a flesh and blood partner the same way. Adding a vibrator to your solo routine gives you a chance to get to know your body on an entirely new level.
You can then convey what you learn to your partner, making it easier for them to please you in bed. What's more, knowing what you like and being unafraid to ask for it is incredibly sexy. Everyone wants a lover who's into what's going on in every way, and a vibrator can help you get there.
3. Vibrators are super-fun to share with a partner.
Not only do you not need to be single to benefit from keeping a good quality vibrator on hand, but you don't need to be a woman, either. Deep, rumbling vibrations feel good when applied to anyone's anatomy, so they make beautiful additions to partnered sex. Talk it over with your partner to make sure they're on board, and have a blast.
If you enjoy the experience, consider starting a pleasure chest to dip into now and again. Talk about sensations you'd like to experiment with or scenarios you want to explore. Go shopping together for new items that strike your fancy. Then enjoy the journey.
4. You can be part of the movement.
Although the taboos surrounding sex toy use and female masturbation are less prevalent than they used to be, they're not entirely gone yet. Choosing not to buy into them anymore yourself and figuring out where you stand when it comes to your own relationship with your sexuality puts you on the right side of things.
From there, you can empower other women to do the same thing if you're so inclined. Be the person an acquaintance knows she can talk to about her body. Help a toy-curious friend pick out her first vibrator. Be part of the movement to destigmatize solo pleasure, toy use, and the choice to take control of one's sexual enjoyment.
5. Vibrators have really leveled up over the years.
These days, the vast, wonderful world of vibrators goes well beyond yesteryear's plastic tapered cylinders. Modern vibes come in every possible shape, style, and color. Plastic vibrators are definitely still a thing, but so are vibrators made of silicone, rubber, jelly, and so much more.
Some are penetrative, while others are designed for external stimulation of all kinds. There are vibrators meant to be used with a partner, while others are waterproof, meaning they're perfect for leveling up your morning shower. There are even vibrators so small, quiet, and discreetly designed that you can take them anywhere with no one being any the wiser.
6. It's never been easier to shop for a vibrator.
Although brick and mortar sex shops still exist, you don't need to visit one to get your hands on a perfect vibrator these days. Online sex toy shops make picking out a vibrator or other toy as simple and easy as ordering a pizza or picking out your next great read on Amazon.
Those new to vibrators don't have to muster the courage to walk into a traditional sex shop and purchase a toy. Folks who love nothing more than endless variety have instant access to everything they could hope for. It's well worth your while to let your fingers do the walking, whether you're in the market for your first vibe or your twentieth! Try it today.